Who is Jeong Yun-ho (ATEEZ)?
Jeong Yun-ho was born in Gwangju, South Korea, on 23 March 1999 – his zodiac sign is Aries and he holds South Korean nationality. He is a singer and a dancer, probably best known for being a member of the boy group ATEEZ.
Just a simple reminder that article is created and owned only by kpopwiki.org. Article cannot be re-published in any other pages or documents. Copyright is protected by DMCA. All found copies will be reported.
Original source: https://kpopwiki.org/jeong-yun-ho-ateez-age-height-girlfriend-net-worth-wiki/
Childhood and education
Yunho was raised in Gwangju alongside his younger brother Gunho, by their father who is a factory worker, and their mother who is a teacher working at a local elementary school. Yunho became interested in singing while attending the School of Performing Arts Seoul (SOPA) and his singing talent was noticed by one of his teachers who motivated him to attend a music audition, which eventually led to him signing his first contract.
Although mostly focused on a singing, Jeong was also physically active as he played several sports including soccer and volleyball, and occasionally running and cycling with his friends. He was 18 when he started going to the gym and after he matriculated from SOPA, Jeong didn't enroll at a college but rather chose to focus on his singing career.
Singing career and the band ATEEZ
Before they debuted as ATEEZ, the boys sang in the group KQ Fellaz called after their agency KQ Entertainment, which went on to create a series of videos for YouTube entitled "KQ Fellaz American Training" which featured the boys while they were working on their singing skills in Los Angeles, California.
On 26 June 2018, KQ Entertainment announced the launch of their show "Code Name Is ATEEZ", which served as an advertisement for their new boy group made up of eight boys including Yunho.
It was soon announced that the boys would be debuting on 24 October in Yes24 Livehall, and pictures of them were being uploaded for two weeks prior to their debut. On 24 October as well, ATEEZ released their first extended play "Treasure EP.1: All to Zero" which was the first of their series "Treasure", boys performed live for the first time on 25 October when they were invited to appear as guests in the show "M Countdown". On 15 January 2019, their second extended play "Treasure EP.2: Zero to One" came out with their song "Say My Name" serving as its lead single.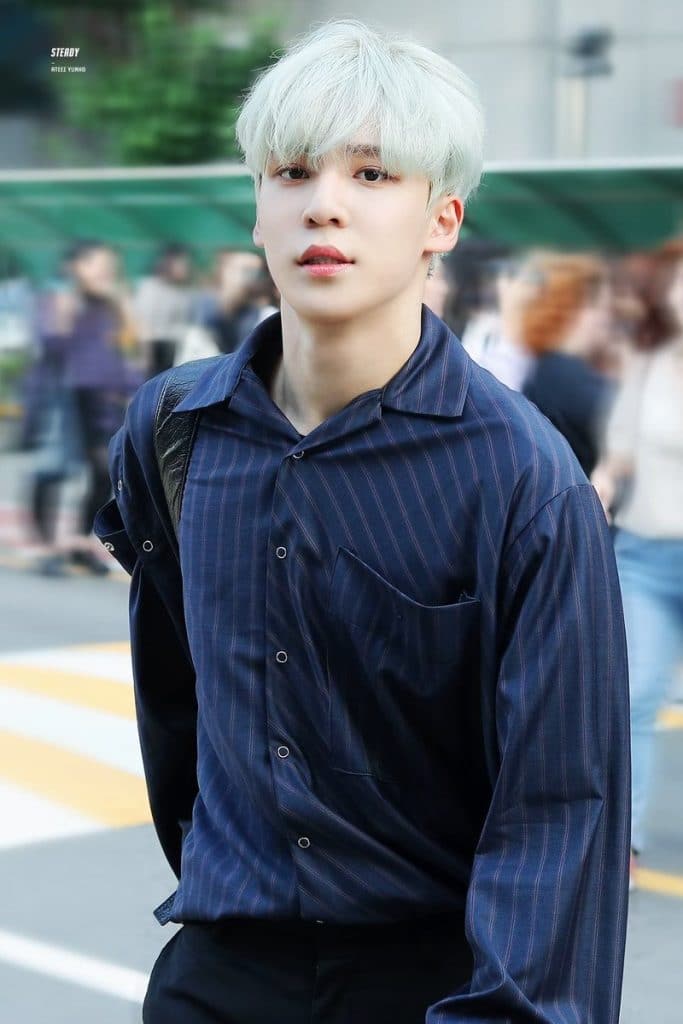 By the end of the month, ATEEZ announced they were touring around the USA to play in cities such as Chicago, Atlanta and Dallas, and all the tickets were sold out shortly after they started selling on the internet. On 20 February, they announced they were going on a tour around Europe and performed in cities such as London in England, Berlin in Germany and Milan in Italy among others – the tickets were sold out once again.
In May, ATEEZ sang at KCON Japan in Chiba and on 5 June, they announced that they were about to tour around Australia – five days after the announcement, the boys released their third extended play "Treasure EP.3: One to All" with the song "Wave" as its lead single.
They won their first award on 20 June when they performed in the show "M Countdown" and it was followed by their second award 1st Place The Show Choice Winner on 25 June. They went on to perform at KCON 2019 NY as well as at KCON Los Angeles and on 18 September, ATEEZ announced they were working on their debut full-length album "Treasure EP.Fin: All to Action" which was released on 9 October. ATEEZ also performed at KCON Thailand, at Jindai Festa in Yokohama in Japan and at Mnet Asian Music Awards in Nagoya also in Japan. By the end of 2019, ATEEZ's first Japanese album "Treasure EP.Extra: Shift the Map" came out.
They started the year 2020 with the release of their fourth extended play "Treasure Epilogue: Action to Answer" which concluded their series "Treasure" and although they were supposed to go on their European tour in March, it had to be postponed due to the problems caused by the coronavirus. Their first EP in their "Zero" series was released on 29 July called "Zero: Fever Part.1".
Love life and girlfriend
Yunho is very secretive regarding his love life but it is known that he was once in a relationship while he was still a trainee and that his girlfriend broke up with him because she thought Yunho was cheating on her – it would have ended up the same way anyway because KQ Entertainment doesn't allow its rookie artists to have girlfriends or boyfriends nor to drink, smoke or party among other things.
Because Yunho is very respective of what his agency requires of him, he hasn't been in a relationship since the start of his singing career although there were rumors on the internet that he was secretly seeing one of his female fans.
As of July 2020, Yunho is single, hasn't married and doesn't have children.
Interests and other hobbies
Yunho is a huge fan of movies and his favorite actor and actress are Daniel Radcliffe and Emma Watson while his favorite movie is the franchise "Harry Potter" – he is such a big fan of Harry Potter that he even has a wand which he bought in Japan.
He likes to listen to K-pop music the most but he is also keen on listening to American pop music and his favorite performer is Paul Kim while his favorite song is "Every Day, Every Moment". Yunho is a lover of animals and his dream come true would be to visit the Los Angeles zoo while he is also dreaming about visiting the Universal Studios located in Los Angeles as well. He likes to eat snacks more than food and his favorite is potato chips while one strange thing about him is that he is keen on chewing his drinks.
Yunho's favorite superhero is Spider-Man and his secret talent is juggling. He is said to be the funniest person in ATEEZ as he knows a lot of jokes and is good at making his friends laugh. Yunho's best friend is Mingi and they have known each other for six years now.
Age, height and net worth
Yunho's age is 21. He has brown hair which he usually dyes gray and brown eyes and his height is 6ft (1.84m). As of July 2020, ATEEZ's net worth has been estimated at around $500,000 making Yunho's share close to $65,000.