Kim Geon-Hak – better known as Leedo – is a South Korean singer and dancer, born under the zodiac sign of Leo on 26 July 1997, in Gyeonggi Province, South Korea. He's known for being the main rapper in the boy group ONEUS.
Just a simple reminder that article is created and owned only by kpopwiki.org. Article cannot be re-published in any other pages or documents. Copyright is protected by DMCA. All found copies will be reported.
Original source: https://kpopwiki.org/leedo-oneus-age-height-girlfriend-parents-net-worth/
Early Life
Leedo -who has a brother three years younger than himself – attended Uijeongbu Jangam Elementary School during his early years, subsequently enrolling in Uijeongbu Guangdong High School until his matriculation in 2014. During his teens he developed an interest in physical activities, leading him to start practicing kendo and kickboxing. It's unknown when exactly he became interested in music, and his artistic influences are undisclosed.
Career
Pre-debut
Leedo started his career as a trainee for LOEN Entertainment – nowadays known as Kakao M – when he was a teen. At some point he left said agency and entered YG Entertainment, where he met and became friends with another trainee named Kim Young Jo, who later left the agency and entered Rainbow Bridge World (RBW).
Now in different companies, both Leedo and Young Jo auditioned to participate in the survival TV show "MIXNINE". Although Leedo couldn't pass the program's audition, Young Jo was selected to participate, but was eliminated in the thirteenth episode.
In the second half of 2017, Leedo was contacted by Young Jo, with whom he had remained Friends, and was convinced by him to leave YG Entertainment and join RBW.
In March 2018, Leedo officially joined the cast of his new agency's project "RBW Trainee Real Life – We Will Debut". The show followed a group of trainees in their journey to form a boy group meant to debut the following year. The team formed by Leedo, Young Jo – who had adopted the stage name of Ravn – Keonhee, Hwanwoong, Seoho and Xion was named RBW Boyz, though in June that year they were reintroduced as ONEUS.
Before their official debut, ONEUS released their first song as a group entitled  "Last Song" in the company of ONEWE, formed by the team previously known as MAS in RBW's TV show.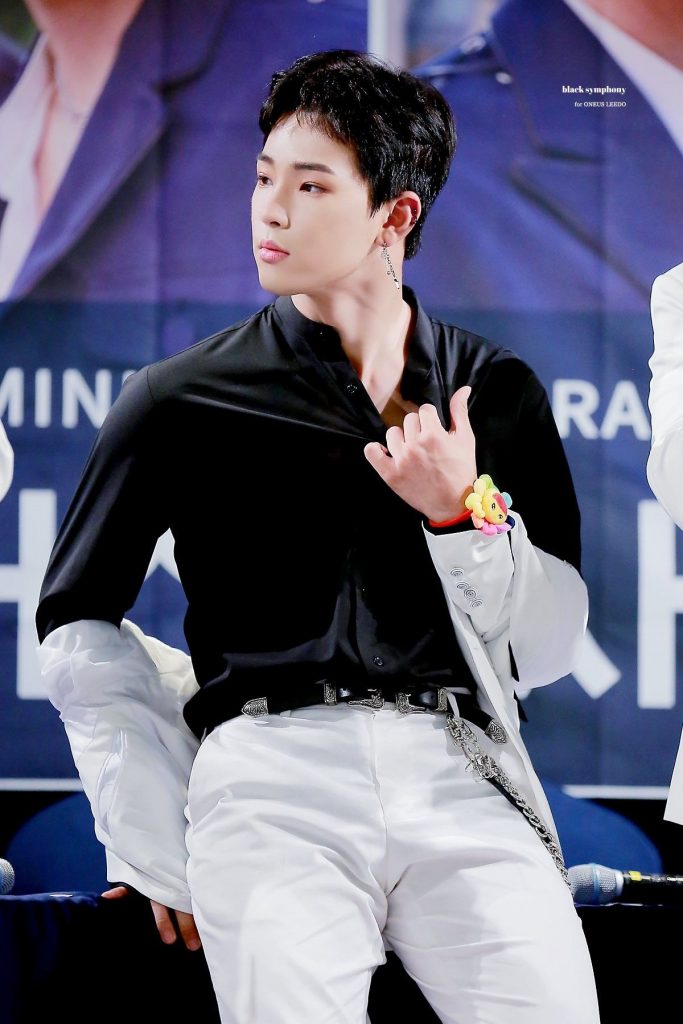 Debut
Taking the position of main rapper, Leedo and the other four members of ONEUS made their long awaited official debut on 9 January 2019 with the release of "Light Us", their first extended play (EP) which included seven songs. The lead single entitled "Valkyrie" was described by Chris Gillet of Young Post as: '(it) changes the mood up, aiming for a stereotypical summer sun, tropical-pop track. However, this momentum is lost with a lazy attempt at ham-fisting in a needless trap section.' Despite receiving mixed reviews, "Light Us" remains as ONEUS' most streamed work to date.
On 29 May 2019, ONEUS released their second EP entitled "Raise Us". In the music video (MV) of the main single "Twilight", the members explore a darker concept than in their previous works.
In June that year the group announced "Oneus Japan 1st Live", their first concert tour in Japan, with dates in Osaka and Tokyo.
A Japanese version of the single "Twilight" was released on 7 August, and becoming a huge commercial success.
Fly With Us and Overseas Tour
In September 2019, the EP "Fly With Us" was released, including its lead single "Lit". This became the first – and to date the only album of the group to chart on Billboard's list.
The rising international popularity of ONEUS was positive, as the group started their first US tour in November.
During the first concert in New York, Leedo was very talkative with the audience, and at some point he asked the auditorium to be lit up so he and the rest of the group could feel closer to fans; he later said: 'To be honest, right up until we stepped on stage, I kept wondering, 'Would a lot of people come to see us?' Even when we were performing, I couldn't really see the audience, so I didn't get a sense of it. But I see now that a lot of people came. I really didn't know that so many people would come. Thank you so much, and I love you.'
ONEUS also visited Chicago, Minneapolis, Dallas and Los Angeles before heading back to their home country, where they started preparing for the release of their second Japanese single entitled "808", which topped Oricon's list and became the group's first number one single overseas.
Anniversary – Comeback
In January 2020, ONEUS celebrated their first anniversary with a fan meeting held in Seoul. In addition, and as a continuation of their international tour held the previous year, the group announced various concert dates in Japan in what they named their "Fly With Us Final" tour, held in February.
In March the group released a comeback mini-album entitled "In Its Time". Regarding the main single – "A Song Written Easily" – Leedo said: 'I'd like it if people focused on the lyrics. We wrote about the many emotions that are involved in a break-up. The lyrics are easy for anyone to understand.'
Road to Kingdom – Lived
In March 2020, ONEUS' participation in the survival show for idols, "Road to Kingdom" was announced. Various K-pop groups competed against each other in order to appear in another show entitled "Kingdom" by Mnet.
As a result of their hard work and talent, ONEUS competed in the final episode, for which they performed their new release "Come Back Home". However, despite their efforts they were placed fourth, defeated by the winning group The Boyz.
Regarding their participation, the group said: 'We learned a lot from the show. It was a lot of fun preparing performances that would convey the message we wanted to tell. For each performance, we would think, 'How can we express this more?' and 'What stories do we want to tell?'
In August 2020, "Lived" – the group's fourth EP – was released, including the main single "To Be or Not To Be". During the promotion tour for this album, Leedo talked about his songwriting creative process: 'I'm the type to think about realistic experiences when I'm writing songs.
I think about things that could happen to other people, or things that I have experienced myself. I try to use expressions that I use a lot so that other people can relate to my songs'.
Personal Life
Information about Leedo's romantic life is largely unknown, as he chooses to keep his private life undisclosed.
Leedo's hobbies include working out and cooking.
Net Worth
Leedo has an estimated net worth of close to $100,000, which is a result of his career as a member of ONEUS.
Physical Appearance
Leedo is a young man with handsome physical features, and slender but strong build. He's 5ft 8ins (1.78m) tall and weighs 150lbs (68kgs).
Interesting Facts
Despite being in the entertainment industry, Leedo actually has a shy personality, and according to his bandmates, he gets easily flustered.
He doesn't like vegetables, and considers pork meat as his favorite food.
He strongly dislikes drinking coffee.
He speaks English at a good level.
His bandmate Hwanwoong gave him the nickname Kim Singmi.
Feeling underconfident about his talent, Leedo thought seriously about quitting as a trainee, shortly before he was signed by RBW.
He has contributed as a songwriter in every ONEUS EP, and to various singles.
Leedo was the last member added to RBW Boyz.
Black is Leedo's favorite 'color'.