Bobby is a South Korean singer-songwriter and rapper, who rose to prominence when he won the third season of Mnet's popular rap survival series, "Show Me The Money," in 2014. The following year, he was launched as one of the members of the Korean Pop (K-Pop) boyband, iKon, under YG Entertainment. His group's single, "Love Scenario," topped the South Korean music charts for six consecutive weeks, and won them the Song of the Year award from prestigious award-giving bodies in 2018. He's also released two solo albums, "Love and Fall" (2017), which peaked at No.2 on Billboard's World Albums Chart, and "Lucky Man" (2021), which debuted at No.1 on iTunes Top Album charts in 12 countries.  Bobby has since been recognized as one of the best rappers in the K-Pop industry.
Just a simple reminder that article is created and owned only by kpopwiki.org. Article cannot be re-published in any other pages or documents. Copyright is protected by DMCA. All found copies will be reported.
Original source: https://kpopwiki.org/bobby-ikon-tattoo-age-ideal-type-height-girlfriend-wiki/
Early Life and Family
Bobby was born Kim Ji Won on 21 December 1995, in Seoul, South Korea.
To seek greener pastures, when he was in fourth grade he along with his parents and older brother moved to the US and lived in Virginia with his grandmother. Growing up, his family already knew that he was musically inclined, as he sang in the church choir and played the guitar.
However, his family had a hard time making ends meet, and living in the US didn't make their lives easier. Although his parents and brother worked hard, money still wasn't enough, and they became financially dependent on his grandmother's savings. Bobby then thought of using his voice to become a K-Pop superstar, and looked for an opportunity to enter the music industry through global auditions online.
Educational Background
He attended high school in Fairfax, Virginia but dropped out; it's said that he passed the GED test then enrolled into a cyber university.
Career
Bobby learned of a global audition in New York by YG Entertainment, one of the so-called "K-Pop's Big Three," which means three of the biggest entertainment agencies in South Korea. YG spawned K-Pop superstars Big Bang, 2NE1, and Blackpink. The audition was carried out by Jinu of the popular '80s hip-hop duo, Jinusean, who now works as one of the executives at the company. When asked by Jinu why he wanted to audition, Bobby told him implicitly that he wanted to make his family stronger. He passed the audition at the age of 16, and on 10 January 2011, he left Virginia and returned to Seoul alone to start training under YG Entertainment.
First Steps – YG's Reality TV Survival Series, "WIN," "SMTM," and "Mix and Match"
Hundreds of trainees come and go to YG Entertainment in a given year. It has been known that they manage one of the most difficult training programs in the K-Pop industry. Some trainees are let go while others choose to leave.
Bobby was one of those who fought for his spot in YG Entertainment by participating in three reality-television survival series before being able to debut.
In August 2013, YG produced the reality-TV survival series, "WIN: Who Is Next," which featured selected boys from its training pool. They were divided into two groups, Team A and Team B, and battled it out through various missions that tested their vocal, dance and rap skills for 100 days for the chance to debut. Bobby belonged to Team B, but unfortunately the other team won.
In July 2014, Bobby joined the third season of the rap survival series, "Show Me The Money" (SMTM), produced by Mnet. About 3,000 people auditioned for a spot in the Top 16, and after nine rounds of competition, he won the series with close to 7.8 million points, over his final opponent who accumulated around 4.3 million points.
YG Entertainment's former head honcho, Yang Hyun Suk, decided to give the full money prize of $100,000 to Bobby instead of deducting the company's management fee, so Bobby was able to fulfill his dream of moving his family back from the US to South Korea, and bought a house for them.
In September 2014, YG produced another reality-TV survival series, "Mix & Match." Bobby along with B.I. and Jinhwan from Team B was announced to be fixed members of YG's new boyband that would debut soon. The four remaining members of Team B along with three new trainees competed to be included in the group – after several rounds of missions, fans get to choose who they wanted to be included through online voting. YG's server crashed as close to 150,000 fans applied to be audience members for the last episode of the show, but eventually the final members of the new group were Bobby, B.I., Jinhwan, Donghyuk, Yunhyeong, Junhoe, and Chanwoo.
Debut Year – First Music Show Win, No.1 Album, First Concert (2015)
Prior to their debut, they had fan meeting events not only in South Korea but also in China and Japan, due to the popularity of the survival series they were in. They were also chosen to be the opening act of the Japan Dome Tour of label mate Bigbang.
After many postponements, Bobby and his group debuted as the boyband iKon on 15 September 2015, with the pre-released single, "My Type." The delayed debut date worked for them, since fans were so eager to see them that they downloaded, streamed, and voted for the song when it was released. The group had their first music win courtesy of MBC's "Music Core", and went on to win two more trophies for Top Song of the Week from SBS' "Inkigayo" even though they hadn't yet made any official live appearance at that time. The song topped the South Korean Gaon Digital, Download, and Streaming Charts, and within 24 hours of posting the official music video on YouTube, it garnered more than 1.7 million views.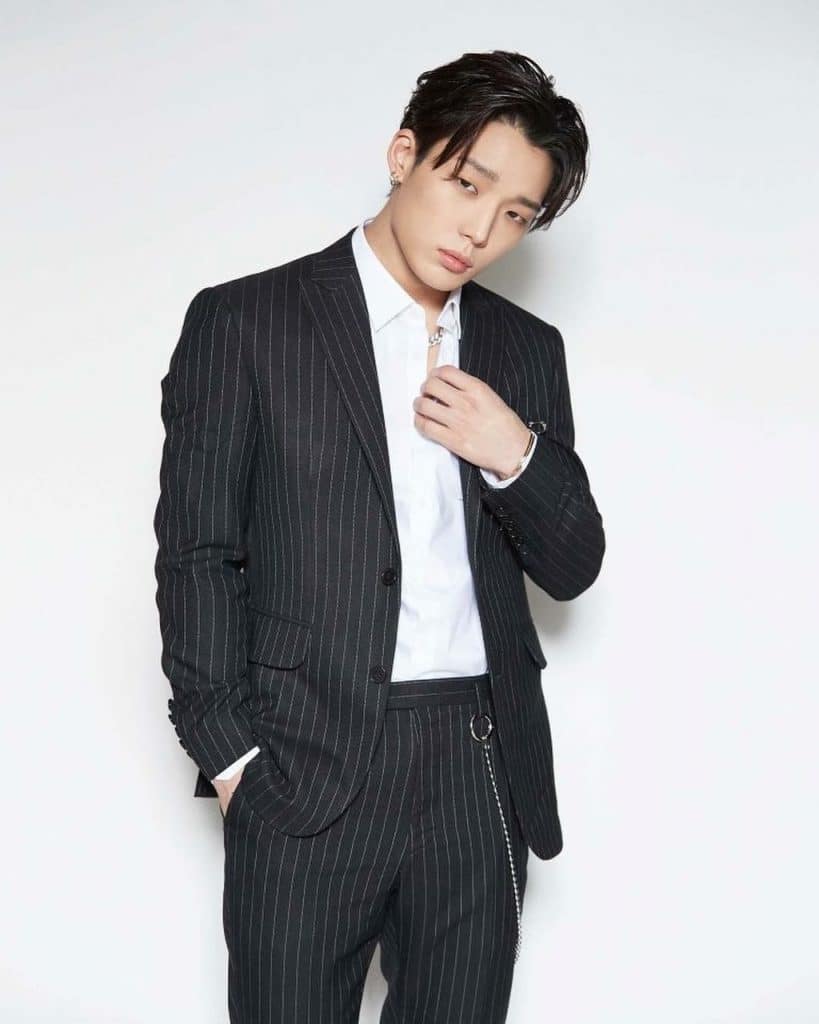 It also topped the Chinese music video streaming sites of Youku and QQ Musi, and was one of the trending topics with about 1.3 billion searches on Weibo, the official Chinese social media app. It sold close to 1.6 million copies in South Korea, and was declared one of the best-selling singles released in 2015.
Their first studio album, "Welcome Back," was released in two parts, the first released digitally, "Welcome Back – Half Album" was on 1 October 2015 with six tracks, and peaked at No.1 on both the Gaon Album Chart and Taiwanese Albums G-Music Charts. It also peaked at No.3 on Billboard's World Albums Chart. Following the overwhelming success of the album, Bobby and the boys held their first solo concert, "Showtime," at the Seoul Olympic Gymnastics Arena on 3 October 2015, which was a bold move considering it was a big venue for a rookie group to fill, but they successfully pulled it off. It was live-streamed via Naver's V app, and attracted over 500,000 viewers.
The full album was physically released on 24 December 2015 with 11 songs including all the six songs that were previously released in digital form and four new songs along with an instrumental version of "Rhythm Ta." It peaked at No.1 on the Gaon Album Chart, No.2 on Billboard's World Album Chart, and No.3 on the Japanese Oricon Album Chart. Close to 160,000 units were sold in South Korea, more than 100,000 units in Japan, and around 1,000 units in the U.S.
Finally, Bobby's group made its official music show TV debut on 4 October 2015 on SBS' "Inkigayo", performing "Rhythm Ta" and "Airplane" from the album. While other groups had a hard time getting a music win, iKon took home five trophies from popular music shows for three different songs in their debut year. Bobby and his group won the Best New Artist of the Year from all major music award-giving bodies in 2015 making their debut one of the most successful in the K-Pop industry.
First Solo Album, Rap Duo – MOBB, and other Collaborations (2014 – 2017)
Even before his debut and during breaks from his iKon activities, Bobby had solo activities and collaborated with other artists.
In 2014, Epik High included him as one of the featured artists in their hit single, "Born Hater," along with B.I., Mino, Verbal Jint, and Beenzino; he was the featured rapper in the song, "I'm Different," with Lee Suhyun of AKMU and Lee Hi. Bobby was part of the song "Come Here" by Wasta Wu and his SMTM mentor Dok2 and The Quiett. His charming bad boy image led him to be included on the list of GQ's Men of the Year in 2014.
In 2016, he and label mate Mino of the boyband WINNER formed the rap duo, MOBB, and released the extended play (EP) "The MOBB," with four tracks including "Hit Me," "Holup," "Body," and the title track, "Full House." The physical version included "Bounce" (Bobby) and "Fear" (Mino), which were their winning tracks from SMTM – Mino also won the competition in 2015.
The EP peaked at No.2 on the Gaon Album Chart, No.7 on the Oricon Album Chart, and No.1 on Billboard's World Album Chart.
In 2017, Bobby released his first solo studio album, "Love and Fall," on 14 September and was credited for writing, composing and producing all ten songs including the title tracks "Runaway" and "I Love You." He also featured his groupmate Donghyuk along with Katie Kim in the song, "Secret," and collaborated with Mino again on the song "Up." The album peaked at No.4 in South Korea, No.39 in Japan, and No.2 on Billboard's World Album Chart.
iKon's Success, "Love Scenario," and Temporary Hiatus (2018 -2020)
Bobby's group achieved continuous commercial success with the two studio albums, three EPs, and a single album that they released from 2018 to 2019. The most notable was their second studio album "Return," with 12 tracks including the title track "Love Scenario" on 25 January 2018.
im not even surprised this fancam hit 1M 😌✊🏼 TENDAE SUPREMACY! 🔥#iKON #BOBBY #바비 @YG_iKONIC

— yvnn ☻ 왜왜왜 ³.³ (@mochiyonggg) February 24, 2021
The song peaked at No.1 on the Gaon Digital Chart and stayed there for six consecutive weeks. It was certified Perfect-All-Kill (PAK) for a record-breaking 204 hours by Instiz iChart, which comprises all major digital music charts including Bugs, Genie, Melon, and Soribada. A Perfect-All-Kill certification would mean it became the No.1 Song on real-time, daily and weekly charts simultaneously on all the music charts. It was the longest PAK by any K-Pop artist at that time, and held the record until it was broken in 2020 by Zico's "Any Song". It was reportedly even banned by some elementary schools, as the kids would continuously sing the song whenever possible and their parents showed concern. They called it 'Love Scenario Syndrome', and music producers said that the lyrics and melody were simple, so even kindergarten students can easily sing-along just like any other children's song.
Bobby embarked on concert tours with his group, including the iKon Japan Tour in 2018 and iKon's Continue World Tour in 2019.
In 2019, it was reported that iKon's leader, B.I. or Kim Hanbin allegedly asked a known drug user/dealer where to purchase illegal substances such as LSD and marijuana. While he didn't buy or use any illegal drugs, an investigation ensued and a case was filed. He then decided to leave the group and YG Entertainment, and the group ceased their activities due to the scandal at that time, and Bobby assumed a leadership role in the group.
Second Solo Album, iKon's Comeback,  and "Kingdom" Participation (2021)
He released his second studio album, "Lucky Man," on 25 January 2021 with 17 tracks including the title track, "U Mad", all of which he helped compose and produced. As of February 2021, it has close to 50,000 units sold, and ranked No.14 on the Gaon Album Chart.
He was supposed to promote his new album for about a month after it was released, but decided to cut it short as his group would participate in the upcoming reality TV survival series called "Kingdom" in April, and would also make a comeback with a new single in March.
He said he needed to focus more on his group rather than his solo activities.
Personal Life
Bobby is officially single right now, as there's no news that he is involved with anyone. He admittedly had a girlfriend before he started his training in South Korea, but broke it off. He was once rumored to be in a relationship with the South Korean model Lee Seo Yoon in 2017; it started when she attended Bobby's album live showcase in a popular bar, and when he asked for the prettiest person in the room to stand up, the model stood up. He then announced that she's his type. Fans speculated that the two were dating, and made assumptions about "common items" as pieces of evidence to their relationship. Both parties denied it, and after a while, the dating rumor died down.
He currently lives with his group mates in an apartment provided by his label.
Hobbies, favorites, rumors, and interesting facts
Bobby can play three musical instruments, namely piano, guitar and drums.
He's an avid fan of basketball, and loves to play it whenever possible.
He has a liking for Winnie the Pooh, and wouldn't part with the stuffed toy his brother gave him when he was a kid.
Appearance
Bobby is 5ft 10ins (1.78m) tall, weighs 145lbs (65kg), and has a lean muscular body with six-pack abs. He has three known tattoos: (1) "Fear only God, Hate only sins" on the center of his upper back, (2) "worry about nothing, pray about everything" written in English around one ankle and Korean on the other, (3) intertwined thorns from his upper back that go all the way to the collarbone. He has black hair and dark brown eyes.
Net Worth
According to authoritative sources, Bobby has an estimated net worth of $2 million as of February 2021.