In recent years, there has been a steady rise in the popularity of K-pop and Mandopop bands, their members excelling in multiple areas of the entertainment industry. Rising to fame with the emergence of the K-pop boy band UNIQ, Li Wenhan is an accomplished vocalist, actor, and dancer, who has featured in various TV shows, including "Idol Producer" which paved his way to some of his most recent ventures. Li Wenhan has been involved in various dating rumors over the years, often in association with the same woman. Whether this is based merely on speculation and the dreams of his fans or on fact, this has only increased the attention he has received in the media.
Just a simple reminder that article is created and owned only by kpopwiki.org. Article cannot be re-published in any other pages or documents. Copyright is protected by DMCA. All found copies will be reported.
Original source: https://kpopwiki.org/li-wenhan-uniq-age-height-appearance-family-net-worth/
Early Life and Family
Li Wenhan was born on 22 July 1994, in Zhejiang, China.
His father, Li Jian, and mother, Wang Jian, have remained as incredibly supportive forces throughout his career. There has always been a level of mutual respect between them, and they enjoy a secure and happy relationship.
His mother relates a story about when Li Wenhan first developed an interest in girls and dating, during junior high. Li Wenhan was active on the internet from a young age and would use the internet as a resource to answer his questions about life. One day, his mother came across a question of his that he had posted about dating. Wanting to assist her son, but not embarrass him, she created an account of her own, posing as a teacher, and sent him a reply. She told him that "Having these kinds of thoughts during your youth is not a bad thing.
This is a very natural physiological occurrence," and cautioned him that "If this affects your studies, then the gains are not worth the losses." Li Wenhan was grateful for her advice, but didn't find out that it was his mother until late 2019.
Education
Li Wenhan is an excellent swimmer, his first experience with the sport occurring when his father threw him into the water as a child. Li Wenhan grew up in the town of Hangzhou, the hometown of Chinese Olympic Swimming Medallist, Sun Yang – the proximity allowed Li Wenhan to train with the accomplished swimmer.
At the age of 15, Li Jian decided to send his son to the US to further his education and open more opportunities for Li Wenhan. After a year of schooling in the US, Li Wenhan returned to Beijing at 16, and commenced four years of intensive performance training. Li has also trained in classical guitar.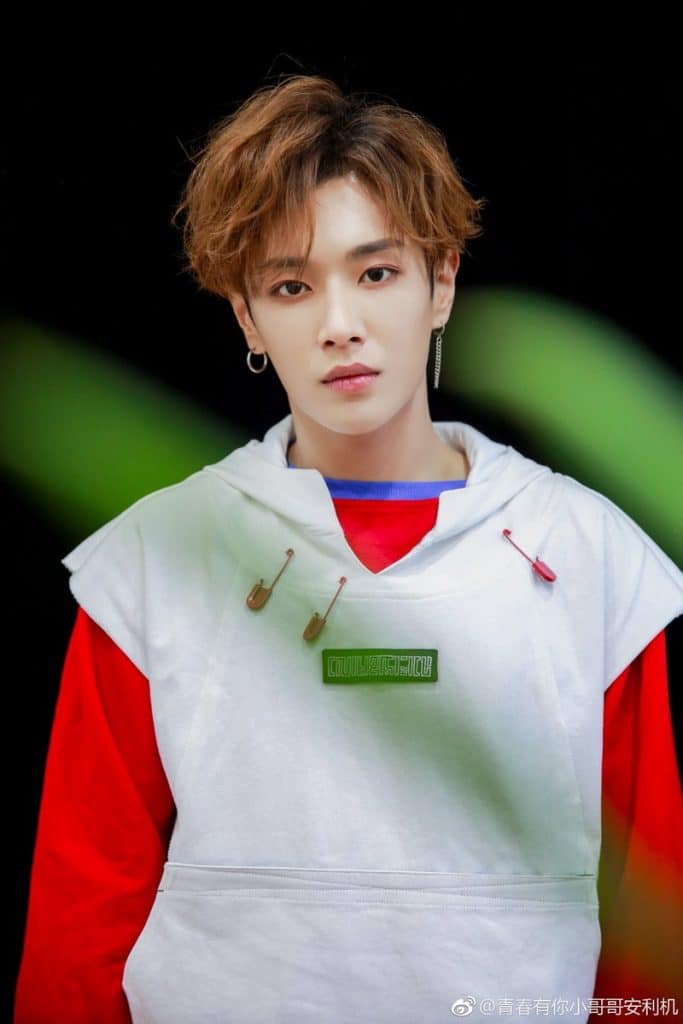 Career
Early Career
Li Wenhan started making television appearances long before he debuted as a singer. He appeared as a guest in multiple shows from 1997 until 2013, including "Happy Camp" (1997), "Weekly Idol" (2011), and "After School Club" (2013). He also began to receive recognition for his other abilities, appearing on a JSTV reality diving show in April of 2013.
Yuehua Entertainment
During his stay in the US in 2009 and 2010, Li Wenhan took the opportunity to audition for Yuehua Entertainment – a Chinese-based entertainment and talent agency. His audition was a success, and he was one of the first members to be recruited who would later becomea member of the band UNIQ. Like the other members of the band, Li Wenhan had to undergo four years of training before the band appeared in public.
UNIQ
Li Wenhan, Zhou Yixuan, Wang Yibo, Cho Seung-Youn, and Kim Sung-Joo appeared on M Entertainment on 16 October 2014 for the debut performance of UNIQ. The five performed their song "Falling in Love", and were accepted into the industry with much aplomb. They officially released the single a few days later, closely followed by their second song "Born to Fight" on 23 October for the TV show "Teenage Mutant Ninja Turtles". They released two albums the following year – "EOEO" and "Best Friend". They release most of their songs in both the Chinese ad Korean versions due to the mixed ethnicity of the group.
Their instant popularity was so notable that there was a limited reality TV show – "The Best Debut" – which aired in December of 2014. The show was streamed on IQiy and aired a small total of three episodes.
In light of the rising tensions between South Korea and China, all Korean entertainment was banned in China. This was devastating to the group as two of the UNIQ members, Kim Sung-Joo and Cho Seung-Youn, were Korean. Although the group did not officially disband, they were unable to perform together, and were forced to perform individually in their respective countries.
Television
Wenhan has appeared in multiple television shows both as a recurring cast member and as a host himself. As UNIQ gained traction and a steady following in both South Korea and China, he was offered a position on the South Korean talk show "Ni Hao China", and became a host on the show from April to August of 2016. He helped educate the viewers about the various aspects of Chinese culture, tradition and economy in a friendly and entertaining format.
Unfortunately, the same political tension that tore the band apart also ended his tenure on the show.
However, this did not end his career in television, and he hosted the Chinese Sport show "The Players" from June to September that same year. He also made appearances in "The Chambers of Secret Escape" (2018), "Roast" (2019), "Amazing Dinner" (2020), and as the main host of "Perfect Summer" (2020).
Actor
Along with his prestigious talent as a singer, Wenhan is also an accomplished actor. As a K-pop artist, a lot is expected of him – he can't just be capable of singing and dancing, but must be an actor, and be proficient in multiple hobbies. Li Wenhan made his debut as an actor in 2016, when he had a minor role in "Personal Assistant of Female President" in the first season of the series.
In 2018 he began landing more major roles, and was cast as the leading role in "Sm:)e", later that same year landing a leading role as Prince Li Jingyu in "My Naughty Classmates", an historical drama series set during the Tang Dynasty Era. He was also cast in another major role in 2019, once again as the main character in "Adventurous Romance".
"Idol Producer" and "UNINE"
In late 2018, Li Wenhan announced to his followers that he would be appearing in "Idol Producer", a competition that would see the battle of 100 boy band members for a coveted position amongst a nine-member Chinese band. Li Wenhan did not just survive the competition, he excelled in it. He won multiple challenges and ultimately the entire competition – earning over eight million votes in the final episode.
The final nine on "Idol Producer" became the band now known as UNINE, with Li Wenhan as the leader and main vocalist of the group. The group made their debut on 6 May 2019 with the EP single "UNLOCK", and on 21 October of that same year "UNUSUAL". They celebrated their first anniversary with the release of their first album, "U-Night Flight" on 6 May 2020.
Personal Life
Li Wenhan enjoys a varied and active lifestyle. Although he has adopted the Korean name Moonhan while he is there, he is affectionately nicknamed Hanhan by his friends. As mentioned, Wenhan was an excellent swimmer in his youth, even wining the Hangzhou Junior swimming competition, but it appears that his aptitude stretches to include diving and basketball. He is also very musical, and can play both piano and classic guitar in addition to his incredible singing and beatboxing.
Wow 😍😍😍 is he for real pic.twitter.com/fvNR08jbeh

— Wenhan updates – hiatus (@Li_Wenhan_94) February 19, 2019
Dating Life
Surprisingly, Li Wenhan is inactive on the dating scene. Although we know that he has dated in the past, he is currently single. However, this hasn't prevented fans from speculating and guessing where his romantic interests lie. One commonly recurring rumor is that he is dating Wang Ziwei, an actress who rose to fame when she played a close friend of the main character in the series "A Love so Beautiful".
After it was rumored that Wenhan took her to the Yuehua 10th anniversary event, the fanbase blew up with supposed proof that the two had been dating for ages. None of the evidence, including the fact that he took her to the event, was ever substantiated. This put no dent in the rumors, and when fans began to bring-up the topic again on Qixi (colloquially referred to as the Chinese Valentine's Day), Wang Ziwei finally addressed the rumors with a post stating that "This is the second time already.
Please don't bring me into this anymore. I am single. Thank you everyone."
Appearance
Like many K-pop artists, Li Wenhan enjoys playing with his style and appearance. While he was known for dying his hair red during his early days at UNIQ, he currently has black hair with a fringe. He is 5ft 11ins (1.8m tall) and weighs around 140lbs (64kgs). He is always immaculately dressed, with a definite sense of style.
Net Worth and Salary
Wenhan's net worth is around $500,000 as of late-2020, and he is widely regarded as one of the wealthiest K-pop artists. He also isn't afraid to share that his favorite brands include Armani, Givenchy, and Burberry – a selection that can only be supported by a substantial income.