Kim Dahyun is a South Korean rapper, singer and dancer, who first gained notice from the public when she was in sixth grade, with her "eagle dance" performance at church that went viral on YouTube. She later debuted as a member of JYP Entertainment's TWICE, which became one of the top Korean Pop (K-Pop) girl groups with multiple platinum-certified albums including "More & More," which made it to the Billboard 200 Chart.
Just a simple reminder that article is created and owned only by kpopwiki.org. Article cannot be re-published in any other pages or documents. Copyright is protected by DMCA. All found copies will be reported.
Original source: https://kpopwiki.org/the-untold-truth-about-twice-member-kim-dahyun/
Early life and family
Kim Dahyun was born on 28 May 1998, in Seongnam, Gyeonggi, South Korea. Her parents raised her and her older brother named Myung Soo in a Christian household.
Her childhood dream was to become a piano teacher; her love for singing and dancing started when she was young, as she joined a Christian church choir.
In 2011, she performed what had been dubbed as the "eagle dance" due to the headbanging and arms flapping like wings, part of the choreography to the Korean version of the Hillsong worship song entitled "The Power of Love" at her church. The video of the performance went viral after it was uploaded onto YouTube, and the now famous dance was even featured in the video game called Fortnite in June 2018.
Educational background
She attended Eunhaeng Elementary and Middle Schools in her hometown, then enrolled in Dolma High School, before transferring to Hanlim Multi Art School, from where she matriculated on 10 February 2017.
Career
First steps
She performed a solo at a Youth Dance Festival when she was in 8th grade – a JYP Entertainment (JYPE) casting associate who was scouting talents saw her potential, and invited her to audition for the company.
She passed, and officially became a trainee on 7 July 2012. It was said that Dahyun went to SM Entertainment and YG Entertainment to audition during that time, and was accepted by them too, but she chose JYPE as it was the first company that contacted her.
The training program included vocal, dance and rap lessons, and evaluations scheduled at the end of every month, for the management to assess her progress. Her life revolved around training and practicing – shopping, eating tteokbokki (rice cake), and hanging out with friends in popular spots such as Hongdae or Myeongdong after school were experiences she missed out on, but she didn't regret her decision because she was working toward her dream of becoming a K-Pop artist. For some reason, she didn't tell her friends that she was a trainee, but they found out later on. She also admitted to having a hard time following rules; whenever she was told to do something, the more she didn't want to do it.
While still a trainee, she was cast as the main lead in the music video of GOT7's "Stop Stop It" (2014) by its director. She was nervous as it was her first shoot, but it also made her feel excited as she experienced what it would be like once she debuted. She also appeared in 2PM's Wooyoung's "Rose" (2015) Japanese music video (MV).
JYP Entertainment decided to launch their latest girl group through the reality TV survival series called "Sixteen", aired on Mnet for 10 episodes. Sixteen of their trainees participated in the show, grouped into two by JYPE's A&R (Artists & Repertoire) team, in which seven girls were chosen to be part of the Major group as most likely to debut, while the rest were in the Minor group. They were given missions that showcased their talents, to win votes from the studio audience, viewers, or J.Y. Park, who is the company founder, chairman, and the show's host.
The official members of the upcoming girl group, TWICE, were announced at the finale, and Dahyun was among those called.
According to J.Y. Park, something was missing in her dance, rap, and singing, but she has the innate ability or charisma to grab everyone's attention when she's among the members performing on stage, or during interviews.
She and the rest of the girls who made the final line-up – namely Jihyo (leader), Nayeon, Jeongyeon, Momo, Sana, Mina, Chaeyoung, and Tzuyu – started living in corporate housing after the show, as they prepared for their debut.
"The Story Begins" was their first extended play (EP) released on 20 October 2015, which peaked at No.15 on Billboard's World Albums Chart, and No.3 on South Korea's Gaon Album Chart, selling over 50,000 copies by the end of the year, with cumulative sales of over 200,000 copies. It consisted of six songs including the lead track, "Like Ooh-Ahh," which made it to No.6 on the Billboard Digital Song Sales Chart and No.10 on the Gaon Digital Chart. Its zombie-themed music video has garnered more than 385 million views.
Further success
The second EP entitled "Page Two", released in April 2016, took the 6th spot on Billboard's World Albums Chart, and 2nd spot on the Gaon Album Chart, with cumulative sales of almost 320,000 copies. Its lead single "Cheer Up," which peaked at No.3 on Billboard's World Digital Song Sales Chart, was a huge hit in South Korea, and among K-Pop fans around the globe. It became the best-performing single in 2016, as it topped the weekly chart and year-end chart with cumulative download sales of over 2.7 million.
It gave Dahyun and the girls the coveted music show win for the first time on Mnet's "M Countdown" on 5 May 2016, and won the group 10 more trophies for the No.1 song of the week from SBS' "Inkigayo" and KBS' "Music Bank." The single also received numerous awards including the "Song of the Year" from the 8th Melon Music Awards, 31st Golden Disc Awards, and 18th Mnet Asian Music Awards.
Who allowed Dahyun to be this pretty? #DAHYUN #다현 pic.twitter.com/eMiXZoH3gk

— ً (@KDHLOOKS) January 10, 2021
"Twicecoaster: Lane 1", released on 24 October 2016, peaked at No.3 on Billboard's World Albums Chart, and No.1 on the Gaon Album Chart as it became the highest-selling album for a K-Pop girl group that year, with 350,000 copies sold. "TT," the lead single of the seven-track EP denoting the crying or sad emoticon, ranked No.2 on the Billboard World Digital Song Sales Chart, and was included in their list of "The 100 Greatest K-Pop Songs of the 2010s" at No.18. It was a chart-topper on Gaon too, with download sales of more than 2.5 million units.
When the Japanese version of the song was released, it was certified Gold by the Recording Industry Association of Japan (RIAJ) for exceeding 100,000 download sales, and certified Silver by the RIAJ for exceeding 30 million streams. It was included in the Japanese album, which claimed the top spot on Japan's Oricon Chart, and was awarded Platinum certification for selling over 250,000 copies.
The commercial success of their previous EPs and singles established Twice as one of the top K-Pop girl groups out there, and the succeeding ones further cemented their place in the K-Pop industry.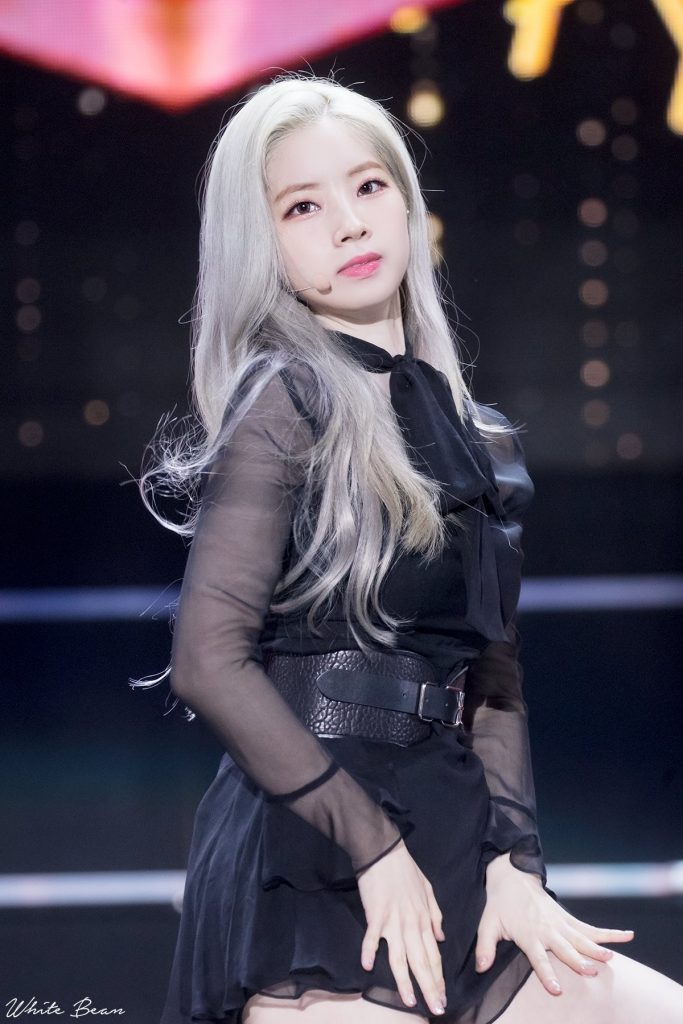 Since the time music recording certifications by the Korea Music Content Association (KMCA) was introduced in April 2018, Dahyun and her group have been awarded several Platinum certifications for their albums that surpassed 250,000 copies sold. "What is Love?" sold more than 350,000 within the first month of its release and was the first to be certified Platinum by the KMCA. The albums that share this distinction include "Yes or Yes," "Fancy You," "Feel Special," and "Eyes Wide Open," all entering the top ten on Billboard's World Albums Chart.
"More & More" released on 1 June 2020 made it onto the Billboard 200 Chart at No.200, and topped the Gaon Album Chart, receiving double Platinum certification as it sold over 500,000 copies, making it their highest-selling album to date.
Dahyun and the girls also have a strong following in Japan, as the albums including "BDZ," "&Twice," "#Twice," and "#Twice2" were all certified Platinum by the RIAJ.
Solo activities
In 2016, she was cast in MBC's variety show entitled "Replies That Make Us Flutter" for a Chuseok (Korean Thanksgiving holiday) Special. It featured celebrities acting out scenarios requested by fans, and Dahyun was paired with Astro's Cha Eunwoo for a romantic comedy skit.
She became a regular panelist in the "Idols Are The Best" segment from episode 249 to 283 of MBC Every1's variety show called "Weekly Idol." In the female edition of MBC's "Real Man," she experienced life in the military, as she received training as one of their soldiers from the 16th of February to the 10th of April in 2016.
As a songwriter
Dahyun was credited for co-writing the lyrics for "Missing U" from their first studio album entitled "Twicetagram" (2017). It peaked at No.46 on the Gaon Digital Chart with over 35,000 download sales.
She also contributed to the lyrics of "Trick It" and "21:29" from "Feel Special" (2019), as well as "Bring It Back" and "Queen" from "Eyes Wide Open" (2020).
Personal life
Dahyun is 22 and believed to be single as there has been no news of her dating since her trainee days. JYPE is known for including a no-dating clause in the management contracts of their artists for the first three years after their debut. This is deemed necessary when establishing a career in the K-Pop industry, to avoid any distraction so that all their time and energy would be focused on work. Aside from that, dating is considered a scandal that has the potential to ruin the image of an artist, and affect his or her group.
Most artists prefer to date in secret even if no longer bound by the no-dating policy, not just to protect their privacy but also to avoid being the recipient of so much hate from obsessed or toxic fans.
Her fans jokingly said that Dahyun is one of the idols who would probably never be caught dating by Dispatch, as she could easily spot a camera wherever she may be – Dispatch is an agency that exposes celebrity couples who are secretly dating.
Her ideal type is someone like her father, who is very dependable and would love her and her parents a lot.
Recently, rumors of her dating Kai of EXO started circulating, based on a Facebook post that was already deleted. It was also said that it was confirmed by both their agencies. However, their fans are quick to disabuse anyone of the notion that they are in a relationship; the dating news isn't real as there is no evidence to support this claim, and the companies didn't release any statement regarding the two. This was just a product of some fans who like to ship the two idols.
Dahyun sustained an ankle injury in August 2017, and had to take a break from group activities to fully recover.
Hobbies, favorites, rumors, and interesting facts
Her motto: "This too shall pass."
Her hobbies include listening to music and playing the piano.
She has been given the nickname "dubu" or tofu for her milky white complexion. Sometimes the word "heung" (excited) is attached to "dubu" for her goofy and cheerful personality.
Favorites: beige and orange (colors), seven (number), winter (season), strawberry and apple (fruits), meat (food), chocolate (dessert), chocolate milk (milk flavor)
She is afraid of cats and dogs.
Her favorite accessory is a necklace that was given to her by her mom, who received it from her dad as an anniversary gift.
It was said that when Dahyun became popular, one of her classmates tried to sell her school yearbook.
In November 2018, a Japanese politician criticized Dahyun for wearing a shirt back in 2017 with a brand that supports comfort women victims, which he deemed anti-Japanese. It was said that right-wing Japanese netizens (online users) demanded that Twice be removed from the line-up of performers at the NHK Kōhaku Uta Gassen, which was a Japanese-produced New Year's Eve TV special, but Twice still performed at the event. Korean netizens defended Dahyun, saying that the Japanese had no right to be annoyed and that there's nothing wrong with supporting a cause that helped the Korean women who suffered during World War II, when Japan invaded Korea.
In December 2019, a GIF was posted on social media in which Dahyun was said to be rude to a Gimpo International Airport attendant checking her identity, by "snatching" her passport away to prevent the person from flashing her personal information. Her fans said that the GIF was edited to show malice in what was a normal interaction between an attendant and a passenger. They were also worried that her private information was shown to photographers at the airport. The one who captured the moment and uploaded it on YouTube apologized, and assured fans that the attendant covered Dahyun's resident registration number with her fingers even if she held the passport higher. However, according to JYP Entertainment, the passport was photographed and it was posted online showing personal details. They said they would take legal action against the person who violated the Personal Information Protection Act.
Appearance
Dahyun is 5ft 2ins (1.58m) tall, weighs 105lbs (48kgs), and has a slim build. She has black hair and dark brown eyes. Her shoe size is 7 (240mm). She wears prescribed contact lenses due to poor vision.
Net worth
According to sources, Dahyun has an estimated net worth of $1.5 million as of January 2021.