Li Xian is a Chinese actor, whose stardom took a meteoric rise not only in China but around Asia, from his breakout role as Han Shangyan in the Chinese romantic-comedy series, "Go Go Squid" in 2019. It was aired on two networks which both topped the television ratings in their timeslots. He scored a Best Actor award nomination from The Actors of China Awards in 2019, and a Best New Actor award nomination from Huading Awards. Before all that, he was best known for his roles in "Feng Shui" in 2012, "Medical Examiner Dr. Qin," in 2016, and "Tientsin Mystic," in 2017.
Just a simple reminder that article is created and owned only by kpopwiki.org. Article cannot be re-published in any other pages or documents. Copyright is protected by DMCA. All found copies will be reported.
Original source: https://kpopwiki.org/actor-li-xians-biography-age-height-girlfriend-net-worth/
Early Life and Family
Li Xian was born on 19 October 1991, in the prefecture-level city of Xianning. His parents moved their family to nearby Jingzhou in the southern part of the Hubei province in China, where he grew up.
He was a chubby child and used to be quite heavy for his age, at one point weighing 175lbs. (80 kgs) – his classmates called him 'Jingzhou – Little Fatty.' Xian lost weight when he was in high school by being active in several sports, including soccer and basketball, also watching what he ate and eventually lost all the extra pounds.
Xian's middle school teachers described him as a mischievous student who would skip class. There were times he took advantage of his parent's busy schedule, and would sneak out on his bike whenever he didn't like going to school, going to other places in Jingzhou.
Educational Background
He attended the local elementary school in Xianning, then he went to Jingzhou Middle School, matriculating from the Hubei Jingzhou High School in 2009.
Initially, Xian planned to take up a STEM (Science, Technology, Engineering, and Mathematics) degree program in college, but didn't pass the college entrance examination. After a year, he took the exam again and passed, but changed his choice of a college program. He graduated with a bachelor's degree in Acting from the Beijing Film Academy.
Career
First Steps – Acting Debut (2012)
His acting debut was made possible through a movie director's affiliation with Beijing Film Academy. Xian was still a college student when he was given a minor role in the movie, "Feng Shui," released in 2012. The movie director was looking for an actor from the Hubei province, and luckily Xian was the first person the academy recommended.
It was followed by another supporting role in the teen flick, "Singing When We're young," produced by Chinese superstar Andy Lau, also released in 2012. After making these two films, he then focused his time on pursuing his college degree.
TV Drama Debut and More Diverse Supporting Roles (2014 – 2016)
Xian made his television debut in October 2014, via the eight-episode thriller drama series "City of Fantasy," with Nan Sheng and Huang Je, produced by Youku. He played a regular working guy who relied on drugs after losing his wife in a vehicle accident.
It took him two years to land another TV role, in the youth drama entitled "Who Sleeps My Bro" also known as "My Brothers Who Sleep in the Bunk Above Me." It was inspired by a popular campus classic song with the same title, composed by Gao Xiasong and sung by Lao Lang. In the same year, he became part of the forensic-mystery drama series entitled "Medical Examiner Dr. Qin", a TV adaptation of the novel "The Eleventh Finger", playing a police team captain helping his friend Dr. Qin Ming, played by Zhang Ruo Yun, solve peculiar cases.
Bigger Roles, Actors of China Awards (2017 – 2018)
Xian continued to accept supporting roles in 2017, as he felt that it was the right way to improve one's craft. He was seen in the romance-comedy movie, "Deadly Love," which starred Cica Zhou and Wang Mei Ren.
From then on, he was given meatier roles such as that of Lou Ronghang in the historical movie "The Founding of an Army," released in July 2017, which celebrated the 90th anniversary of the establishment of China's People's Liberation Army. Xian was among the star-studded cast which included Liu Ye as Mao Zedong, Huang Zhizhong as Zhu De, Zhu Yawen as Zhou Enlai, and Wang Jingchun as He Long.
When he went back to the small screen, he took on his first starring role as Guo De You in the horror-mystery drama series called "Tientsin Mystic," a TV adaptation of the novel with the same name written by Tianxia Bachang.
Congratulations to drama #GoGoSquid for winning Hot Drama of All Platforms on Dragon TV's 2021 Quality Drama Ceremony.
Congratulations to #YangZi and #LiXian for winning Quality Drama Shining Star✨👏#亲爱的热爱的 #杨紫 #李现 pic.twitter.com/bMLyL8R51O

— Huace Global (@HuaceInfo) March 14, 2021
He played a policeman in the 24-episode series set in the Republican era, who could identify guilty people in whatever case he handled whenever his pipe had been lit. It aired from July to October 2017, and he won the Outstanding Actor award from The Actors of China Awards that year. His diligence in preparing for his role – such as taking lessons for snorkeling and deep diving, as well as learning the Mengzi dialect – paid off.
In March 2018, Xian played the second lead with unrequited love in the 40-episode romantic-comedy series "Only Side by Side With You," with William Chan and Bai Bai He. For the role of a Chinese Special Forces agent, he worked out daily to bulk up, and gained 20lbs (9kgs) within 45 days – it won Outstanding Drama of the Year from the China Television Drama Production Industry Association Awards in 2018. Xian was also part of another romantic-comedy movie released that year called "Nuts." He again played the second male lead along with Zhang Ruo Yun and Sandra Ma.
Breakthrough Role and Commercial Success (2019)
After six years in the business, it was in the e-sport drama series "Go Go Squid," aired in 2019, that got Xian's name past the gateway to the top echelons of the Chinese entertainment industry. His popularity soared with his role as the introvert computer gaming genius named Han Shangyan, opposite popular Chinese actress-singer Yang Zi, who played the role of his love interest, Tong Nian. The number of followers he had on Weibo, the Chinese version of Instagram, grew from five million to twenty million at that time. Two networks, Dragon TV and Zhejiang TV aired the drama series, and it topped the TV ratings on both networks in their specific timeslots. It became the hottest TV series, and according to the streaming platform iQiyi, was the second most popular series after the successful period drama "The Story of Yanxi," which dominated the TV ratings in 2018.
The series was critically praised for not having the usual drama clichés, such as snobbish future mother-in-law, a second male lead waiting on the side, and a cunning second female lead trying to break the main couple. While it wasn't perfect, it also promoted positivity with the characters which resonated with viewers. It became such a huge hit that most universities and colleges in China printed the title of the drama series in their school banners, to welcome new students.
He also released the song, "Give to the Future," which was included in the official soundtrack of the drama series. It peaked at No.7 on the Billboard China Top 100, staying in the chart for 10 weeks. Xian received many accolades for his performance, and the popularity that he acquired gave him more acting opportunities.
In 2019, he made a special appearance as an air traffic controller in the blockbuster movie, "The Captain," which was inspired by real events during the SiChuan Airline flight crisis.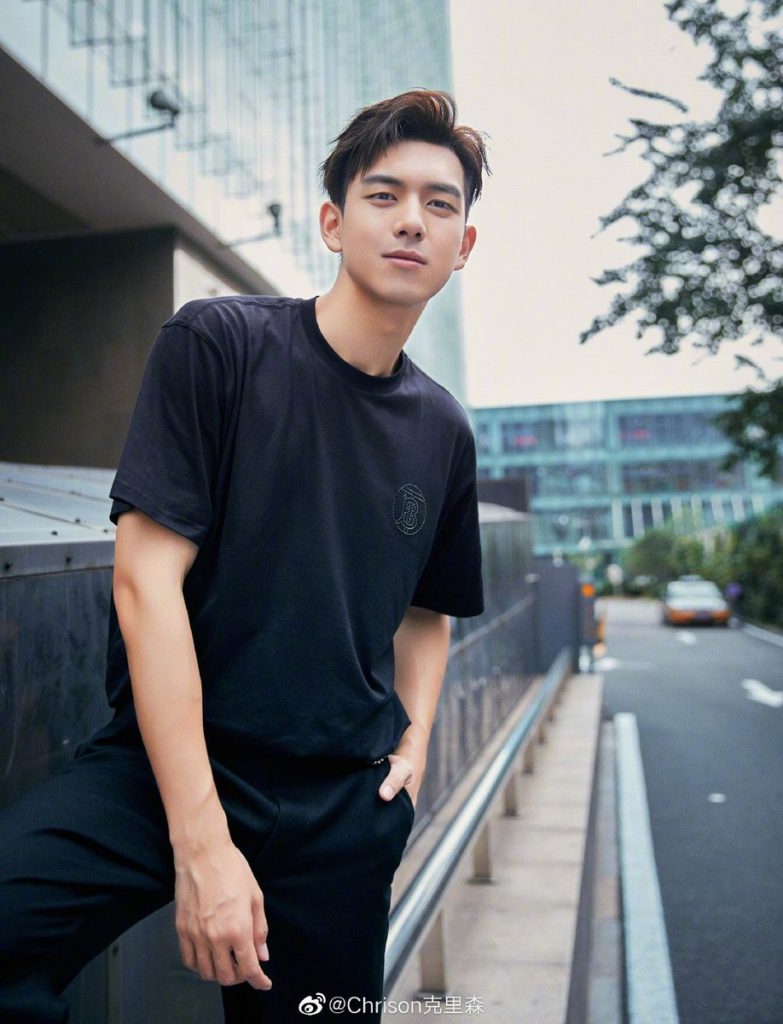 It was also the year that "Sword Dynasty," the TV adaptation of the novel "Sword Dynasty Fantasy Masterwork," was aired. The series revolved around his character, Ding Ning, a master wuxia swordsman during the Warring States era in China. Xian underwent a three-months physical training as well as sword fighting lessons just to prepare for his role in the 34-episode historical series.
Further Success, Forbes List, and Endorsements (2020 – present)
While the world was restricted in 2020 due to the pandemic caused by the Covid-19 virus, Xian became one of the busiest Chinese actors, as he released four movies in the year.
On 31 July 2020, "The Enigma of Arrival" was released; he took the role of Xiao Long who was forever haunted when a teenage girl he fell in love with went missing. In September 2020, he played a supporting role in the movie "Leap," which was all about the Chinese National Volleyball Team and their journey to win for the country.
Next was "Love Song 1980" directed by Mei Feng, released on 31 October 2020, the movie adaptation of the novel "The Lovers of 1980," written by Yu Xiao Dan; it had its worldwide premiere at the Tokyo International Film Festival, and he was critically praised for his portrayal of Liang Zheng Wen. His fourth and final movie in 2020 was the fantasy-historical comedy entitled "Soul Snatcher." It was loosely inspired by the novel "Chunjiang Hua Yueye", as the movie made some changes to the story and its characters. He played the role of a magical fox, and must kill a human to be elevated to a spiritual immortal. However, he and the human played by Chen Linong became friends. Xian again took part in the official soundtrack album, and sang the movie theme song "Glorious Future," which peaked on Billboard's China Social Chart. The movie grossed close to $20 million at China's box office.
Due to his success, Xian was given the title "Current Boyfriend" by the Chinese media along with his fans, as it became one of the most searched words related to him on Weibo. Due to its massive popularity, he was also included in the lists of Forbes China Celebrity 100 and Forbes Asia 100 Digital Stars in 2020.
In 2021, he had two projects that were scheduled to be released. The 44-episode drama series was set during the late Qing Dynasty entitled "A Love Never Lost." He played the main lead opposite Chinese actress Jessie Li as they took part in the historical transformation of China that culminated in the 1911 Revolution, which ended the Qing Dynasty. His second project was the movie adaptation of the popular adventure novel, "Antique Bureau," written by Ma Bo Young, called "Schemes in Antiques."
Product/Brand Endorsements (2019 – present)
Since he became popular in 2019, Xian was asked to be the brand spokesperson for Levis, Puma, Estee Lauder Skin Care, and Acqua Di Parma Fragrance. He was also chosen to endorse rare products such as Wedgwood Fine China and Porcelain. By 2021, he had more than 20 brand endorsements as he recently inked an agreement with Zegna, the Italian Fashion House, to be their global ambassador.
Personal Life
Xian is officially single, as there has been no news that said otherwise. However, he was rumored to have dated four women in the past, namely Elaine Zhong Chuxi, Shang Yuxian, Zhang Qiaoer, and Cici Wang Zixuan; none were either confirmed nor denied.
Out of all the dating rumors, the most notable ones were with Elaine and Cici. In 2014, fans were able to dig up old interactions between Xian and Elaine on Weibo.
#LiXian for the 2021 Signs of the Times Gala

More snaps – https://t.co/7aChcXZaZd pic.twitter.com/rAs238BBfy

— cdrama tweets (@dramapotatoe) April 10, 2021
However, when both became busy with their careers, she deleted all Xian-related posts, which fans believed was an indication that they had already broken up.
In 2017, during the filming of the movie "Tientsin Mystic," fans believed that Xian and Cici became more than co-actors. Even after the movie was released, the two actors continuously interacted on social media. At first, fans thought it was because they remained friends and would always go out in a group. However, they noticed certain similarities between their posts that indicated that they might be dating for real. She was accused by netizens of freeloading on Xian's popularity, which she addressed by saying that she's quite contented with her status, and told the fans to stop overanalyzing her posts.
He doesn't have any specific ideal type when it comes to girls – he'd like to leave it to fate.
Hobbies, favorites, rumors, and interesting facts
His favorite actors are Tony Leung, Ha Jung Woo, and Ryan Gosling. He finds Emma Stone, Rachel McAdams, and Scarlett Johansson attractive.
Xian is a huge basketball fan, and watches NBA (National Basketball Association) games particularly whenever Lebron James' team is playing.
He likes watching movies that make him think deeply, such as "Dunkirk," "Call Me by Your Name," "Inception," and "Your Name." However, he's also a huge fan of Marvel and DC movies.
Each time a project ends, Xian goes on vacation to rejuvenate.
He is a fitness junkie, and believes that health is wealth.
When he's not working or traveling, he stays at home reading, watching movies, working out, and playing video games.
While Xian likes to keep fit, he's had many injuries filming as he preferred doing his own stunts, including strained ab muscle, sciatic nerve injury, waist injury, and dislocated hip, along with chronic gastritis.
His favorite fruits are mostly related to melons such as honeydew, cantaloupes and watermelon.
Appearance
He is 6ft (1.85m) tall, weighs around 140lbs (63kgs), and has a well-toned body with six-pack abs. His shoe size is 9.5US (44 China). He has black hair and dark brown eyes.
Net Worth
According to authoritative sources, Xian has an estimated net worth of $2.5 million, as of April 2021.