Yukika Teramoto is a Japanese model, actress and pop singer, who first attracted public attention in Japan when she became a Nicomo, and later became known in South Korea as the lead vocalist of the girl group, Real Girls Project, and as a solo artist.
Just a simple reminder that article is created and owned only by kpopwiki.org. Article cannot be re-published in any other pages or documents. Copyright is protected by DMCA. All found copies will be reported.
Original source: https://kpopwiki.org/yukika-teramoto-wiki-age-height-girlfriend-net-worth-family/
Early life and family
Yukika Teramoto was born on 16 February 1993, in Shizuoka, Japan. Not much information has been disclosed about her family and her childhood, except that her love for the 1980's city-pop music genre started at home, because of her mom and sisters.
Her nickname is Yuka in Japan, and it became Kika in South Korea when she learned that Yu sounds like a Korean surname.
Education background
It is not known where she attended school, only that she went to one given that one of the rules of her profession as a Nicomo is that her studies must be her priority, which is why photoshoots were usually done during weekends when there were no classes scheduled. In fact, the reason for her temporary hiatus from 2012 to 2015 is that she attended university.
Career
As a Japanese model and actress
She started her career under Evergreen Entertainment, and worked as an exclusive model for a Japanese pre-teen fashion magazine, "Nicola," of which she was a fan in middle school. The models appearing on its pages are called "Nicomo," taken from the words "Nicola" and "model," and are chosen through auditions among girls from fifth grade to junior high.
It was in 2006 during the 10th Model Audition when she participated, and became one of the six Grand Prix prize winners out of almost 6,000 applicants. She was on the pages of "Nicola" from the September 2006 issue to March 2009. Modeling contracts for Nicomos usually end the moment one becomes a sophomore in high school, and a graduation ceremony takes place sometime in March in Tokyo.
Yukika made her debut in acting when she played the main character, Choco, along with the Japanese idol group AKB48 member Kayano Masuyama who played the role of Mimi, in the live-action television adaptation of Konomi Sonoda's manga series entitled "ChocoMimi." The series had 26 episodes that aired weekly (October 2007 – March 2008) with the opening theme, "Happy Happy!" sung by Yukika and Kayano as their characters, ranking No.165 on the Oricon Weekly Singles Chart.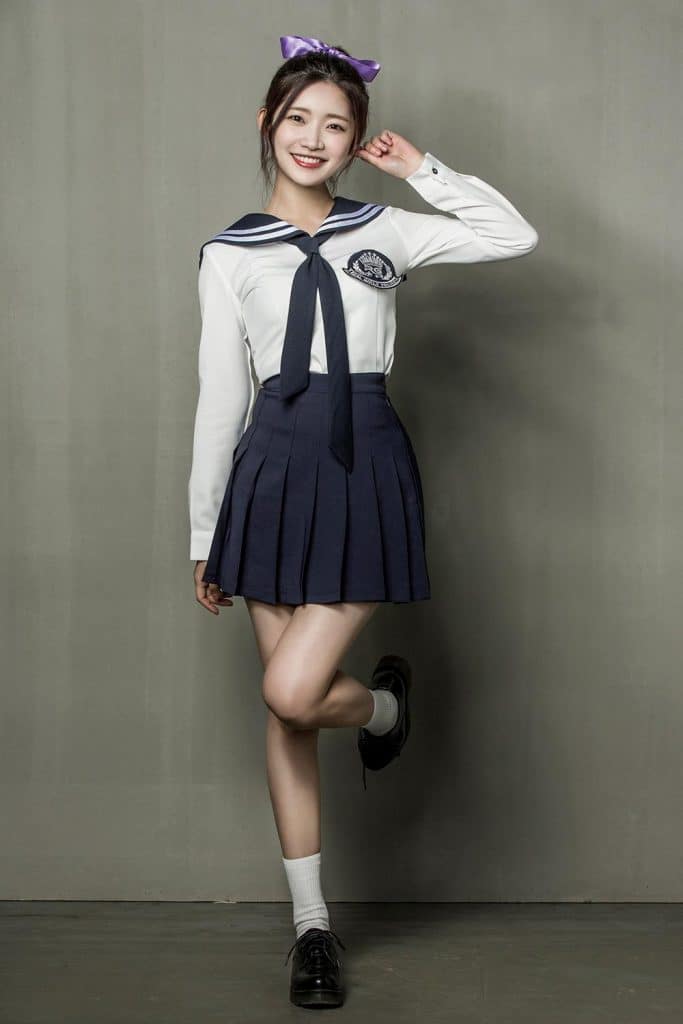 She also sang the closing theme, "Rocket," for episodes 14-26.
Her first movie appearance was in "Handsome Suits" (2008) as an extra, and meantime she appeared in commercials for a Japanese sports drink and a video game, as well as an American chain of ice cream and cake specialty shops.
After her stint as a Nicomo, she enrolled in a voice acting school, NichiNare, and signed with the voice talent management agency, I'm Enterprise. She provided the voice for minor characters in several anime series, such as "K-On!" (2009), "Seitokai Yakuindomo" (Student Council Staff Members) and "Kiddie Girl-And both in 2010, and "Dog Days" in 2011. She also worked as a voice actress in the Japanese rail shooter game, "Gal Gun," for Xbox 360 and PlayStation, as well as the role-playing game, "Growlanser: Wayfarer of Time." She ended her contract with her agency in 2011, and went on hiatus to obtain her degree.
As a South Korean actress and singer
After graduating from university, in 2016 she signed with Mole Entertainment, and auditioned to become part of the "The Idolmaster KR," a South Korean live-action television adaptation of the Japanese video game series.  She said that she had no prior experience in dancing or singing and so just did her best. She didn't know if she would make it because she was competing against girls with years of training, but she worked hard and didn't give up. Fortunately, she was cast to play a fictionalized version of herself in the series – it was first aired on Amazon Prime with 24 episodes, and was later shown on SBS-owned cable channels.
She became the lead vocalist of the Korean girl group "Real Girls Project", formed for the drama series and startingto with 10 members, later reduced  five. They released a couple of digital singles such as "Dream" (2016) and "Ping Pong Game" (2017).
She along with other members auditioned for and was accepted to join the reality survival show "Mix Nine" (2018), that was aired on JTBC. Of the 170 trainees from various entertainment agencies, only teams of nine girls and nine boys would be picked for the final round of competition, in which the winning team would get to debut. Yukika was eliminated during the second round in 34th place.
After leaving her agency when her group disbanded, she signed with Estimate Entertainment. She was cast in a supporting role in "Hello Stranger," a Korean web drama series aired on TVN in 2018, then was a voice actor in the mobile game "Destiny Child," and also sang a new version of its theme song, "Da yo ne, Da yo ne."
She debuted as a solo artist when she released her single, "Neon," on 22 February 2019, that has a city pop or Japanese '80's pop style to it – its official music video garnered 2.4 million views, and a karaoke version and remix version were also released. After almost five months, she dropped another single entitled "Cherries Jubiles," with its music video having over 800,000 views.
On 21 July 2020, she released her first solo album, "Soul Lady," which has 13 tracks that include pre-release tracks as well as new ones such as "I Feel Love," "A Day For Love," "pit-a-pet," and "I Need A Friend." The official video of the title track, "Soul Lady," already has almost 700,000 views. She performed the song on music shows such as Mnet's "M Countdown," SBS MTV's "The Show," and MBC Music's "Show Champion."
Personal life
Yukika is 27 years old, single, and currently based in South Korea. She keeps her personal life private, so it's not known if she is dating or seeing anyone.
Her ideal type is someone who works hard and is considerate of others. She said that she doesn't look at a person's physical appearance because he becomes good-looking in her eyes once she starts liking him. She's not choosy on who she wants a date, unless it's someone who's dirty and doesn't wash.
Hobbies, favorites, rumors, and interesting things
Her hobbies include playing the guitar, singing, visiting pretty cafes, and playing video games.
Eating spicy food is a stress-reliever for her.
One of her special talents, or tricks is that she can fit her entire fist inside her mouth.
Her role model is the South Korean singer-songwriter and producer, Boa.
She has a pet dog named Namoo that she takes on walks along the Han River, and brings to pet cafes.
She likes eating pork tripe and vegetables. Her favorite snack when she's at a PC room or internet cafe playing computer games is stir-fried small octopus. Although she likes soda, she doesn't drink too much of it because she's trying to lose weight.
Yukika didn't experience culture shock working in South Korea, because the things she noticed that are different is that the internet is fast, and its citizens are fond of using KakaoTalk and other instant messaging apps for smartphones.
The first time she heard the demo for "Neon," she felt that it was the soundtrack of her life.
Her first time in Korea was back in high school for a field trip, and on the flight back to Japan, she had a feeling that she would be back. However, it was only when she was on the plane on her way to audition for "The Idolmaster KR" that she had an 'aha' moment as she remembered the feeling she had in high school.
She said that since she used to singing in Korean, she sounded strange when speaking in Japanese, and that if she sings in Japanese at this time, she would sound like a foreigner.
She was praised by her agency for her rapping skills. She said that she would never be satisfied with her singing or acting skills, because if it does happen, then she would quit as there wouldn't be any more room for growth.
Appearance
She is 5ft 3ins (1.6m) tall and weighs 88lbs (40kg). She has black hair and brown eyes with a teardrop mole beneath her left eye. Her shoe size is 7 inches (23.5cm).
Net worth
Yukika has been working since she was young as a professional print model, singer, and voice actress, and has accumulated a net worth estimated by authoritative sources at over $1 million as of August 2020.