Yoon Bo-mi – whose stage name is simply Bomi – is a South Korean actress and singer, born under the zodiac sign of Leo on 13 August 1993, in Gyeonggi, South Korea. She's known for being a member of the Korean pop (K-Pop) group APink.
Just a simple reminder that article is created and owned only by kpopwiki.org. Article cannot be re-published in any other pages or documents. Copyright is protected by DMCA. All found copies will be reported.
Original source: https://kpopwiki.org/yoon-bomi-apink-plastic-surgery-boyfriend-net-worth-bio/
Early Life
Although there's no information about Bomi's parents, it's known that she has a younger brother named Jong-jin, and an older sister named Sun-mi. She was enrolled into Youngshin Girls High School, though she was later transferred to the Seoul-based Korean Arts High School, matriculating from it in 2012. She didn't attend college.
Career
Early Steps
In February 2011, Bomi was introduced as a trainee during the first episode of the reality show APink News, which was produced by Plan A Entertainment – at the time known as ACUBE Entertainment.
The program showcased the group as they prepared to debut, and was hosted by other idols.
In the show Bomi introduced herself as APink's 'main dancer and mood maker', as she was shown to be the funniest member of the group. She also pointed out that her specialities were her dancing skills and taekwondo, which she has been practicing from an early age and currently holds a black belt in it.
Debut With APink
On 19 April 2011, Bomi made her official debut as a member of APink with the release of "Seven Springs of APink", the group's first extended play (EP) which contained five songs including the lead single "Mollayo", performed for the first time on TV in "M! Countdown".
After being part of the original soundtrack (OST) of the drama "Protect the Boss" with the song "Please Let Us Love", APink appeared in the stray animal rescue show "Birth of a Family".
In November, the group made their comeback with another EP entitled "Snow Pink". During promotions for the album's lead single "My My", the group collected funds for the charity through a coffee & tea project managed by the members.
Their outstanding social labor and talent led APink to win the category of Female Rookie at the Mnet Asian Music Awards of that year.
APink's Album & More
After obtaining their first music show win in "M! Countdown" and various awards including Rookie of the Year at the Gaon Charts Awards, APink released a commemoration track for their first anniversary entitled "April 19", which was part of "Une Année", the group's first studio album released in May 2012.
Besides her work with APink, Bomi was starting to explore her acting skills with a minor participation in the drama "Reply 1997".
APink obtained huge success in June 2013 with the release of the "Secret Garden", and its Billboard's K-Pop Hot 100 charting single "NoNoNo", which became Bomi's favorite song of the album: 'We often sing songs about love, but this song is encouraging and always cheers me up.'
That year Bomi also debuted as a TV host in the show "Weekly Idol", and in July APink members became ambassadors of the Character & Licensing Fair, and in November the group received their second Mnet Asian Music Award in the category of Next Generation Global Star.
In March 2013 APink released their EP "Pink Blossom", which achieved huge commercial success and charted on the Billboard K-Pop list at number two. The album's lead single "Mr. Chu" gave the group six music wins.
At this time, Bomi left her position as a host of "Weekly Idol", and became a fixed member of the show "The Human Condition".
In June Bomi along with her bandmate Kim Namjoo formed APink BnN, a subunit of the group which debuted with the track "My Darling", released shortly before the group joined the program "Showtime" in August.
Debut Overseas
In August 2014, APink expanded their activities overseas with the release of a Japanese version of their single "NoNoNo" and a show in Osaka.
In November the group released the EP "Pink Luv", containing APink BnN's song "My Darling" and the lead single "Luv", which became the group's first number one track and gave APink three music show wins.
At the end of the year, APink was number three on the Gaon's list for best selling female groups.
In an interview with Oricon during APink's promotions in Japan at the end of the year, Bomi was asked about the group's personalities: 'It is a little embarrassing to talk about our own charms, but I think it is that we give our fans the feeling of being close to them, like that of a neighbourhood sister. A lot of people think like that last time, when we did variety programmes, we were able to show our candid personalities and we often heard that people came to like our personalities. On stage we have a feminine image, but off-stage we are actually mischievous. (laughs).' After receiving several music awards in events such as the Golden Disk Awards and the Korean Culture Awards, APink held their first solo concert in Seoul on 30 January 2015.
Shortly before APink released their Japanese single "Mr. Chu" in February, Bomi appeared in an episode of the TV series "Real Men" as a special guest.
As a result of their outstanding work and rising popularity, in February 2015 APink was named one of the best three new Asian artists by Japan's Recording Industry Association. This led the group to continue expanding their activities overseas, starting with a concert in Singapore on 22 March. before visiting the US, Vietnam and China.
After a series of concerts in Japan and the re-release of "Luv" in April that year, APink visited Thailand for a fan meeting. When asked about the experience, Bomi expressed her gratitude to APink's supporters: 'We're very happy and thankful to all our fans. We feel sorry that we haven't had the opportunity to come here often. We promise that we'll find a chance to meet everyone and pay back the fans with great songs.'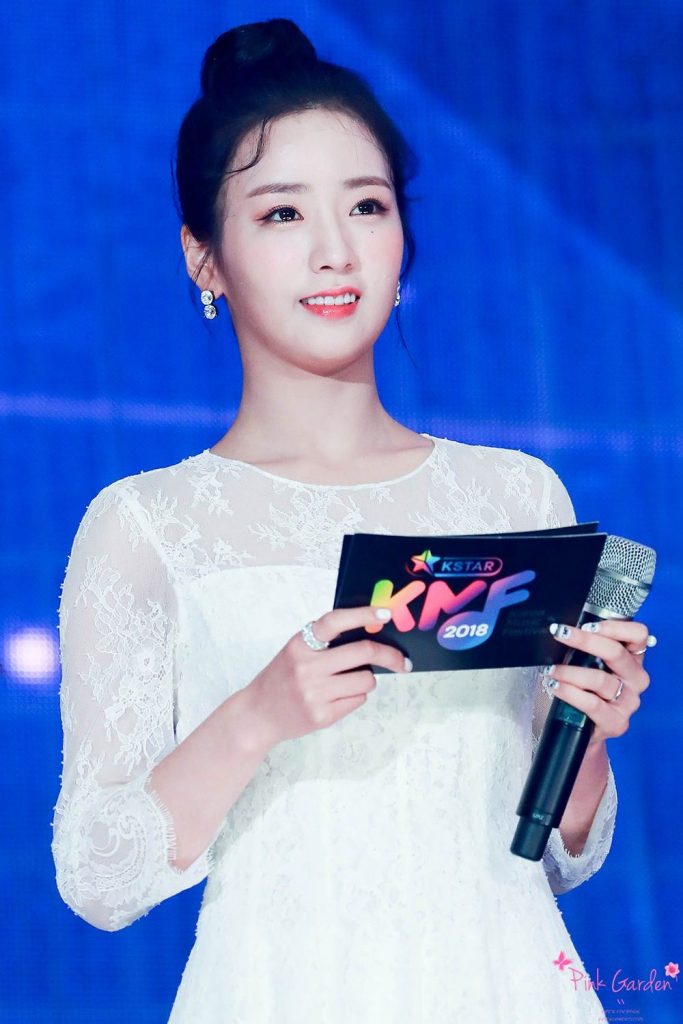 During the rest of the year, APink held various concert tours overseas, and released their second album "Pink Memory" in July. In September, Bomi obtained her first important role in a drama series when she was cast as Yuna in "Love Profiler K". Later, in January 2016 Bomi became the narrator of "Shikshin Road 2", and appeared in the reality show "We Got Married", in which she pretended to be actor Choi Tae-joon's wife. In September 2017 Bomi was cast in another acting role, this time in the drama series "Because This Is My First Life".
Recent Years
Since the release of the album "Pink Stories" in December 2017, APink has released various EPs such as the Gaon's number one "One & Six" and "Percent" in 2019, and the dance oriented "Look" in 2020. When asked about the group's plans for the rest of the year by KStation, Bomi said: 'I think each of us will show a lot of individual activities. Please wait patiently. I think the next APINK album will be prepared soon.
I hope this year will be a year where we can leave a lot of memories for our fans.'
In 2018 Bomi appeared in five episodes of the show "Pocha Beyond Borders", followed by other reality TV appearances such as in "Legendary Big Fishing" and "Battle Trip". She was also cast as Kang Han-byul in the two seasons of "Farming Academy", and more recently in 2020 she played Min Joo in "Oppa Will Date Instead".
In April 2019 Bomi opened a YouTuber channel named "Bbom Bbom Bbom" on which she has almost 1 million subscribers to date. As a result of her online popularity, Bomi won the category of Most Influential Celebrity YouTuber at the 2020 Brand Customer Loyalty Awards.
Personal Life
Bomi has chosen to keep the details about her personal life undisclosed, thus information about any romantic relationships is unknown, actually normal during the early career of many K-Pop idols, at the direction of management.
Plastic Surgery
APink's fans have compared Bomi's early facial features to her current appearance, determining that she has changed her appearance through various esthetic procedures such as rhinoplasty and double lid surgery – Bomi hasn't confirmed or denied said claims.
Nth Room
In September 2018, Bomi and her roommate Shin Se Kyung discovered a hidden camera in their dorm room. Although at the time nothing suspicious was found in the camera's content, in March 2020 Jo Joo-bin – who is the principal suspect in the cybersex trafficking case Nth Room – admitted he was responsible for placing said cameras in the idol's room, with the help of a member of APink's staff.
Net Worth
Bomi earns approximately $87,000 per year as a YouTube content creator. As a result of her career as an actress, member of APink and as a YouTuber, Bomi has an estimated net worth of close to $300,000 as of late 2020.
#BOMI: and i'm feeling…. good pic.twitter.com/GOw7oUVIaR

— ady (@bomithinker) September 12, 2020
Physical Appearance
Bomi is a gorgeous woman with beautiful facial features and slender build. She's 5ft 4ins (1.63m) tall and weighs approximately 115lbs (52kgs).
Interesting Facts
Bomi knows how to play drums.
According to the rest of APink's members, she's the most mischievous of them.
Her ideal type is a man who has manners.
When asked what superhero she would like to be, Bomi chose Superman.
Chorong chose Bomi as the APink member she would marry if she were a male.