YooA is a South Korean singer and dancer, who in 2015 debuted as a member of the girl group, Oh My Girl. Five years later, she gained prominence in the mainstream Korean Pop (K-Pop) scene when her group released their ninth EP with their hit songs, "Nonstop" and "Dolphin." In September of 2020, she debuted as a solo artist with the EP "Bon Voyage." With her doll-like face, she ranked No.23 on TC Candler's 100 Most Beautiful Faces of 2018.
Just a simple reminder that article is created and owned only by kpopwiki.org. Article cannot be re-published in any other pages or documents. Copyright is protected by DMCA. All found copies will be reported.
Original source: https://kpopwiki.org/yooa-oh-my-girl-biography-age-brother-plastic-surgery/
Early Life and Family
YooA was born Yoo Yeonju on 17 September 1995, in Yongsan-gu, Seoul, South Korea. For some unknown reason, she changed her legal name to Yoo Shiah, which means to become a proper individual. Shiah means 'to be proper' while Ah means 'me.' Her parents raised her and Junsun, his older brother, in a middle-class household.
210101♡ pic.twitter.com/98MI4prbvm

— yooa pics (@shiahpics) December 31, 2020
While she was a track and field athlete in grade school, she grew-up fascinated with music and dancing – she learned how to dance during high school. Her older brother whom she looks up to is a choreographer at 1 Million Dance Studio, one of the most popular in South Korea. Oftentimes after school, she would immediately go online to browse several music sites for new songs and videos. One of her role models growing-up was BoA, one of the first few K-Pop artists who started the Hallyu Wave, or the growth of Korean culture globally. She never had any problem with her parents when she decided to seriously pursue her dreams of being a singer, and even received support and encouragement from them.
Educational Background
She attended Jangpyung Middle School and matriculated from Haesung International Convention High School.
There was once a controversy about her college education as she was misquoted for having said that she graduated from the prestigious Sejong University with a bachelor's degree in Dance. However, it was cleared later by her agency, that she only attended the university's Applied Dance Department for global knowledge continuing education program.
Career
Among the trainees to be launched as part of the new girl group of WM Entertainment, home to the boyband called B1A4, YooA had the shortest time spent in training. She passed the in-house audition in 2014, and after just a year, she became the center and main dancer of the K-Pop girl group, Oh My Girl.
First Steps – Debut Year (2015)
On 20 April 2015, she debuted along with Mimi, Seunghee, Arin, Binnie, Jiho, JinE and Hyojung, with the release of their self-titled extended play (EP).
It has four songs, namely "Hot Summer Nights," "Curious," "Oh My Girl," and the lead track "Cupid." They held their debut live showcase in SBS MTV's "The Show", followed by many appearances in popular music shows in South Korea over two months. However, the EP peaked at No.6 and only a little over 10,000 units were sold, so was considered as a weak debut, with "Cupid" ranking at No.103 on the Gaon Digital Chart with just 22,000 downloads.
After six months, YooA and the girls released the group's second EP entitled "Closer" on 8 October 2015. It consists of five tracks including "Say No More," "Sugar Baby," "Playground" and the title track. The total number of downloads for the title track doubled, but the EP peaked at No.6 again, and only 12,000 units were sold.
Very early on in YooA's career, her group made international headlines when they were barred from entering the US.
They were supposed to do a photoshoot there, but US Customs and Border Protection officials said that they didn't possess the right visa. There were claims that the Customs officials allegedly thought they were sex workers, and they were detained for 15 hours. This was refuted by US Customs, who said that those 15 hours were mostly because of the waiting period for the next flight back to South Korea. They reiterated that the girls presented the wrong visa.
Slump After Debut, Collaborations and First Concert (2016 – 2018)
Right after their debut year, YooA confessed in a recent interview that she was on a slump at that time. Since she had the shortest training period, she had a difficult time adjusting to the new environment. She didn't even know what to do inside a recording studio, and it took her a long time to figure it out. YooA couldn't confide her problems to her parents, as she didn't want them to worry, but kept it to herself and that made it even more stressful.
Sharing it with her bandmates was not an option as they were all in the same boat. Her health suffered, and she developed insomnia as well as apnea.
To help boost the girls' popularity, Oh My Girl collaborated with established K-Pop artists such as HaHa and Skull for the single album "Listen to My Word," released on 1 August 2016. It paid off, since it topped the Gaon Album Chart and the title track accumulated 214,000 downloads.
They slowly developed a solid fan base, and her group held their first concert entitled "Summer Fairy Tales" for two nights in August 2016, at the Blue Square Samsung Card Hall in Seoul. The tickets were reportedly sold out in minutes, and was regarded as one of the fastest-selling tickets for a rookie group at that time.
From 2016 to 2018, the group released five EPs including "Pink Ocean" (March 2016), "Coloring Book" (April 2017), "Secret Garden" (January 2018), and "Remember Me" (September 2018).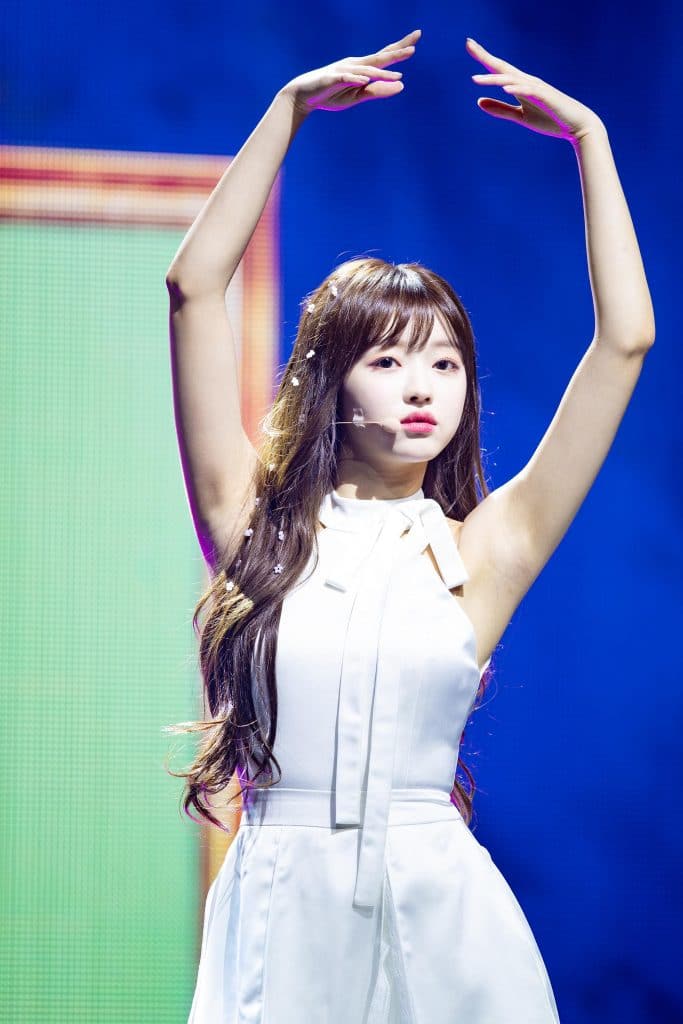 However, mainstream success continued to elude YooA and the girls. The highest total number of units sold was 36,000, and that was for "Secret Garden," which peaked at No.4 on the local chart and No.12 on Billboard's World Album Chart.
The lead tracks from those EPs fared better on Gaon's Digital Chart, including "Step By Step," which ranked 79th with 53,000 downloads; "Liar Liar" at No.58 with 117,000 downloads; and "Windy Day" at No.62 with 162,000 downloads. The group achieved their first music show win with the song, "Secret Garden," from SBS MTV's "The Show" on 23 January 2018.
It was at this time when one of YooA's bandmates went on temporary hiatus, and eventually quit the group due to anorexia nervosa and other health problems.
First Studio Album, Japanese Promotions and Queendom Participation (2019)
The early part of 2019 was dedicated to Japanese promotions, as her group released their Japanese studio album entitled "Oh My Girl Japan Debut Album."
It debuted at No.1 on the Japan Oricon Album Chart, but slipped to No.2 after a week, and peaked at No.4 on Billboard's Hot Japan Album Chart. They promoted the album in several popular Japanese music shows. By July, her group released another studio album entitled "Oh My Girl Japan Second Album." It might not have peaked on top of the charts, but the total number of sales was a bit higher than the previous one.
Back in Seoul, YooA and the girls prepared for a two-month round of promotions for their first full-length studio album, "The Fifth Season," released in May 2019. It peaked at No.4 on the Gaon Album Chart with a total of 27,000 units sold, and the title track reached No.26 on the Gaon Digital Song Chart, and No.15 on Billboard's K-Pop 100.
In August, K-Pop fans were treated to several production numbers from Oh My Girl, courtesy of the reality TV survival series, "Queendom." The group competed against five other K-Pop acts in the series.
In the first round, they performed "Secret Garden," and ended-up in 3rd place. In the second round, they performed the song "Destiny", originally sung by Lovelyz, another competitor, and they ranked first. During the third round, all the competing artists had to send a representative to perform in a temporary unit, and YooA was chosen by her bandmates. The temporary unit performed "Power" by Little Mix and she nailed her performance, ending-up with the highest number of votes and points. After the final group performance, Oh My Girl finished in second place, with Mamamoo winning the Queendom.
In an interview, the girls said that the survival series was the break they were looking for, and it turned out that they were right. Their "Queendom" stint helped boost their brand rankings, and the group achieved recognition among their peers.
Commercial Breakthrough with Nonstop (2020)
It was with their seventh EP entitled "Nonstop" that Oh My Girl finally enjoyed mainstream success. Released in April 2020, this time it was distributed by a bigger company, Sony Music Entertainment Korea, and peaked at No.3 on the Gaon Album Chart with 45,000 units sold. It consists of five songs, and the title track peaked at No.2 on the Gaon Digital Chart. Surprisingly, another song, "Dolphin" successfully charted at No.9, and both songs stayed in the charts for quite some time.
The title track also gave the group six trophies for winning the No.1 Song of the Week from various music shows, including SBS' "Inkigayo," KBS' "Music Bank," MBC's "Show Music Core," and Mnet's "M Countdown."
Solo Debut (2020)
YooA is considered the most popular member of Oh My Girl, and fans weren't surprised that on 7 September 2020 she dropped her debut EP entitled "Bon Voyage." It has five tracks including "End of Story," "Abracadabra," "Far" as well as the title track.
The Lost Memory Concert pics pic.twitter.com/WTIP8UDu9I

— yooa pics (@shiahpics) December 31, 2020
The EP peaked at No.3 on the Gaon Album Chart with 27,000 units sold, while the title track racked up around 28 million digital points from the Gaon Digital Song Chart. It gave YooA her first music show win as a solo artist, from SBS MTV's "The Show" on 15 September 2020. She was in tears when she was awarded the trophy, and became so emotional giving her acceptance speech that she wasn't able to sing properly right after that, during the encore.
She released the theme song for the South Korean promotions of the Netflix movie entitled "Over the Moon." It is an animated movie jointly produced by American and Chinese movie outfits and was directed by Glen Keane.
YooA was featured in a couple of dance videos made by her older brother,
Junsu. One can be found in the official YouTube channel of 1Million Dance Studio, with which he's affiliated, and another was posted on his official YouTube Channel.
Personal Life
YooA is single right now, as there has been no news of her dating anyone; most South Korean entertainment agencies don't allow their talents to date in the first three to five years after their debut. She is on her fifth year already, but most K-Pop artists prefer not to date publicly even after the dating ban is no longer in effect, to avoid having their personal lives to come under scrutiny. During one of her interviews, she said that after 10 years in the business, she would like to have a family and be a mother by that time.
She is currently living in a company dormitory, with a manager and along with her bandmates – she shares a room with Binnie.
Hobbies, favorites, rumors, and interesting facts
Among all the songs released by her group, her favorite is "Closer."
YooA thought that if she was born an animal, she would have been a cat.
If she hadn't pursued a career as a K-Pop artist, she would probably be in the same profession as her older brother, and a choreographer of a major dance studio.
During YooA's free time, she likes to cook, write in her journal, rearrange her room, and watch movies.
Her favorites: fall (season), red and white (colors), Beyonce and BoA (singers), mint chocolate chip (ice cream flavor), "Demian" written by Hermann Hesse (book).
YooA has been embroiled in controversies. Some fans believed she kept on making up stories about her life during her early interviews to gain public attention. In one interview on a TV show, she said that the reason she became a singer was because of a stalker, but one of her pre-debut posts on her social media mentioned that her childhood dream was to be a singer. In another interview, she claimed that she holds the record of 13.00 seconds for 100m in track and field from when she was in grade school. She also said that she only stopped running because she didn't want to develop muscles. When fans checked the records, the fastest was 13.15 seconds. However, her words could have been taken out of context.
Appearance
YooA is 5ft 3ins (1.61m) tall, weighs 97lbs (44kgs), and has a proportionally slim body with long neck and limbs, making her appear about three inches taller. She has a small doll-like face with dark brown eyes and has long black hair.   Her eyes became the focal point of her plastic surgery rumors – people debated whether the fold on her eyelids was surgically enhanced or not. When she was asked if she'd had anything done to her face she categorically said no.
Net Worth
According to authoritative sources, YooA has an estimated net worth of over $200,000 as of December 2020.