Lee Kaeun is a South Korean singer and actress, who first debuted as a member of the Korean Pop (K-Pop) girl group, After School. When her group went on hiatus, she joined the reality TV survival series, "Produce 48," for a chance to launch again as a member of a temporary 12-member group, chosen through a voting system but unfortunately didn't make the cut on the final round; it was later revealed that the voting was rigged. She rebranded herself and focused on being an actress.
Just a simple reminder that article is created and owned only by kpopwiki.org. Article cannot be re-published in any other pages or documents. Copyright is protected by DMCA. All found copies will be reported.
Original source: https://kpopwiki.org/who-is-former-produce-48-contestant-lee-kaeun-biography/
Early Life and Family
Lee Kaeun or Lee Gaeun – the letters K and G can be interchangeable in names in the Korean language – was born on 20 August 1994, in Yongsan-gu, Seoul, South Korea. She's an only child, and when she was 12 years old, she lived with her mother in Wayamaka Prefecture, a city in the Kansai region in Japan. They returned to South Korea after four years.
Educational Background
Lee attended junior high school in Wayamaka, Japan, and then matriculated from Seoul Broadcasting High School. She subsequently graduated from Dongkuk Women's University with a degree in broadcasting.
Career
Kaeun started with a dream of becoming an actress, but one of the executives at Pledis Entertainment convinced her to get vocal, dance, and rap training instead, so that she could launch as a K-Pop artist. After she debuted in a girl group in 2012, and later joined a reality TV survival series in 2018, she ended up pursuing her first dream of becoming an actress in 2019.
First Steps – Debut with After School (2012)
She was on the roster of trainees at Pledis Entertainment, waiting for her turn to debut, and on 11 April 2012 she was announced as the newest member of the K-Pop girl group, After School.
The group debuted back in 2009, and followed a graduation system in which the girls would leave the group when they reached a certain age, or if they wanted to pursue other things. At that time, the leader, Kahi was about to leave, and Lee would replace her to restore the eight‑member group.
It was on 27 April 2012 that Kaeun started to perform with the group, with the Korean song, "Let's Do It," along with the Japanese version of their hit song "Bang!" during After School's Japanese concert tour in Tokyo. Kaeun and Kahi were only able to perform together on that tour since, it was Kahi's final outing with the group.
Kaeun was officially included in the group's discography when they released the extended play (EP) "Flashback" on 20 June 2012, with Jungah as the new leader of After School. The single album consists of five tracks, including "Wristwatch," "Ripoff," "Eyeline," and the title track. The EP peaked at No. 3 on the South Korean Gaon Charts upon release, with around 17,000 units sold.
Digitally, it was downloaded a little over a million times, and peaked at No. 14 on the Gaon Weekly Singles Chart. The official music video (MV) was posted on YouTube a day before the song was released, and it has been viewed more than 21 million times to date.
EP and Album Releases, Pole Dancing, Japanese Promotions (2013 – 2015)
The year 2013 started well for Kaeun and the girls, with them flying to Bangkok, Thailand for a fan meeting event on the 23rd of February. On the 30th of March, they had another meet and greet charity event with fans in Taipei, Taiwan, from which they donated the sale of the tickets amounting to a million Taiwan dollars to underprivileged Taiwanese children.
After School also released their first compilation album entitled "The Best of After School" on 27 March 2013, to coincide with the release of the group's "Playgirlz Japanese Concert" DVD. The fandom of the group, Play Girlz, was quite happy with the simultaneous releases of the group's merchandise.
After three months, Kaeun and the girls released their sixth EP entitled "First Love" on 13 June 2013, collaborating once again with the successful South Korean music producer Brave Brothers. The EP has six tracks including "Dressing Room," "Love Beat," "8 Hot Girl" and the title track,  debuted at No 11 and peaked at No. 9 on Gaon Album Chart. The title track debuted at No. 10 and peaked at No. 6 on Gaon Download Chart, and reached No.7 on Billboard Korea K-Pop Hot 100 Chart.
The official MV, which was uploaded on the same day the song was released, showed the girls' pole dancing – Kaeun along with the other members practiced and trained in pole dancing for six months prior to the release of the song, and fans were suitably impressed with the live performances on music shows.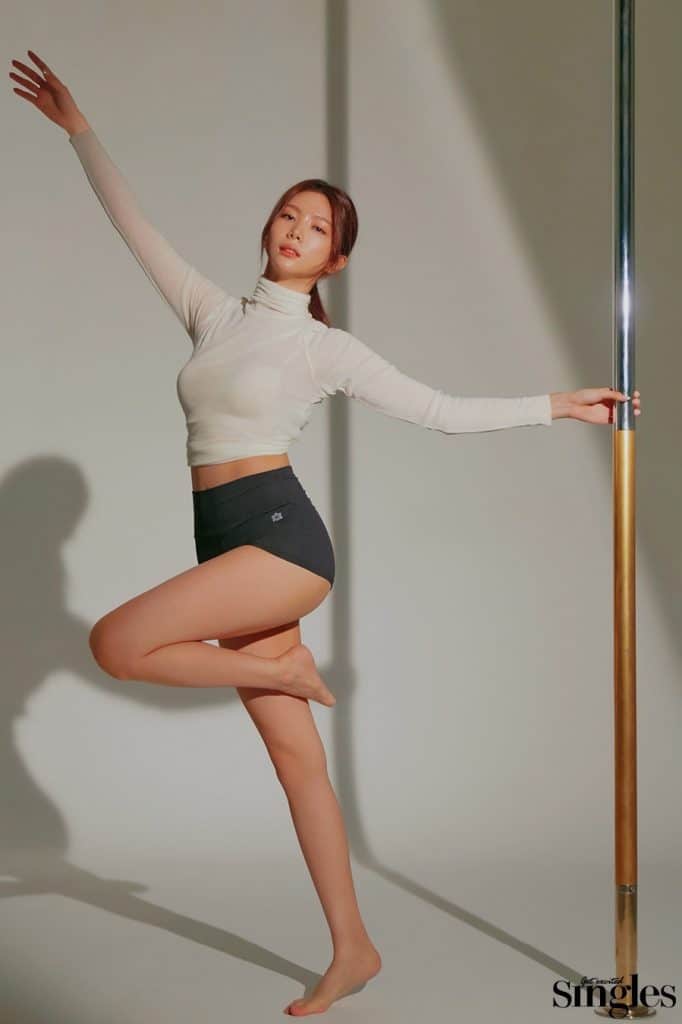 Unfortunately, some minor accidents prevented some of the members performing during TV promotions, including Lizzy who sprained a ligament in her ankle, Raina who injured her hand, and Nana who fell off the stage during a live performance.
After School focused on Japanese promotions in 2014, and released the studio album "Dress To Kill," exclusively for Japanese fans on 19 March 2014. It has 12 songs including "Crazy Driver," "Heaven," and "Ssh" along with the title track. The album peaked at No. 14 and No. 33 on the Oricon Daily and Weekly Album charts, respectively.
After School Hiatus
For whatever reason, After School halted all their activities as a group and went on an hiatus. There are members who focused on their acting careers, while Kaeun and the rest waited for a comeback. The last time they promoted with a new song in South Korea was way back in 2013.
However, up to this day, no announcement of disbandment has been released by Pledis Entertainment, even if all the other members left the agency except for Nana, who was still under contract with them.
Kaeun's Journey in "Produce 48" (2018)
Reality TV survival series are popular in South Korea, and it's one of the fastest ways for any trainee to debut with the backing of a huge TV network, and established entertainment company. Kaeun was allowed by Pledis Entertainment to join "Produce 48," wich series came from the same producers behind the successful "Produce 101" franchise. She competed against 95 girls from 57 talent agencies from South Korea and Japan for a spot in the debuting 12‑member girl group, IZ*ONE. The participants were given vocal, dance, and rap coaches to help fulfill the missions given to them throughout the series – the final 12 members would be voted upon by the viewing public.
Her Visual#Kaeun pic.twitter.com/FLiW0pHPN9

— im Nana 🌙 Im Jin Ah (@kingnuest) September 29, 2020
From the get-go, she gained the viewers' interest as fans were curious as to why Kaeun participated in the show when she had already debuted and been a member of an established K-Pop group. During the interview with the coaches, Kaeun couldn't help but cry when telling her reasons for joining. It had been five years since After School had their promotional activities in South Korea, and she had waited for a comeback that never materialized. She asked her record label to allow her to join, so that she could be on stage again, performing. It was a risk she took knowing she may not make it to the final round.
Kaeun was one of the favorites to win, and was included in the top five in the first voting week. From the first round up to the semi-final round, she was always in the top eight during voting rounds, and ranked No.1 on three separate voting weeks. It was quite surprising that in the final round she was eliminated and only managed to rank at No. 14. It was heartbreaking for her because she was determined to make a name for herself and proudly stand on stage again.
There were rumors on social media that the show was probably rigged, but no one wanted to officially question the producers, as they may be accused of being sore losers.
New Talent Agency (2019)
After her stint with "Produce 48," Pledis dropped hints of a comeback, but nothing happened, and one by one, the members of After School graduated or their contracts expired; no one renewed their contracts. On 6 July 2019, Kaeun left Pledis Entertainment, her home for eight years. As a parting gift to her loyal fans, she released a farewell song, "Remember You," which talked about how she would remember everything the fans gave her and how she appreciated them for always waiting for her. She also reiterated that it was because of her fans that she didn't give up, even during the most difficult times.
On 16 July 2019, she signed up with another talent agency, High Entertainment, home to popular actors including Jo Yeo Jung ("Parasite") and Uhm Hyun-kyung ("Innocent Defendant").
Kaeun decided that she would focus on her acting career, as she no longer has the drive to perform on stage. Kaeun will make her acting debut via a web rom-com series, "Another Peaceful Secondhand Nation," taking the role of Lee Ri Ah, a beautiful girl who is popular among the men, but isn't interested in dating anyone seriously. It's scheduled to air in late-2020.
Voting Manipulations Confirmed on Produce 48 (2019)
After almost a year that "Produce 48" aired on TV, it was revealed that the results of the voting for the final 12 members in the survival series had been rigged. During an investigation about the voting result in "Produce X 101," producers Ahn Joon Young and Kim Yong Bum admitted that they manipulated the results of the show. The confession triggered an investigation of all Mnet survival series, particularly the previous seasons of "Produce 101" During the interrogation, the producers admitted that they also manipulated the result of the final rankings of the top 20 of "Produce 48," already listing of the final 12 winners before the voting was even finished.
Although the opportunity presented by winning in "Produce 48" was long gone, and there was no way of knowing if she actually won, Lee at least had the answer to why she didn't win at that time, or at least be included in the final 12. A Billboard columnist and K-Pop expert, Jeff Benjamin, once posted on Twitter that one of the indications that something was off with the show was when Lee didn't make the final cut. He further said, '…with a fanbase all her own who ranked only within the Top Eight of the entire show somehow failed to make the final 12-member lineup.'
Personal Life
Kaeun is reportedly single right now, and based on her previous interview, she didn't have the opportunity to date anyone due to the dating ban included in her contract. Her mother also said in an interview that she pitied her daughter for not having a personal life since her debut back in 2012.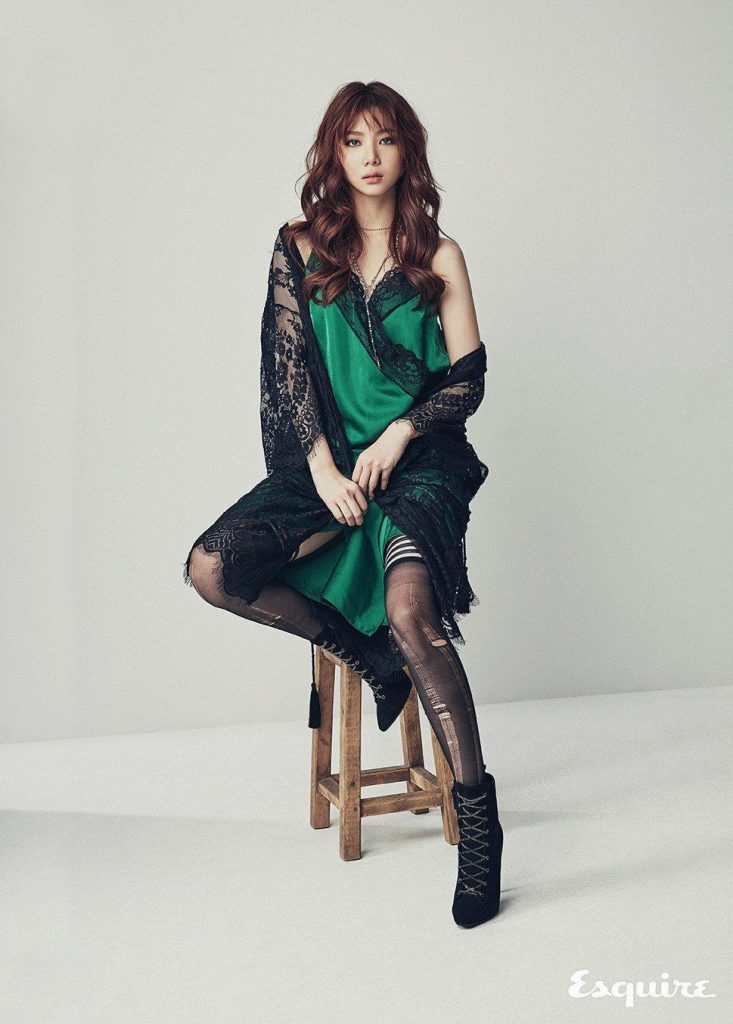 Lee's hobbies, favorites, rumors, and interesting facts
Kaeun speaks Japanese fluently.
Her nicknames were "Iganggang" during her elementary days, "Eye Smile Girl" during her trainee days, and "Kirin," which means giraffe in the modern Korean language because of her height.
Aside from singing and dancing, she likes to play with her dog, watch a movie, and read books during her free time. She also likes drawing and taking random pictures.
Out of all the musical instruments that she was given a chance to learn, Kaeun chose the piccolo flute.
She likes having ginger in Korean dishes, with her favorite barbeque beef billet along with her favorite Japanese food, Tempura Udon, and Salmon Sushi.
During her trainee days, she would sneak out to get food with fellow trainee, Hwajung (D.Holic), because they hadn't eaten for a whole day due to strict diet regulations imposed by the agency. However, they were spotted before they could eat by one of the road managers, and they ended up not eating anything.
Kaeun developed a great friendship with Raina during their promotions as members of After School.
According to former After School members, she was the mood maker in the group, who has a very feminine personality, but also has a mischievous side that would often surprise them.
She expresses her pent-up emotions through the songs that she writes.
Kaeun had a hard time sleeping in the past, particularly during difficult times in her career, so she listened to songs before going to sleep including "Still With You" by Eric Benet, given to her by her vocal coach.
She had a difficult time dealing with embarrassment when she made mistakes during performances, including when her voice broke while singing on the variety show, "1000 Songs Challenge," and her face turned red while the other guests burst into laughter.
Appearance
She is 5ft 6ins (1.68m) tall, weighs 105lbs (48kgs), and has a slim physique. She has black hair and dark brown eyes. While most K-Pop artists would experiment in wearing their hair in different colors during TV promotions, Kaeun would only go as far as dyeing her hair light brown to reddish-brown, or streaked with highlights.
Net Worth
According to authoritative sources, Kaeun has an estimated net worth of close to $200,000 as of October 2020.