Eunha is a former child actress, who debuted as the lead vocalist of the Korean Pop (K-Pop) girl group called GFriend under Source Music, and became famous with their hit singles "Me Gustas Tu," "Rough," and "Navillera."
Just a simple reminder that article is created and owned only by kpopwiki.org. Article cannot be re-published in any other pages or documents. Copyright is protected by DMCA. All found copies will be reported.
Original source: https://kpopwiki.org/who-is-eunha-from-gfriend-height-plastic-surgery-age/
Early life and family
Eunha was born Jang Eun Bi on 30 May 1997, in Geumcheon, Seoul, South Korea. Her parents raised her in a Christian household along with her older brother and sister.
She was seven when she was diagnosed with the rare disorder called Langerhans cell histiocytosis (LCH) and received treatment until sixth grade with regular visits to the hospital to get blood work done. She says that she was cured of the disease, and that there is no possibility of it recurring.
Educational background
She matriculated from the School of Performing Arts Seoul in February 2016.
Career
First steps
Eunha started her career in the entertainment industry as a child actress, and appeared in minor roles in television series such as in season two of "The Clinic for Married Couples: Love and War" (2007), "Unstoppable Marriage" (2007), and "Strongest Chil Woo" (2008), which were all aired on KBS2.
Her interest must have shifted to dancing and performing, as she attended Krazy Dance Academy, DM Skool and Def Dance Skool. In 2011 she was accepted as a trainee at LOEN Entertainment, and trained for a year before leaving the company to focus on her studies, at her parents' insistence. In 2014 she was contacted by Source Music team leader Lee Riwon, who is a former LOEN staff member, and invited to join the company. After training for only two months, she was included in the final line-up of the K-Pop girl group that the company planned to launch, called GFriend.
Eunha along with five other members – namely SinB, Umji, Yuju, Yerin, and Sowon – debuted on 15 January 2015 with the release of "Season of Glass." It peaked at No.9 on South Korea's Gaon Album Chart with over 11,000 copies sold that year, and consisting of five tracks including the lead single, and the first song in their high school concept trilogy entitled "Glass Bead," which reached No.25 on the Gaon Digital Chart with more than 680,000 downloads and over 29 million streams in 2015. GFriend, which has an innocent concept with powerful dance choreography, was among the "Top 5 K-Pop Artists to Watch in 2015" according to Billboard.
After six months, Eunha and the girls released their second EP entitled "Flower Bud", with the lead single "Me Gustas Tu" (I Like You), which climbed the Gaon Digital Chart peaking at No.8, after a fan-recorded video of their dance performance went viral.
GFriend was performing on a stage that was slippery from rain, with Yuju falling several times but would get right back up to finish the song that has non-stop choreography. Fans were outraged that the organizers of the show allowed the group to perform despite the condition of the stage. Although the video was rather painful to watch, it gained millions of views with knetizens (Korean online users) and K-Pop fans admiring Yuju for her determination to continue performing. The single ranked in 38th place by the end of the year, with over a million downloads and 50 million streams.
The seven-track EP entitled "Snowflake" released in January 2016 peaked at No.2 on the Gaon Album Chart and No.10 on Billboard's World Albums Chart. Its lead single, "Rough," which completed their high school concept trilogy, claimed the top spot on the Gaon Digital Chart for two weeks.
It was the third best-selling song that year as it topped the download chart with 1.9 million downloads and around 100 million streams.
Eunha and the girls also reached a milestone with this song, as it gave them their first music show win through SBS MTV's "The Show" on 2 February 2016, and managed "triple crowns" or three consecutive wins on music shows such as MBC Music's "Show Champion," Mnet's "M Countdown," KBS' "Music Bank," and SBS' "Inkigayo" for a total of 15 wins. On most music shows, a K-Pop group can only win three trophies for every song.
Not only were they given the Best Dance Performance (Female) Award at the 18th Mnet Asian Music Awards (MAMA), and 8th Melon Music Awards (MMA), they also received the Digital Bonsang (Main Prize) at the 31st Golden Disc Awards (GDA), and 26th Seoul Music Awards (SMA). Billboard ranked the song at No.13 on their list of "20 Best K-Pop Songs of 2016", and the group also took home the New Artist of the Year Award from SMA, GDA, and MMA.
Further success
Their first studio album entitled "LOL" has two versions – "Lots of Love" and "Laughing Out Loud", released in July 2016, and it peaked at No.3 on the Gaon Album Chart with cumulative sales of over 77,000; it also entered the Billboard World Albums Chart at No.7. The album has 12 tracks, five of which made it to the Gaon Digital Chart, including "Fall in Love," "Mermaid," "LOL," and "Gone With The Wind."
The lead single, "Navillera," topped the chart for two consecutive weeks and has cumulative sales of over 1.1 million downloads and 56 million streams by the end of the year. It gave them four "triple crowns" and a total of 14 trophies from various music shows. It peaked at No.12 on Billboard's World Digital Song Sales Chart.
At the 2016 SBS Gayo Daejun or year-end music festival, they performed their most recent hit songs. However, Eunha was criticized by some knetizens for having a "sour face" expression on stage, as seen on a short video clip posted on social media, saying it was disrespectful to the viewers.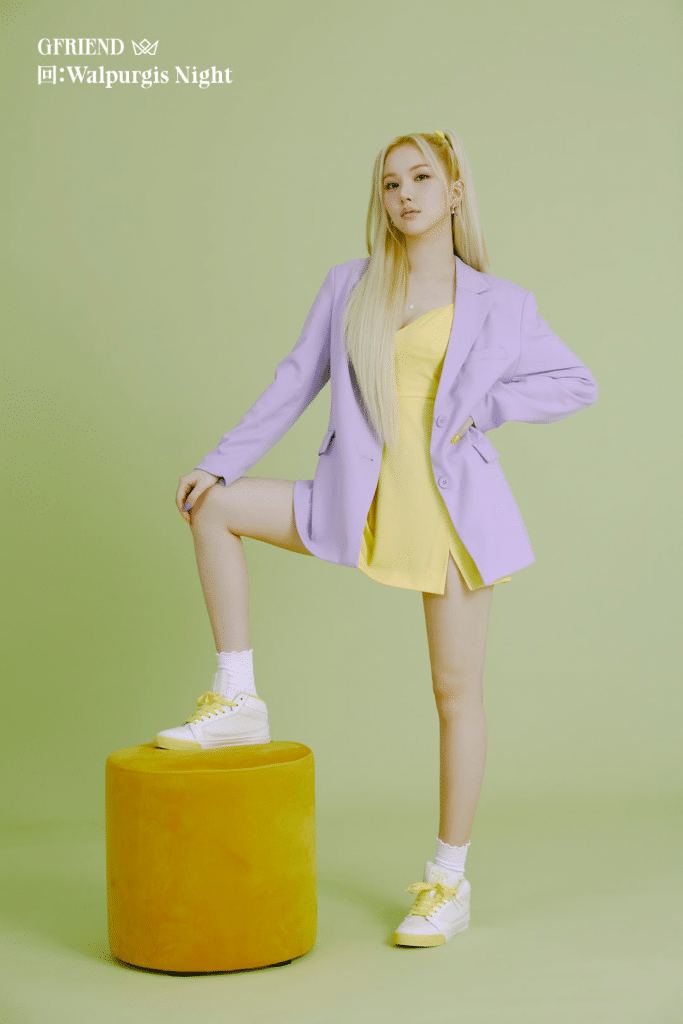 However, those who watched the full fan-recorded performance video said that the camera caught her at an awkward moment, just being playful before she begins to sing.
Their fourth EP, "Awakening," with "Fingertip" as the lead track, was released in March 2017 and debuted at No.1 on the Gaon Album Chart and sold more than 75,000 copies that year. It reached No.5 on Billboard's World Album Chart, and No.18 on Japan's Oricon Chart. They released another EP that year entitled "Parallel," which has eight tracks with "Love Whisper" as the lead single. A little over a month after its release, they issued a repackaged album entitled "Rainbow", with 10 tracks including the lead single, "Summer Rain."
Eunha and the girls held their first solo concerts, "Season of GFriend," on the 6th and 7th of January 2018 at the Olympic Hall in Seoul in front of 6,000 fans.
#EUNHA: she's a witch pic.twitter.com/t9c1DsSG7g

— im not cool (@jmncat) December 27, 2020
They released their seventh EP entitled "Time for the Moon Night," which debuted at No.1 on the Gaon Chart and sold more than 85,000 copies; the title track gave them a dozen trophies from various music shows for being the No.1 song of the week. The five-track summer EP entitled "Sunny Summer" charted at No.2 on Gaon with almost 60,000 copies sold, and the group entered the Billboard Social 50 for the first time at No.30.
GFriend has signed up with the Japanese record label, Kings Record, and released "Kyō Kara Watashitachi wa: GFriend 1st Best," a compilation album of the Korean and Japanese versions of their lead singles. It peaked at No.10 on the Oricon Chart.
Their highest-selling album was "Time For Us" released in January 2019, which peaked at No.2 on the Gaon Album Chart with cumulative sales of close to 100,000 copies, and No.12 on Billboard's World Albums Chart.
It has 13 tracks including the lead single, "Sunrise," which reached No.12 on the Gaon Digital Chart and No.25 on Billboard's World Digital Song Sales Chart. The girls released another EP entitled "Fever Season," which topped the Gaon Album Chart, and peaked at No.10 on the Billboard's World Albums Chart – Eunha contributed to the lyrics of the sixth track, "Hope."
The group also released three Japanese albums that year – "Sunrise," "Flower," and "Fallin' Light", which all charted well on the Oricon Chart at No.11, No.9 and No.7, respectively.
In 2020, Eunha and the girls made a comeback on the Korean stage with the release of the eighth EP entitled "Labyrinth," which topped the Gaon Album Chart, and iTunes Chart in 13 countries. It was their first release after Big Hit Entertainment's acquisition of Source Music, and Big Hit's producers including co-CEO Bang Si-hyuk, took part in the creative process of making the EP.
They released their ninth EP entitled "Song of the Sirens", with Eunha co-writing the lyrics for the lead track, "Apple." She also participated in writing the lyrics for the lead track, "Mago," from their third studio album, "Walpurgis Night."
In November 2020, during the media showcase for their latest album, she was seen wearing an eye patch. According to Source Music, Eunha experienced pain in her eye and at the hospital was diagnosed with corneal inflammation. She was advised to rest, so the company decided that she would take a break from activities for three days and would re-join the group once fully recovered.
Solo activities and collaborations
Eunha appeared in the official music video of Yu Seungwoo's "You're Beautiful" (2016). She participated as a contestant disguised as "Fresh Santorini" in MBC's "King of Masked Singer" in 2016, and lost during the second round after singing "In My Sadness, I Have to Forget You."
After revealing her identity, many were surprised that the sweet and powerful voice belonged to Eunha. As part of a six-member girl group, she could only sing a small part in their performances and their songs usually belong to the bubblegum pop dance genre, so most people were not aware of how good a singer she actually is. She said that this was her first solo stage, and it was a good experience for her.
Eunha was the featured artist in Pro C's "Han River At Night" (2015), MC Mong's "Chemistry" (2016), and Park Kyung's (Block B) "Inferiority Complex," which topped real-time music charts and peaked at No.3 on the Gaon Digital Chart with cumulative sales of over 888,000 downloads. It earned them nominations from various award-giving bodies including Song of the Year and Best Collaboration from MAMA, as well as the Best Rap/Hip-Hop from MMA.
She also collaborated with Hwang Chi Yeul in "Firefly" (2016), Teen Top's Chunji in "Hold Your Hand" (2017), and VIXX's Ravi in "Blossom" (2019).
For the SBS' "Inkigayo" Music Crush project in 2016, she participated along with YooA (Oh My Girl), Cheng Xiao (Cosmic Girls), Nayoung (Gugudan), and Nancy (Momoland) to form a temporary group called Sunny Girls, and released the single "Taxi".
She's sung the official soundtrack for several Korean TV series, including "Don't Come to Farewell" for the SBS historical drama "Six Flying Dragons" (2016); "Love-ing" for the SBS melodrama "Temperature of Love" (2017); "So In Love" for the KBS2 romantic comedy "Lovely Horribly" (2018); and "Mr. Stranger" featuring Kisum, for the SBS science fiction based on the Japanese manga series "My Absolute Boyfriend" (2019).
Personal life
Eunha is 23 years old and single. Although she doesn't have a dating ban, there has been no news of her dating or seeing anyone since her debut. Dating is considered a scandal in the K-Pop industry, as it has the potential to ruin the image of the artist and affect his or her group, so most K-Pop artists prefer to keep their relationships a secret.
Her ideal type is someone who is dependable, resourceful, and has a sense of humor; it would also be great if the guy is cute and has a good voice. She considers the actor Jo Jung Suk and singer Crush to be her ideal guys!
She enjoys having her own room at the dormitory provided by the agency.
Burning Red🔥

#여자친구 #은하 #Eunha @GFRDofficial
pic.twitter.com/heopJwQaoG

— 回:EunV◺◊◿⁶ (@eunvis) December 31, 2020
Hobbies, favorites, rumors, and interesting facts
Some knetizens compared photos of Eunha when she was much younger and after her debut, saying it seemed that she had plastic surgery done on her eyes to make her double eyelid looked more pronounced, which caused her face to look like a doll. Her nose job also made her looked different, as it became a 'sharp eagle nose' according to them.
Eunha admitted to feeling depressed, especially when it's time to sleep. She also said that when she sees her reflection at night, she thinks that she doesn't look human, so she would put on make-up to fix this problem.
Watching cooking shows is one of her hobbies.
Eunha and SinB have the same first name, EunBi, so each one used part of their real name for their stage names.
Her role model is IU, the successful singer-songwriter and actress.
Two and a half years after debut, Eunha along with the other members were allowed to use cell phones and meet their friends without the manager accompanying them.
Appearance
She is 5ft 3ins (1.67m) tall, weighs 100lbs (45kgs), and has a slim build. Her natural hair color is black and her eyes are dark brown. She has 11 ear piercings: seven in her left ear and four in the right.
Net worth
Eunha has an estimated net worth of $200,000 as of December 2020, according to sources.