Adachi Yuto – better known as just Yuto – is a Japanese rapper, dancer and Singer, born on 23 January 1998, in Nagano, Japan. He's known for being one of the members of the K-Pop group PENTAGON.
Just a simple reminder that article is created and owned only by kpopwiki.org. Article cannot be re-published in any other pages or documents. Copyright is protected by DMCA. All found copies will be reported.
Original source: https://kpopwiki.org/who-is-adachi-yuto-from-k-pop-boy-band-pentagon-biography/
Early Life
Although details regarding Yuto's educational background are unknown, it's been disclosed that he's the youngest of four siblings. While he hasn't revealed the identity of his parents and two older brothers, it's known his sister is named Akari.
In an interview with CQ Korea, Yuto talked about his hometown and his memories of it: 'It's the place I was born and raised.
Right behind my house is a ski resort. I have really good memories of skiing there as a kid, and visiting a nearby hot spring after.'
He also talked about his childhood and the people who influenced him to pursue his goals early in life: 'My childhood dream was to become a K-Pop agency CEO. However, around sixth grade, Girls' Generation, TVXQ, and Super Junior started promoting in Japan, and I began thinking that I wanted to become an idol too.'
Also interested in sports, Yuto was an avid baseball player, and practiced soccer for two years as a kid.
Career
Pre Debut
Yuto was initially a trainee for JYP Entertainment, though in 2014 he was signed by CUBE Entertainment after participating in the Cube Star World Audition.
Although his audition was with a Japanese song, Yuto already knew well the Korean language by the time he started his official training, as he declared to Refinery29: 'I've always thought it would be cool if someone foreign were to rap in Korean. It's not something just anyone can do, so I really like the challenge and wanted to push myself. It took me about five years to learn Korean, and now I'm the first Japanese rapper in K-Pop.'
Inspired by his dream of becoming a K-Pop idol, Yuto did his best to improve his skills, having in mind his role models in the industry: 'I respected a lot of K-Pop veterans, like Taemin and Super Junior. Still when I watch their stages now I think about growing up when I was a fan in Japan.
#YUTO: i'm happy. pic.twitter.com/hnKpBLGTea

— hourly 98z 📌 (@hourly98z) October 13, 2020
It was right in the beginning when K-Pop started its influence in Japan, and in came Girls' Generation and BoA. I'd never seen anything like it – such cool performances.'
Debut
Yuto was officially introduced as a possible member of PENTAGON on 26 April 2016, with the release of the video teaser "Come Into The World". Following that, he participated in the show "Pentagon Maker" of Mnet to win a spot in the group.
As a result of his efforts with his dancing, rapping and singing skills, he was finally selected as a member of the soon-to-debut boy group on 16 July. Less than a month later, PENTAGON released their first songs – "Find Me" and "Young".
After CUBE Entertainment faced various issues regarding the group's activities, in October PENTAGON finally released their self-titled debut extended play (EP), which charted on Gaon's list at number seven and entered Japan's Tower Records chart. Due to this unexpected success overseas, PENTAGON quickly extended their activities to Japan, making their debut in the country in December, after their first solo concert in Seoul.
Not long after, PENTAGON released the EP "Five Senses", in which Yuto debuted as a co-songwriter. Later in February 2017, the group released their first EP in Japan entitled "Gorilla', which not only charted at number six on the Gaon's list, but also achieved huge success in Yuto's home country, as it peaked at number three on Oricon.
After the release of the ballad "Beautiful" in May the group followed with their EP "Ceremony" in June 2017, which entered Billboard's charts.
PENTAGON remained active for the rest of the year, releasing another two EP's entitled "Demo_01" and "Demo_02". The song "Violet" was co-written by Yuto, and it's music video was released in November.
Third Anniversary & More
After making their Japanese comeback with the release of the EP "Violet" – which topped the Oricon's album chart – in January 2018 PENTAGON took a short break to prepare their sixth EP in Korea, entitled "Positive", and finally released on 2 April.
In September the group released their EP "Thumbs Up!", though the evento was overshadowed by the absence of Yuto's fellow band member E'dawn, who later left the group after his relationship with his labelmate Hyuna was publicly announced, and CUBE Entertainment terminated his contract.
Now as a nine member group, PENTAGON continued their activities in Japan with a fan meeting in Tokyo.
More Music & World Tour
After releasing the chart-topping single "Cosmo" in February 2019, PENTAGON made their Korean comeback with the EP "Genie" in March. Then in April, PENTAGON started their first world tour, visiting countries such as Indonesia, Singapore, Mexico, Brazil and the US. After finishing the tour, the group released the EP "Sum(me:r)" in July.
PENTAGON released their first studio álbum – "Universe: The Black Hall" – in February 2020, followed by a collaboration in the song "I'm Loving You" with the legendary Japanese rock band's Glay, for their anniversary album.
PENTAGON then competed in the reality TV show "Road To Kingdom", obtaining good results throughout the show. However, despite the huge success achieved by the group with the release of the song "Basquiat", they didn't win the program, finishing in third position in the finale.
The group's first online fan-meet "PENTAG-ON AIR" was streamed on 6 September 2020. Regarding this event, Yuto said: 'it will be like you were watching us in person, even though it is very far away.'
He also sent a warm message to his fans during the COVID-19 pandemic: 'keep the hope that we will all be well someday and get through this together'.
On 16 September, the song "Twenty-Twenty" was released as the original soundtrack (OST) for the drama of the same name. Later that month, the group released their first Japanese studio album "Universe: The History", and announced that the EP "We:th" would be released in October.
Personal Life
Not much is known about Yuto's personal life, including any romantic relationships. Normally management ban dating during group members' first contract. His only publicly known friends are U of the group ONF and Yuta of NCT.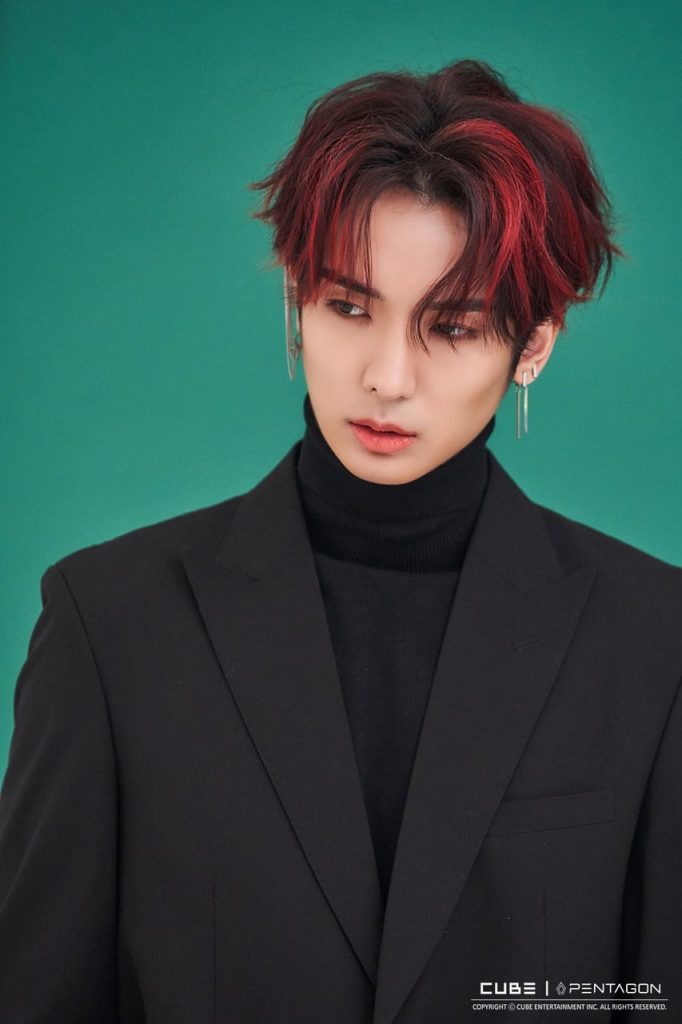 Net Worth
Adachi Yuto has an estimated net worth of closet o $300,000, which is a result of his work as a member of K-Pop group PENTAGON.
Physical Appearance
Yuto is a man of handsome features and slender build. He's 6ft 1ins (1.85m) tall and weighs about 140lbs (63kgs).
Interesting Facts
Yuto's nickname is Niko Yuto.
His zodiac sign is Aquarius, and his blood type O.
He made cameo appearances in the dramas "Spark" in 2016 and in "Age of Youth 2" in 2017.
He composed the song "i'M THE TREND" of (G)I-DLE in 2020.
His hobbies include watching anime, listening to music, and fishing.
Yuto can't eat spicy food.
Yoon DooJoon of the group HIGHLIGHT is his role model.
He likes to work out.
His favorite PENTAGON song to perform is "Naughty Boy": 'The concept, MV and choreography all suited each other.'
He told Teenage about an incident with one of his bandmates: 'Wooseok likes to play pranks in the shower, so I restrict him from coming close.'
He chose his phone as one of the things he can't live without: 'It has everything. It even has lyrics and my compositions. I recently wrote lyrics about a pencil. The more you use a pencil, the shorter it gets, but that felt analogous to life.'
He has confessed that he wanted to be recognized as a hard-working person: 'As life goes on, time runs shorter, but you get to leave something behind. Although I've achieved a lot as (a member of) PENTAGON, I think I lack that individually. I want to make myself more known. To introduce Yuto? He is someone who works very hard.'
Although he doesn't feel that he's reached his full potential, he believes that he's greatly improved since his debut: 'Every year, I feel that I need to become a better person than I was the year before. I feel that, as a musician, I need to be continuously growing, so I am working hard and living life to the fullest every single day'.