Jisoo is a South Korean singer, songwriter, model, and actress, who rose to prominence when she joined the four-member Korean pop (K-Pop) girl group, Blackpink, under YG Entertainment. Four years later, Blackpink became the world's most successful girl group with over 12 billion views on their official YouTube channel, making her face as one of the most recognized K-Pop artists on the global music scene.
Just a simple reminder that article is created and owned only by kpopwiki.org. Article cannot be re-published in any other pages or documents. Copyright is protected by DMCA. All found copies will be reported.
Original source: https://kpopwiki.org/kim-jisoo-blackpink-age-height-hair-husband-net-worth/
Early Life and Family
Kim Jisoo was born on 3 January 1995, in Gunpo, Gyeonggi, South Korea; her parents raised her and her two older siblings in a comfortable household in a city 23 miles from Seoul. She grew up as an energetic and active child, playing basketball as well as taking taekwondo lessons. Her family loves music and her parents already knew she could carry a tune growing up, as she loved to perform during special family occasions. His father offered to send her to a school in the US, but she declined as she wanted a career in the entertainment industry in South Korea.
Educational Background
She attended a local school in Gunpo for her primary education, and then the School of Performing Arts Seoul (SOPA) for her secondary education.
Career
YG Entertainment, home to Big Bang and 2NE1, has been known to conduct auditions in different parts of the world to acquire new trainees to form future K-Pop groups. Jisoo auditioned along with many hopefuls in 2011, and got in by singing a popular ballad, "I Have a Lover," originally sung by Lee Eun Mi. YG Entertainment founder, Yang Hyun Suk, found it odd that she sang a ballad auditioning in his company that is known to produce hip-hop music, but complimented her by telling her that at least she sang it in the right key.
First Steps – Training (2011 – 2016)
At the age of 16, Jisoo started her rigid training to become a K-Pop artist, and spent the next five years under the watchful eyes of reputable YG mentors in singing, dancing and acting.
She was also given language lessons in English, Japanese and Chinese, and was given opportunities to work in front of the camera prior to her debut. She made a cameo appearance in a popular South Korean drama series, "The Producers," starring Cha Tae Hyun, Kim Soo Hyun, and Gong Hyo Jin that aired in 2015, and her beautiful face landed her several TV commercials, including for Nikon, LG Electronics, Smart Uniform, and Samsonite.
Jisoo's acting abilities also made her a favorite featured artist in several YG-produced official music videos including Lee Suhyun and Lee Hi's quirky song, "I'm Different," and Epik High's "Spoiler + Happen Ending."
Debut Year – Phenomenal Rookies (2016)
There was so much hype on YG's new girl group, as K-Pop fans all over the world were excited to see who will be the next 2NE1. On 8 August 2016, Jisoo along with Rosé, Lisa, and Jennie debuted as Blackpink with a single album entitled, "Square One." In South Korea, the single album is a term referring to a physical release of an album with two or three songs. They can compete with full-length albums on Physical Charts, but on Digital Charts they are just referred to as singles.
[sooyaaa__ 201018 update]

"Blinks, thank you so so much for today 🤍 I love you blinks🖤💗"#BLACKPINK #블랙핑크 #JISOO #지수 #jisoostagram @BLACKPINK pic.twitter.com/r80NCu5Usy

— 젠바 🙈💕 (@blackpinkbabo) October 18, 2020
·         Square One – Dominated the Charts, Achieved Perfect All Kill for Whistle
Their debut performance didn't disappoint fans, as they proved to be phenomenal rookies. Two debut songs were included in the single album – "Boombayah" and "Whistle." Jisoo couldn't help but be overwhelmed as her group swept eight major daily music charts in South Korea, including Melon, Bugs, Genie, and Mnet Music with the song "Whistle", giving Blackpink its first Perfect All Kill (PAK) from Instiz Chart. This certification is given to a song that topped all the music charts in real-time, daily and weekly categories all at the same time. The song also gave the girls their first music show win, and they did it in just 13 days after their debut, making it one of the fastest wins in K-Pop history. A music show win in South Korea is an important milestone for K-Pop artists, as it's considered a testament that their song became the No.1 in the country for a certain week.
The songs became the No.1 and 2 on Billboard's World Digital Song Chart, and "Whistle" dominated the Gaon Digital Chart (official government-sponsored music chart), peaking at No.1 with a total of 2.5 million units sold, while "Boombayah" peaked at No.7 with over 605,000 units sold.
·         Square Two – Second #1 on World's Digital, Another Million Seller (Playing with Fire)
Blackpink released another single album, "Square Two," and just like the previous one, it has two songs, namely "Playing with Fire" and "Stay" on 1 November 2016. The first one peaked at No.3 on the Gaon Chart with more than 2.5 million units sold, while the second song charted at No. 10 with sales of over 250,000 in South Korea. Billboard's World Digital Song Sales Chart welcomed both songs at No.1 and No.4 respectively, making "Playing with Fire" Blackpink's second song to top the chart. They also added two more music show trophies to their collection.
·         New Artist of the Year
Jisoo and the girls were dubbed as phenomenal rookies, as they won five New Artist of the Year awards from five major award-giving bodies including the Melon Music Awards, Gaon Chart Music Awards, Golden Disc Awards, and Seoul Music Awards. They achieved this feat just five months into their debut.
Music Show MC (2017-18), Released "As If It's Your Last"
Jisoo proved to be good in most Q & A segments whenever Blackpink made guest appearances on television shows. She charmed everyone with her wit, positive demeanor and welcoming smile, that she was chosen to be one of the MCs of the popular music show "Inkigayo." Her hosting stint ran from 2017 up to 2018.
Blinks (Blackpink's fandom name) were disappointed that YG Entertainment released a non‑album single instead of a studio album for the girls. "As If It's Your Last" was released on 22 June 2017, and topped the Billboard's World Digital Song Sales Chart the next day. It peaked at No. 3 on the Gaon Digital Chart with total sales of over 2.5 million units, and charted in other countries as well, including Canada, France, Japan and Malaysia.
Further Success – Billboard 200 and Hot 100 Entries and World Tour (2018-19)
2018 proved to be the year when Blackpink penetrated the world market, with the release of their first extended play (EP) entitled "Square Up" on 15 June 2018.
The EP entered Billboard 200 peaking at No. 40, and the lead track "Ddu-Du Ddu-du," also charted at No. 55 on Billboard's Hot 100. It was certified Platinum by the Korea Music Content Association (KMCA), Gold by the Recording Industry Association of America (RIAA), and Silver by the Recording Industry Association of Japan (RIAJ). Jisoo made history with the girls by being the highest-charting K-Pop girl group in Billboard's main charts, and was also certified as a Perfect All Kill on Instiz Chart, dominating eight major digital music charts in South Korea. With their global activities they are also now being co-managed by Interscope Records.
The girls released their second EP, "Kill This Love," on 5 April 2019. It peaked at No. 24 on Billboard 200 Chart and No. 3 on Gaon Album Chart, and was certified as Platinum by KMCA with the title track breaking the record set by "Ddu-Du Ddu-Du" (55th), peaking at No. 41 on Billboard's Hot 100.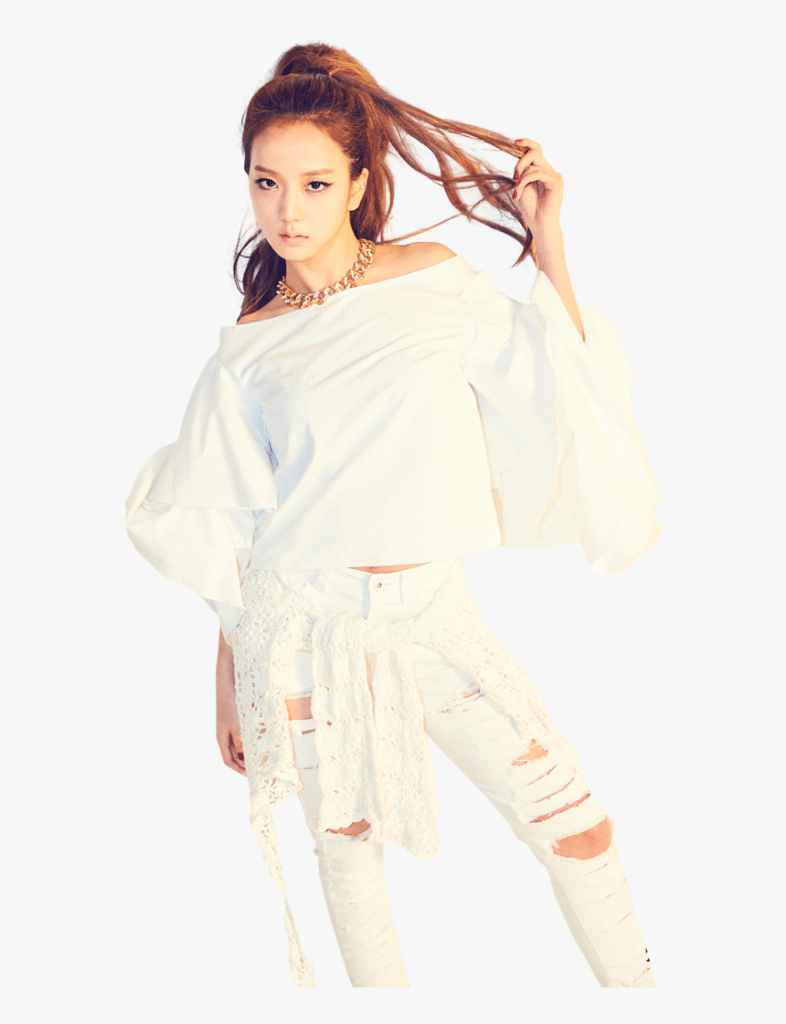 With numerous successful releases under their belt, in 2019 Blackpink held their first world tour, "In Your Area," the highest-grossing concert tour by a K-Pop girl group. They performed 32 shows spread over four continents, Asia (17), Australia (2), Europe (6) and North America (7).
Coachella Performance
On two separate weekends in the month of April 2019, Blackpink was the first K-Pop female act to perform at Coachella Festival. The girls impressed the audience and critics alike with the performance of their major hits, and trended on Twitter and Instagram with so many great reviews.
Collaborations
As they began penetrating the international music scene successfully, they had collaborations with popular global pop artists such as Dua Lipa with "Kiss and MakeUp" (2018), Lady Gaga with "Sour Candy" (2020), and Selena Gomez with "Ice Cream" (2020). All of these songs entered Billboard's Hot 100 at 93rd, 33rd, and 13th respectively, making the last song the highest-charting of them.
2020 – Pre-Release Song and First Studio Album
A pre-release song, "How You Like That" for a new album, became available for download on 26 June 2020, and the physical version on 17 July 2020. It topped the Gaon Digital charts for three weeks, achieved a Perfect All Kill certification from Instiz Chart, and peaked at No. 33 on Billboard's Hot 100. The physical version was certified Platinum by KMCA.
On 2 October 2020, Jisoo and the girls released their first studio album, "The Album," with the lead track, "Lovesick Girls."
YouTube Domination
Among all-female acts, Blackpink has the most number of subscribers on YouTube, with 50.8 million. Since 2016, the group's official YouTube account has attracted almost 13 billion views. At one point, "How You Like That" was the most-watched music video in 24 hours with 82.4 million. All their official MVs have over 100 million views, with six of them surpassing 500 million views and two of them – "Ddu-Du Ddu-Du" and "Kill This Love" – having over a billion views.
As an Actress
Jisoo will soon lead the cast of a new Korean drama series entitled, "Snowdrop," with Jung Hae In and Kim Hye Yoon, slated for release in 2021 at JTBC.
Personal Life
All K-Pop artists know even before they started training under any entertainment agency that dating is not allowed on the first three to five years after debut. Jisoo is no exception, and while YG Entertainment was said to have been a little lenient in recent years about dating, there is no information about her dating anyone. The girls are busy with their careers, and have little time to forge any romantic liaisons. If she decided to date, she's said that it would be someone cute rather than sexy.
Jisoo currently lives with the other three girls in her group in a dormitory in Seoul, provided by her entertainment agency.
Hobbies, favorites, rumors, and interesting facts
Jisoo has built a great fashion relationship with Dior, and become its beauty ambassador.
Her nicknames are Chi Choo and JiChu.
Like her bandmates, Jisoo can understand and speak English, but is too embarrassed to speak it. She can also converse in Japanese and Chinese.
Dancing and drawing make her happy.
One of Jisoo's favorite things to do at home is watch horror-thriller movies.
She would watch the movie, "The Classic," with her father several times growing-up, as it is one of their favorite things to do together.
Aside from dancing, she likes reading crime thriller books.
Jisoo has a pet Maltese dog she fondly calls Dalgom. She sleeps with him to avoid nightmares.
During adversities that her group has encountered, she would always put on a brave front to protect her group, and wants to be strong for the fans. She would never cry in public, because she wants the fans to smile whenever they think of her.
She's encouraged girls to think of their future selves as their role models, instead of trying to follow someone else as she did in the past, which made her wander around and '…ended up feeling emptiness rather than a sense of accomplishment. I'd like everyone to find their own role models within themselves.'
Jisoo packs her favorite doll given to her by a friend even on international trips, to help her sleep.
During off-schedule days, she doesn't put on make-up, but will put on sunscreen when going out, and would often wonder if other people would recognize her natural face.
She is into accessories recently, but favors simple designs rather than flamboyant ones.
Her favorites: Purple (color), Chicken (food), Chocolate (dessert), Jasmine (Disney Princess).
Jisoo is pretty close with the other group members, but she is also friends with other K-Pop artists including Nayeon (Twice), Seulgi (Red Velvet), and Sowon (GFriend).
Appearance
Jisoo is 5ft 4ins (1.62m) tall and weighs 100lbs (45kgs). She has black hair and dark brown eyes. During TV promotions and live performances, expect to see her hair dyed in different colors – she loves wearing it red. Her eye color would change from time to time as she loves using colored contact lenses. She also has nine piercings on her ears with five on the right and four on the left.
Net Worth
According to authoritative sources, Jisoo has an estimated net worth of $8 million as of October 2020, but it is expected to go higher before the year ends as her group just released an album in which she participated as a lyricist.