Koo Jungmo is a South Korean singer and dancer, who rose to fame when he joined Mnet's reality television survival series, "Produce X 101," but didn't win a spot in the 11-member boy group called X1 that the show launched. He subsequently officially debuted in 2010 as a member of the Korean Pop (K-Pop) group Cravity, under Starship Entertainment.
Just a simple reminder that article is created and owned only by kpopwiki.org. Article cannot be re-published in any other pages or documents. Copyright is protected by DMCA. All found copies will be reported.
Original source: https://kpopwiki.org/who-is-13-on-produce-x-101-koo-jungmo-biography/
Early life and family
Koo Jungmo was born on 5 February 2000, in Apgujeong, Gangnam, Seoul, South Korea. He lived for about five years in New Zealand with his family, then moved back to his hometown in Korea when he was seven. Not much else is known about his family or growing up years.
Education background
He attended Seoul Seoi Elementary School and Seoul Seoun Middle School, then matriculated from Sangmoon High School.
He was a guitarist in a band when he was in middle school, then became part of another band called "Seirentle" during his freshman year, and joined a hip-hop club in his sophomore year.
It was said that Jungmo subsequently attended an academy for flight attendants.
Career
First steps
Jungmo met a casting director of Starship Entertainment while he was doing volunteer work, and was invited to audition for the company.
He had been interested in performing and making music since he was young, so he considered this as a great opportunity to become an idol, as the company is home to popular K-Pop groups such as Monsta X and Cosmic Girls. Watching BTS performing "Fire" back in 2016 made him want to become a singer, and he became a huge fan of V (Kim Tae Hyung), the group's lead dancer and vocalist, and said, 'I was inspired and thought to myself that I want to show a cool side and let audiences feel my emotions like V.'
During his audition, he did a cover of "Two Melodies" by Zion T. featuring Crush, and danced to "MIC Drop" by BTS.
Interestingly, the staff of the artist development team had to teach him the dance choreography for about ten minutes, and then re-film his audition; they must have seen something special in Jungmo to warrant this kind of support.
"Produce X 101"
He was accepted by Starship Entertainment, and trained for a year and two months before following in the footsteps of trainees whose careers were launched after joining a reality television survival series – Jungmo participated in "Produce X 101" along with four other trainees from his company.
In the series, 101 trainees who were either independent or from various entertainment agencies, competed for a spot in the 11-member K-Pop idol group called X1, that would be launched through a voting system.
They received training in singing, rapping and dancing from well-known coaches, and given missions to show their skills and prove their worth. The popular series ran for 12 episodes from May to July 2019 on the Mnet Cable Channel, produced by CJ E&M.  Jungmo never ranked below 10th place throughout the show, except when the final ranking was announced and he was in 13th place.
He went back to being a trainee after the show., but after the series concluded its run, some viewers noticed a pattern in the final results that indicated that the votes were rigged. They filed a lawsuit against Mnet on 1 August 2019, and an investigation was conducted by the police of talent agencies including Starship Entertainment, with two of its executives indicted for fraud.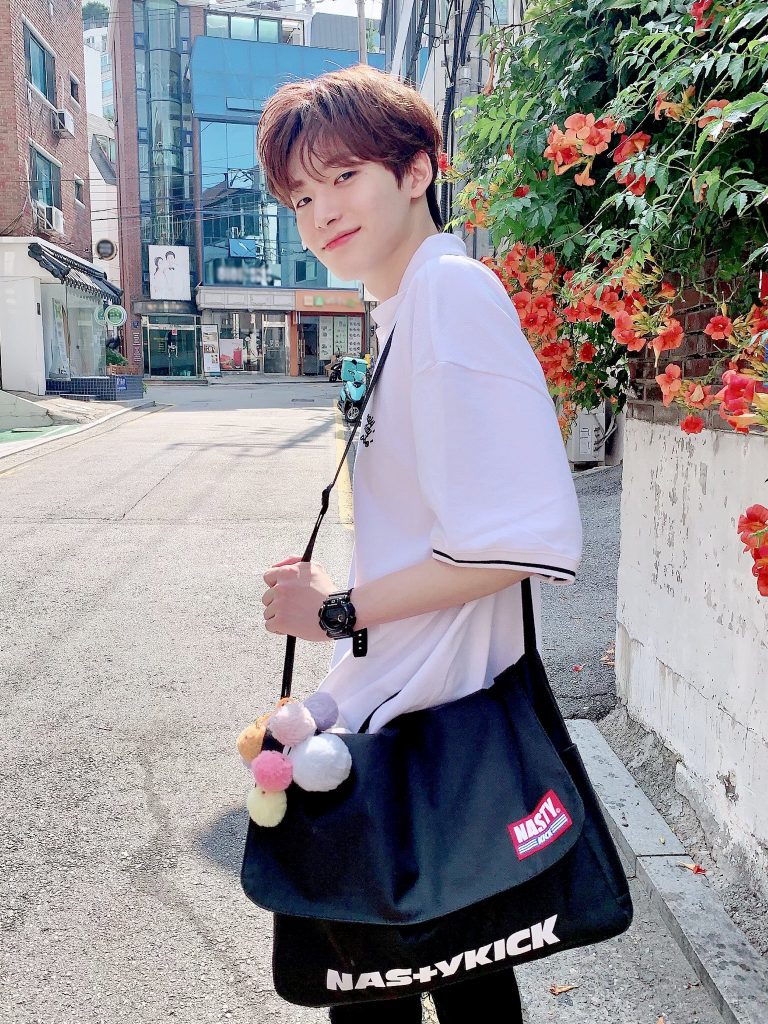 One of the producers of the show, Ahn Joon-Young, admitted that the final ranking was pre-determined before the final broadcast.
On MBC's investigative journalism program called "PD Note," former contestants said that the producers' bias toward Starship Entertainment trainees was quite obvious, so that some of them referred to the show as "Produce Starship." They said Starship trainees had more screen time and they knew what song they would be performing ahead of time, which gave them an advantage. In the end, two of their trainees, namely Hyeong Jun and Minhee made the final cut.
Despite the scandal and ongoing investigation, X1 debuted on 27 August 2019, but disbanded on 6 January 2020 without finishing the two‑and‑a‑half‑year exclusive contract to promote as a group.
The real results weren't revealed, but those trainees who were eliminated unfairly were compensated.
A group of fans proposed the launching of the K-Pop group called BY9, comprised of eliminated trainees who ranked 11th to 20th place in the series, including Jungmo. (Of note, the 11th member who became part of X1 was chosen differently than the first ten members.) There was so much hype about this, with fans even raising funds to pay for subway ads, make teaser videos, and host café events to increase awareness and show their support for the project group. Although there were reports that the respective agencies were considering this, it didn't work out in the end, as they had their own plans for the careers of these trainees.
Debut of Cravity
Jungmo debuted as the lead vocalist and visual of the nine-member K-Pop group called Cravity on 4 April 2020 – the name stands for creativity and gravity. Four other trainees who participated in the survival series joined him – Woobin (main vocalist), Hyeong Jun (main dancer), and Wonjin and Minhee (lead vocalists). Serim (leader and main rapper), Allen (main dancer), with Taeyoung and Seongmin (sub‑vocalists) completing the group. Each member is given a position that would determine the line distribution of their songs, and role in the group.
Their debut extended play (EP) entitled "Season 1. Hideout: Remember Who We Are" topped the Gaon Weekly Album Chart, reached No.6 on its monthly chart, and entered Japan's Oricon Chart at No.10.
The EP contains seven tracks including "Jumper" and "Stay," with the official music videos for the lead single "Break All The Rules," and follow-up single "Cloud 9," have amassed 13 million views each, and the group ranked No.12 on Billboard Social 50. The success of their debut EP is not surprising, given that the members who joined the survival series acquired a huge fan base during the show, so the group would naturally attract their support.
Further success
Jungmo and the boys released their second EP entitled "Season 2. Hideout: The New Day We Step Into" on 24 August 2020, and it topped the Gaon Weekly Album Chart, also entering Japan's Oricon Chart, peaking at No.15.
The lead single, "Flame," gave them their first music show win on 1 September through SBS MTV's "The Show," a great accomplishment for the group considering it had only been four and a half months since their debut; other idol groups took years before bagging an award. It is a good indication of their popularity, as the winner was chosen through voting, album sales, etc. Other tracks in the EP include "Sunrise" and "Ohh Ahh," which the group also promoted on various music shows. The official MV has gained 14 million views.
Cravity won the Rookie Award on Soribada, and Brand Of The Year.
Personal life
Jungmo is 20 years old and single. When he appeared as a guest on Mnet's variety show called "TMI News," it was revealed that he had never dated anyone before. Although hosts liked to tease their guests or try to catch them off guard to get them to reveal details about their personal lives, it is rare for an idol to share those kinds of details. Members of a K-Pop group are not allowed to date for the first three to five years after their debut, as their agency wants to avoid a dating scandal that would affect the group's image and popularity.
Some fans speculating that he is related to the Koo family of the tech giant LG, because of his surname, Koo. Rumors of him donating $10 million to the Australian bushfires disaster relief further perpetuate the belief that he comes from a wealthy family.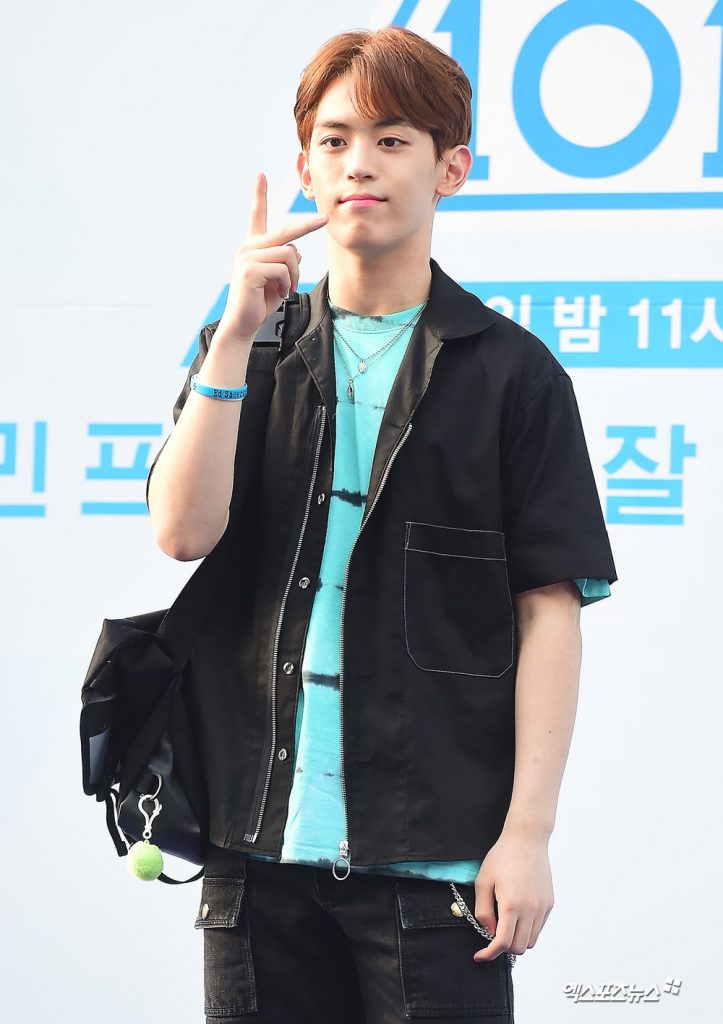 Jungmo's Hobbies, favorites, rumors, and other interesting facts
Nicknames: "Gangmo" is a combination of Gang-aji (puppy) and Jungmo, derived from his self-character drawing of a puppy. "9niverse" is based on his last name, Koo, which sounds like the number nine in Korean. He is also fondly called "Mogu" by fans.
Favorites: badminton (sport), mint chocolate chip (ice cream flavor), cup noodles and hamburger (food), "The Avengers" (movie), spring and fall (season), pink and black (colors)
The superpower he would like to have is teleportation.
His hobbies include playing the guitar and singing.
Motto: "Running towards my dreams with no regrets." "Be thankful for every moment."
He is left-handed.
Eating lemons is one of his specialties.
He would have been a flight attendant had he not become an idol.
His dream collaboration is with the singer-songwriter, Yu Seungwoo.
An anti-fan of Jungmo was seen laughing as he ripped the notes left by fans on the idol's subway ad, then sticking the torn halves back on the board. Fans thought he's a psycho for displaying this kind of behavior. Another anti-fan posted a photo of ripped post-it messages for Jungmo on the display ad with the caption, "This is justice." Before all this happened, the idol was spotted reading those letters from fans, and took photos of them.
During a V Live broadcast in May 2020, Jungmo and the boys announced that their official fandom is called "LUVITY," which means "people who love Cravity."
Appearance
He is 5ft 11ins (1.81m) tall, weighs 130lbs (59kgs), and has a lean build. He has black hair and light brown eyes. His shoe size is 9.5 inches (270mm).
Net worth
Koo Jungmo has an estimated net worth of over $100,000 as of November 2020, according to sources.