Beomgyu is a South Korean singer, dancer, and rapper in the boyband TXT (Tomorrow X Together), formed by Big Hit Entertainment, the same company that propelled BTS to global stardom. His rising popularity as a Korean Pop (K-Pop) artist started when his group's extended play (EP), "The Dream Chapter: Star," dominated the charts in 2019, debuting at No. 1 on Billboard's World Albums Chart, and peaking at No. 140 on Billboard 200 in the US. By 2020, his group had already achieved multiple certified-platinum albums from the Korea Music Content Association (KMCA).
Just a simple reminder that article is created and owned only by kpopwiki.org. Article cannot be re-published in any other pages or documents. Copyright is protected by DMCA. All found copies will be reported.
Original source: https://kpopwiki.org/the-untold-truth-of-txt-member-beomgyu/
Early Life and Family
Choi Beomgyu was born on 13 March 2001, in Daegu, South Korea, the youngest in a family of five with two older brothers and sisters.
His parents raised him in a comfortable home – his father is a former race driver. Growing up, he was a diligent student and did well in his studies, and was a popular kid in school, voted as the elementary student council president. Byeomgyu's interest in music started early, and he learned to play the guitar as a young kid, buying his first guitar when 10 years old, when he and his father went to the Philippines for a vacation.
Educational Background
He attended Daegu Gwanmun Elementary School and Daegu Guam Middle School, and Beomgyu is currently enrolled in Hanlim Arts School in Seoul.
Career
During examination week, a Big Hit casting director spotted him on the street in Daegu, and asked if he was willing to go to Seoul for an audition. Beomgyu was eager to try it out but the timing wasn't right as he still had exams to take, so he declined.
The man told him that he would be back in Daegu the next day, so he could do the audition after he finished his school exams. Encouraged by the man's persistence he prepared for it, and performed the songs "Hug Me" by Jeong Joon Il, and "Bus Stop" by Busker Busker as well as playing the piano during his audition.
The Big Hit executive was so impressed with his skills that Beomgyu was offered training under Big Hit Entertainment, home to one of the most successful boybands in the world, BTS. He underwent K-Pop idol training for two years, as the label was planning to launch another boyband. He had a hard time catching-up with the other trainees as he was the newest in the group, and most of the other trainees had already been there for quite some time.
First Steps – Debut Year with chart-topping EPs and singles (2019)
His hard work paid-off, and he was included in the five-member boyband TXT, which stands for Tomorrow X Together. To hype up the group's debut, Beomgyu, HueningKai, Yeonjun, Taehyun, and Soobin were unveiled one by one via a series of individual videos posted on YouTube opver 10 days. More than 100,000 copies were pre-ordered, a rarity in the South Korean music industry for rookie artists. Multiple promotional activities were held leading to the live grand showcase at the Yes24 Live Hall, in which the boys performed songs from their first EP entitled "The Dream Chapter: Star."
It was released on 4 March 2019 with five tracks including "Cat & Dog," "Blue Orangeade," "Our Summer," and the lead track, "Crown," in which Big Hit Entertainment founder, Bang Si Hyuk, was credited as one of the songwriters.
The EP debuted at No. 1 on both the South Korean Gaon Album Chart and Billboard's World Album Chart, and surprisingly entered the Billboard 200 Chart in the US at No. 140. Beomgyu and the boys were overwhelmed by the success of the EP, with the lead track peaking at No. 1 on Billboard's World Digital Song Sales Chart ten days after it was released.
TXT also earned their first music show win as No.1 Song of the Week from SBS MTV's "The Show," and received two more wins from Mnet's "M Countdown" and MBC's "Show Champion." Fans called them monster rookies, as few K-Pop groups earn these accolades so soon after debut.
International Stages: KCON, Fashion Shows, Music Festivals, and US Concert Tour 2019
It was a busy year for Beomgyu, as his group flew from one place to another to perform in huge international events.
They performed with other K-Pop artists at the Korean Convention dubbed as KCON NY 2019 held at Madison Square Garden in New York, and were invited to the iHeartRadio Wango Tango Music Festival in Los Angeles. The boys were then part of the Kansai Collection and Tokyo Girls Collection Autumn/Winter 2019 fashion shows in Japan.
2019 was also the year they held their first US concert tour, "Tomorrow X Together Showcase: Star in US." They also met their fans in six key cities, including Los Angeles, New York, Orlando and Dallas.
First Studio Album and Best New Artist Award in 2019 Grand Slam Sweep
Big Hit Entertainment capitalized on their rising popularity, and on 21 October 2019, they released the group's first studio album, "The Dream Chapter: Magic." It consists of eight tracks including "Roller Coaster," "Poppin' Star," "Magic Island," and the lead track, "9 and Three Quarters (Run Away)."
#BEOMGYU's year in review: 2020 twitter selca edition pic.twitter.com/XguCgGsPws

— gyu catboy (@cbgIover) December 27, 2020
Bang Si Hyuk was hands-on in the creative process of the album, and was credited as one of the co-writers of all eight songs.
It was supposed to be released in August, but was delayed as a couple of the members contracted an infectious eye disease, while others suffered from back pain. Beomgyu took this time to rest his body and mind, and to prepare for another round of promotions. The delay didn't affect the group's popularity at all, as it debuted at No. 1 on the Gaon Album Chart, with over 120,000 units sold within a week of release, and No. 3 on Billboard's World Album Chart. The EP also entered the music charts in several other countries, including Australia, France, Japan and Hungary. The lead track peaked at No. 2 on Billboard's World Digital Song Sales Chart, and three more songs also charted.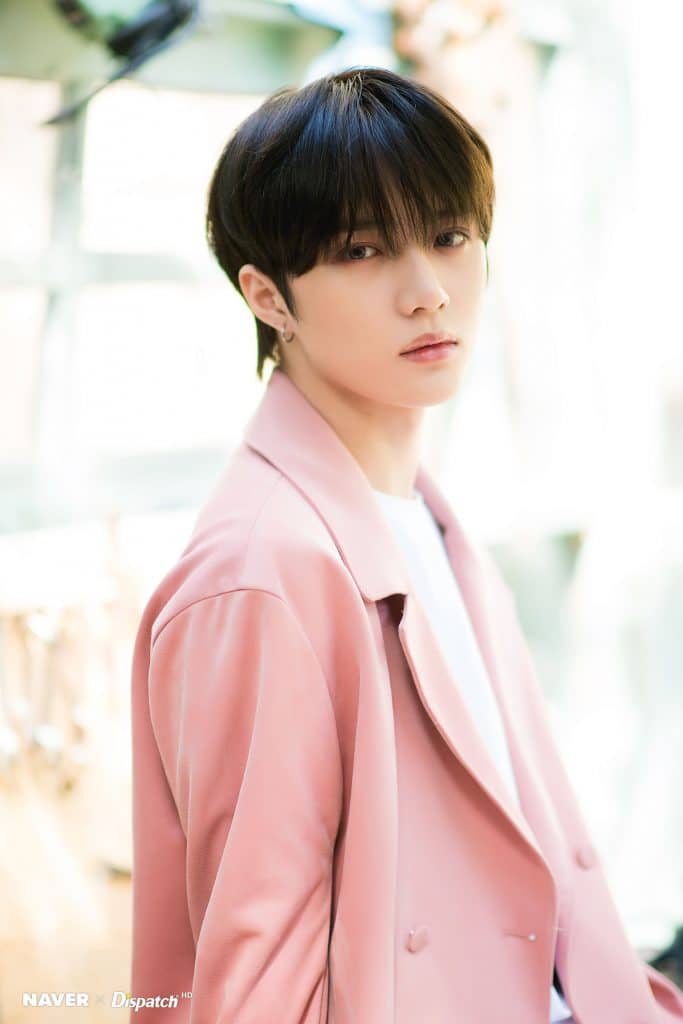 During the year-end music award shows, it didn't come as a surprise to anyone that they swept the Best New Artist Award from major music award-giving bodies, including Mnet Asian Music, Golden Dis, Melon Music, and Gaon Chart Music Awards, proving that they are indeed the heir-apparent of their label mate, BTS.
Japan Debut, Gold-Certified Singles, and Platinum-Certified Albums 2020
While TXT's previously released Korean albums charted in the Japanese music charts, K-Pop artists find time to officially debut in Japan, and produce an album along with merchandise especially for the Japanese fans, to fully penetrate the Japanese market. Beomgyu and the boys headed to Japan, and released the single album, "Magic Hour" on 15 January 2020. It has the Japanese versions of their Korean hit songs such as "Angel or Devil," "Crown," and the lead track "9 and Three Quarters (Run Away)." They started their Japanese promotions by performing on the popular Japanese music TV show, Music Station.
The album claimed the top spot on the Oricon Chart upon release, and sold over 100,000 copies, which gave TXT a Gold certification from the Recording Industry Association of Japan (RIAJ).
Another single album was released on 19 August 2020 entitled "Drama", with three tracks such as the Japanese versions of their Korean songs, "Can't You See Me" and "Drama," and an original Japanese song entitled "Everlasting Shine," which was used as the theme song of the anime series, "Black Clover." It was just as successful as their first single album, with at least 100,000 units sold, and so was awarded a Gold certification by the RIAJ.
Back in Seoul, on 18 May 2020 Beomgyu and his group released the last part of the Dream EP series, entitled "The Dream Chapter: Eternity". As expected, it sold well, over 180,000 copies within a week of release, and over 250,000 units sold after two months. The group was awarded its first Platinum certification by the Korea Music Content Association (KMCA).
After a few more months, the previously released EP, "The Dream Chapter: Star," and studio album, "The Dream Chapter: Magic," were both certified Platinum by KMCA.
Start of a New Album Series, "Minisode1: Blue Hour," #25 Billboard 200
"Minisode1: Blue Hour," the third EP of the group, was released on 26 October 2020. It has five tracks including the lead track entitled "Blue Hour," plus "We Lost the Summer," "Ghosting," and "Way Home." It only took 10 days after the announcement of a new EP to achieve around 300,000 pre-orders, and by the 25th of October, 100,000 more pre-orders were added. Upon release, it debuted at No. 25 on the Billboard 200 chart in the US, and peaked at No. 1 on Billboard's World Albums Chart. In South Korea, over 300,000 were sold in the first week of its release, and it debuted at No. 3 on the Gaon Album Chart. By November, over 415,000 physical units of the EP were sold, and is by far the best-selling EP by TXT. It also topped the Oricon Album Chart and the Billboard Japan Top Album Sales Chart.
All five songs were written during the COVID-19 pandemic, and some of the boys were credited as songwriters but not Beomgyu. He has composed some songs already, but he would wait for the right time to get some of his work included on their future releases.
Product Endorsement
Two months after TXT's official debut, Byeomgyu and the boys were chosen as brand ambassadors for a skincare brand manufactured in South Korea called "Its Skin." Before the end of 2019, they are also the new faces of a popular student uniform brand, Skoolooks.
Solo Activities
It would take a while before Byeomgyu could debut as a solo artist, but he appeared as one of the guests in several shows in South Korea, including JTBC's "Idol Wonderland," Daum Kakao TV's "Fandom Tour," SBS' "Idol House," and KBS World's "We K-Pop."
Japanese Full-length album (2021)
The Japanese fans will be in for a treat on 20 January 2021, as Beomgyu and the boys have finished recording their first Japanese studio album, "Still Dreaming." Expect them to focus on promoting in Japan in the first quarter of 2021.
Personal Life
Beomgyu is officially single, as he is still under the dating ban which is usually in effect during the first three to five years after debut. Not all companies are openly talking about the no-dating clause included in management contracts, but it's generally accepted and expected of K-Pop artists, particularly if they are included in a group, not to date early in their careers but to focus more on practice and promotions. South Korean fans, especially those in the teenage bracket, are notoriously known for being possessive of their idols.
Beomgyu currently lives with other members of TXT in the company dormitory, along with their manager. He shares a room with the leader of his group, Soobin.
#BEOMGYU: what is love? 🧸 pic.twitter.com/HVJHlCQ7P0

— 🌰 (@gyuego) December 29, 2020
Hobbies, favorites, rumors, and interesting facts
Beomgyu loves to play the guitar during his free time, and to take photos as he developed a fascination for photography after his debut.
He was once part of a school band, with Jaeyun of the K-Pop boyband, TOO.
His classmates at Hanlim Arts School were never aware that Beomgyu was about to debut back in 2019, as he was very low key in his K-Pop training and plans. They only found out about it when the debut teasers came out.
Beomgyu was a huge fan of BTS, and starstruck each time he would meet any of the members in the training halls inside the company building.
His favorites: spring (season), steamed chestnuts (nuts), strawberry and mango (fruit), parrot and bear (animal), garlic bread (bread), "August Rush" (movie), white and pink (color).
Byeomgyu can hold a decent conversation in English, as he studied in an English private institute.
When he was asked if there was one person in his group that he would like his younger sister to date, he immediately said no one, since he doesn't have a sister. Hypothetically, he would choose Soobin for his caring personality.
If he hadn't pursued a singing career, Beomgyu said he would probably end up being a cyclist or a car designer.
To help him sleep after a tiring day, he listens to classical music.
Beomgyu is not a picky eater and can eat practically anything except tomatoes.
He has a parrot named Toto.
His celebrity friends are Hyeongseop and Euiwoong from Yuehua Entertainment.
Appearance
Beomgyu is 5ft 11ins (1.80m) tall, weighs 115lbs (53kgs) with a lean body frame; his shoe size is 9.5 (270mm). He has black hair, dark brown eyes, and curved dimples on both cheeks. He would sometimes sport a different hair color during promotions, as K-Pop artists are known to change their hairstyles, and wear colored contact lenses during performances.
Net Worth
According to authoritative sources, Beomgyu has an estimated net worth of close to $1 million, as of December 2020.