Yang Hongseok is a South Korean singer, dancer and actor, who debuted as a member of the Korean pop (K-Pop) boyband, "Pentagon" under the management of Cube Entertainment. His rise to stardom began with Pentagon's self-titled extended play (EP) that was released in October of 2016.
Just a simple reminder that article is created and owned only by kpopwiki.org. Article cannot be re-published in any other pages or documents. Copyright is protected by DMCA. All found copies will be reported.
Original source: https://kpopwiki.org/yang-hongseok-pentagon-age-girlfriend-scandal-net-worth/
Early Life and Family
Yang Hongseok was born on 17 April 1994, in Seoul, South Korea. His family moved to the United States when he was seven years old, and first lived in San Diego, California before transferring to Madison in Wisconsin. In 2007, Hongseok's parents moved again, to Singapore and stayed there until 2010. They then moved again to Tianjin, China, and later on he transferred to Beijing, China's capital, to pursue his university degree.
Educational Background
Yang had his primary schooling in San Diego and Madison in the US, then continued his studies in the Hwa Chong International School in Singapore from 2007 to 2010. He moved to China and finished his high school at the Tianjin Nankai High School, before enrolling in the University of International Business and Economics in Beijing, but dropped out and went back to South Korea.
Career
Hongseok was first seen in the "Mix and Match" reality TV survival series, produced by YG Entertainment in September of 2014. YG founder, Yang Hyun Seok, was forming another boyband, and wanted to choose the best trainees by putting them through a 9-episode survival series. Unfortunately, Hongseok came up short and wasn't chosen in the final group, but was given a chance to continue training at YG Entertainment.
However, he felt that he was getting old, and feared that he may have to wait for a long time to get another chance if he stayed in the company, so left YG Entertainment and immediately found a new home at Cube Entertainment.
First Steps – Debut Year with 2 EP Releases and First Concert ( 2016)
Hongseok chose to join Cube Entertainment, as it was home to popular groups including 4Minute, Beast, BtoB, and G-idle, and so have the chance to debut soon and he did. He went through another reality TV survival series called, "Pentagon Maker," as Cube management wanted to test their trainees to confirm their readiness to be launched as the company's fifth K-Pop group. Ten trainees battled for 12 weeks – each of them needed to get five points on their so-called "Pentagraph," which consisted of five categories including Teamwork, Mind, Dance, Vocal/Rap, and Talent.
With the experience he had from YG's "Mix and Match," Yang made it as one of the final members of Pentagon, and on 10 October 2016, Hongseok and nine other trainees (Hui, Yeo One, Yan An, Jinho, Shinwon, Yuto, Wooseok, Kino, and E'Dawn) debuted with a self-titled EP. It has seven tracks including the lead track, "Gorilla, sold almost 20,000 units, and peaked at No. 7 on the South Korean Gaon Album Chart. It also charted for two weeks in the Top 10 of Tower Records in Japan.
In November of the same year, Hongseok experienced a fan signing event, even with only 100 fans in attendance, but he was quite overwhelmed when tickets for their first concert were sold out within eight minutes after it was announced. "Pentagon Mini Concert Tentastic Vol. 1" was held on 6 December at the Yes24 Concert Hall in Seoul.
A day after the concert, Pentagon released another EP entitled "Five Senses," consisting of five songs including the lead track, "Can You Feel It," along with "Lose Yourself" and "Pretty, Pretty." It sold more than its predecessor, and it peaked at No. 5 on the Gaon Charts.
It didn't take long for Hongseok and the boys to officially debut in Japan, holding their first live showcase at Toyoso Pit in Tokyo. They were quite happy with more than 3,000 fans in attendance. After the concert, they appeared live on the popular TV show, "Fresh Kpopstarz" aired on Abema TV, with a huge number of live viewers at around 350,000, which was way more than the number from previous appearances of K-Pop boybands. Pentagon made history in Japan by being the K-Pop boyband who was the fastest from debut and to holding a successful concert in Japan.
The group was nominated for New Artist of the Year, but failed to take home any trophies. However, Billboard included them on their 2016 list of Best 10 New K-Pop Groups.
Acting Debut, EP Releases, and Japanese Promotions (2017)
Hongseok made his acting debut in the family movie, "The Love That's Left," also known as "My Remaining Love." He played the lead role of Kim Woo Joo, one of the children of Kim Bo Young played by Sung Ji Ru, in the story about hating his busy father, who was later diagnosed with a terminal illness. It was released in November 2017.
Meantime the group went all out promoting in Japan, by releasing a Japanese EP, "Gorilla," on 23 March 2017. It has six tracks, two of which are original songs, "Hikari" and "Get Down." The other two are Japanese versions of the title tracks from their previous Korean EPs, and the remaining tracks are two of the most popular songs in their discography during that time.
It peaked at No. 5 on the Japanese Oricon Album Chart, and was ranked No. 3 in the best K‑Pop‑Japan Top 10 Album of the Year in 2017.
The rest of 2017 was devoted to promoting in South Korea, with the release of  three more Pentagon EPs – "Ceremony," "Demo 1" and "Demo 2." The sales of the albums improved with each release, surpassing the previous releases with a total of over 60,000 units sold in South Korea, and over 15,000 units in Japan.
TV Series, Web Series, Pentagon EP Releases and Scandal (2018-19)
2018 was one of the busiest yet chaotic times in Hongseok's career as a Pentagon member. At first the group was so frustrated that their sixth Korean EP, "Positive," was at the bottom of the charts, specifically at the 500s upon its release. When they promoted it in music shows, and fans saw their live performances, the lead track, "Shine," attracted attention.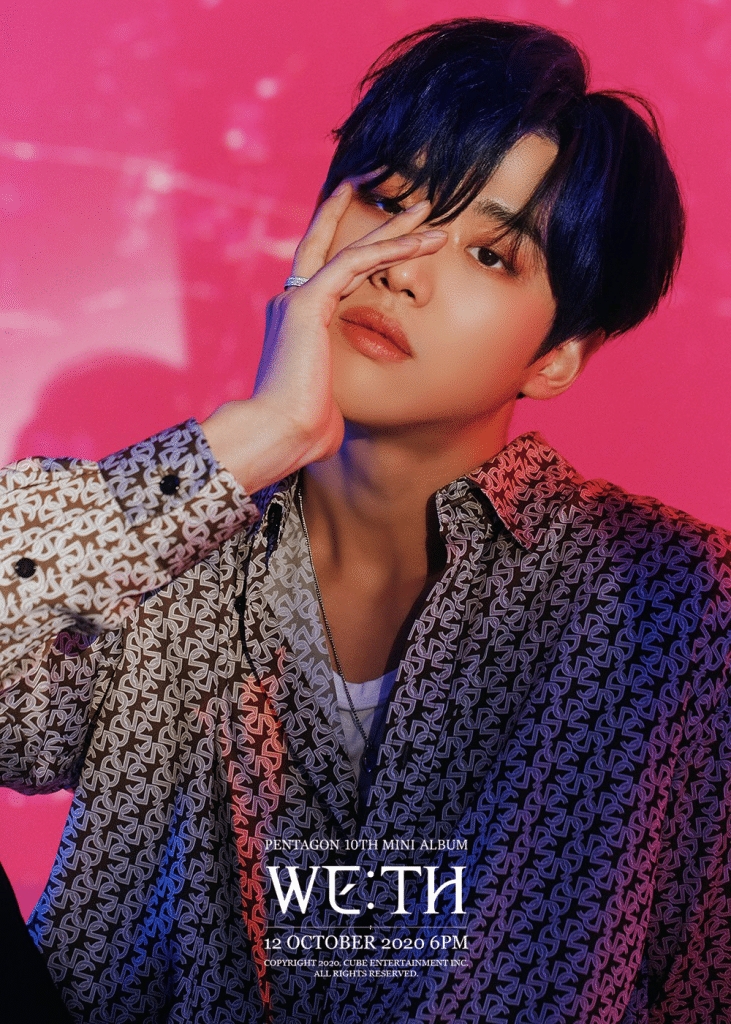 It slowly went up and eventually peaked at No. 16, and the EP also rose steadily peaking at No. 27 on the year-end chart with more than 52,000 units sold. It was the first time that a Pentagon song made it to the Top 10 of the Billboard World Digital Song Sales Chart, peaking at No. 6.
The group followed it up with the release of their seventh EP, "Thumbs Up," on 10 September 2018, with the lead track "Naughty Boy" peaking at No. 7 on the Billboard World Digital Song Sales Chart. During the promotions, two members, E'Dawn and Yan An were conspicuously absent, and no explanations were given to the fans. Later it was announced that Yan An was absent due to health concerns, and that E'Dawn has personal issues as it was revealed that he had been secretly dating another Cube K-Pop artist, Hyuna (the girl from Psy's Gangnam Style music video).
Their fandom was conflicted about the issue, with half of them supporting him and the other half wanting him to leave the group. Cube Entertainment was extremely unhappy about the situation, and at one point decided to terminate the contracts of Hongseok and the other Pentagon boys due to the situation. They eventually decided to terminate just E'Dawn's contract, and Pentagon continued to promote as a nine-member boyband.
Due to the steady rise of the group's popularity, Hongseok was invited to be part of popular variety TV shows in South Korea, including "Visiting Tutor" and "Real Men 300" both in 2018,  "Law of the Jungle in Myanmar " and "King of Masked Singer " both in 2019.
Hongseok also became busy with TV and web dramas, including "Best Chicken" with Joo Woo Jae and Kim So Hye, which aired in the early part of 2018 on MBN and Dramax networks. Slowly but surely, he was gaining more confidence with his acting skills, and readily agreed to be part of two web series.
#HONGSEOK: body pic.twitter.com/65jDMI24kn

— changgu edit 📌 (@K1N0C0R3) November 26, 2020
The first one was entitled "On the Campus" with five episodes, and the second – "Anniversary Anyway" – was a bit longer with 14 episodes. Both web dramas can be viewed on Naver TV and V Live.
Two more EPs, First Studio Album and First World Tour (2019-20)
In 2019, Hongseok lent his musical composition skills by taking part in the creative process of a couple of songs entitled "Round 1" and "Round 2," which were both bonus tracks in the EPs, "Genie:us" and "Sum(me:r),"  released in March and July, respectively. Both EPs did well on the charts, with a total of almost 80,000 units sold.
For their first world tour entitled "Prism World Tour, Hongseok performed in 22 cities in different parts of the world with his Pentagon group." It started with a two-night show in Seoul, followed by performing in five other Asian cities, and they then went to seven North American cities, four Latin American cities, and finished the tour by performing in five European cities.
On 12 February 2020, "Universe: The Black Hall," Pentagon's first studio album, was released, and it peaked at No. 3 on the Gaon Charts with around 65,000 units sold. It was followed by their 10th EP, "WE:TH," released on 12 October 2020 with the lead track, "Daisy," which gave them their first music show win from the SBS' "The Show." The boys couldn't help but become emotional, as they'd waited for this achievement for four years since their debut.
Personal Life
No K-Pop artist – particularly those who are actively promoting in a boyband or girl group – would ever admit to being in a relationship, unless they wanted to be booted out of the group. If they get to pass the three to five years dating ban that is usually added as a clause in the management contract, they still wouldn't want the public to know if they are dating anyone. Most K-Pop fans are known for being notoriously possessive of their idols.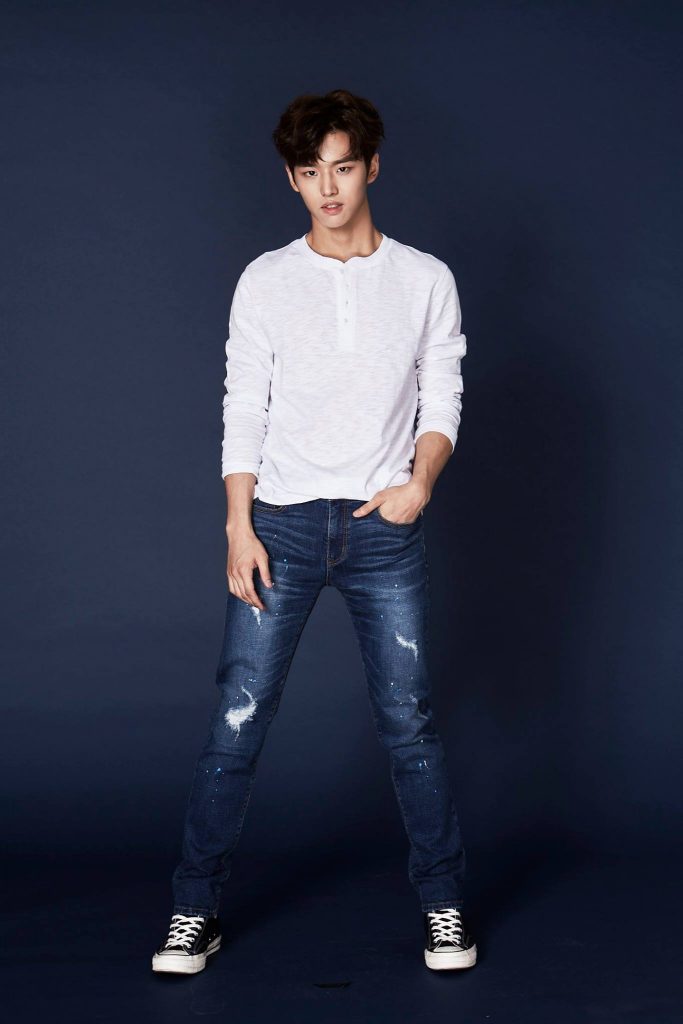 Hongseok was rumored to be dating another K-Pop trainee, Lee Soohyun, back in 2017 – there were leaked photos of him and Soohyun roaming around Cheonggyecheon Stream, a popular dating spot in Seoul. At first, it wasn't clear if the girl was Soohyun, but when Cube Entertainment released a statement, they confirmed it was them on the photos that went viral. However, his label denied they were dating, saying that they were just friends who hadn't seen each other for a long time. They just went out for a meal, and said that if they were truly dating, they wouldn't freely go out in public just like that.
Hongseok is currently single and focused on his goals with Pentagon. He worked so hard to become a K-Pop artist that he wouldn't jeopardize it by dating anyone right now. He lives in a dormitory provided by his record label, and shares a room with another Pentagon member.
Hobbies, favorites, rumors, and interesting facts
Hongseok learned to speak and write in English and Chinese since he's lived in the US, Singapore and China.
He was one of the top swimmers in the Hwa Chong International School's swimming team during his stay in Singapore.
Hongseokkie, Yang Jr, Home Mom, and Honggie are just some of the nicknames he acquired from his family, friends, and fans.
Working out in the gym or at home is one of Hongseok's favorite things to do, as he's a fitness freak who likes to take care of his body. It shows in his chocolate six-pack abs.
He likes to cook, and the other Pentagon members concede that his cooking is the best in the group. He likes to plan his meals ahead of time, and often tries to create something he's discovered online.
Since Hongseok would burn calories by working out regularly, he gets hungry all the time, and would pack a bag of goodies in his bag.
Of all the popular superheroes, his favorite is Iron Man. However, if given a superpower, he'd like to have the ability to manipulate minds.
Eggs are food he can eat for the rest of his life.
One of Hongseok's favorite songs is James Blunt's "Love Me Better."
Aside from working out, he likes learning languages and reading books during free time.
Hongseok would like to try being a lawyer for a day if given a chance.
Pentagon members said that he likes to tell dad jokes all the time.
Appearance
Yang is 5ft 11ins (1.80m) tall and weighs about 145lbs (65kgs) with a lean muscular build. His shoe size is 10. He has black hair and dark brown eyes, but Hongseok's natural hair and eye colors would often change depending on the group's concept during promotions.
Net Worth
According to authoritative sources, Hongseok has an estimated net worth of over $200,000 as of October 2020.