Shownu is a South Korean Pop (K-Pop) singer and dancer, who became famous for being the leader of the boyband, Monsta X, after joining the reality television survival series, "No Mercy." He has come a long way from being the backup dancer of a popular K-Pop singer, Lee Hyori, to becoming the front and center of a group that ranked No.6 on Billboard Artist 100 chart in 2020 with the album, "All About Luv," debuting at No.5 on the Billboard 200 chart.
Just a simple reminder that article is created and owned only by kpopwiki.org. Article cannot be re-published in any other pages or documents. Copyright is protected by DMCA. All found copies will be reported.
Original source: https://kpopwiki.org/the-untold-truth-of-monsta-x-member-shownu/
Early Life and Family
Shownu was born Sohn Hyun-woo on 18 June 1992, in Changdong, Donbonggu, Seoul, South Korea. He is the only son in the family and has a close relationship with his parents. His interest in music and dancing started when he was a young kid, but he only thought of pursuing it seriously after watching a live performance of singer-actor Rain, one of the first few K-Pop artists who paved the way for K-Pop to flourish in the global market.
Educational Background
He went to the local elementary school for his primary schooling, and attended Changdong High School before matriculating from Youngdong High School.
Career
Shownu was scouted by a JYP talent manager when he was 17 years old, and he went to join the 2009 JYP Open Auditions, as it is the agency that launched the career of his role model, Rain. He ranked No.1 during the auditions, and then for two years underwent a professional training program under one of the biggest entertainment agencies in South Korea. While he continuously received positive critiques for his dancing, Shownu felt the training system just didn't work out for him, and left the company.
Instead of going to another agency to audition, he worked as a back-up dancer for one of the most successful K-Pop female artists in South Korea, Lee Hyori.
Due to his good looks, he was featured in a couple of her music videos such as "Going Crazy" and "Bad Girls", which led him to be featured in music videos of other K-Pop artists.
He enjoyed his work, so that it would have been all right for him to go on dancing for other people for the rest of his life, but a friend encouraged him to audition for another agency, Starship Entertainment, home to successful K-Pop artists including Sistar, K.Will, Mad Clown, and Cosmic Girls. He learned that the agency was looking to launch a boyband, and went for an audition which he easily passed.
Initially, he was included in the company's project group, NUBOYZ, along with other four trainees. The management changed its mind, and finally decided to launch a seven-member hip-hop boyband they called Monsta X, through a reality TV survival series, "No Mercy."
Successful artists from Starship Entertainment served as judges in the survival series participated in by their 13 in-house trainees. The competition was tough, but Shownu impressed the judges and in the end was chosen to be the leader of the new group, also composed of Joocheon, I.M, Hyungwon, Wonho, Minhyuk, and Kihyun.
First Steps – Debuted as leader of Monsta X with two extended plays and awards
The agency chose the name, Monsta X, because they believed the boys would be the future K-Pop monsters who would dominate the music industry. It can also mean My Star as 'Mon' means 'My' in French with 'Sta' referring to 'Star.'
Shownu and the six other boys debuted with the release of their extended play "Trespass," on 14 May 2015. It has seven tracks including "No Exit," "Steal Your Heart," "One Love," and the title track.
💾사진맛집_ #스타플레이 _하드털이_(D:) 💾

📂 #몬스타엑스 하드털이
└📂 비주얼로 나라세운 #몬엑 모음.zip
└📁 기꺼이 신하가 되고싶은_모먼트.jpg@OfficialMonstaX #MONSTAX #셔누 #민혁 #기현 #형원 #주헌 #아이엠 #starplay #gleammedia pic.twitter.com/hRS535qFrk

— STARPLAY(스타플레이) (@mystarplay) January 1, 2021
While the EP peaked at No. 5 on the South Korean Gaon Album Chart, it was considered a slow start since it only sold a few more than 42,000 at the year-end tally finishing at No. 63 in 2015. The title track gained around 23,000 downloads after a week, peaking at No. 148 on the local digital chart.
After three months, they released their second EP, "Rush," with six tracks including "Hero," "Gone Bad," "Perfect Girl," and the title track. Two versions of the EP, "Secret" and "Official," were made available to fans, and were repackaged later on for a digital release. The marketing strategy worked, and about 75,000 units were sold in South Korea, peaking at No. 46 on the year-end chart.
Monsta X received generally favorable reviews with their stage performances, and the organizers of the annual Korean Convention for North America included them in the line-up of performers in KCON 2015, held at the Staples Center in Los Angeles.
They capped their debut year with two awards, the 1theK Performance Award from Melon Music Awards, and the Next Generation Asian Artist award from the Mnet Asian Music Awards.
Rising Popularity with "The Clan" EP Trilogy, Studio Album, and World Tour (2016 -17)
Shownu and the boys continued to weave their way to stardom in 2016, by joining the Chinese reality TV survival series "Heroes of Remix," and the Chinese web drama series "Good Evening, Teacher," which both helped in boosting their popularity in Asia.
By the time Monsta X released two of their EPs that year, they had gained more exposure, and it showed in the total number of sales. Their third EP, "The Clan Pt. 1 Lost," was released on 18 May 2016 with six tracks including the pre-release collaboration with Wheenin of the girl group Mamamoo, and the lead track "All In." It peaked at No. 3 on the Gaon Album Chart, and debuted at No. 5 on Billboard's World Album Chart.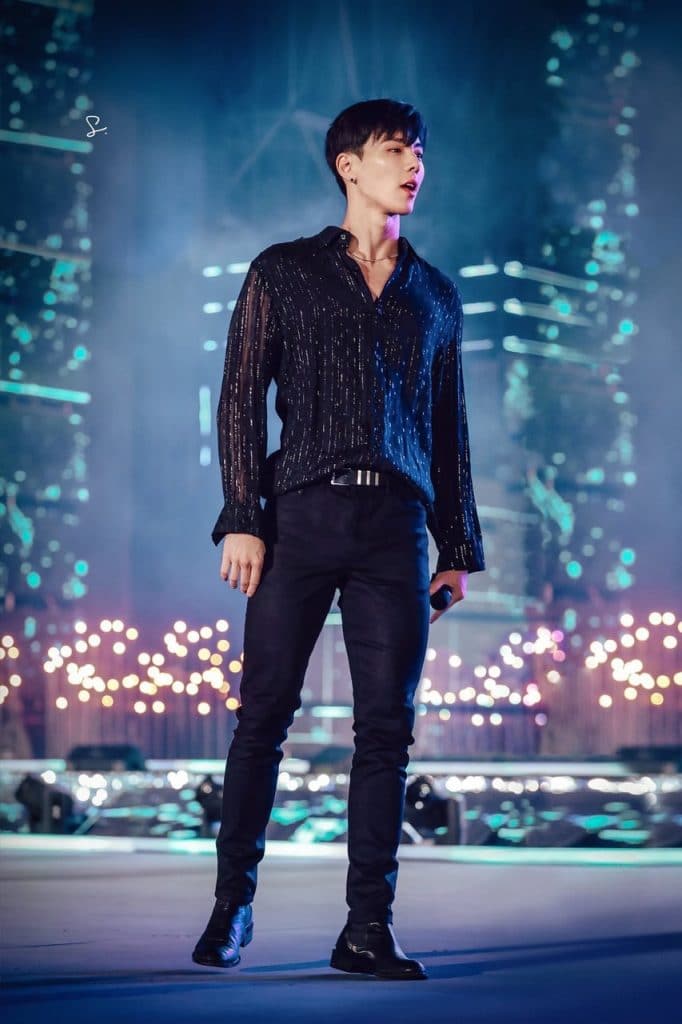 They were surprised that it also charted at No. 37 in the Japanese Oricon Album Chart. The total number of units sold was almost 95,000.
Their fourth EP, "The Clan Pt. 2 Guilty," was even more successful with over 102,000 units sold. It peaked at No. 2 on the Gaon Album Chart, No.3 on Billboard's World Album Chart, and No. 16 on Billboard's Heatseekers Album in the U.S.
With the successful sales of the group's EPs, Starship Entertainment decided it was time for Monsta X to release their first studio album, which became the last part of the Clan trilogy. On 21 March 2017, "The Clan Pt. 2.5: The Final Chapter" was released, with 10 tracks including its lead track "Beautiful." As expected, it surpassed their previous releases with a total of over 140,000 units sold, peaking at No. 2 in South Korea, topping the Billboard World Album Charts, and ranking 10th on the Billboard Heatseeker Albums in the US.
The lead single debuted at No. 4 on Billboard's World Digital Song Sales chart, which proved that they had a solid fan base in several parts of the world. Shownu's label capitalized on the group's popularity, and released a re-packaged version entitled "Shine Forever" on 19 June 2017, and it topped the local charts with an additional 70,000 units sold.
As a result of the increased sales, the group embarked on "The First World Tour – Beautiful," from July to September 2017.  After two sold-out concerts in Seoul, Shownu and the boys held performances in other parts of Asia such as Hong Kong, Bangkok and Taipei. They also had six shows in major cities in the US, including New York, Los Angeles, Atlanta and Chicago. European fans were treated to their impressive stage performances, as they flew to Berlin, Moscow and Paris. The last leg of the tour was dedicated to Latin American fans, as they performed in Mexico, Chile and Argentina
Continuous Success of Monsta X from 2018 to present
Shownu's group never lost focus, and continued to shine locally and internationally. They were chosen as one of the torchbearers for the relay leading to the Pyeongchang Winter Olympics in 2018, and they also promoted in Japan, and released an album containing Japanese versions of their Korean songs. International fans demanded more shows, and they responded by having a second world tour, "The Connect," which commenced on 26 May 2018 and finished on 10 October 2018, with 20 shows performed again on four continents.
Since then, Monsta X has released more albums and EPs with successful results. The most notable have been their third studio album "Take.2 We Are Here," and their eighth EP "Fantasia X." The former peaked at No. 1 in the local charts, No. 9 in Japan, and No. 4 on Billboard's World Album Chart. The latter was released on 26 May 2020, and peaked at No. 2 on local charts and No. 5 on Billboard's World Album Chart.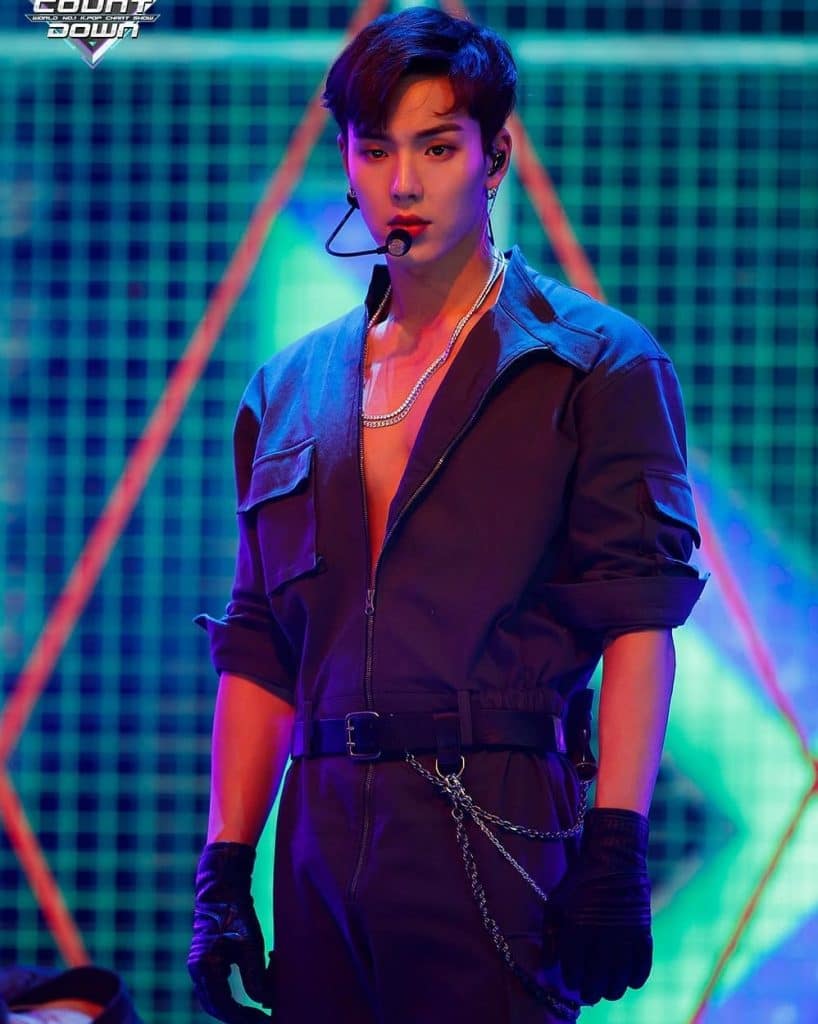 Both were certified Platinum by the Korea Music Content Association (KMCA) for having sold at least 250,000 units.
Shown and the boys never thought that their all-English album "All About Luv," released on 14 February 2020, would debut at No. 5 on the Billboard 200 chart, with more than 52,000 pure album sales and another 50,000 album-equivalent units sold. This time, Shownu was credited for five songs as a lyricist, along with the other members of his group. They started doing promotions in the US, but due to the Covid19 pandemic, their label halted their activities and they returned to Seoul.
On 2 November 2020, the group released their third studio album, "Fatal Love," with 10 songs including the lead single "Love Killa." It peaked at No. 1 on the Gaon Album Chart and 11th on the Billboard's World Album Chart. To date, the group has already won a couple of the Top Song of the Week trophies courtesy of SBS MTV's "The Show", and MBC's "Show Champion."
🎥
MONSTA X 3RD ALBUM
<FATAL LOVE>#LoveKilla #MV
지금 바로 감상하세요!#몬스타엑스 #MONSTAX #MONSTA_X#FATAL_LOVE #몬스타엑스_컴백 #몬스타엑스_페이탈러브 #몬스타엑스_러브킬라#치명적인_러브킬라_MONSTAX

▶️ https://t.co/lnOzHujzyR
▶️ https://t.co/bwp8mkA3dn pic.twitter.com/RuRTSgXRRH

— 몬스타엑스_MONSTA X (@OfficialMonstaX) November 2, 2020
Monsta X started to promote as a six-member group when one of the members, Wonho, left the group on 31 October 2019 following a controversy that brought back mistakes he made before he started training as a K-Pop artist. Instead of dragging the group down with him, he decided to just leave the group.
As a Solo Artist
While Shownu hasn't debuted as a solo singer, he has numerous solo activities and product endorsements. He is the most popular member of his group, and TV producers in South Korea love to include him in their shows, whether appearing as a guest or a part of the cast. They said he has shown reliable skills in adapting to different styles of entertainment, whether it's a musical show, reality TV series, or variety show.
In 2016, Shownu participated in the reality TV dance survival series "Hit the Stage," with 22 known main dancers of K-Pop groups, including Taemin of Shinee, Hyoyeon of Girls Generation, Hoya of Infinite, and U-Kwon of Block-B.
He survived the elimination rounds and made it to the final round in tough competition, eventually finishing in 5th place.
Shownu provides choreography for some of his group's dance performances, and has released many choreography videos for several popular songs, including "LA Girls" by Charlie Puth, "Side by Side" by Ariana Grande, "Versace on the Floor" by Bruno Mars, and "Heartless" by The Weeknd.
Shownu has also collaborated with other artists, both local and international. In 2018 he was part of the song "Don't Look Back" of the British group PREP. In 2020, he along with Minhyuk released the song "Have a Good Night" for the Korean drama series "She's My Type." He also released another song, "I'll Be There," for the Korean drama series "Tale of the Nine-Tailed."
Personal Life
Shownu is single right now as there is no recent news about him dating anyone. He was alleged to be involved with a married woman in 2019 – a husband claimed that his wife was cheating on him with Shownu, and the allegations were posted on social media. The husband then contacted Starship Entertainment about it, as he was about to sue his wife and wanted to name Shownu in his legal complaint. Shownu explained that he met the woman before she was married, and she never told him about a boyfriend or a fiancé during that time. It was cleared by the label executives when they met with the husband. Starship Entertainment then posted a warning that they would sue for defamation if malicious stories were posted on social media.
He is currently living with the other Monsta X members in the company dormitory, sharing a room with Jooheon and Hyungwon.
Hobbies, favorites, rumors, and interesting facts
He doesn't speak that much and fans are used to his simple "yes" and "no" answers to their questions.
Shownu shared his talent fee with his members for the first product endorsement that he did.
He is not a picky eater, but prefers beef over pork. His favorite dishes are cereals. He can finish two cups of rice with three servings of ramen.
His celebrity friends are Soyou of Sistar, Jinyoung and JB of Got7, and Johnny of NCT.
Shownu is a fan of the actress Gong Hyo Jin, and considers her as his ideal woman.
Appearance
Shownu is 5ft 11ins (1.81m) tall, weighs 162lbs (44kg), and has a lean muscular body with six-pack abs. His shoe size is 9.5ins (265mm). He has black hair and dark brown eyes.
Net Worth
According to authoritative sources, Shownu has an estimated net worth of close to $1 million as of November 2020.