Who is Jeon Ji-woo?
Jeon JiWoo was born in South Korea on 4 October 1996 – her zodiac sign is Libra and she holds South Korean nationality. Jeon is a singer and a rapper, probably best known for being a member of the co-ed group KARD.
Just a simple reminder that article is created and owned only by kpopwiki.org. Article cannot be re-published in any other pages or documents. Copyright is protected by DMCA. All found copies will be reported.
Original source: https://kpopwiki.org/the-untold-truth-of-kard-member-jeon-ji-woo/
Childhood and education
Jeon was raised alongside her brother in South Korea by her middle-class working parents – her father is working at an insurance company, while her mother is a secretary. Jeon and her brother are very different and thus grew up not being very close to each other.
Jeon became interested in music at a very early age, as her mother would often watch music shows on TV – she started practicing singing while attending elementary school, and at the same time was interested in acting and dancing.
She attended Chungdam High School where she met Jihyo, who is today a member of the girl group TWICE and it was while at Chungdam that Jeon was noticed by a scout, and later signed a contract with FNC. She trained under them for five years before switching to DSP Media, and launching her career with KARD just two months later.
Jeon matriculated from Chungdam in 2015, and then chose to focus on singing rather than on pursuing a college degree.
Singing career and the band KARD
The co-ed group KARD debuted on 19 July 2017, made up of Jeon, J. Seph, BM and Somin – all members but Jeon had already launched their careers as singers by the time KARD was created.
Somin was a member of the girl group Puretty that was based in Japan, but it disbanded in 2014 two years after it was founded – she went on to join the South Korean reality TV show "Kara Project" in which she placed second, and thus became a member of another DSP Media group "April", but decided to leave the group on 9 November 2015. J. Seph was signed to DSP Media for five years before joining KARD, while BM was 'on the books' for 4.5 years – the two were initially meant to become a hip hop duo, but DSP Media changed their plans. BM can also be seen featured in the song "La La La" by Goo Ha-ra, while he also danced in her music video "Choco Chip Cookies".
It was announced by DSP Media that the group's first hidden member would be Youngji, and on 13 December 2016 the group including Youngji released their debut single "Oh NaNa". The single attracted a lot of attention, and the US Billboard chose the group as one of the 'TOP 5 notable K-pop artists' on 19 January 2017. On 16 February 2017, the group released their second single – "Don't Recall" – while their version in English followed on 1 March. It was announced on 21 April 2017 that LG Electronics had chosen KARD to be the global ambassadors of its new G6 smartphone, and that the group's third project – the song "Rumor" and its music video – would be done as a collaboration with LG Electronics.
The song came out on 24 April reached the top spot on iTunes K-pop Chart in 13 countries, while it also ranked in the top 20 on charts in the US, Europe and South-East Asia. In May 2017, KARD went on their first US tou r – "2017 The 1st Tour Wild K.A.R.D", which ended in the following month.
The group's debut extended play (EP) came out on 19 July 2017, entitled "Hola Hola" – it was made up of six songs including three they had previously released, while the eponymous song served as the EP's lead single. On the same day, they promoted the EP in the music show "M Countdown".
KARD started their second tour – "Wild Kard Tour" – in September 2017 and the four performed in London, England, Lisbon in Portugal and Milan in Italy, among other cities, and they also played in five US cities including Washington D.C., Miami and San Francisco. The group's second EP "You & Me" was released on 21 November 2017 with its lead single "You In Me".
Somin and Jeon, the female members of the group, were featured in the song "Lo Siento" by Super Junior, which was later included in his album "Replay", released on 12 April 2018 – the girls were later invited to perform the song together with Super Junior on Korean music programs. In 2018, KARD went on to tour the Philippines, Hong Kong, Taiwan and Singapore, while they also sang at the annual South by Southwest music festival.
KARD was the only K-pop group to be named the '2018 year expectation team' among a total of 16 teams by the American pay TV channel FUSE TV. KARD went on another tour in April 2018 called "2018  WILD KARD TOUR", and met their Indonesian fans while performing in Jakarta at The Kasablanka Hall – after this, two fan meetings were held in Melbourne, Australia on 26 April and three days later in Sydney. The group's third EP came out on 25 July 2018, entitled "Ride On the Wind", and a day later they performed in the show "M Countdown".
On 27 March 2019, they released their new digital single "Bomb Bomb" followed by "Dumb Litty" released on 21 September – both songs reached top 50 on the Billboard Digital Sales Chart.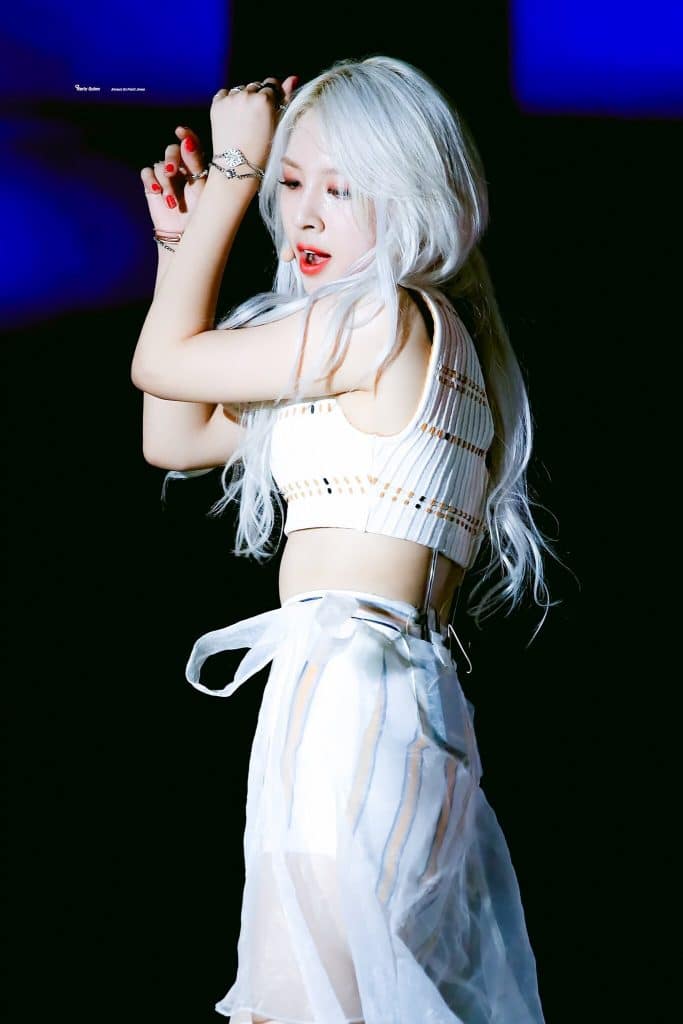 Meantime KARD held their debut solo concert on 19 August 2019 in South Korea. The group could have been seen spending time at the studio Young Hollywood located in Los Angeles, California on 6 November, and while there they talked about their song "Dumb Litty", and they also played the game The Mystery Box Challenge.
Their fourth and latest EP was released in February 2020, called "Red Moon".
Love life and boyfriend
Jeon hasn't commented about any boys she might have dated since the launch of her group KARD, but there are rumors circulating the internet that she might be in a secret relationship with J. Seph.
The two are very close, but what motivated people to start the rumors about their relationship is that they played two lovers in their music video "You In Me". They also posed together for the "Hola Hola" mini-album photoshoot, and it seemed to their fans that there was something bigger than 'just friends' going on between the two – however, neither Jeon nor J. Seph have confirmed the rumors, but have rather claimed that they are only good friends.
Another rumor has it that Jeon was once in a long-term relationship with a boy whom she met at a party before she launched her singing career, and that the two dated for around a year and a half before splitting in 2016. As of August 2020, she is single, hasn't married and doesn't have children.
Hobbies and other interests
Jeon likes to do whatever she feels likes doing, which is why she once did eight ear piercings in a single day – four on each ear.
She is a lover of animals with dogs and wolves being her favorites. She has a pet dog which she named Tani – during her childhood, she spent a lot of time volunteering at a local animal shelter.
According to J. Seph, Jeon is a very good liar which is why she would make a good spy,also but she's  very sociable, and some of her closest friends include all members of the boy group SF9, and Bit-to, who is a member of the boy group Up10tion – she is also close to Mimi from the group Gugudan, and Doha who is singing for the group Boys24.
KARD 1st Single 'Way With Words'

PHOTO #1 #JIWOO
​ #KARD #BM #JSEPH #SOMIN #JIWOO#카드 #비엠 #제이셉 #전소민 #전지우#WayWithWords #200826_KARD🔫 pic.twitter.com/cYKVEAIovE

— KARD (@KARD_Official) August 18, 2020
One of the reasons why people like Jeon is because she usually tries to get along with the person she meets and tries to copy their mood.
In her spare time, she likes to listen to other K-pop artists, and her role model is Taemin who is a member of the boy group SHINee.
Appearance and net worth
Jeon is 23 years old. She has long brown hair which she usually dyes blonde, and her eyes are brown as well. She is 5ft 5ins (1.65m) tall and weighs around 100lbs (45kgs).
As of August 2020, Jeon's net worth has been estimated at over $200,000.