Seungkwan is a South Korean singer-songwriter, and a member of the Korean Pop (K-Pop) boyband, Seventeen. He became famous in the K-Pop scene when his group was officially certified as a million-seller, after their albums such as "Heng-garae" and "; [Semicolon]" sold over a million units each.
Just a simple reminder that article is created and owned only by kpopwiki.org. Article cannot be re-published in any other pages or documents. Copyright is protected by DMCA. All found copies will be reported.
Original source: https://kpopwiki.org/the-untold-truth-about-seventeen-member-boo-seungkwan/
Early Life and Family
Boo Seungkwan was born on 16 January 1998, in Busan, South Korea. He and his two older sisters were raised by their parents in Jeju Island – his sister Boo Sojeong also became a singer, and debuted in October of 2020.
Educational Background
He attended Donggwang Elementary School and Jeju Jeil Middle School, then transferred to Daemyeong Middle School in Seoul, matriculating from Seoul Broadcasting High School in 2016.
[SVT GALLERY; FANSIGN EVENT]
210111
Shopee Thailand x SEVENTEEN Video Call Fansign
#SEUNGKWAN #승관#세븐틴 #SEVENTEEN@pledis_17

ctto. pic.twitter.com/61x7BoTHs1

— 서명호 (hao) (@xum8nghao_o) January 11, 2021
Career
Seungkwan has a very good singing voice, and a talent scout from JYP Entertainment was rumored to have offered him to join their training program, but he refused. He got into Pledis Entertainment due to a video of him singing online – in one of the singing competitions he joined in Jeju Island, his teacher secretly filmed his performance. Since his face wasn't fully caught on camera, he dared to upload it on a video-sharing site. One of Pledis executives saw it, and Seungkwan was invited to an audition.
Mingyu, one of the trainees at Pledis at that time, shared during an interview that it was rumored back then that someone who looked like Psy but with a vocal range comparable to Park Hyo Shin was coming for an audition. On the day of the audition, Mingyu jokingly said that some people at the agency thought it was his parent who came, but it turned out to be Seungkwan, insinuating that he looked quite mature for his age.
Seungkwan sang one of Kim Bum Soo's hit songs, "Last Love," and easily passed the audition. He joined Pledis Entertainment in 2012, and it took him three years and two months of training before he was given the green light to debut.
First Steps – Debut Year (2015)
Seungkwan along with 12 other trainees such as Vernon, Woozi, Wonwoo, The8, S.Coups, Mingyu, Jun, Joshua, Jeonghan, Hoshi, DK, and Dino debuted as the boyband, Seventeen, on 26 May 2015. While the boys performed as a huge group, they were divided into Performance Unit, Hip-Hop Unit, and Vocal Unit, so each of them knew their specific roles in the group. Seungkwan was included in the Vocal Unit along, with five other members.
After appearing regularly in a reality television show produced by his agency, they accumulated a decent number of fans for a rookie group. When they released their first extended play, "17 Carat," close to 55,000 units were sold, and they peaked at No.4 on the South Korean Gaon Chart and No.8 on Billboard's World Album Chart.
The EP has five tracks along with the lead track, "Adore U," which they performed during an hour-long live grand debut showcase aired on one of the three largest networks in South Korea, MBC. They were the first boyband to do so, as most K-Pop groups would debut performing only their first single, along with the B-side. At that time, Seventeen's first EP became the longest-charting K-Pop album in the US, creating a buzz in the K-Pop scene.
In September, Seungkwan and the boys released their second EP entitled "Boys Be" with five tracks including the lead track, "Mansae," composed by the group's resident composer along with the hip-hop unit. It became the best-selling album from a rookie group at that time, finishing at No.2 on the year-end list of the Gaon Album Chart for 2015 with close to 125,000 units sold. It peaked at No.1 on Billboard's World Albums Chart, and No.2 on the Gaon Album Chart.
Following the commercial success of both EPs, Seungkwan and his group treated the fans to a solo concert entitled, "2015 Like Seventeen – Boys Wish," which was held at the Yongsan Art Hall for four concert dates in December.
They capped their rookie year by making the 2015 list of "Billboard's 21 Under 21 Most Hottest Young Stars", and having their debut album included on "Billboard's 10 Best K-Pop Albums."
First Studio Album, First Music Show win, and Asian Tour (2016-17)
In April 2016, Seventeen released their first full-length studio album, "Love & Letter," and it grabbed the No.1 position on the Gaon Album Chart, while ranking No.3 on Billboard's World Albums Chart. It also charted at No.8 on the Japanese Oricon Album Chart, which caught them by surprise since they hadn't promoted there yet. The album has 10 songs, and Seungkwan was credited as one of the lyricists on five of them, including "Drift Away," "Say Yes," "Still Lonely," and the lead track, "Pretty U." With their rising popularity, the album sold close to 200,000 units, and the lead track gave the group its first win as the No.1 Song of the Week from the local music show, "Show Champion", aired ont MBC M.
After they finished the promotion for the album, Seventeen embarked on their first overseas tour, "1st Aisa Tour 2016 Shining Diamonds", performing in several cities in countries including China, Singapore, Japan and Australia.
Before 2016 ended, they released their third EP, "Going Seventeen," with eight tracks including the lead track, "Boom Boom." Again, Seungkwan and the boys topped the local album chart, and reached No.3 on Billboard's World Albums Chart. The group continued gaining more fans, as the EP sold close to 225,000 units, making Seventeen one of the best-selling groups in K-Pop that year.
In February 2017, they geared up for another tour solely for their Japanese fans. They performed six concerts entitled "17 Japan Concert: Say the Name #Seventeen." Without releasing a Japanese album, which was usually a pre-cursor to any K-Pop artist wanting to penetrate the Japanese market, around 50,000 fans flocked to their concerts.
Due to their popularity there, Seungkwan and the boys filmed two seasons of the TV show "One Fine Day", documenting their short stay in Japan.
Back in Seoul, they released their fourth EP, "Al1," with the title track, "Don't Wanna Cry." They collected six music show trophies, as it was chosen No.1 Song of the Week on several music shows during their promotional run. It topped the Gaon Album Chart with almost 335,000 units sold, while it peaked at No.2 on Billboard's World Album Chart.
Seventeen embarked on their first world tour, "2017 Seventeen 1st World Tour Diamond Edge", starting with a two-night concert in Seoul, and then performing in 12 cities across Asia and North America, from July to October.
A month later, Seungkwan became busy promoting, as they released their second full-length studio album, "Teen, Age," which became No.1 on the Gaon Album Chart and Billboard World Albums Chart, with over 360,000 units sold.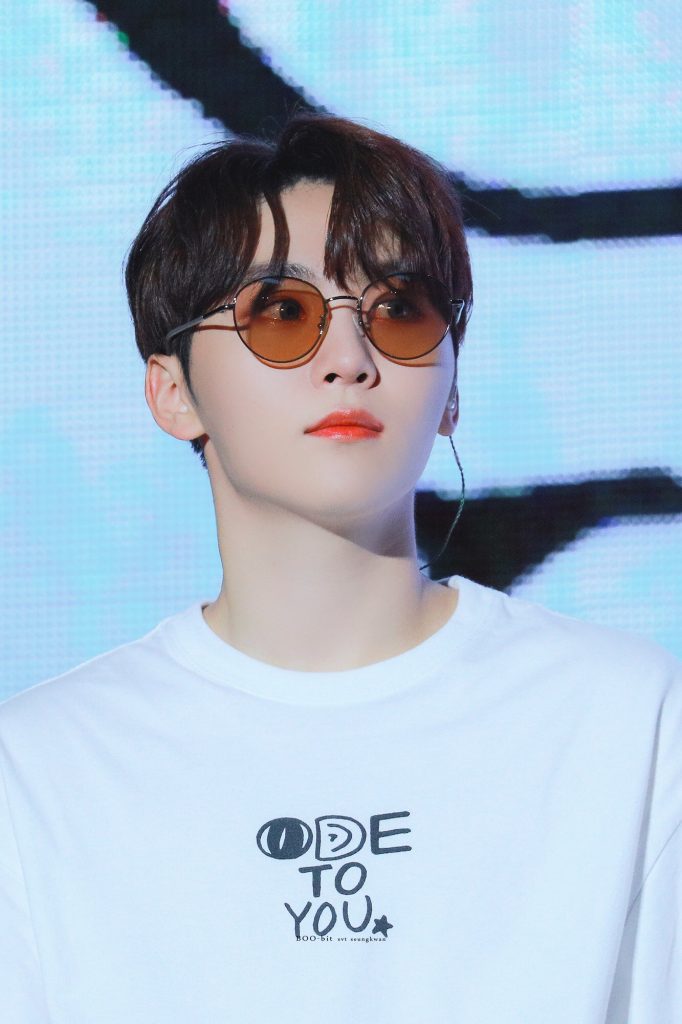 It also charted at No.5 on the Japanese chart and 8th on Billboard's Heatseekers Album. Seungkwan contributed to the lyrics of three of the songs in the album, including "Campfire," "Flower," and the lead track, "Clap."
Gold and Platinum Certifications (2018-2019)
Seventeen never looked back after the release of their third EP – all the albums they released after that either debuted or peaked at No.1 on the Gaon Album Chart. They continued to raise the bar, starting in 2018 by having gold and multiple-platinum albums. In May, Seungkwan and his group released the Japanese album, "We Make You," which peaked at No.2 on the Oricon Album Chart. With close to 160,000 units sold, the Recording Industry Association of Japan (RIAJ) rewarded them with a Gold Certification.
In July 2018, the group released their fifth EP, "You Make My Day," and it topped the Gaon Album Chart while reaching the No.3 position on Billboard's World Albums Chart. With close to 390,000 units sold, the Korea Music Content Association (KMCA) rewarded them Platinum certification.
Seungkwan became a multi-platinum artist, as Seventeen was awarded 2X Platinum certifications by KMCA when they released their sixth EP, "You Made My Dawn," in January 2019. It has over 515,000 units sold in South Korea, close to 180,000 in Japan, and around 2,000 units sold in the US.
The sales result kept increasing, and it was more evident when they released their third full-length studio album, "An Ode," on 16 September 2019. Close to 980,000 units were sold in South Korea, and around 240,000 in Japan, with 2,000 in the US. KMCA gave them a 3x Platinum Certification. The group was also rewarded with Album of the Year by the Asia Artist Awards, Asian Music Festival, and Gaon Chart Music Awards (3rd Quarter).
Million-Seller Artist (2020)
Seungkwan and the boys never imagined things would be bigger and brighter in 2020. Despite the very unfavorable markets in many parts of the world, Seventeen proved that good music can beat the odds of restricted promotions.
【SCAN】SEVENTEEN 3RD ALBUM An Ode Begin Ver.

#SEUNGKWAN #승관 #スングァン pic.twitter.com/utSIQiFOs1

— ハナ (@jhhs7777) January 8, 2021
It was the year they became multi-million sellers with the release of their seventh EP, "Heng:garae" (22 June), and the special EP, "; [Semicolon]" (19 October). Both albums had a pre-order volume of over a million units, and both topped the Gaon Album Chart upon release. They were both awarded million-seller certification by the KMCA.
The amazing thing about this feat is that the release dates were just four months apart; music insiders said that the overwhelming support was their fans' way of supporting their idols, as they can't see them personally through regular concerts. It can also be attributed to the clout of being affiliated with today's most popular entertainment company in South Korea, Big Hit Entertainment, home to the biggest boyband in the world, BTS, which acquired Pledis Entertainment in May of 2020.
Solo Activities (Debut – Present)
While he hasn't launched as a solo singer, Seungkwan has participated in many individual activities in between Seventeen projects.
In 2018, he lent his voice to making the soundtrack of the TV drama "Mother" entitled "Kind of Love."  Hoshi, DK, and Seungkwan – called "BBS," which stands for BooSeokSoon, a combination of their nicknames – also released the single, "Just Do It." The following year, he released another soundtrack for the TV drama "Chocolate," along with some of his bandmates including DK, Dino, Wonwoo, and Joshua. In 2020, Seungkwan was asked to contribute to the soundtrack album of the popular TV drama, "Record of Youth," starring Park Bo Gum and Park So Dam. He released the song "Go" on the seventh of September, the first song used in the drama series.
Seungkwan also became busy appearing as a guest in popular variety shows since his debut, including SBS' "Running Man," "Omniscient Interfering View," "Hidden Singer," and the yearly "Idol Star Athletics Championships."
He became a regular cast member of the show, "Unexpected Q" in 2018, with Jun Hyun Moo and Lee Soo Geun, as well as in "Prisoner Life of Fools" in 2019 with Jung Hyung Don and Lee Soo Geun.
Temporary Hiatus Due To Injury (2020)
In July 2020, Seungkwan took a break from his Seventeen activities, as he injured his left ankle during one of the group's dance choreography practices. He was examined, and immediately underwent surgery for a ruptured ligament.
Personal Life
As most K-Pop artists do not openly date or share information about their personal relationships, Seungkwan is officially single. There had been no news or rumors that he's dated anyone since his debut. It is interesting to note that a majority of South Korean fans are notoriously possessive of their favorite idols. If he decides to date, he prefers girls with big eyes and someone with an easy-going personality, who can be friends with him aside from being his girlfriend.
He lives in the company dormitory with the other members of his group. They are usually accompanied by a manager.
Hobbies, favorites, rumors, and interesting facts
Seungkwan has earned several nicknames, including DJ Boo, Mr. Mic, and MC Boo.
He likes to take care of the members, and is acknowledged as Seventeen's mood maker. When some members of his group were upset, he would mimic their CEO's voice and habits to cheer them up.
Seungkwan's favorites: goguma or sweet potato pizza (pizza flavor), summer and fall (seasons), basketball and volleyball (sports), salty instead of sweet (food taste), hamburger (food), and Wonder Girls (girl group).
He can eat anything just as long it doesn't have tomatoes in it, as he's allergic to them.
Seungkwan considers Kim Junsu of JYJ as his role model, for being successful both as a member of a group and as a solo artist.
Despite the overwhelming success that he has with his group, he likes to keep himself grounded by walking around after work. It makes him feel more normal, and it de-stresses him from the usual pressure that comes with fame.
Seungkwan's celebrity friends are Haknyeon (The Boyz), Daehyun (B.A.P.), and Moonbin (Astro).
Appearance
He is 5ft 8ins (1.58m) tall and weighs 128 lbs. (58kg) with a lean muscular body. His shoe size is 265mm. He has black hair and dark brown eyes.
Net Worth
According to authoritative sources, Seungkwan has an estimated net worth of $2.5 million, as of January 2021.