Shuhua is a Taiwanese singer-dancer, who became known when she debuted as one of the members of the South Korean Pop (K-Pop) girl group, (G)I-dle. Her group's first digital single, "Hann (Alone)" topped three Korean music charts, and peaked at No.2 on the Billboard World Digital Song Sales chart. They were acclaimed as monster rookies, and won six Best New Female Artist of the Year award in 2018. Two years later, they are considered one of the best female groups on the rise in the K-Pop scene, with their third EP, "Oh My God" debuting at No.1 on the South Korean Gaon Chart and No.4 on Billboard's World Album Chart.
Just a simple reminder that article is created and owned only by kpopwiki.org. Article cannot be re-published in any other pages or documents. Copyright is protected by DMCA. All found copies will be reported.
Original source: https://kpopwiki.org/the-untold-truth-about-gi-dle-member-shuhua/
Early Life and Family
Yeh Shuhua was born on 6 January 2000, in Taoyuan, Taiwan. As a young kid, she told her parents and sisters that she would be on TV someday, and would often re-enact drama scenes, and practice acting at home.
Her parents found it cute, but never took her pronouncements seriously. She initially wanted to be an actress, but when she was exposed to K-Pop music through her friends, her interest shifted from acting to singing. She was inspired by successful K-Pop artist Hyuna of 4Minute, the girl who gained global exposure by being featured in Psy's "Gangnam Style" music video that broke YouTube's site in 2014.
Educational Background
She went to Fugang Elementary School, and then attended Hwa Kang Arts School in Taipei. It is not known if Shuhua was able to continue her high school education after she moved to Seoul in 2016.
Career
When Cube Entertainment, home to successful past and present K-Pop artists such as 4Minute, Beast, BtoB and Pentagon, held a Global Audition in Taiwan, Shuhua was one of the hopefuls after her friends encouraged her to audition along with them.
She successfully passed it, and flew to Seoul when 17 years old to start her K-Pop idol training. It wasn't a smooth-sailing training experience, as she had a hard time adapting to a new environment and language. The other trainees were well ahead of her when it came to singing and dancing, so she would often practice more than the others even alone in the training room, just to catch up. When she confessed her anxieties to the others, she received lots of support, the reasons why she never gave up.
After two years of training, her agency launched her along with Yuqi, Minnie, Soojin, Miyeon, and Soyeon as members of the K-Pop girl group, (G)I-dle. The group name was suggested by Soyeon, the group leader, and it started with just the word, "Idle."
However, it didn't sound right to some people as it means "children" in Korean. while it has a negative connotation in English as it means avoiding work. They tweaked it and added the letter G, inside a parenthesis with a hyphen between "I" and "dle." It now means a group of six different individuals coming together as one in Korean, and it is pronounced with a silent "G."
First Steps – Debut Year with an extended play and digital song (2016)
South Korean entertainment agencies would often think of unique ways of launching their new groups, and Cube Entertainment let Shuhua and the girls go pre-debut dance busking in the middle of the busy Hongdae District in Seoul, organized by Dingo Music. They did a dance medley cover of 4Minute's "Crazy," BTS' "Mic Drop," and CL's "Hello Bitches" – the video quickly gained 4.5 million views on YouTube.
On 2 May 2018, a week after their dance busking event, (G)I-dle debuted with the release of its first EP, "I Am", consisting of six songs including "What's In Your House," "Don't Text Me," "Maze," and the lead track, "Latata." They held a live grand debut showcase at Blue Square iMarket, where they performed two songs from the EP, starting their two-month promotion, performing the lead track in popular music shows. After just twenty days, they achieved their first music show win (No.1 Song of the Week) on SBS MTV's "The Show", followed by another win on Mnet's "M Countdown." The EP peaked at No.13 on the South Korean Gaon Album Chart, and No.5 on Billboard's World Album Chart with 3,000 units sold in the US to date.
In the first week of August, Shuhua flew to the US along with her group for a flash-mob event. They recorded the event at Times Square and Washington Square Park in New York City performing "Latata."
(G)I-dle went back to Seoul to release their first digital single entitled "Hann (Alone)," on 14 August 2018. It topped the local charts, and debuted at No.2 on Billboard's World Digital Song Sales chart, and also became the best-selling K-Pop song in the US a week after its release, according to the Nielsen Music data. The group debuted at No.38 on Billboard's Emerging Artist chart, and gained a new rank at No.24 on Billboard's Social 50 chart. Shuhua was given more lines in the song, unlike in "Latata", and had a solo dance break during its live performances.
These achievements led the girls to be called "monster rookies" by fans and music insiders, and in the year-end music awards, (G)I-dle was named Best New Female Artist in 2016 by six award-giving bodies including Golden Disc Awards, Melon Music Awards, Gaon Chart Music Awards, and Asia Artists Awards.
(G)I-DLE "I BURN" Visual Film Behind 📸 — #SHUHUA pic.twitter.com/1vidcvGqWp

— shuhua 📸 (@yshrated) January 3, 2021
Queendom, Second EP, International Stages and Japanese Debut (2019)
Shuhua had a busy 2019, starting with the release of the group's second EP entitled "I Made" on 26 February 2019. It has five tracks, including "Put It Straight," "What's Your Name," "Blow Your Mind," and the lead track, "Senorita." The EP peaked at No.2 on the Gaon Album Chart with almost 50,000 units sold in South Korea, and it debuted at No.5 on Billboard's World Album Chart, as well as topping the Five Music Taiwanese Album Chart.
The girl group released their second digital song, "Uh Oh," and it entered at No.22 on the NetEase Cloud Music China Chart, the only K-Pop girl group to make it onto the chart. It peaked at No.7 on Billboard's World Digital Song Sales Chart.
Due to their rising popularity, they were invited to perform on global stages such as the yearly Korean Convention concerts as KCON held in New York City, and in Thailand.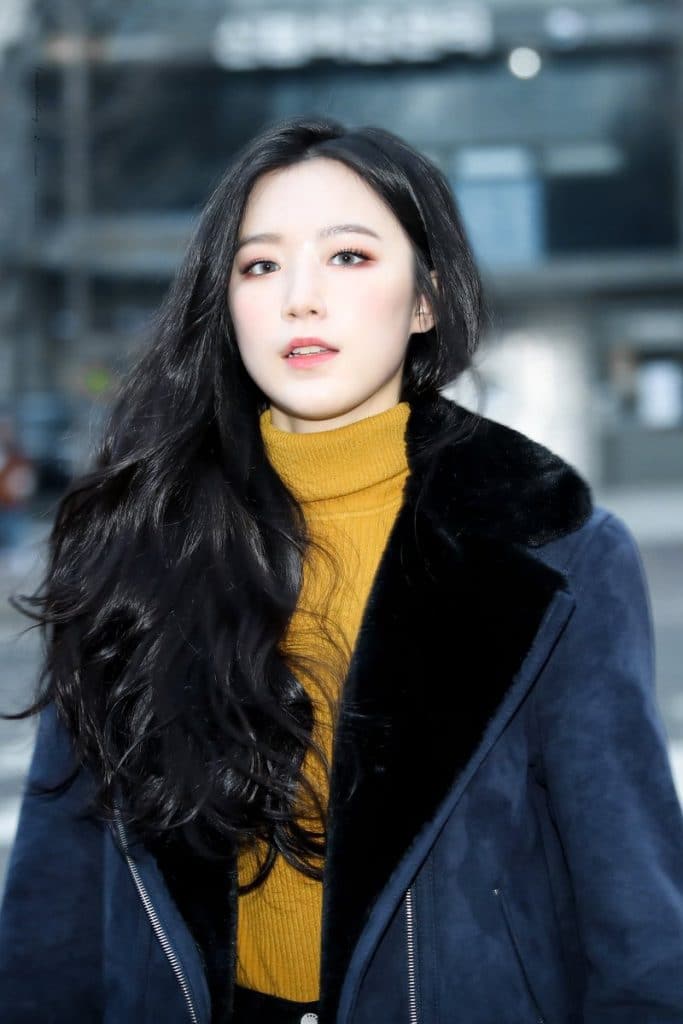 They were also included in the line-up of performers in Mnet's "M Countdown Music Festival" in Taiwan, "Music Bank World Tour" held in Germany, and "Spotify On Stage" in Thailand.
During the year, Shuhua and the girls spent some time in Japan, as they debuted there with the release of their first Japanese EP entitled, "Latata", which peaked at No.5 on the Oricon Album Chart, and No.15 on Japan's Hot Albums. Prior to the release of the EP, they also held a live showcase at the Mynavi Blitz Akasaki, performing their hits songs.
A survival show was created by the Mnet Network called "Queendom," which featured six rising and popular K-Pop  2019 acts, competing to have the No.1 song when they release their singles all at the same time during the final round. (G)I-dle was invited to be a part of the show along with girl groups, Lovelyz, Mamamoo, AOA, Oh My Girl, and solo artist, Park Bom of 2NE1.
They impressed everyone during the first round in which they performed their debut song, "Latata," and ranked No. 1 among all the participants. The competition got tougher each round, and they eventually finished in third place, with Mamamoo winning first place and Oh My Girl coming second. The videos of their stage performances in the show gained over 10 million views, and the song "Lion," which they used in the final round peaked at No. 19 on the Gaon Digital Chart, No. 1 on the Chinese QQ Music Chart, and No. 5 on Billboard's World Digital Song Sales Chart. The show gave the artists a chance to show what they have without being limited to the song genre they are used. K-Pop fans saw (G)I-dle in a different light, as the group proved they could be on a par with the best of the best.
Shuhua and the girls were invited to Taiwan during the Christmas & New Year Celebration held in Tainan City, with 80,000 people watching them perform their hits including the song "Lion," which became a sleeper hit; it stayed on top of the QQ Music Chart for two consecutive weeks.
Commercial Success and Online Concert (2020)
(G)I-dle was supposed to embark on their first world tour entitled "I-Land Who Am I Tour," which would take them to 32 cities around the world. However, it was canceled due to the Covid19 pandemic. Instead, they participated in an online charity concert, "Twitch Stream Aid" in March 2020, to help generate funds for relief operations during the pandemic.
In April 2020, the girls signed a contract with Republic Records, home to successful western artists including Ariana Grande, James Blake, Post Malone and Taylor Swift.
They would be responsible for handling (G)I-dle's US promotions, which Cube Entertainment planned to focus on once everything returns to normal, and travel restrictions are lifted.
On 6 April 2020, Shuhua's group released their third EP entitled "I Trust", with five tracks including its lead track "Oh My God." It debuted on top of the Gaon Album Chart with over 90,000 pre-orders, and sold around 100,000 physical units in three days. It was the girls' first No.1 album in South Korea, and it also peaked at No.4 on Billboard's World Albums Chart, along with ranking No.1 on iTunes Album Chart in 61 countries. The EP even entered the Scottish Singles Chart at No. 97, which makes them the second K-Pop female artist and third K-Pop act to ever achieve that.
The official music video of the song gained 17 million views on YouTube within 24 hours of release, and has over 123 million views to date.
It was nominated for the Best K-Pop Video at the 2020 MTV Video Music Awards, and at the BreakTudo International Music Video Awards.
During their live promotions, the girls achieved a grand slam music show win, with "Oh My God" being the No.1 Song of the Week in four major music shows, including SBS's "Inkigayo," KBS's "Music Bank," MBC's "Show Music Core," and Mnet's "M Countdown."
With the travel and public event restrictions caused by the Covid19 pandemic, artists around the world resorted to conducting online concerts, to stay relevant and communicate with fans. The girls participated in the "KCON:TACT 2020 Summer" online concert in June 2020, along with 32 other K-Pop artists. After a month, Shuhua and her group held their own online concert entitled "2020 (G)I-dle Online Concert: I-Land: Who Am I" – around 11,000 real-time paid viewers logged onto their show.
In August they released their first single album, "Dumdi Dumdi," the second best-selling single album for a K-Pop girl group in K-Pop history, with over 94,000 units sold on its first day. However, the title track debuted at No.27 on the Gaon Digital Chart, and No.15 on the Billboard's World Digital Song Chart. They went up the charts quite slowly, but managed to peak at No.8 and 13, respectively.
In December, her agency announced that they'll release a new album in January 2021.
Personal Life
Shuhua is officially single, and there are no rumors or news that she is dating anyone at the moment. Her contract with Cube Entertainment forbids her to date anyone as the no-dating policy is still in effect, only rescinded three to five years after her debut.
Currently, she lives with the other (G)I-dle members, but has her own room in the dorm provided by the company.
[📸] StarPlay Update #SHUHUA pic.twitter.com/N64MFKUHup

— shuhua archive (@YSHPRNT) December 29, 2020
Hobbies, favorites, rumors, and interesting facts
Shuhua's English name is Susan.
She loves watching TV drama series and scary movies during her free time. However, if she can't find anything she likes on TV, she would spend hours playing PlayerUnknown's Battlegrounds, an online multiple shooter game.
During Shuhua's trainee days, 'White Butterfly' was one of her stage name choices.
Shuhua is good friends with Elkie of the girl group CLC.
Her favorites: beige (color), season (winter), ramen (food), chocolate (dessert), fruit juice (beverage), Totoro (Japanese anime character).
Shuhua doesn't eat cold food, salad vegetables, or strawberries.
The group's official fandom name is Neverland, based on the imaginary island of Peter Pan.
Appearance
Shuhua is 5ft 3ins (1.61m) tall, weighs 100lbs (45kgs), and has a slim, well-proportioned body. Her shoe size is 235mm. She has black hair and dark brown eyes. Unlike other K-Pop artists, she prefers not to dye her hair, and just let her natural color shine. Shuhua is also known for not wearing make-up if she can help it, but respects those who prefer to dress up and have their face done; she likes to be comfortable and be natural.
Net Worth
According to authoritative sources, Shuhua has an estimated net worth of over $100,000 as of December 2020.