Woojin is a South Korean singer-songwriter, who rose to prominence in the Korean Pop (K-Pop) scene when he was launched as one of the members of the boyband Stray Kids, in January 2018. His group gained recognition as their pre-debut song, "Hellevator," and pre-debut EP, "Mixtape," rose high on Billboard Charts. After being with the group for about two years, his contract with JYP Entertainment was terminated in October 2019, apparently because Woojin left for personal reasons. He signed up with a new agency, 10X Entertainment in August 2020, and continued with his career as a solo artist, but after a month, Woojin was embroiled in a series of controversial tweets about sexual harassment accusations, which he vehemently denied.
Just a simple reminder that article is created and owned only by kpopwiki.org. Article cannot be re-published in any other pages or documents. Copyright is protected by DMCA. All found copies will be reported.
Original source: https://kpopwiki.org/the-untold-truth-about-ex-member-of-stray-kids-woojin/
Early Life and Family
Kim Woojin was born on 8 April 1997, in Bucheon, Gyeonggi, South Korea. There isn't much information about his early life and family, except that he has one older brother, and that he was interested in singing even as a child.
Educational Background
He attended the local elementary and middle school in Daejeon. He graduated from the School of Performing Arts High School located in Seoul in February of 2019.
Career
When Woojin started to pursue his dream of becoming a K-Pop star, he took on the usual route, which was auditioning at several entertainment agencies such as Cube Entertainment, Fantagio Entertainment, SM Entertainment and JYP Entertainment. Due to his vocal skills, he passed the auditions and first became a Fantagio trainee. However, he moved to SM Entertainment and trained for some time with other boys who would later become part of the popular boyband, NCT. For undisclosed reasons, he left SM Entertainment and finally found a home with JYP Entertainment.
First Steps – Reality TV Series (2017)
In 2017, JYP Entertainment produced the reality television survival series entitled "Stray Kids", to choose who among their resident trainees were ready to be included in the new boyband that the agency would be launching the following year. However, JYP founder, Park Jin Young, decided that instead of making it an individual competition, it would be the trainees competing to survive as a group. While their individual abilities were evaluated including vocals, dancing and songwriting, they needed to show adaptability to being in a cohesive group and develop great teamwork.
Woojin along with eight other trainees – namely Bang Chan, Changbin, Felix, Han, Hyunjin, I.N., Lee Know, and Seungmin – participated in the series, aired from October to December 2017. He became a candidate for elimination in the eighth episode with Lee Know and Felix, but survived, although criticized for lacking in dancing skills and stage presence; they were advised by other successful label mates, including members from 2PM and Got7 on how to improve their skills.
Eventually, after 10 episodes and numerous missions, Park Jin Young believed that they were ready to be launched, and it was decided to include the two eliminated trainees in forming a 9-member male K-Pop group.
On 1 November 2017, Woojin and the boys released the track "Hellevator" as a digital single. It was the song the fans first heard when the reality show uploaded its music video as an introduction to the show, which peaked at No.6 on Billboard's World Digital Song Sales chart, which was an amazing feat as they hadn't officially debuted yet. The MV had around 15 million views back then, and has attracted 75 million views as of January 2021.
Three Billboard Charts Entry: Pre-debut Mixtape EP (2018)
Encouraged by the success of the boys' first digital single, JYP Entertainment released a pre-debut extended play (EP) "Mixtape" on 8 January 2018, consisting of eight tracks, which they all performed during the reality TV series. All the boys contributed to the composition of the songs, either by writing the lyrics or composing the music. Woojin specifically was credited for both lyrics and music in the sixth track, entitled "School Life".
#WOOJIN: my sweet lil cupcake 🍥 pic.twitter.com/pWGvyu9QB4

— pink sausages 💌 | au 📌 (@bunssonet) February 5, 2021
The EP peaked at No.2 on the local Gaon Album Chart, with more than 45,000 units sold back then, and close to 110,000 units sold as of January 2021. It also made waves in the US, as it landed on three Billboard charts including No.2 on World Albums Chart, No.6 on Heatseekers Album Chart, and No.22 on the Independent Albums Chart. The EP also charted at No.9 on New Zealand Heatseekers Albums, and No.47 on the Japanese Oricon Albums Chart. These accomplishments were not uncommon, as K-Pop albums would land a spot on any chart almost every week. However, the main difference was that the boys charted even before their official debut – the only media exposure they had was in the reality TV show that their agency produced.
Debut Year with "I Am…" EP series (2018)
On 5 March 2018, Woojin and his group made their official debut as Stray Kids with the release of their debut EP, "I Am Not," which was the first of the three-part "I Am…" series.
Two versions were released, with the digital edition consisting of seven tracks, while the physical had eight tracks as they included the song called "Mixtape#1," which Woojin had a hand in writing both the lyrics and the music. The lead track, "District 9," peaked at No.10 on Billboard's World Digital Song Sales chart; it was first performed during their grand debut showcase, "Stray Kids Unveil (Op.1: I Am Not)," held at the Janchung Arena in Seoul on the same day the album was released.
The EP debuted at No.4 on the Gaon Album Chart, with close to 55,000 units sold within a month of its release. It entered two Billboard charts, at No.5 on World Albums Chart. and No.23 on Heatseekers Album Chart. The album also entered the French Download Chart at No.155, according to the National Syndicate of Phonographic Publishing (SNICOP). As of January 2021, it had almost 140,000 units sold in South Korea.
Woojin and his group released two more commercially successful EPs in 2018. The second EP entitled "I Am Who" was released on 6 August 2018, and just like the first one, it had two versions with the physical edition having a bonus track that was written and composed by all the members. The lead track, "My Pace" charted at No.8 on Billboard's World Digital Songs Sales chart, and No.90 on Japan's Hot 100 chart. The album sales were higher than their debut EP, with close to 165,000 units sold in South Korea and peaking at No.3 on the local chart. It charted high on the aforementioned three Billboard charts too, and made its way onto the French and Japanese charts.
The third EP, "I Am You" was released on 22 October 2018, and was the most successful in the album series. It debuted at No.2 on the Gaon Album Chart, and had close to 170,000 units sold in South Korea. The album also consistently landed on four other international charts, including France, Japan, and two US Billboard charts.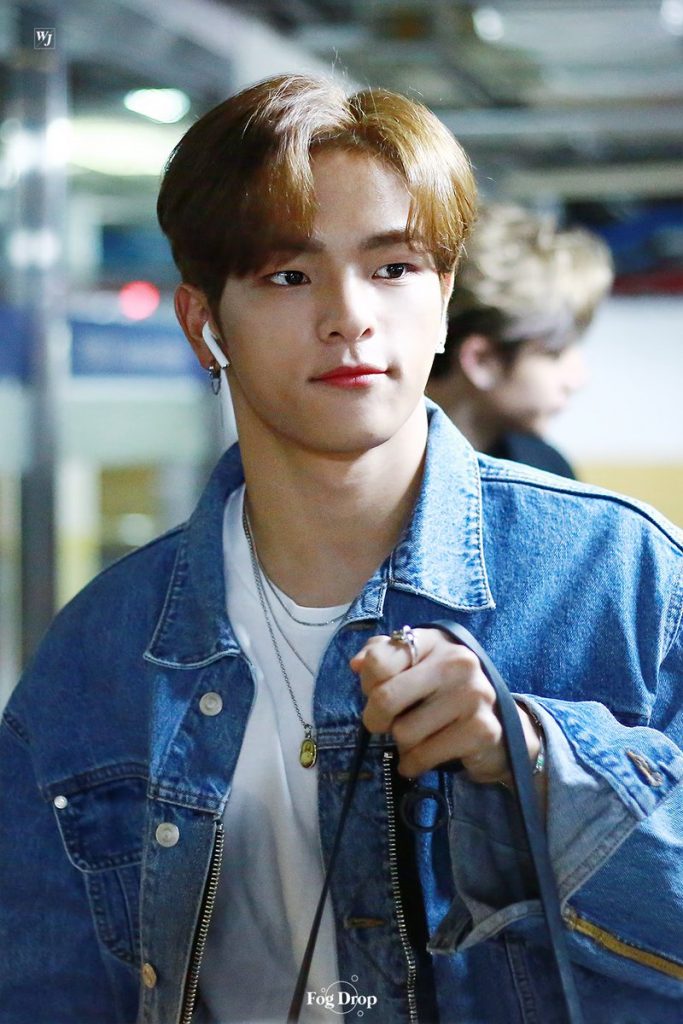 Woojin and the boys capped their debut year by winning the New Male Artist of the Year Award from almost all the award-giving bodies, including the Mnet Asian Music (MAMA), Gaon Chart Music, Golden Disc (GDA), and Seoul Music Awards.
Clé EP Series, Hi-Stay Tour In Korea, and First Music Show Win (2019)
While everything seems to be going fine with their rookie year, there was one thing that was missing – a music show win. It's considered a milestone in a K-Pop star's career to get one of those trophies, as it's a clear indication of their popularity. Some can get it right after debut, but others would take years before winning one.
In March 2019, Stray Kids released its fourth EP entitled "Clé 1: Miroh", to commemorate their anniversary in the industry.  The lead track, "Miroh" gave the boys their first music show trophy for the Top Song of the Week, courtesy of Mnet's "Music Countdown."
Before the release of their fourth EP, Woojin and his group traveled around South Korea for a month on their meet and greet tour entitled "Hi-Stay Tour in Korea", visiting several cities including Incheon, Busan, Daejeon, performing for the fans. They ended the tour with a grand event in Seoul on 4 April 2019.
The local tour helped the boys became more popular, as the fourth EP went No.1 on the Gaon Album Chart, and eventually had more than 205,000 units sold as of January 2020. It also entered six other international charts, including at No.3 on Billboard's World Albums Chart, No.15 on the Japanese Oricon Album Chart, No. 47 in the French Download Album Chart, and No.19 on the Hungarian Albums Chart.
The second part of the Clé album series was released in June 2019, entitled "Clé 2: Yellow Wood." Stray Kids called it their first special album although chronologically it was their fifth EP. It had seven tracks but with only three new songs, including the lead track "Side Effects," "Road Taken," and "TMT." The remaining four on the list were mixtape tracks that all the members created in the past. While it wasn't able to get past the 200,000 sales mark that they hoped for, with just 180,000 units sold, the album scored on six international music charts.
Aside from peaking at No.2 on the local charts and No.9 on Billboard's World Album Chart, the album entered the Polish Albums Chart at No.12, French Download Chart at No.69, and the Spanish Albums Chart at No.93.
Departure from Stray Kids and JYP Entertainment (2019)
Fans were shocked at the announcement by JYP Entertainment on 28 October 2019, that Woojin, '…who has been with Stray Kids as a member until this time, has left the group due to personal circumstances, and terminated his exclusive contract.' No one knew the exact reason why he left, but since his departure was quite sudden, many speculations were tweeted on social media – theories about physical bullying, sexual harassment, and betrayal inside the group were at the top of the list.
Some fans said those rumors started from Stray Kids stylists and assistants. The fans tried to dig deeper, and analyzed previous videos on the interactions between the Stray Kids members.
Some fans alleged that other members were uncomfortable with Woojin. No one from either perspective addressed the issue officially, except for that one time when Stray Kids leader, Bang Chan, was having a V Live broadcast, and talked about the consequences of making too many mistakes, and about being responsible, and keeping promises, saying that STAYs, which is their fandom's name, would know what he was talking about. The staff ended his live streaming, and fans were quick to assume that he was talking about Woojin, but it was never confirmed. However, up to this day, they all maintained their original stance that Woojin left the group, and they wish him well on his new career path.
New entertainment agency and Sexual Harassment Tweets (2020)
Woojin became busy uploading videos online, to entertain and update his fans. In August 2020, he signed up with another agency, 10X Entertainment, to pursue a career as a solo artist.
After a month, controversial tweets from anonymous women about sexual harassment involving a K-Pop star went viral. It started as a blind item, but eventually named Woojin as the perpetrator. These women claimed that they were inappropriately touched by him in a bar during the coronavirus outbreak, and even if they told him to stop, he continued doing it.
He initially didn't take the accusations seriously, but then it became huge so he had to address the issue. Woojin had an exclusive interview with South China Morning Post, and denied all of it. He said that his agency was already taking legal action against those who posted the malicious tweets. They had it investigated and the photo that was used by one of the accusers originally belonged to another IG user, who denied he had anything to do with the tweets. His accusers deactivated their social media accounts soon afterwards.
Personal Life
Woojin is officially single, as there is no news or rumors that he is dating anyone. He said that he's busy working on his new music, especially right now that he is solely responsible for his career as a solo artist.
[ IG UPDATE- #WOOJIN ]
210209

He's handsome…. SO Handsome 🥰#THEMANBLK @TMB_TheManBLK pic.twitter.com/Dx5VQrJG2w

— TheManBLK_Team (@TheManBLK_Team) February 9, 2021
Hobbies, favorites, rumors, and interesting facts
He's into Kendo, a form of Japanese martial arts.
Woojin can converse in English, but isn't that fluent.
His favorites: autumn (season), chicken with cheese on top (food), Versace Dylan Blue (perfume), horror-thriller and action (movie genre).
Woojin plays the guitar during his free time.
He likes to shop for clothes whenever possible or play games at home.
When eating with sauces, he'd prefer to have it poured over his food instead of dipping it.
Woojin had a hard time eating Tom Yum Kung, a hot and sour Thai Shrimp soup.
His celebrity friends are Jihoon of Wanna One and Jungwoo of NCT U.
When going on vacations, he prefers the beach or sea over any mountain resort.
Appearance
Woojin has black hair and dark brown eyes. He's 5ft 9ins (1.76m) tall, and weighs around 100lbs (46kgs) with a lean body. His shoe size is 270mm.
Net Worth
According to authoritative sources, Woojin has an estimated net worth of $1 million as of January 2021.