ChoA is a South Korean singer, dancer, and actress, who became a popular Korean Pop (K-Pop) idol when she was launched as one of the members of the girl group, AOA or Ace of Angels, in 2012 under FNC Entertainment. The songs "Miniskirt" and "Heart Attack" were downloaded over 1.4 million and 1.7 million times, respectively, which made her group one of the most popular on the K-Pop scene. She left the group in 2017 due to depression and mental fatigue, then in August 2020 she signed up with another company, Great M Entertainment, and made a comeback with the release of an original soundtrack for a drama series.
Just a simple reminder that article is created and owned only by kpopwiki.org. Article cannot be re-published in any other pages or documents. Copyright is protected by DMCA. All found copies will be reported.
Original source: https://kpopwiki.org/the-untold-truth-about-aoa-member-park-choa/
Early Life and Family
Park Cho Ah was born on 6 March 1990, in Incheon, South Korea, the middle child of three siblings. ChoA was raised in a middle-class household, but because their family business went bankrupt, she needed to work odd part-time jobs to help with the financial situation at home.
She has been interested in music and performing since she was a young girl. Her traditional and practical father would advise her not to take singing seriously, as he wanted her to pursue a stable profession in the future. She kept her dreams of becoming a K-Pop artist from her family.
Educational Background
There is not much detailed information about her educational background, except that she wanted to pursue a music course in college, but her father wouldn't allow it, so to please him, she ended up enrolling in Aviation Business Administration at Inha Technical College.
Career
While doing part-time jobs in a cosmetic shop, convenience store, and cable TV company, ChoA auditioned for several agencies including SM Entertainment, the biggest entertainment company in South Korea, but failed many times.
Another K-Pop artist hopeful, Juniel, whom she met and who trained in a small agency that went bankrupt, encouraged her to audition at FNC Entertainment – she passed this audition, and started her training. Her parents were against her singing career at first, but they supported her later on.
First Steps – Debut Year (2012)
ChoA and seven other trainees – namely Seolhyun, Mina, Jimin, Yuna, Chanmi, Hyejeong, and Youkyung – were launched as FNC's new girl group called AOA, also known as Ace of Angels, on 30 July 2013. They debuted with the single album "Angel's Story," with three tracks including "Love is Only You," – composed by label mate Jung Yong Hwa of CNBLUE – "Temptation," and the lead track, "Elvis." Initially, the girls had two concepts: one was a band and the other was a sing-dance group. They performed two versions of the lead track, with Youkyung only joining the group during band performances.
They held a live showcase at AX Korea in July, and did a flash mob event in August, with selected fans joining them as they danced at various places in Seoul. They started their promotional run on television a week after the album was released, which lasted for five weeks as they performed in music shows such as SBS' "Inkigayo," MBC's "Music Core," KBS' "Music Bank," and Mnet's "M Countdown." Unfortunately, with 80 K-Pop artists who debuted around that time, they weren't given enough attention. It was a weak debut as the album peaked at No.8 on the South Korean Gaon Chart, but immediately went down to No.85 after a month. As she was determined to be a successful singer, she endured the hardships along with the other AOA members.
ChoA and the girls released another single album entitled "Wanna Be" in September 2012, with the lead track, "Get Out." ChoA's vocals were quite distinct and matched the rock sound of the song.
This time, AOA pulled out all the stops to attract the attention believed they deserved, promoting using the concept of strong female movie heroines; she played the character of Elle Woods from the "Legally Blond" franchise series. Their hard work paid off, and the song peaked at No.5 on the Gaon Album Chart, which was an improvement from their debut single. Sales increased but not that much, and they knew that they needed to work doubly hard to become successful.
Musical Debut and AOA Black Sub-Unit (2013)
In 2013, ChoA was included in the musical version of the popular American movie, "High School Musical." She played the role of Gabrielle opposite Jaejin of F.T. Island, who was chosen for the role of Troy. It ran from July to September, and was held at the Blue Square Samsung Card Hall in Seoul.
AOA Black, a sub-unit of AOA composed of the band members in the group, released the single entitled "Moya" from the album with the same name in July 2013. ChoA played the guitar and provided the lead vocals for the unit. It was moderately successful, peaking at No.9 on the Gaon Album Chart and No.21 on the Hot K-Pop 100.
Commercial Success with Million-Seller Singles and Japanese Promotions (2014)
The road to success was quite long, as it took them two years before they had their first taste of commercial success. It was with their fifth single album entitled "Miniskirt" in 2014 that AOA had a breakthrough. This time, their label hired K-Pop hitmaker, Kang Dong Chul, more popularly known as Brave Brothers, to compose and produce the title track – "Under the Street Light." "Gonna Get Your Heart" was written and composed by Galactika.
The title track peaked at No.11 on the Gaon Digital Chart and No.8 on Billboard Korea Hot 100. It was downloaded closed to 1.4 million times, and became the 32nd best-selling song in 2014.  The girls also received their first music show win from SBS' "Inkigayo", which had been elusive for the last two years. The single album peaked at No.9 on the Gaon Album Chart.
Choa at MBC Duet Song Festival #aoa #choa #aoachoa #choaaoa #elvis pic.twitter.com/pklmppO3I5

— ELVIS INDONESIA (@ELVIS_INDO) June 5, 2016
ChoA became busier as they immediately followed it up with the release of their first extended play (EP), "Short Hair," in June 2014. The EP consisted of seven tracks, including "You Know That," "Joa Yo!" "Soulmate," and the title track; again, most of the songs were composed and produced by Brave Brothers. It peaked at No.4 on the Gaon Album Chart, making it their first Top 10 album, while the single peaked at No.5 on the Gaon Digital Chart, and No.4 on Billboard's Korea Hot 100, with over 1.2 million downloads. The official music video also gained attention, and it ranked No.8 on the Most Viewed K-Pop Videos in the month it was released.
After two commercially successful releases, FNC decided to start their Japanese promotion, and released the Japanese version of their first hit song, "Miniskirt," in October 2014, which peaked at No.13 on the Oricon Digital Chart.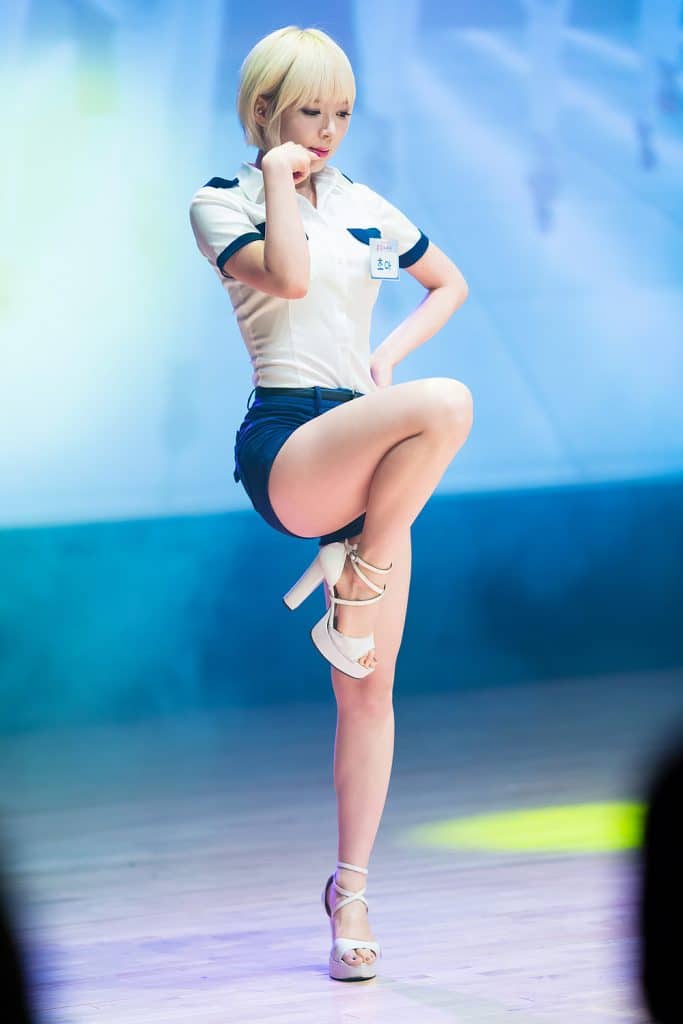 As they gained more popularity in Japan, AOA was chosen as the product endorser for a mobile RPG game called "Fantasy Hero."
ChoA was also chosen to be part of the official soundtrack album of the Korean drama series, "Bride of the Century," with the song "Words I Couldn't Say Yet," released in March 2014.
Her label took advantage of the group's rising popularity, and released their second EP, "Like a Cat," in November 2014 with six songs, three of which were composed and produced by Brave Brothers. It peaked at No.3 on the Gaon Album Chart with 30,000 units sold. The title track was way more successful, as it peaked at No.5 on the Gaon Digital Chart and No.7 on Billboard's World Digital Song Sales Chart, with close to 1.3 million downloads. It gave the group another music show win, as the song become the Top Song of the Week.
ChoA and her group subsequently ranked fifth in best-selling girl groups in South Korea in 2014.
Solo Debut – Collaborations, Variety Shows, and Endorsements (2015)
ChoA was visible in variety and talk shows such as "We Got Married" and "My Little Television," which both aired on the MBC network in 2015. Her popularity became more evident when she was chosen as the product ambassador for the sports brand, NBA Spring and Summer 2015 collection in South Korea, and endorser of the human resources site called Alba Heaven.
Her vocals were highly appreciated, and some K-Pop artists collaborated with her including hip-hop artistry, Primary, in the song "Don't Be Shy," released in July 2015.
After waiting for three years since her group debuted, ChoA was given a solo debut with the song "Flame," released on 7 December 2015. It was a cover song, originally sung by Jang Hye Jin featuring Gary of Leesang. ChoA's version didn't include a rap feature, and was re-worked to fit her emotional voice with a new melody.
More Album Releases (2015-2016)
In 2015, her group released the Japanese version of the song "Like a Cat" in a single album, along with the Japanese versions of two previously released Korean songs. It peaked at No.4 on the Oricon Singles Chart, and No.10 on Billboard Japan Hot 100.
Another million-seller single was released in June 2015, courtesy of the group's third EP, "Heart Attack." The title track peaked at No.2 on the Gaon Digital Chart and No.7 on Billboard's World Digital Song Sales Chart, with close to 1.7 million downloads.  The EP peaked at No.2 on the local chart with 48,000 units sold, and was the last time that the girls reached more than a million downloads.
Being one of the top-selling girl groups at that time, ChoA and the girls were included in the line-up of performers for the Korean Convention (KCON) music festivals held in Los Angeles and New York in December 2015.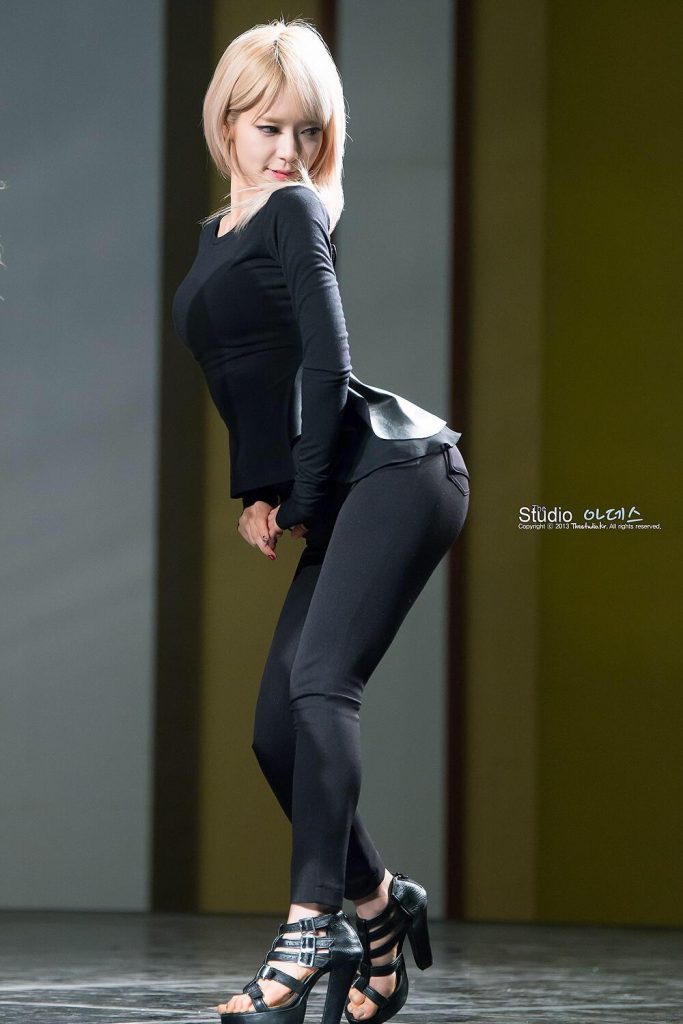 In 2016, the girls were inundated with criticisms, as two of the members failed to recognize one of South Korean's significant people in their Korean-Independence history, An Jung Geun, in a segment of their reality show, "Channel AOA." They issued a public apology, as fans told their label to educate their talents.
AOA released their fourth EP, "Good Luck," in May 2016 with five tracks. It peaked at No.2 on the Gaon Album Chart and No.7 on Billboard's World Albums Chart with over 40,000 units sold, and the title track ranked at No.2 on Gaon Digital Chart, and No.5 on Billboard's World Digital Song Sales Chart with over 670,000 downloads.
Departure from AOA (2017)
ChoA and her group started 2017 with the release of their first full-length studio album, "Angel's Knock," which peaked at No.3 on the local chart with over 35,000 copies sold. It consisted of 10 songs with two title tracks, but which didn't measure up to their former hit songs.
One of the lead tracks, "Excuse Me," which Brave Brothers helped compose and produce, had only 500,000 downloads, which was good but way down on their usual numbers.
ChoA left the group on 22 June 2017, citing depression, insomnia, and mental fatigue. She was forthcoming that the treatment she was under didn't help cure her health problems. Her label made an official announcement about it but her contract with FNC Entertainment was until 2019. There were so many rumors about the reasons for her departure, such as her becoming pregnant or getting married which she addressed, posting a denial on her social media account. She went on a temporary hiatus, but her name was dragged into controversies when other members left the group as well, most especially when Mina revealed that their leader, Jimin, was a bully. It was much talked about in the K-Pop industry, and resulted in Jimin leaving the group and retiring from the entertainment industry.
Return as a Solo Artist with a New Agency (2020-present)
After being away from the limelight for three years, ChoA signed up with Kim Young Sun, a former FNC Entertainment founding executive, in the new label, Great M Entertainment. He was responsible for her joining her former agency, and has apparently developed a great working relationship.
In August 2020, she contributed to the soundtrack of the drama series, "All The Guys Who Loved Me," with the song, "Here I Am." She collaborated with Primary once again with the song "Cloud," released in 2020.
Personal Life
ChoA is currently dating Lee Suk Jin, a young CEO of the gaming company called Najin, and who owns a professional e-Sports gaming team. She was spotted with her boyfriend in Japan in 2017, and confirmed the relationship after she left her group, which sparked the pregnancy/marriage rumor.
However, her relationship had nothing to do with her departure from AOA. It was reported that Heechul from Super Junior was responsible for the love match as he introduced the CEO to ChoA.
Hobbies, favorites, rumors, and interesting facts
ChoA can play both the piano and the guitar, and it took her three years to improve her skills.
Her favorites: white (color), salmon (fish), chicken (meat), watermelon (fruit), Mamamoo (girl group).
ChoA considers Uhm Jungwa, Kim Sungjoo, and Park Misun as her role models.
Appearance
She is 5ft 3ins (1.60m) tall and weighs 90lbs (42kg), with a slim yet curvaceous body. Her shoe size is 7. She has black hair and dark brown eyes, but her signature look comes with a shot blond hair.
Net Worth
According to authoritative sources, ChoA has an estimated net worth of $2.5 million as of January 2021.