Ji Chang Min – better known as Q – is a South Korean singer and dancer, born on 5 November 1998 in Cheongju, South Korea. He's known for being one of the members of K-pop boy-band The Boyz.
Just a simple reminder that article is created and owned only by kpopwiki.org. Article cannot be re-published in any other pages or documents. Copyright is protected by DMCA. All found copies will be reported.
Original source: https://kpopwiki.org/q-the-boyz-aka-ji-chang-min-age-height-net-worth-wiki/
Early Life
There's not much known about Q's early family life, except that he was born into a Christian family, and has declared that he has two older sisters.
He confessed that his favorite subject in school was art, but further details about his education and childhood are not known.  Q's interest in music started at an early age, thus he learned to play piano in his childhood, which won him a music competition in elementary school.
Career
Debut
Q entered a dance academy at an early age, which following an audition led him to be signed as a trainee under a major agency. However, he's under the management of two agencies – Cre Ker Entertainment and Kakao M Corporation – thus it's not known which company he signed with first.
With the release of the extended play (EP) "The First", in December 2017, Q officially made his debut as part of the boy band The Boyz.
Although the main single "Boy" didn't chart on any important list, "The First" was number four on Gaon's Chart, and reached the 120th position on Japan's Oricon.
Q didn't have any media experience previous to his debut, though some of his fellow members – Kevin, Sunwoo and Ju Haknyeon – were contestants in TV survival shows such as Kpop Star 6" and "High School Rapper".
The Boyz' second EP, "The Start" was released in April 2018, with the track "Giddy Up" as its main single. Although the EP achieved a better position than its predecessor, reaching number two on Gaon's list, the single didn't chart.
In July that year, the single produced by Park Kyung of Block B entitled "Keeper" was released as an introduction to their single "The Sphere", which also included the song "Right Here".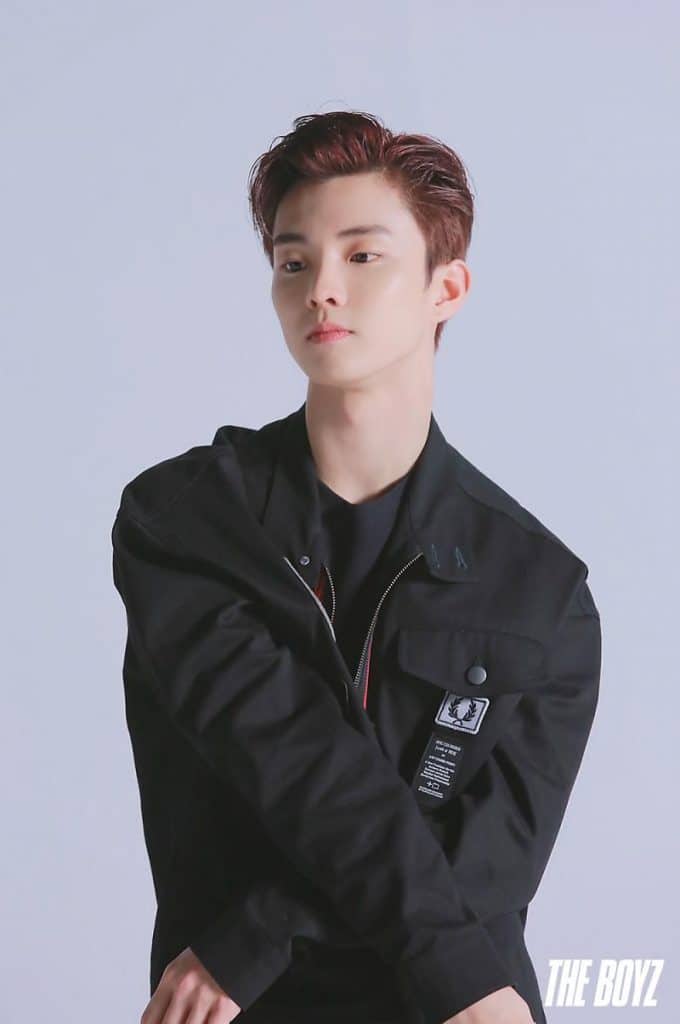 The Boyz were given the Korea Brand's Rookie Award in July 2018. They also appeared in various TV shows, including "Happy Arrived At Our House", in which the members of the group took care of abandoned dogs.
As a result of his incredible skill as a dancer, in September that year Q was selected to form part of "Hallyu", along with members of other groups such as NU'EST, Seventeen, MONSTA X and GOT7.
Released in November 2018, "The Only" marked The Boyz' third EP, and included the single "No Air", which took number 86 in the K-pop Hot 100 list. In December, The Boyz received the award for Best New Male Artist by Melon Music.
The Boyz were also nominated at Korea's Popular Music Awards,hHowever, it was announced that Q and Kevin had been diagnosed with Influenza A, thus they couldn't attend the event with the other members.
2019 – Present
After five months of inactivity, The Boyz' released the album "Bloom Bloom" in April 2019. This comeback gave the boy-band their second number two on Gaon's list.
After winning for the first time in a TV music show in May that year, The Boyz' announced their comeback in August with their next EP "Dreamlike", and its main single "D.D.D". The album reached number two on Gaon's list, and was also the group's first memorable success in Japan, where it charted at 18th in Oricon.
Unfortunately, not everything was good news for the band. In October 2019, the member Hwall left the band shortly before the release of The Boyz' first Japanese play "Tattoo" –number two in Gaon and number four in Oricon-.
On 6 December The Boyz celebrated their second anniversary with the single "White", and extended their activities overseas with concerts in various countries such as Germany, France and the UK.
In February 2020, The Boyz released "Revealed", their first studio album and the group's first number one on Gaon's Chart. Regarding the band's huge success as a new group, Q commented in an interview with The Star Magazine: 'I am a bit disappointed in myself that I only felt pressured to do even better in the beginning. It's gotten better now, but I think that a day will come when I'll be able to enjoy the pressure.'
In May, the group posted a video entitled "Generation Z", in which they promised to be more honest about their feelings as a band. Q said: 'I always tend to hide my feelings.
But I'm going to be more sincere from now on. There are moments in which I feel depressed. A little. A little too much. A lot?'
Road To Kingdom
The Boyz' appeared in the TV competition show "Road to Kingdom", in which the group competed to win a place in the Mnet show "Kingdom".
Although the band described their experience in the show as satisfactory and fulfilling, it wasn't always easy for the young boys to work together as a team. However, as Q commented, they worked hard to solve their issues: 'If we are considerate and understanding of one another, but are also able to disagree when we are all together, I think we will last for a long time.'
The Boyz' efforts to maintain a good relationship between them were compensated, as in July 2020 they were announced as the winners of "Road to Kingdom" following the release of the song "Checkmate" for the final episode.
In an interview, The Boyz confessed their feelings about their win, and concerns regarding their participation in the next show "Kingdom": 'Because we showed a lot of high-difficulty choreography that included stunts like jumping and falling (on 'Road to Kingdom'), we're worried about whether we need to fly next time'.
Violations to Privacy
Although The Boyz' fandom appreciates their work and effort as artists, some persons have tried to surpass the barrier of privacy of the band.
It's not known exactly what issues the members of The Boyz' have faced regarding the violation of their privacy, though it's supposed to be a serious problem for their agency. In July 2020, Cre.ker Entertainment posted a statement on their official Twitter account regarding this problem: 'Behavior such as intruding upon the agency, dorm, hair salon, and the members' private schedules makes it difficult for us to protect our artists. Please refrain from behavior that not only inflicts damage on the artists, but also the other employees and regular citizens who are also using these spaces.'
Personal Life
In June 2019 photos of Q and MOMOLAND's member Nancy drinking together circulated on internet, thus arising rumors of a possible relationship between the two celebrities.
However, their agencies released a statement regarding the issue: 'It was a short gathering between friends, and the dating rumors are false'.
There's no information about Q's romantic life, though he once confessed that he was looking for a girl with the same qualities as his mother.
Net Worth
The Boyz' Q has an estimated net worth of $300,000 as of late-2020, which is a result of his career as a K-pop singer and dancer.
Physical Appearance
Q has a young-looking appearance, characterized by his long neck and cute facial features. He weighs 123lbs (56kgs) and is 5ft 5ins (1.75m) tall.
And he's my third bias in the world. He is very funny🐹
Love you Ji Changmin 🧡#JICHANGMIN@WE_THE_BOYZ pic.twitter.com/9Ub0UKmffr

— 𝐒𝐡𝐚⁷生¹¹ (@heyvannnnn) September 9, 2020
Interesting Facts
He thinks the most favorable points of his face are his dimples.
His pet is a poodle dog.
His long neck earned him the nickname "Giraffe".
His zodiac sign is Scorpio. His Chinese zodiac sign is tiger.
His favorite TV show is Nickelodeon's Spongebob Squarepants. He also loves watching horror movies.
Following his MBTI (Myers–Briggs Type Indicator) test, he's an ESFP (Extraverted, Sensing, Feeling, Perceiving). This means his personality is energetic and makes decisions based on his emotions.
Q wants to be friends with his band mates even after their contracts end.