Yedam is a South Korean singer and dancer, who was first noticed when he won second place in the second season of the reality television survival series, "K-Pop Superstar" in 2014 at the age of 12. In June 2020, he debuted as a solo artist with the digital single "Wayo," and two months later he was launched as a member of the Korean Pop (K-Pop) boyband, Treasure. His group became million-sellers in a span of five months, the second-fastest K-Pop group to do so. They accumulatively sold more than a million units of the three single albums and one studio album they released from August 2020 to January 2021, and won New Male Artist of the Year in 2020 from major music award-giving bodies in South Korea.
Just a simple reminder that article is created and owned only by kpopwiki.org. Article cannot be re-published in any other pages or documents. Copyright is protected by DMCA. All found copies will be reported.
Original source: https://kpopwiki.org/bang-yedams-profile-2021-age-height-family-net-worth/
Early Life and Family
Bang Yedam was born on 7 May 2002, in Seoul, South Korea, the only child of Bang Daesik and Jeong Miyeong.
His father composed around 40 commercial jingles for various brands, and was the voice behind the official soundtracks of several Korean-dubbed popular anime series, including "Dragon Ball," "Pokemon," "Digimon" and "Inuyasha." His mother was known for singing the theme song for the Korean movie "After the Show Ends," and the drama series "Friends."
It was only natural for the young Yedam to be musically inclined given the genes that he has, and when he was five years old, he was tapped to sing the opening theme songs of the children's shows "Bboong bbong-E" and "Onegai! Samia-don." He made his first national TV appearance with his parents in the documentary "15 Second Fever, Hold The World," in 2007.
Educational Background
Yedam attended Seoul Shinseok Elementary School and Gwangseong Middle School, and graduated from the School of Performing Arts in February 2021.
He was known to be a top student in academics from elementary to high school. He was also the student council president when in elementary, and ranked No.1 academically in the entire school during middle school.
Career
He practically grew up surrounded by people from the entertainment business as his parents were both singers, so it wasn't a surprise that he was such a natural when he auditioned for the reality TV competition series "K-Pop Superstar." With the training he received from his parents, he easily passed the audition in November 2012. One of the resident judges in the show, BoA, who is largely labeled as the "Queen of K-Pop," likened him to Michael Jackson. At a very young age, Yedam impressed everyone by performing different music genre's including Stevie Wonder's "Sir Duke," Michael Bolton's "When a Man Loves a Woman," Culture Club's "Karma Chameleon," and Michael Jackson's "Black or White."
The result of the competition depended on the Judges' scores comprising 70%, and the Viewers' votes 30%. After battling it out with other contestants for 21 episodes of the second season of the show, in April 2013 Yedam became the runner-up to the brother-sister duo, Akdong Musician, who later became his label mates. After the show ended, he signed up with YG Entertainment to undergo training. YG founder, Yang Hyun Suk compared him to a diamond, but he didn't know how long it would take for him to be cut. He promises everyone that his company would do its best to make him shine like a diamond.
First Steps – Training and Brief Appearances on TV (2013 – 2018)
YG Entertainment had a strict training program, but he endured it for seven long years, and at the same time continued with his schooling. He was regarded as a model student at school, and a model trainee at his agency. Yedam had been under the radar during the span of his training.
He started making his presence felt again in 2017, when he appeared in the reality TV series, "Stray Kids." The soon-to-be debuted JYP trainees competed with some of the YG trainees as part of their mission – Yang Hyun Suk and JYP founder Park Jin Young would every now and then have their trainees compete before debut to help each other gain more feedback on the skills of their artists. Fans were surprised that the 11-year old boy they last saw in YG's "Mix and Match" reality TV series was already a teenager. He sang Shawn Mendes' "There's Nothing Holding Me Back," and the performance video went viral that even the original singer posted a reactionary video saying Yedam did a great job, and was amazed that he was only 15 years old. Yedam was again seen on TV when he made a brief cameo in Netflix's mockumentary "YG Future Strategy Office" in 2018.
Debut as a Solo Artist and Member of Treasure (2018 – 2020)
In November 2018, YG Entertainment produced the reality TV survival series "Treasure Box", featuring 29 of their male trainees as the company wanted to debut a new boyband called Treasure. Through several rounds of individual and group battles, Yedam always received praise from Yang Hyun Suk. Mr. Yang originally wanted a seven-member group, so Yedam, Haruto, Hyunsuk, Junghwan, Jungkyu, Jaehyuk, and Jeongwoo made the cut. However, due to the numerous requests of the fans to debut the eliminated trainees, YG decided to form another group called Magnum, with Doyoung, Jihoon, Asahi, Yoobin, Mashiho, and Yoshi, and put them all together in one big group carrying the name Treasure; Yoobin left the group because he wanted to forge a different career path.
Yedam and his group faced many obstacles along the way, and it took the boys two more years after the reality TV series ended before they were given a debut. A couple of months before his group was launched, he debuted as a solo artist, and released his digital single "Wayo," on 5 June 2020. It wasn't backed with proper promotions, and only the official music video was posted up on YouTube, which had 20 million views and counting, as he was already focused on the group's debut preparations. In spite of the lack of live performances on TV or radio, it entered Billboard's World Digital Songs chart, and peaked at No.10.
A month before Treasure was launched as YG's newest boyband, they found themselves charting at No.40 on Billboard's Social 50 Chart, and later peaked at No.12.  It was quite an impressive feat as they were the only K-Pop group that entered the chart without debuting at that time.
No lengthy words…just ❤️❤️❤️ for friendship

Happy friday everyone! #BANGYEDAM #방예담#도영 #DOYOUNG pic.twitter.com/cxvYv1UjW8

— YEDAM NATION YEDAM UNIVERSE (@YedamNation) February 24, 2021
They officially debuted on 7 August 2020 with the release of the single album, "The First Step: Chapter One." It had four tracks including "Come To Me" and the lead track, "Boy," along with the instrumental versions of the two songs. The album peaked at No.1 on the South Korean Gaon Album Chart with close to 250,000 units sold. The lead track charted at No.7 on Billboard's World Digital Song Sales chart, No.15 on the Singapore Chart, and No.46 on Japan Hot 100. It also topped the iTunes Top Song Charts in 19 countries, including Saudi Arabia, Hong Kong, Malaysia and Mexico. The official music video (MV) of the song had 10 million views in the first 24 hours after being posted on YouTube.
Yedam and the boys continued to be busy, as they released their second single album, "The First Step: Chapter Two" on 18 September 2020.
Just like the previous album, it had four tracks including "B.L.T (Bling Like This)" and the lead track, "I Love You," along with the instrumental versions; it peaked at No.2 on the Gaon Album Chart with almost 240,000 units sold. The lead track entered the Billboard Global 200 Chart at No.170 and No.9 on Billboard's World Digital Songs Sales Chart. The MV was posted on 18 September 2020 and had over six million views in its first 24 hours, going on to amass 56 million views five months later.
The third installment of Treasure's single album series – "The First Step: Chapter Three" – was released on 6 November 2020, consisting of four tracks with the lead track, "Mmm," and "Orange" along with their instrumental versions. It charted at No.1 on the Gaon Album Chart with over 235,000 units sold.
Treasure was the biggest K-Pop debut in 2020, Yedam saying that the long years of training were worth it.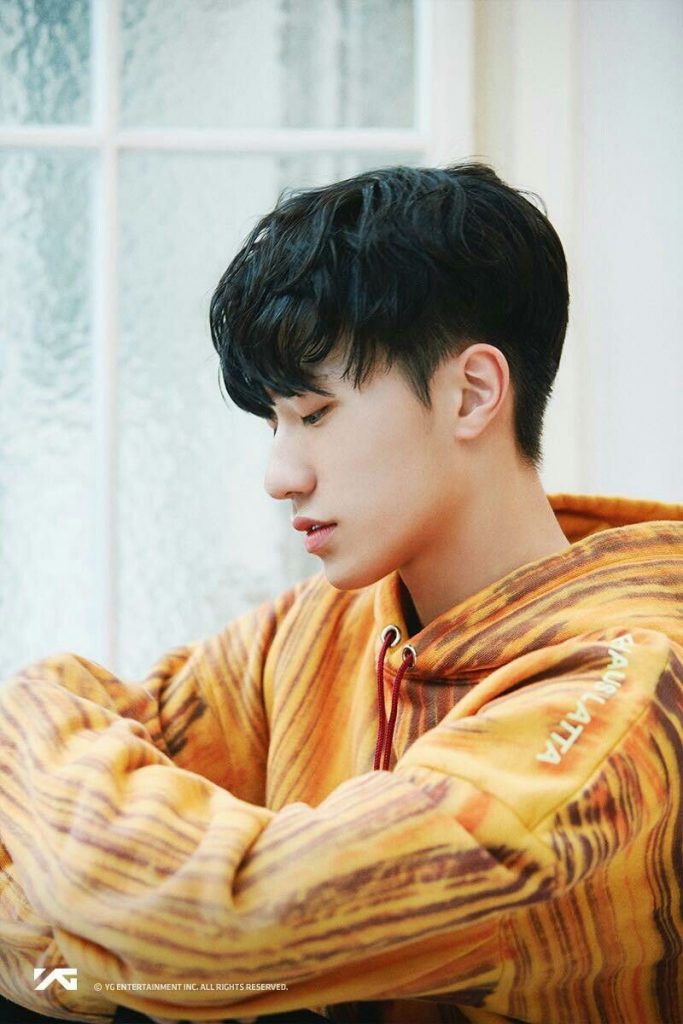 He even said that the several postponements of their debut date worked to their advantage, as all of them improved while waiting for D-Day. People weren't surprised that they swept the New Male Artist of the Year in 2020 from the major award-giving bodies, including Mnet Asian Music, Golden Disc, Seoul Music, and Asia Artist Awards.
Million-Seller, First Studio Album, Japanese Debut (2021)
News broke out that Treasure accumulatively sold over a million units after they released their first full-length studio album entitled "The First Step: Treasure Effect" on 11 January 2021 with close to 300,000 units sold. The album consisted of 12 tracks including three new songs, "Be With Me," "Slow Motion," and the title track, "My Treasure." The other eight tracks comprised all the songs that were previously released, along with the rock version of "Mmm", and mellow version of "I Love You." It peaked at No.1 on the Gaon Album Chart, No.6 on the Japanese Oricon Album Chart, and No.7 on Billboard's Japan Hot 100.
The First Step series made them million-sellers in the K-Pop industry – only a few K-Pop artists had achieved this feat within the span of five months after debut.
Yedam and his group were ecstatic that their Korean albums did great in Japan, especially as they hadn't started promotions there yet. Half of the sales of their albums were in South Korea and Japan. Having four Japanese members in the group was an advantage, which was why YG Entertainment has a separate office and training program solely for their Japanese trainees. Due to the rising popularity of the boys there, they were chosen to sing the official ending theme song entitled "Beautiful" of the popular anime "Black Clover." They released their first Japanese digital single on 22 January 2021.
Yedam might not be the leader of his group, but his views were well respected by the members, as he had the most experience and received the longest training among all of them. They also believed that he's the most talented member of their group, as he is the main vocalist. He coined the term 'healing-dol' from the words healing and idol, which was the kind of brand that he wanted to achieve for the group. Yedam wanted to spread positive vibes through the music that they released to the world, particularly during the pandemic caused by the Covid-19 virus. He found it hard that they couldn't interact face to face with the fans, as he wanted to cheer-up and energize everyone each time they perform their song on stage.
By the end of March 2021, Treasure will focus on their Japanese fans by releasing their first Japanese studio album, which will include the Japanese version of the lead tracks of their previously released albums.
Personal Life
Yedam is officially single right now, and will be for the next four years. As with most K-Pop , YG Entertainment includes a 'no-dating' clause in their initial managerial contracts, which lasts for three to five years after the official debut of the artist. This is to ensure that the artists focus on building their careers, and at the same time avoid any possible relationship scandal. It's interesting to note that South Korean fans are notoriously possessive of their idols, and even without a dating ban, no K-Pop artist would voluntarily announce that they are in a relationship. Some fans would harass the partner over social media, particularly if they believed he or she dated down or below standards.
Yedamcurrently lives in a dormitory provided by his agency, shared with the other members of his group.
[CHOEAEDOL]
🔔 REMINDER

Blackswans, let's aim for 3k-4k Ever Hearts everyday for our goal on Yedam's birthday 🥳 You can post his HD photos or Youtube URL related to him to earn more hearts 💙#BANGYEDAM #방예담 @treasuremembers pic.twitter.com/P1AQ5DolOO

— YedamNationTeam 방예담 자랑스러워 (@YedamNationTeam) February 24, 2021
Hobbies, favorites, rumors, and interesting facts
Yedam's English name is Kyle, and he's earned quite a few nicknames such as Yedami, Dami, and God Yedam.
While he enjoyed singing at a young age, he also dreamed of becoming an astronaut.
During his free time, Yedam likes to play soccer, take pictures of nature, watch movies, and read books.
Aside from Korean, he can converse in English.
"Eternal Sunshine of the Spotless Mind" is Yedam's favorite movie.
His favorite seasons are winter and summer.
Yedam's attracted to the color purple, as he thinks it's fresh and that it calms him.
He's not particular with the food that he eats, but his favorites are Chocolate Cornets and meat dipped in sweet sauce like the LA BBQ.
During Chuseok holidays in South Korea, people would go home to visit their parents, but after he debuted, he finds it awkward to see himself on TV while everyone's watching him.
Yedam is an early riser as he doesn't want to be in a rush in the morning, particularly when he was still a high school student. He likes to stretch and read after waking up.
One of his dreams was to go on a fishing trip during a vacation and catch a huge fish.
Appearance
He is 5ft 8ins (1.73m) tall and weighs about 130lbs (59kgs) with a lean build. His shoe size is 8 (US) 260mm (Korea). He has black hair and dark brown eyes.
Net Worth
According to authoritative sources, Yedam has an estimated net worth of close to $300,000, as of February 2021.