Park Yuri is a Korean-Russian model, rapper, singer and dancer, who became known to K-Pop fans when he joined Mnet's boyband survival reality show, "Produce X 101," and as part of the duo JxR.
Just a simple reminder that article is created and owned only by kpopwiki.org. Article cannot be re-published in any other pages or documents. Copyright is protected by DMCA. All found copies will be reported.
Original source: https://kpopwiki.org/park-yuri-produce-x-101-age-height-parents-net-worth/
Early life and family
Park Yuri was born on 28 December 1994, in Tashkent, Uzbekistan to Korean parents, who moved to Russia when he was in middle school. He was part of the national team for swimming until high school, and had traveled to Austria, United Arab Emirates, Germany and Japan for competitions. He had a difficult time growing up as he was the only Asian kid around, and he would often get into fights because of it; his situation did improve over time. After he completed his mandatory military service, he moved to South Korea to pursue a career as an idol – his family also immigrated to be with him.
He has said that his relationship with his father is like the one he has with his cat – his father smiles a lot in the morning as soon as he sees his son, and Yuri does that too with his pet.
Educational background
He matriculated from high school in Russia,  then attended the private research Korea University in Seoul, and took up International Studies because learning several languages would open many opportunities for him.
Career
First steps
Yuri is a former trainee of SM Entertainment, one of South Korea's biggest entertainment agencies, and was supposed to debut as a member of NCT (Neo Culture Technology) after three years of training, but didn't for some reason.
Since it didn't work out, he gave up on his dream of becoming an idol at that time, and started his career as a model in 2015 for ESteem, a modeling agency that formed a partnership with SM Entertainment.
He took self-portraits in a studio using a timer to create a portfolio that he personally submitted to Esteem, and they were very much interested in working with him, although informing him that this was the first time they cast someone in this manner. His agency is home to popular models who crossed over to the entertainment industry, such as Jang Yoonju, Han Hyejin, and Ahn Jaehyun. According to the founder and CEO Kim So Yeon, their company looks for people whose talents lie not only in modeling but in singing or dancing who can work in fashion as well.
His interest in modeling and fashion actually started when he was 12, as taking photos became one of his hobbies. He said that he preferred to take photos of humans rather than landscapes, as he likes to capture emotions and expressions. There was a time when he even wanted to become a fashion photographer, working for a fashion magazine. However, his dreams changed as time passed, and he wanted to become a solo singer or an actor instead.
Yuri was busy with other endeavors aside from working as a top model, doing fashion shows including Seoul Fashion Week Fall/Winter Collection (2016) and photoshoots for fashion magazines such as Vogue. He was featured in Luna's "Free Somebody" music video released on 30 May 2016, and in NCT 127's "Good Thing" dance performance video on 5 December 2016, which was the boyband's collaboration project with ESteem and W Korea models,.
He was cast as a regular member of the second season of the variety show, "Society Game," which aired on the TvN network from 25 August to 10 November 2017. Then in December, he along with his cat named Lyolik appeared in an episode of "Cat Butler's Brag" season two. He said that his cat, which he named after a Russian song, helped him cope with his loneliness, especially during the time when his parents were still living in Russia. He was unable to adopt a homeless cat once those who ran the cat shelter learned that he's a foreigner, so he bought one from a pet store instead. Interestingly, his cat has its own Instagram account – @park_lyolik – with over 55,000 followers.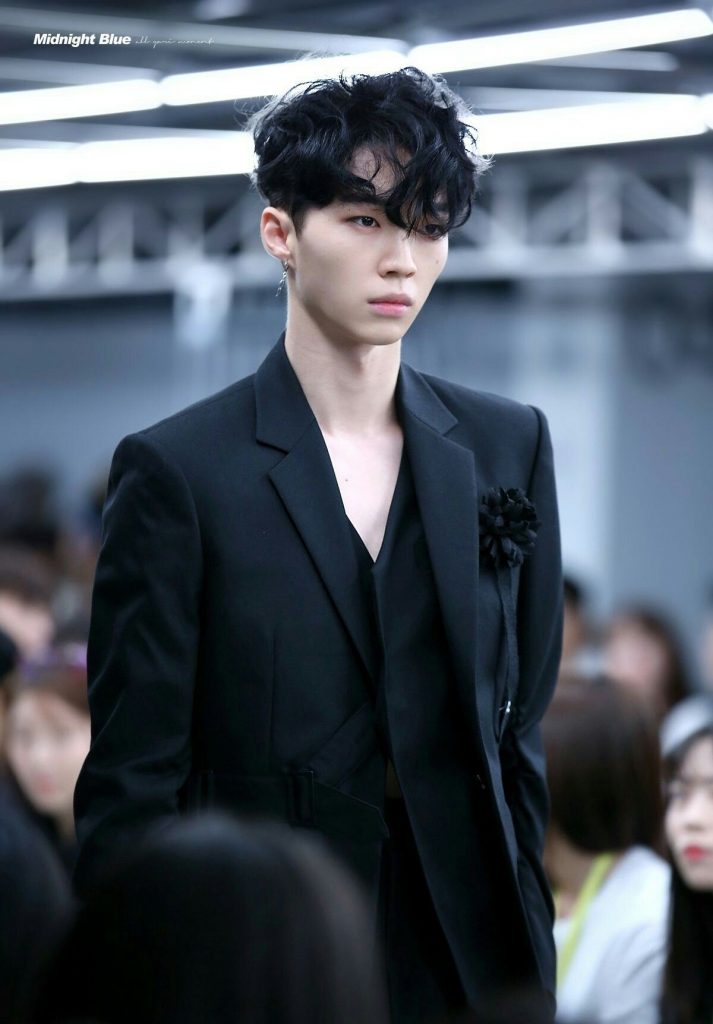 He was cast in JTBC's reality show, "Mimi Shop," in which celebrities such as Tony Ahn (H.O.T.) managed a beauty shop, and Cheetah (rapper), Shin So Yool (actress), and Kim Jin Kyung (model) were the make-up artists, with Sandara Park (2NE1) working both as a make-up artist and service manager. Yuri worked as an intern for the shop, his main job being to take care of the customers. The show started airing on 25 April 2018, and he appeared in six episodes.
"Produce X 101"
Yuri said that in fashion shows it is the designer who is the star of the show, and not the model, so when the opportunity came to become an idol, he grabbed it as he said that he wanted to be the star when he is on stage. He is one of the talents that ESteem sent to participate in "Produce X 101," which is the fourth season of the franchise series that started airing on 3 May 2019.
Only 11 out of 101 trainees from different agencies would debut as members of the boyband, "X1," and promote as an idol group for the duration of the contract, signed by their management agencies with the producers of the franchise.
In the survival reality show, the contestants were given further training in singing, dancing and rapping by the mentors/judges, as they competed in the missions given to them. The viewers and live audience whom the show called the "national producers" voted on who gets to be on the debuting group.
During the live audition, Yuri along with three others from the agency performed the K-Pop (Korean Pop) boyband Ikon's "Killing Me," but before the judges could decide on their fate, he said that he still had something to show, and proceeded to do a solo dance performance.
Work work work work work…. pic.twitter.com/e974MYBUGa

— Park Yuri (@park_yury94) September 14, 2017
The judges were impressed by his confidence and dancing skills, so he passed the audition with a grade of B – graded A, B, C, D,and X according to skills with A as the highest and X as the lowest. Unfortunately, he was eliminated in the second round, episode eight of the show, as he only ranked No.40.
Debut as JxR
His exposure in the reality show gave him the break that he needed, as ESteem decided to debut him under Vine Entertainment as half of a duo called JxR, along with Baek Jin, who ranked No.36 on "Produce X101". Yuri is the leader, main rapper and vocalist, while Jin is the main vocalist and rapper. The duo is under ESVine Entertainment, which is a joint company created to manage idols.
JxR debuted on 5 December 2019 with the release of their song, "Element," which is a non‑album single.
They promoted it on music shows of major networks starting the next day, and were praised for having good eye contact with the camera considering that they were rookies. The music video that was posted on their official YouTube channel has garnered over 120,000 views, and they also posted fixed and moving versions of their dance practice videos. After just two weeks of promotions, Yuri was tapped as the local ambassador of Dior, which is a luxury cosmetics brand.
All seemed well except that Yuri's CEO didn't like their clothing and hairstyle when they performed on a music show, and thought that they looked like other ordinary idols; she wanted the guys to have a signature look that would reflect their status as idols from a fashion agency.
In the reality show called "Boss in the Mirror" aired on KBS, in which the CEO of ESteem is a regular guest, she talked about all this as well as her plans on how to promote JxR more, which include creating YouTube content that would attract more subscribers and fans. Yuri and Jin said that they wanted to do travel-related content as well as shoot an MV abroad, to which the CEO agreed although it means increasing their budget to accomplish this.
Personal life
Yuri is 25 years old and single. It was said that he was in a relationship in the past, but there is no news of him dating at the moment. Since he was the first model in the company who was launched as an idol, it is not known if he is allowed to have a girlfriend or even to date.
He lives with Jin in the dormitory provided by their agency, but they do have their own rooms.
Hobbies, favorites, rumors, and interesting facts
Hobbies: drawing, playing hockey, boarding, swimming
He played the saxophone when he was a child, and participated in musical concerts.
Talking with a "helium voice" is a special talent of his.
He is still most comfortable speaking in Russian. He only started learning to speak in Korean and English after he enrolled into university, and signed up with his agency.
The K-Pop group EXO is the reason why Yuri wanted to become an idol.
He officially became a Korean citizen on 19 September 2019, and posted about it in his Instagram account, with the caption 'Starting today, I'm a Korean.'
Before his debut, Yuri appeared in the popular reality show, "I Live Alone," as one of the models who auditioned for a London collection stage.
While he was still competing in "Produce X 101," he became involved in a couple of controversies. A former high school classmate of Yuri who was an Indonesian exchange student said that when she was in a group with him, he told his Russian groupmate that members of their group from Norway and Ukraine were ugly – K-Pop fans who believed the story became very vocal about their dislike of Yuri. Another thing that has bothered fans was that he apparently deleted people from his Instagram during the competition, which is said to be in violation of the rules of not using social media for the duration of the show. However, it wasn't verified if he did this because it has been known that social media accounts of some idols were managed by their agencies early in their career.
K-Pop fans are quick to notice the similarity in his looks with Ikon's Bobby. Yuri posted photos of himself and Bobby side by side on Instagram, with the caption, 'LOL really look alike? Yes or no? Please haha' plus the hashtag that says, "not my bias." The photo has since been removed from his account, probably due to the hate comments he received as some people think that he is dissing Bobby or he didn't like being compared with the popular rapper. He allegedly also said that Bobby is ugly, which didn't sit well with fans of the latter.
Some people are accusing him of being a racist for saying the n-word, as he did a cover of Childish Gambino's song. He didn't apologize even if his attention was called because he said that he's a huge fan of the rapper.
In one of his Instagram stories, it was assumed that he's the one holding alcohol with the text, 'my secret weapon,' in an answer to the question on the photo of how to get flawless skin like him. Idols are usually careful about what they post on social media, especially pertaining to drinking alcohol unless they are endorsing the product, because it might not fit their image or might affect their endorsement contracts.
He also got into trouble when a YouTube video of him playing the Korean version of the game "Never Have I Ever" with fellow ESteem models was posted (since deleted). Yuri asked if anyone has tried "SM" or not. One of the models said he's from SM, but Yuri said he's referring to sado-masochism. Many knetizens (Korean online users) were disgusted by this and felt that he shouldn't have asked those kinds of questions.
He said that he was only allowed five absences at the university, so when his classes coincided with Seoul Fashion Week in 2016, he had no choice but to be absent during that time – he was careful not to miss any more classes or he would fail. Fortunately, he finished the semester without any problems.
Yuri had to learn how to ride a hoverboard for the finale of the Heich es Heich fashion show in 2016, and he only had an hour and a half to do that.
He was nervous during his first catwalk show, but once he started walking, he found it exciting to have everyone looking at him.
He uploaded songs, namely "Insomnia," "Silence," and "Love Station" onto his SoundCloud account.
He is a member of Mensa, as he has an IQ of 148.
His Instagram account @park_yury has close to 850,000 followers.
Appearance
He is 6ft 1in (1.83m) tall, weighs 148lbs (68 kg), and has a lean build. He has black hair and brown eyes.
Net worth
Yuri has an estimated net worth of $100,000 as of September 2020, according to sources.