Jeon Somi is a Dutch-Canadian-Korean singer-songwriter, who gained early notice as one of the participants in JYP Entertainment's audition program "Sixteen," then rose to popularity in Mnet's "Produce 101", and debuted as the center of the Korean Pop (K-Pop) girl group, I.O.I. She later debuted as a solo artist under The Black Label, with the release of her single "Birthday," and made a comeback in 2020 with "What You Waiting For."
Just a simple reminder that article is created and owned only by kpopwiki.org. Article cannot be re-published in any other pages or documents. Copyright is protected by DMCA. All found copies will be reported.
Original source: https://kpopwiki.org/jeon-somi-kpop-age-parents-sister-height-plastic-surgery/
Early life and family
Jeon Somi was born Ennik Somi Douma on 9 March 2001, in Ontario, Canada to a Dutch-Canadian father, Matthew Douma, and Korean mother, Sunhee (Sunny) Jeon Douma. Her sister, Evelyn Maverick, is eight years younger than her.
Somi was a one-year-old baby when she and her parents moved to the Yeonhui neighborhood in Seodaemun District in Seoul. She had difficulty adjusting to a Korean school, as her looks, which she got from her dad, made her stand out.
People would look at her in fascination, and it made her uncomfortable so much so that she wanted to undergo plastic surgery, and dye her hair black at such a young age to make her look more Korean, and be like the other kids.
She was raised as a happy person. Her parents didn't want to pressure her on her studies, and when she received a low mark in her exams, especially in Math, her parents would tell her it's okay, and give her a kiss.
Sunhee is a hotelier and not much else is known about her but she was often seen in Somi's YouTube vlogs and other variety show appearances.
Matthew initially went to Korea when he was young to be trained in taekwondo, and fell in love with the country. He was a professional photographer for the L.A. Times for a while, and his most notable work was the photo he took of Dokdo, the disputed island between South Korea and Japan.
When he had to find another job, Somi encouraged him to try modeling after she saw his old photos as a model back in 1997 or 1998. However, he said that he was too old for that, and would try acting instead.
He was cast in minor roles in various movies, including "Mama" (2011), "The Long Way Home" (2015), "Operation Chromite" (2016), and "Rampant" (2018). Matthew also had bit roles in television drama series such as "Kill Me Heal Me" (2015) and "Vagabond" (2019). His role as US Army Delta Force Captain Jordan in KBS' "Descendants of the Sun" (2016) brought him fame, as the drama series enjoyed high ratings, peaking at 40% in South Korea, and became immensely popular overseas as well.
Fans would ask Somi, who already debuted at that time, to take pictures as they posed with her father. Somi helped her dad practice the fight scenes in the drama, as she holds a third-degree black belt in taekwondo.
Christmas Special Live Event (ENG)

[SOM ALONE] D-DAY
👉🏻 https://t.co/Jq40B0i4c0#SOMI #전소미 #THEBLACKLABEL #더블랙레이블 #SOM_ALONE #TikTok #TikTokLive pic.twitter.com/M4wDeJCsuY

— SOMI (@somi_official_) December 23, 2020
However, her father is a fourth dan black-belt holder, and actually hit her for real, leaving bruises afterward. He also appeared in Korean variety shows, including "Real Men 300" (2018) and "Law of the Jungle in Chuuk Lagoon" (2019). Matthew subsequently opened a restaurant in 2020, with smoked salmon as his specialty.
With Evelyn seen frequently in shows that Somi was part of, she has achieved some popularity as well, and has become an Instagram celebrity with over 270,000 followers. Her posts showed her as a happy child who is close to her parents and Somi. She engages in several activities as she discovers where her interests lie. She's into freediving, playing the harp, doing taekwondo, and learning the Chinese language. At seven, she was cast in SBS' reality show called "Box Life" in which she was given a mystery box with items inside that she should use, and give her reviews; her father assisted her in her task.
When Dua Lipa went to Korea for a concert in 2017, Evelyn was given the chance to interview her for Warner Music Korea.
Matthew said Evelyn has full of "aegyo" – or cuteness – while Somi has none. The difference in their personalities was attributed to having Somi when they were struggling financially and were very strict with, her while they had Evelyn when they were more stable so they were lenient with her.
Educational background
Somi attended Yongsan International School of Seoul, then transferred to Midong Elementary School in third grade to learn taekwondo. On her first day, she was voted as class president but her classmates treated her differently the following day and she had become an outcast since then until sixth grade.
Somi enrolled in Seoyun Middle School, then Cheongdam Middle School, finally matriculating from Hanlim Multi Art School with a major in Practical Music and Vocal in 2020.
Career
First steps
With her natural charm and beauty, Somi was often on television even before debuting as a singer. When she was three, she and her father appeared in a news segment showing him shoveling snow; she was a scene-stealer though, as she said "I am Somi" while Matthew was being interviewed.
She was still very young when she appeared in a music video for English education, and in KBS2's sports variety program called "Let's Go! Dream Team", as part of her elementary school's taekwondo demonstration team, that competed against the Dream Team cast in an obstacle relay, a bit similar to game shows "Takeshi's Castle" and "Wipeout." Somi was also seen in KBS' "Hello Counselor" along with her mother and grandmother as part of the audience, and was briefly interviewed.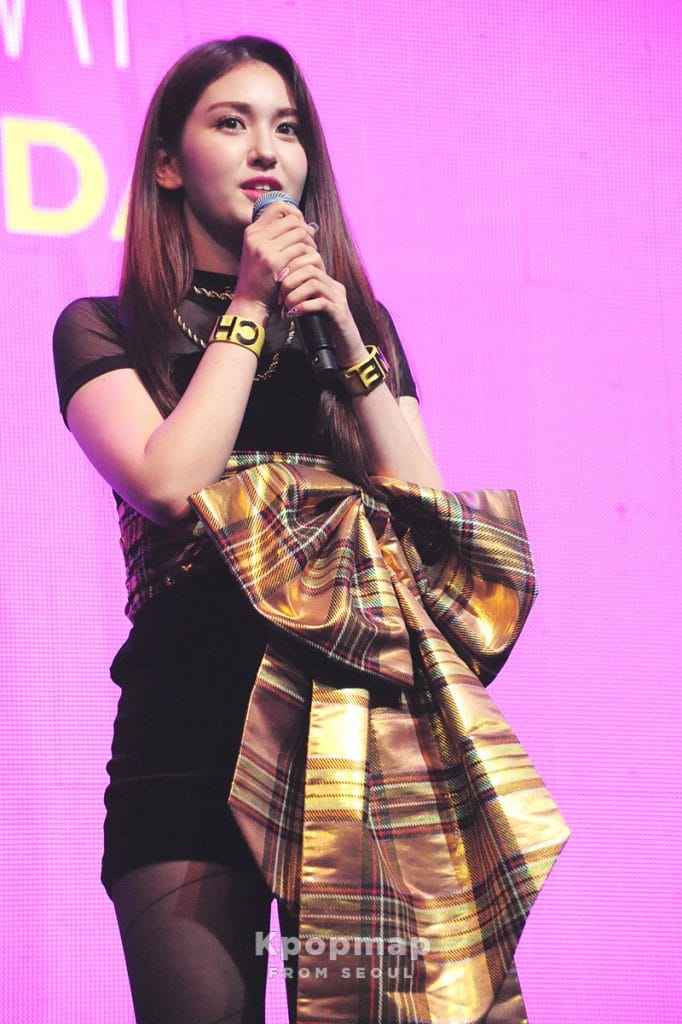 She made a cameo appearance along with her father and sister in the fourth highest-grossing domestic film of all time in South Korea, entitled "Ode To My Father" (2014). The director of the movie is a family friend, who called Matthew one day and said he needed two kids of mixed ethnicity.
In 2014 Somi auditioned at JYP Entertainment singing "Lonely" by 2NE1, the phenomenal girl group that inspired her to become a singer, and got in. She along with other trainees appeared in Got7's "Stop Stop It" music video. As a trainee, her agency once called attention to her weight so she went on a diet of eating only three bananas a day for a week, and regularly worked out at the gym, managing to lose 4kgs. She was chubby as a kid, and doing taekwondo had helped her lose weight in the past.
 "Sixteen"
In 2015, JYP Entertainment decided to launch a girl group through the reality TV audition program called "Sixteen". All the participants were from the agency's pool of trainees, and Somi was one of them. They were given several missions which gave them opportunities to shine, and show off their talents.
During the photo shoot she was praised for being a natural, which she said was because of her father's training when she became interested in modeling when younger. Mathew taught her how to pose as he took her photos, and even had her wear various outfits such as a kendo uniform, and instructed her on how to make it work for her. It got to a point that she started hiding whenever her father was holding the camera, as she sometimes didn't want to have her picture taken. Her father said she needed to get used to this if she wanted to become comfortable in front of the camera.
She failed to make it in the final line-up, as JYPE founder and host of the show, Park Jinyoung, said her dancing skills were lacking, and that she still needed time to mature and grow as she was only 14 at that time. The nine trainees who won over the viewers, studio audience, and Park Jinyoung debuted as members of Twice.
"Produce 101" and I.O.I debut
Somi figured that her agency wouldn't be creating a new girl group for a while, so she decided to join another survival show called "Produce 101", aired on Mnet in 2016. Although she was scared of failing again, she wanted to give it a try. This time she would compete against 100 trainees from several entertainment companies to win a spot in the 11-member girl group they planned to launch. They had mentors helping them improve their vocal, rapping, and dancing skills, so to deliver quality performances, and increase their chances of debuting early.
Somi's participation in the show was much anticipated, as she was a trainee from one of the biggest entertainment companies in the country. Her stint in "Sixteen" gave her an advantage, as she'd acquired quite a number of fans who would support her. It was clear from the start that she had a good chance of making it, based on the votes she received. Although Kim Sejeong from Jellyfish Entertainment was a strong contender, it was Somi who ended up in first place with over 850,000 votes, which secured her position as the project girl group's center. The show was a success, with their theme song "Pick Me" peaking at No.9 on South Korea's Gaon Digital Chart, with close to 900,000 downloads and 39 million streams.
Somi along with Sejeong, Yoojung, Chungha, Sohye, Jieqiong, Chaeyeon, Doyeon, Mina, Nayoung, and Yeonjung officially debuted as members of I.O.I in May 2016, with the release of their extended play "Chrysalis."
SOMI X I.Y.KOONG 스튜디오
BEHIND THE SCENES!

더 많은 사진은 팬카페를 통해 확인해주세요!
▶ https://t.co/nnEyNkmNnN#SOMI #전소미 #THEBLACKLABEL #더블랙레이블 #IYKOONG pic.twitter.com/qN66g1ormy

— SOMI (@somi_official_) December 21, 2020
It reached No.4 on the Gaon Album Chart with 75,000 copies sold; it consisted of six tracks including "Dream Girls" and "Crush" that performed well on the Gaon Digital Chart, with over 340,000 and 650,000 downloads, respectively.
With Sejeong, Mina, Chaeyeon, and Yeonjung debuting with trainees from their respective agencies, the remaining members formed a sub-unit, and released the song "Whatta Man" in August 2016. With sampling from the American soul singer Lynda Lindell's "What a Man" (1968), the single reached No.2 on the Gaon Digital Chart with 370,000 downloads, and No.9 on Billboard's World Digital Song Sales Chart. It also gave them their first music show win, as the No.1 Song of the Week in SBS MTV's "The Show."
"Very Very Very," composed by Park Jinyoung, was the lead single from Somi and the girls' second EP entitled "Miss Me?", released in October 2016. It topped the Gaon Digital Chart with 1.3 million downloads, and peaked at No.4 on Billboard's World Digital Song Sales Chart.
However, I.O.I disbanded on 31 January 2017.
Solo activities
Somi then joined comedians, actresses and singers to form the seven-member project girl group called Unnies, in KBS2's reality TV program "Sister Slam Dunk 2." They released the single "Right?" in May 2017, peaking at No.2 on the Gaon Digital Chart with over 950,000 downloads, and No.10 on Billboard's World Digital Song Sales Chart.
JYP Entertainment announced in August 2018 that Somi had terminated her exclusive contract with the company. There was no discord between the two parties, but they differed on the musical direction she wanted to take.
In September 2018, Somi signed with The Black Label, a subsidiary of YG Entertainment headed by Teddy Park, who is the lyricist, composer and producer of 2NE1 and Blackpink's songs that became major hits. She debuted on 13 June 2019 with the release of her single "Birthday," which peaked at No.22 on the Gaon Digital Chart, No.18 on the Billboard K-Pop Hot 100, and No.5 on Billboard's World Digital Song Sales Chart, and the music video surpassed 86 million views.
She contributed to the composition of the dance track, and the B-side, "Outta My Head," was an alternative R&B track that she wrote and helped compose.
Somi also signed with the American record label Interscope Records, for promotions outside of Asia. "What You Waiting For" to which she contributed to both lyrics and music, released in July 2020, peaked at No.53 on the Gaon Digital Chart, No.33 on Billboard K-Pop Hot 100, and No.8 on Billboard's World Digital Song Sales Chart. The song won No.1 Song of the Week on Mnet's "M Countdown" on 6 August – its MV has more than 37 million views.
Personal life
Somi is 19 and single. She said she's not thinking of dating anyone at the moment, as she wants to focus on her work. Her experience in 'dating' was once when she was in kindergarten, and twice in elementary. She was in middle school when she dated a boy for a week, then was dumped for another girl who was her friend.
She also revealed that she initially wanted to marry at the age of 27, but after watching celebrity couples go about their daily lives while co-hosting MBC's "You've Lost If You're Jealous," she realized that marriage is not that simple, and set her wedding goals to her early 30s.
Hobbies, favorites, rumors, and interesting facts
Nickname: VitaSomi or Vitamin Somi for having an abundance of energy and never getting tired during her stint in "Sixteen"
She got her driver's license at 19 (20 in Korean age). Her first driving experience after getting her license was taking her dream car, a Lamborghini Urus, for a sponsored test drive. Somi topped real-time search rankings in Korea when the preview was shown, and received lots of angry emojis (comments were disabled) on articles written about it. She didn't understand what she did that was wrong.
Appearance
She is 5ft 6ins (1.72m) tall and weighs 105lbs (48kg) with a slim build. She has brown hair and light brown eyes.
Net worth
Jeon Somi has an estimated net worth of $2.5 million as of January 2021, according to sources.