Moonbin is a South Korean dancer, singer, model, and actor, who became known to Korean pop (K-Pop) fans when he debuted as a member of the idol group called Astro under Fantagio.
Just a simple reminder that article is created and owned only by kpopwiki.org. Article cannot be re-published in any other pages or documents. Copyright is protected by DMCA. All found copies will be reported.
Original source: https://kpopwiki.org/moonbin-astro-biography-age-height-real-name-siblings/
Early life and family
Moon Bin was born on 26 January 1998, in Cheongju, Chungbuk Province, South Korea. He has a sister named Moon Sua (sometimes spelled as Soo-A), who is one year younger than him. She is a former trainee of YG Entertainment, and she joined the reality television survival series, "Pretty Rapstar: Season 2" in 2015. She is currently a trainee under Mystic Story (formerly Mystic Entertainment).
He started learning taekwondo (Korean martial arts) when he was 7.
Education background
He matriculated in February 2016 from Hanlim Multi Art High School, with a major in Practical Music.
He won an excellence award in a speech competition when he was in elementary school.
Career
First steps
Moonbin is considered to be an "ulzzang" child, which led him to become a model for print ads and television commercials as early as 2004. "Ulzzang" is a South Korean term that literally means good looking or best face.
His career in the entertainment industry started two years after that, when he was cast as the child version of U-Know Yunho of the K-Pop group DBSK, in the music video of the single "Balloon," from their third Korean studio album released in 2006. Many people took notice of him, and he was invited to appear as the mini-Yunho in the SBS variety show called "Star King" in 2007, and was nicknamed "U‑Know Moonbin," after the popular idol.
In the hit drama series "Boys Over Flowers" that aired in 2009, Moonbin played the young version of the character played by Kim Bum. He next appeared in the KBS talk show "Hello Counselor" in 2010 – regular people send their concerns to the show, and the hosts and celebrity guests would give advice on how to resolve the problem. His mom sent her story about him being rude and monosyllabic when replying to her, as well as having difficulty waking him up. When he came returned to the show as one of the guests in 2017, one of the hosts jokingly asked if his mom did it to make him famous, which he denied it. Eunwoo, his co-member who was also a guest, lent credence to the story, saying that it usually took more than an hour to rouse Moonbin from sleep.
From iTeen to Astro
He signed as a talent of Fantagio in 2010, and became a fully-fledged trainee when he was in middle school.
He was one of the iTeen boys of Fantagio iTeen, which is a rookie talent development program comprised of kids with ages ranging from 11 to 18, receiving professional training for acting, singing and dancing. Moonbin and the iTeen boys held a series of performances called "Rising Star" in Lotte World located in Seoul, the biggest indoor theme park in the world.
It was announced in August 2015 that Fantagio would be debuting a male idol group called Astro, and its members selected from iTeen boys. Moonbin would be part of that as the main dancer, lead vocalist, and center of the group, with the rest of the group comprising JinJin (leader and main rapper), MJ (main vocalist), Rocky (main dancer), Sanha (vocalist), and Eunwoo (visual and face of the group).
The six-member group was first seen on the web drama series entitled "To Be Continued," which ran for 12 episodes on Naver TV Cast, appearing as themselves before their debut, which was followed by the group going on a showcase tour in South Korea, called "Meet U Project." According to reports, Fantagio said that Astro would debut when their KakaoTalk account (free mobile instant messaging app) reached 10,000 friends, and they accomplished that in December 2015, and they subsequently starred in their own reality show called "Astro OK! Ready" aired on the MBC Every1 Channel in January 2016.
Moonbin and the boys officially debuted on 23 February 2016, with the physical and digital release of their five-track extended play entitled "Spring Up," which is the first one in their seasonal concept.
They held a live showcase that day, performing the lead track "Hide & Seek" along with "Cat's Eye" and "Innocent Love." The EP peaked at No.4 on the Gaon Album Charts with more than 26,000 units sold, and it performed well on the Billboard World Album Chart at No.6.
Further success
With the success of their debut album, Fantagio released two more extended plays in 2016, "Summer Vibes" on 1 July which peaked at No.4 on the weekly chart of Gaon with more than 30,000 copies sold, and charting at No.6 on the Billboard World Album Chart. The EP contains six tracks including "Fireworks," "Growing Pains," and the lead single, "Breathless," along with its acoustic version. The lead single made it on the Billboard Digital Song Sales Chart at No.21.
"Autumn Story" was released on 10 November, and it peaked at No.6 on the weekly chart of Gaon, and No.12 on its monthly chart with around 65,000 copies sold, and reached No.15 on the Billboard World Album Chart. The six-track EP has two versions, with the "Red" version featuring Moonbin, Sanha, and MJ on its sixth track entitled "Confession Talk", whereas the "Orange" version features Eunwoo, Rocky, and JinJin.
Astro along with other popular K-Pop groups performed at the Korean Wave Convention or KCON 2016, held in July at the Staples Center in Downtown Los Angeles. Moonbin and the boys held a two-day show in August at the KEPCO Art Center in Seoul, followed by a series of shows from October to November in Thailand, Indonesia, and Japan to meet their international fans.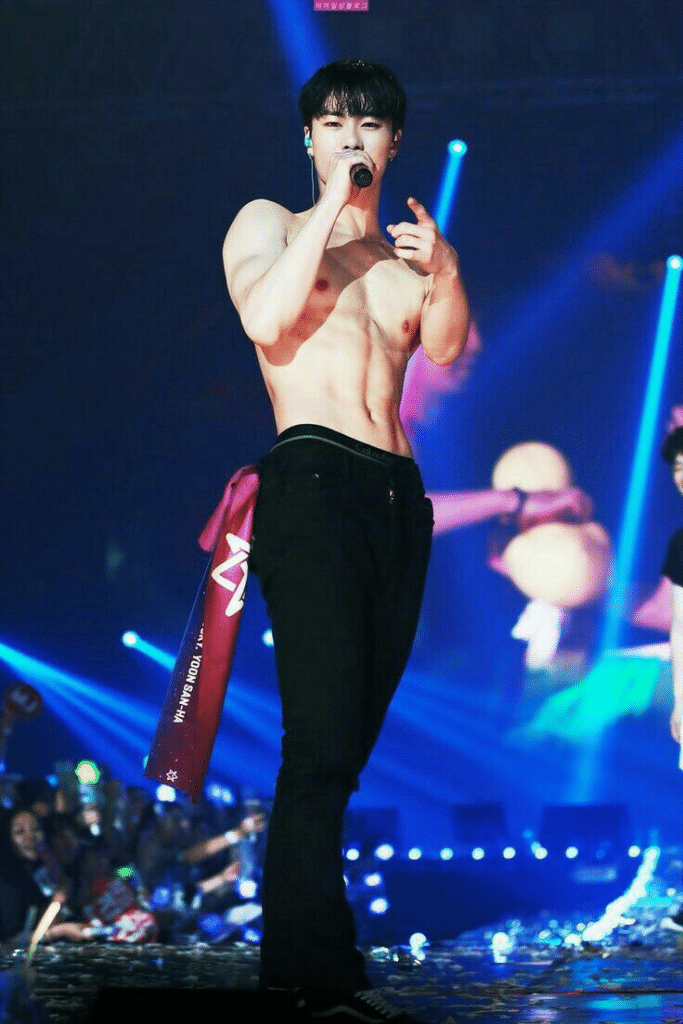 Moonbin and his co-members released a special album entitled "Winter Dream" in February 2017, which is the last part of their seasonal concept. Although they didn't promote this on music shows, it still peaked at No.2 on Gaon. They also released two EPs that year  – "Dream Part. 01" which topped the weekly chart on Gaon with around 95,000 units sold, and "Dream Part.02," which peaked at No.2 on Gaon selling 65,000 copies. Both EPs performed well on Billboard World Albums Chart at No.6 and No.5, respectively. Their first solo concert – "Astro: The First Astroad to Seoul" – was held in July at the Olympic Hall in Olympic Park, Seoul. They also went to Japan for a series of concerts.
After visiting Canada, Thailand, and the US from February to March 2018 for fan meetings, they released the album "Rise Up" in July, then the month of August they went to various cities in Japan again for "Astroad II". Moonbin became one of the main hosts of XtvN's variety show, "The Ultimate Watchlist of Latest Trends," in September 2018, which ran for two seasons.
Fantagio scandal
The promotional activities of Astro in South Korea were halted in 2018 and their future put on hold, due to a power struggle in Fantagio that led to the company allegedly operating illegally.
With the Chinese shareholders of Fantagio, JC Group, acquiring the majority of shares at 50.07%, they fired the CEO of Fantagio and the CEO of its subsidiary company, Fantagio Music, and replaced them with their own people. The Chinese takeover was met with protests from the Korean staff – the executives who were fired hold the label certificate that allows the company to operate legally. With them gone, the company became illegal, and all artists would be up for grabs.
After taking care of the legalities involved, things started to get back on track. However, it was revealed in 2019 that the Chinese CEO, Wei Jie, who took over the company, was under police investigation for illegal fundraising and fraud in China; he has been arrested and the JC Group is suspended.
Fantagio issued a statement that their company has been operating under a professional management team, and that Fantagio is in a stable financial position.
When the situation in the company stabilized, Moonbin and the boys resumed their promotional activities in Korea. In January 2019 they released their first studio album, "All Light,", comprising 10 tracks including "Starry Sky," "Moonwalk," and the lead single, "All Night." It topped the Gaon chart and made it to No.6 on the Billboard World Albums Chart, and No.11 on Japan's Oricon chart. They went on tour in Asia and North America to further promote their album, and achieved an important milestone in their career as they won their first award on the music program, "The Show," on 29 January 2019.
Astro made a successful debut in Japan in April, with the release of "Venus", as it reached No.3 on the Oricon chart with more than 30,000 units sold.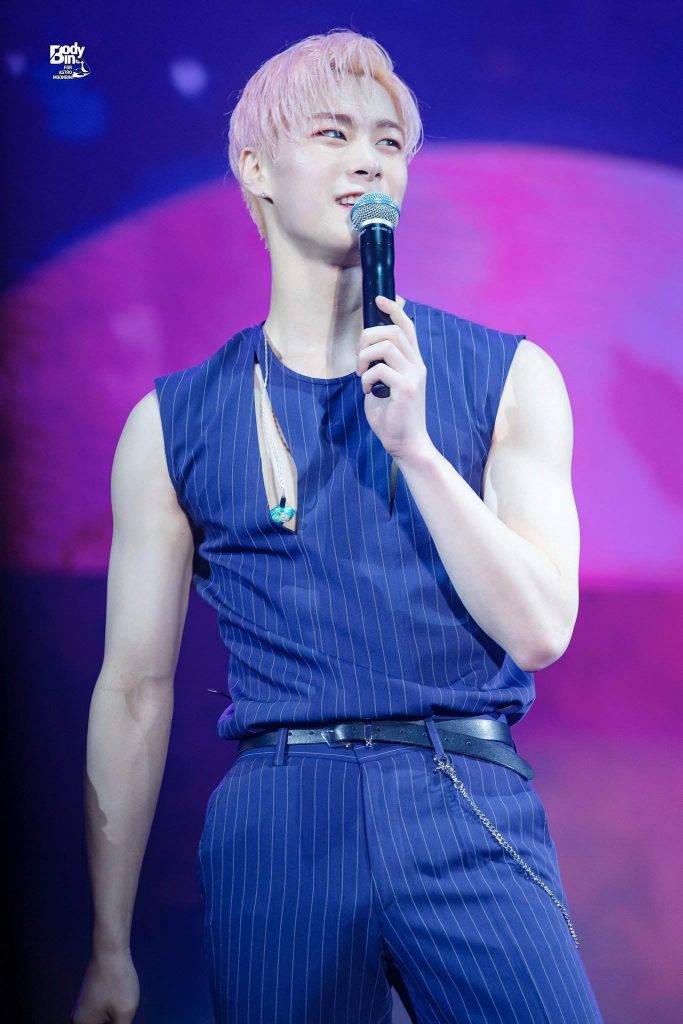 Moonbin was cast to play a supporting role in the coming-of-age drama series entitled "At Eighteen", that aired on JTBC for 16 episodes from July to September 2019. Then on 12 November it was announced that Moonbin would be unable to participate in the group promotions for their upcoming EP entitled "Blue Flame", due for release on 20 November. Apparently, while preparing for their comeback, he became concerned about his health which warranted a trip to the hospital for a thorough medical check-up. The results weren't revealed, but Fantagio issued a statement that Moonbin would be seeking treatment, and taking a rest to recover his health.
On 23 January 2020, Moonbin appeared with Sanha on a V live broadcast for a mukbang session, and to communicate with fans. It signaled the end of his hiatus, and he became busy with the group, sub-unit, and solo activities.
For their fourth anniversary, Moonbin and the boys released the digital single "Only You," and they all had a hand in writing its lyrics.
He along with Sanha and Kangmin (Verivery) became the hosts of MBC M's music program, "Show Champion" in March and it's still ongoing. He played the lead role in the web drama series, "The Mermaid Prince: The Beginning," that aired for six episodes from April to May on the Lifetime Korea cable channel, and reprised his role for its sequel, "Mermaid Prince."
In May 2020, Astro released their seventh EP, "Gateway," with the lead single "Knock," and it topped the Gaon Album Chart. He became a fixed cast member of tvN's variety show, "Food Avengers," which aired from June to July 2020.
Moonbin and Sanha formed Astro's first sub-unit, and they released their first EP, "In-Out," on 14 September 2020. The lead single, "Bad Idea," gave them their first music show win through SBS MTV's "The Show" eight days after it was released.
Personal life
Moonbin is 22 years old and single. With the no-dating policy still in place, it is unlikely that there would be reports of him dating anyone. This policy of not dating for the first three to five years after debut is usually included in management contracts to avoid scandals that would affect not only the artist itself but also his group. Dating is considered a scandal in the K-Pop industry, and if discovered, it might lead to a temporary hiatus depending on the reaction of fans.
His ideal type is someone with a good sense of humor.
He shares a room with Jinjin in the dorm provided by the agency.
Hobbies, favorites, rumors, and interesting facts
He has lots of nicknames such as Binnie, sleepyhead, and "puppycat" (for his ability to imitate the face of a puppy and a cat)
Special talents include doing a voice impression of Doraemon and mimicking SpongeBob's laughter.
He likes shrimp or meat nigiri, which is a ball of vinegared rice topped with shrimp or meat with wasabi, but dislikes tofu, egg yolk, and fish.
His role model is Taeyang of Bigbang.
Favorites: black (color), beef (food)
His hobbies include playing video games, dancing, playing the piano, and doing water sports.
He enjoys watching NFL games.
If he hadn't become a K-Pop artist, he would have been an athlete.
Moonbin is allergic to dog fur and dust. He also develops skin irritation when consuming too much instant food.
When he graduated along with Eunwoo, the group performed at their graduation ceremony.
His celebrity friends include Jungkook of BTS and Seungkwan of Seventeen.
When asked who among his members he would consider dating if he were a girl, he said that it would be Cha Eunwoo because he is handsome, and he knew Eunwoo would take good care of him.
Appearance
Moonbin is 5ft 11ins (1.82m) tall, weighs 150lbs (8kg), and has a lean build. His natural hair color is black and his eyes are dark brown. His shoe size is 9 inches (270mm).
Net worth
Moonbin has an estimated net worth of close to $200,000 as of October 2020 according to sources.