Mark Tuan is a Taiwanese-American rapper, dancer and singer-songwriter, who debuted as part of JYP Entertainment's Korean Pop (K-Pop) idol group called GOT7. His group has multiple albums certified Platinum by the Korea Music Content Association (KMCA) for outstanding sales. His Chinese debut single, "Outta My Head," topped the QQ Music Chart.
Just a simple reminder that article is created and owned only by kpopwiki.org. Article cannot be re-published in any other pages or documents. Copyright is protected by DMCA. All found copies will be reported.
Original source: https://kpopwiki.org/mark-tuan-got7-age-tongue-piercing-family-ethnicity-wiki/
Early life and family
Mark Tuan was born Tuan Yi Eun of Taiwanese descent on 4 September 1993, in Los Angeles, California USA. His parents, Raymond Tuan and Dorine Tuan, raised Mark and his siblings as Christians – he has two older sisters, Tammy and Grace, and a younger brother named Joey. They lived in Paraguay and Brazil for a couple of years when Mark was still young, so he learned to speak a little Portuguese but has forgotten most of it.
He is close to his family, and they are supportive of his career choice. His parents gave him a ring for his 20th birthday.
His father, a big fan of GOT7, is active on Twitter, much to the delight of his fans, who refer to him as Papa Tuan.
He has a tattoo of a cross with roses inside on his calf. His brother has the same kind of tattoo on his side, while his sister uses the same design on her clothing line. Mark also has a tattoo of Roman numbers on his side which are said to be his parents' birthdays.
Educational background
He attended Arcadia High School in California, where he played volleyball and was also good at swimming.
Career
First steps
Becoming a singer was not something he dreamed about or was even interested in when he was young. In 2010, while he was hanging out with his friends at school, he was scouted by a JYP Entertainment casting agent due to his good looks and invited to audition. At the urging of his friends, he went to the company, and passed the audition. He dropped out of school and moved to South Korea for a training program that included vocal, dance, rap, and language lessons; he also learned acrobatics and martial arts tricking.
Mark became close to fellow trainees Jackson and Bambam who are also foreigners – they were always together and worked as a team during the company's monthly assessment. No one wanted to join them as they were still not good enough, and this motivated them to do better. They have improved so much over time that they always made it to the final match.
Mark is sure he's doing what he liked, but there were times when he felt uncertain if this was something that was right for him. It wasn't until he performed on stage as a trainee for a showcase and enjoyed the experience, that he became truly interested in becoming a K-Pop artist and pursued it seriously.
Prior to his debut, in 2012 he made a cameo appearance as a back-up dancer in KBS' teen music drama, "Dream High 2," which also starred JB and Jinyoung, who would both later debut with Mark in Got7.
He was also seen in Mnet's reality television survival program entitled "WIN: Who is Next?" in 2013, featuring YG Entertainment trainees who later debuted as the boybands called Winner and Ikon. YGE founder, Yang Hyun-suk (YG), and his trainees went to JYPE for a showdown. The "Battle" as they called it has been a tradition of both companies whenever they are planning to launch new artists.
JYPE founder, J.Y. Park (JYP), told them that those who participated in past battles, no matter who did better, all became successful K-Pop artists, namely Rain, Se7en, 2PM, and Big Bang. This was also a chance for JYP to hear an objective assessment of his trainees' skills from YG, and vice versa. At that time, JYP had not yet formed a group so he just chose his most promising trainees to compete, and Mark was among those who participated in the rap and dance battles.
MISSED AN HOUR BUT ALBUM SOON!!!#GOT7_LASTPIECE_OUT_NOW !!! …. pic.twitter.com/N4CGjxR1xU

— Mark Tuan (@marktuan) November 30, 2020
YG praised Mark's team for having a distinct style in rapping, and he also enjoyed the dance choreography, particularly when Mark performed tumbling and was pushed while he was off the ground and went over another dancer. Their training in martial arts tricking was evident in their performance. YG said he wished to see them fly across a bigger stage in the future. However, JYP was more critical of the boys' performance, as he noticed that they were ahead of the beat due to anxiety.
Debut
Mark officially debuted in January 2014 as the lead rapper, sub-vocalist, and visual of GOT7 with the release of their first extended play entitled "Got It?" and its lead track, "Girls Girls Girls." The six-track EP peaked at No.2 on South Korea's Gaon Album Chart with over 51,000 copies sold and claimed the top spot on Billboard's World Albums Chart. It also peaked on Japan's Oricon Chart at No.71.
With their second EP entitled "Got Love," they claimed the No.1 spot on the Gaon Chart but only made it to No.6 on Billboard's World Albums Chart. They released their studio album entitled "Identity" on 18 November, and it charted at No.1 on Gaon with over 70,000 copies sold by the end of the year, and took the 6th spot on Billboard's World Albums Chart.
Further success
First Music Show Win
Mark and the boys reached a new milestone in their career when they received their first television music show win through SBS MTV's "The Show" in October 2015 with "If You Do," which was the lead track of their fourth EP entitled "MAD." The six-track EP topped the Billboard's World Albums Chart and Gaon Album Chart, with over 90,000 copies sold in South Korea that year.
KMCA Platinum Certifications
Since their debut, they have released several EPs, studio albums and singles in South Korea and Japan. Many of their releases sold over 250,000 copies, which qualified them to receive Platinum certifications from KMCA.
"Eyes On You" (2018) was their first EP to have been certified Platinum by KMCA, with cumulative sales of almost 340,000 copies. It topped the Gaon Album Chart and peaked at No.2 on both the Billboard's World Albums Chart and Heatseekers Albums Chart. "Present: You" (2018), "Spinning Top" (2019), and "Call My Name" (2019) were also awarded Platinum certifications.
"Dye" released in April 2020 is their best-selling EP to date, with 280,000 copies sold within the first week of its release, and has cumulative sales of more than 450,000 copies. It topped the Gaon Album Chart and the iTunes Chart in 50 countries, peaked at No.4 on Billboard's World Albums Chart, No.9 on the Heatseekers Albums Chart, and No.45 on the Independent Albums Chart.
Best-selling albums that are yet to receive their Platinum certifications include "Flight Log: Arrival" (2017) with cumulative sales of almost 340,000 copies, "7 for 7" with over 390,000 copies sold, and "Breath of Love: Last Piece" (2020) with more than 280,000 copies sold.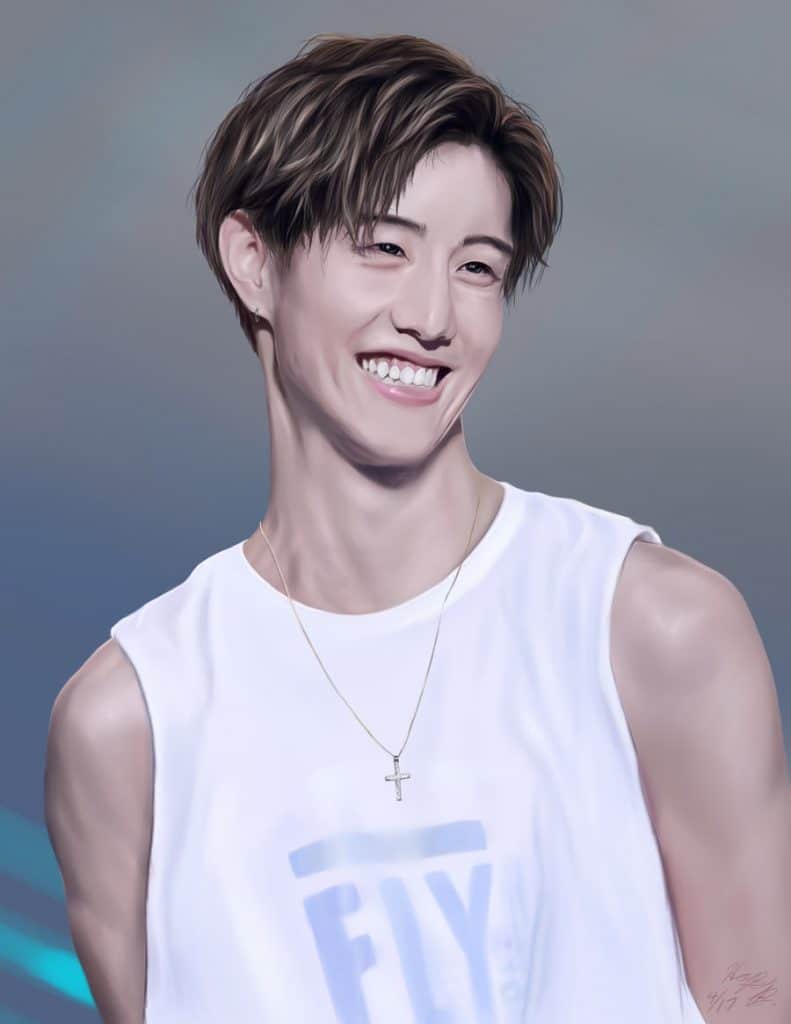 Japan Promotions
They signed with Japan's Sony Music Entertainment and held their debut showcase in April 2014 called "Got7 Showcase 1st Impact Japan" with 9,000 fans in attendance.  They held their "Got7 1st Japan Tour 2014" in October then released their single entitled "Around The World." It peaked at No.2 on the Oricon Daily Singles Chart, and No.3 on its weekly chart, selling over 43,000 copies.
Mark and the boys dropped their first Japanese studio album entitled "Moriagatteyo" in 2016, with three lead singles such as "Love Train," "Laugh Laugh Laugh," and "Around The World." It peaked at No.3 on the Oricon Chart with over 30,000 copies sold. The succeeding EPs released for their Japanese fans such as "Hey Yah," "Turn Up," "I Won't Let You Go," and "Love Loop," all charted well on Oricon.
Concert Tours
After the commercial success of their eight-track EP entitled "Flight Log: Departure", with the lead single "Fly" released in March 2016, Mark and the boys embarked on their first world tour called "Fly Tour" from April to August 2016.
They performed first for their fans in Korea in a two-day concert in Seoul, then for their international fans as they visited several cities in Asia, including Shanghai, Osaka and Bangkok. To meet their fans in North America, they held concerts in Texas, Atlanta, New York City and Los Angeles.
It seemed that the boys had no time to rest, as they continued to meet the demands of international fans to see them in concerts and fan meetings. They held several concert tours in Japan and Thailand from 2017 to 2019, aside from their world tours such as the "Eyes On You" 2018 World Tour and "Keep Spinning" 2019 World Tour. Concerts scheduled from February to May 2020 were postponed, due to the COVID-19 pandemic resulting in travel and mass gathering restrictions.
Solo Activities and Collaborations
As a solo artist, Mark released his first single entitled "OMW" in September 2018, which featured his co-member Jackson. Its official music video has more than 4.6 million views.
Mark is incredibly popular not just in South Korea, but also in China, Thailand, and Japan resulting in several endorsement deals and sold-out shows overseas. He held a series of solo fan meetings called "On Your Mark" in various cities in China from 2019 to 2020.
With his great visuals and physique, he has been featured in various fashion magazines, including Vogue Korea, GQ Thailand, Arena Homme, and Nylon as well as graced the cover of Lined Magazine. Mark attended the Milan Fashion Week in 2019 for the Italian luxury fashion house of Ermenegildo Zegna, and took part in creating and designing limited editions of Represent XCIII and XCIII Evolution collections. The proceeds went to charity. His first photo book shot in Phuket was published in 2019.
Mark's Chinese debut single entitled "Outta My Head," released in January 2020, topped the QQ Music Digital Sales Chart.
He collaborated with the China Charities Aid Foundation For Children with the single, "Never Told You," which was released in March. It is an organization that fights child trafficking, and empowers children with serious medical conditions – the proceeds of the single were donated to further the cause of the foundation.
As a songwriter
Mark's first contribution as a songwriter was in the third EP entitled "Just Right" (2015), as he wrote the rap parts in the sixth track, "Back To Me," with download sales of over 10,500. According to the Korea Music Copyright Association (KOMCA), he is credited for writing the lyrics and/or composing the music for more than 20 songs included in the EPs and single albums of GOT7 from 2015 to 2020. Some of the songs include "See The Light" from the fifth EP, "Flight Log: Departure" (2016); "Go Higher" from the sixth EP, "Flight Log: Arrival" (2017); "Think About It" from the 3rd studio album, "Present: You & Me" (2018); and "God Has Return" from the 11th EP, "Dye" (2019).
Personal life
Mark is 27 and currently single. JYPE is known for having a no-dating policy for its artists for the first three to five years after their debut. Although that policy is no longer in effect as he had passed the five-year mark, there is still no news of Mark being in a relationship. If ever he's dating someone, he isn't open about it.
He was rumored to have been dating someone in the past, but had to end it when he started his training.
He said it takes him a while to approach someone he likes, but he would only confess his feelings to her if he's sure that the girl likes him back. His ideal type is Bora (Sistar) as he found her charming.
Hobbies, favorites, rumors, and interesting facts
Nicknames: little rooster (he was born on the year of the Rooster), Marknae, Markachu, and Markie Pooh
His hobbies include snowboarding and skateboarding.
Favorites: red (color), hamburger (food), horror (movie genre)
He is afraid of spiders.
In 2019, his name was dragged into a scandal involving South Korean BJs (Broadcast Jockeys) as it was mentioned in Kakao Talk messages. Mark was said to be financially supporting BJ Ahyoung such as paying for her monthly rent, buying her designer items, and giving her a credit card. BJ Changbum, who was said to be a friend of Mark, was rumored to be a member of the controversial Jung Joon-young's chat group, which he denied. Some netizens (internet users) are wondering if Mark had also seen the illicit footage. There was no evidence of Mark's involvement, and JYPE said they would take legal action against those people spreading malicious rumors.
He was rumored to have a piercing under his tongue based on photos from one of his performances. However, it was later revealed to be a bubble of saliva that appeared silver due to the reflection of the stage lights. The only piercings that he has so far are two on his left ear, and one on the right.
Appearance
He is 5ft 7ins (1.75m) tall, weighs 130lbs (59kgs), and has a lean build. He has black hair and black eyes.
Net worth
According to authoritative sources, Mark has an estimated net worth of almost $2 million as of December 2020, while GOT7's net worth is said to be $12 million.