Many K-pop artists are born and raised in South Korea with minimal exposure to the world at large until they reach fame, and begin to accrue a larger fanbase. For Momoland member, Lee Ahin, this is far from her reality. The multilingual star is well-traveled and has been able to study and live abroad, allowing her to see the world as a much bigger picture. Lee Ahin is highly intelligent, and has fully embraced her role as the main vocalist of the group. Unfortunately, with upheaval in recent months, it has lost three of its members, completely reconfiguring the group.
Just a simple reminder that article is created and owned only by kpopwiki.org. Article cannot be re-published in any other pages or documents. Copyright is protected by DMCA. All found copies will be reported.
Original source: https://kpopwiki.org/lee-ahin-momoland-age-body-hair-relationships-family/
Early Life and Family
Lee Ahin was born on 27 September 1999, in Wonju, South Korea, the second of two children. The family decided not to remain in South Korea, and made the move to China in 2005. While abroad, the children each took western names – Lee Ahin was given the name Cindy when she was in kindergarten, and her sister was called Sofia – the name that Ahin had wanted for herself. The family eventually returned to South Korea 11 years later in 2015, although Sofia is now working in Hong Kong. The members of the family are Catholic; they have a dog whom they named Kkami.
Education
Traveling abroad gave Ahin an affinity for languages, and she is fluent in Mandarin, Spanish, and English as well as Korean, a fact truly indicative of her intelligence and ability to learn and adapt.
Lee Ahin attended Usan Gangham Middle School in China, and then spent three years studying at the Shanghai United International High School. Ahin relates that her favorite subjects in school were geography and PE, an interest which she still maintains today. When her family returned to South Korea, her talent earned her a position in the Seoul School of Performing Arts, from where she matriculated on 14 February 2019, among a plethora of K-pop artists and idols.
Although the agencies of K-pop bands often put their members through years of intensive performance and vocal training, Lee Ahin was only put through two months of training – an exceptionally short amount of time compared to other popular K-pop groups.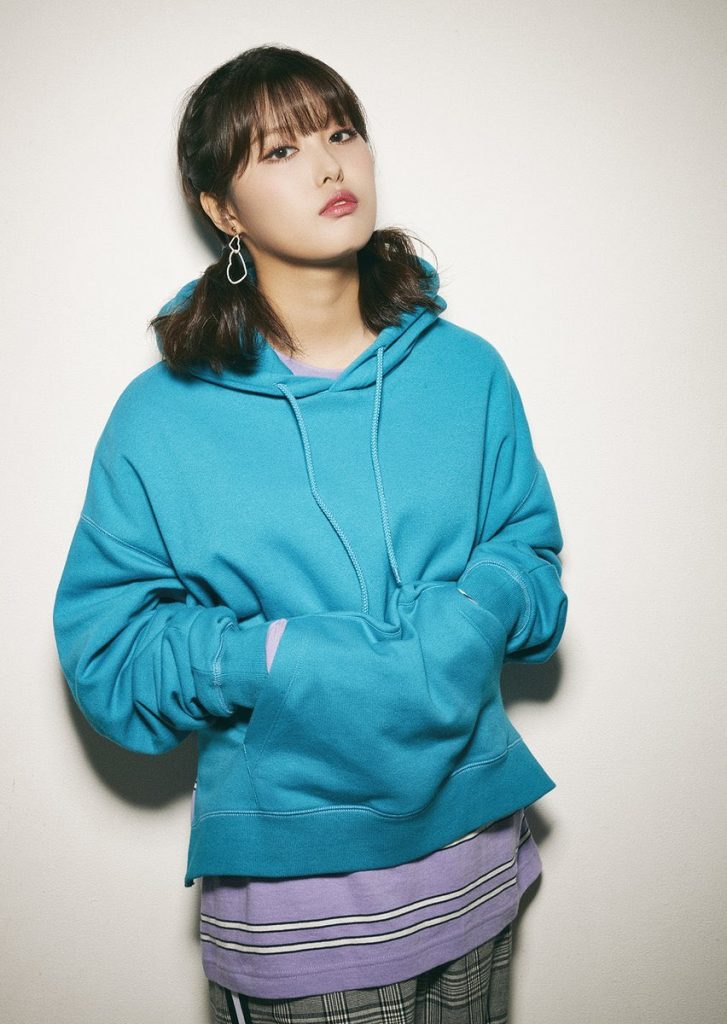 Career
Momoland
Unlike many members of the K-pop industry, her attempt to join the group Momoland was Lee Ahin's first experience in the spotlight, having no experience as an actor or singer outside of what she had learned at school. Momoland has a very similar origin story to most K-pop groups, stemming from a reality survival show that selected out the stars from the flock. In the case of this group, it was the TV show "Finding Momoland" which began in July of 2016 on Mnet, created by what was known as Double Kick Entertainment at the time, but has since been rebranded MLD Entertainment.
The show selected seven trainees from an array of ten, dubbing them 'Momoland'.
In addition to Lee Ahin were members Lee Hye Bin (Hyebin), Sung Ji Yeon (Jane), Kim Na Yun (Nayun), Lee Joo-Won (JooE), Nancy Jewel Mcdoni (Lee Geu-Roo, Nancy), and Lee Du-Bin (Yeonwoo). These members debuted with Momoland's first Extended Play (EP) "Welcome to Momoland" on 10 November 2016.
However, the group didn't get off to an auspicious start, in fact, they were forced to delay their initial debut, which was planned for October, because they could not come up with 3,000 spectators. However, on 26 October the group was then selected as the ambassadors for the International Relief Development NGO Plan Korea, an organization that advocates for the rights of women and girls in Asia,.
The group had minimal resources, and required crowd-sourcing to fund physical copies of their album.
Already under a lot of stress and pressure, Momoland was struck another blow when Yeonwoo was forced to withdraw as she was experiencing lower back pain that made it impossible for her to keep up with the physical demands of performing. It was only five girls who were able to attend the 2016 SBS Gayo Daejeon, the annual music festival produced in Seoul each year.
However, the group took this in their stride, and didn't allow their difficulties to distract them, setting out to help others. They spent time volunteering in Vietnam, where they assisted in building kindergartens and also spent time in the Phuc Luong Village in Thai Nguyen.
In 2017, the brand thought that they could both reboot the group and replace Yeonwoo at once, and two new members were added to the group – Yoo Jung-Ahn (Daisy) and Kim Tae ha (Taeha). With Yeonwoo drifting in and out of the group's radar, the group began to release more music, which steadily gained more traction and wider recognition for the group.
The group began to achieve more success after they released their single "Bboom, Bboom". Although the group was accused of plagiarising the rhythm and bass of the song, the claims were dismissed with the response that it was a common bass line in that genre of music. They went on to release a Japanese adaption of the song, and made music history by becoming the first girl group to be awarded Platinum Certification for their song by Gaon Music Chart.
Unfortunately, Daisy's position in the group is currently uncertain, while Yeonwoo and Taeha have left for good. Ahin however, is enjoying the success of the group, and continues to perform and put out great music.
TV and Drama
Lee Ahin's success in Momoland made her a popular choice for staple entertainment and TV shows. Although she has never had much of a career as an actress, the star did appear in an episode of "The Liar and His Lover" in 2017. Aside from that, Ahin has appeared on "Weekly Idol" (2011), "After School Club" (2013), "Idol Room" (2018), "Idol Star Athletics Championships" (2018 and 2020), and "Same Age Trainer" (2019). Although Momoland has only enjoyed a moderate measure of success, Ahin maintains a positive outlook, and continues to work hard to achieve her dreams.
Personal Life
Lee Ahin gas always enjoyed leading an active lifestyle, a fact that she realized when she discovered her love for PE classes in middle school. Ahin makes sure to integrate this into her daily life by going on runs and playing basketball – a habit that doubles as a way to keep fit and in shape. She boasts that she is an extremely fast runner and can run 328ft (100m) in only 14 seconds.
Ahin is also exceptionally fond of animals, a fact that is clearly evident by her relationship with her dog Kkami, and enjoys spending her time watching movies and playing with animals when she is not exercising.
Ahin has a healthy appetite, and a special affinity for meats and desserts, but has a strong aversion to celery and carrots, an idiosyncrasy that makes her that much more endearing.
Although she is not currently in a relationship and has never shared any information about her romantic life with the public, she has her priorities in order, saying that her man is someone who will treat her the way she deserves to be treated.
Social Media
The fact that Momoland has never quite reached the heights that other K-pop bands have is no secret, and while the members of the group do not appear to be ashamed by this, they are working hard to make a comeback. Unfortunately, Lee Ahin and the other members of the group are often subjected to rude and disrespectful DMs that comment on everything from the girls themselves to the group as a whole and the entire atmosphere they try to create.
—— #아인 + 𝒅𝒆𝒕𝒂𝒊𝒍𝒔.
—— #모모랜드 #AHIN. pic.twitter.com/Kp2z0AlqK7

— 𝒎𝒐𝒎𝒐𝒍𝒂𝒏𝒅 𝒅𝒆𝒕𝒂𝒊𝒍𝒔 (@mmldetaiIs) July 2, 2018
On 22 May 2020, Ahin had enough of the derogatory treatment and statements and posted on Instagram asking people to stop sending such malignant content to her. Many of her fans jumped to her defense, and expressed their concern for her, but she was quick to reassure them that "I am a strong person. There are always more good messages and comments than the bad ones. I uploaded my story because I just wanted to speak up for myself." She also mentioned the procedures she would be taking in the future to deal with online treatment.
Ahin and the other members of Momoland also made a point on social media to show their support for the Black Lives Matter movement.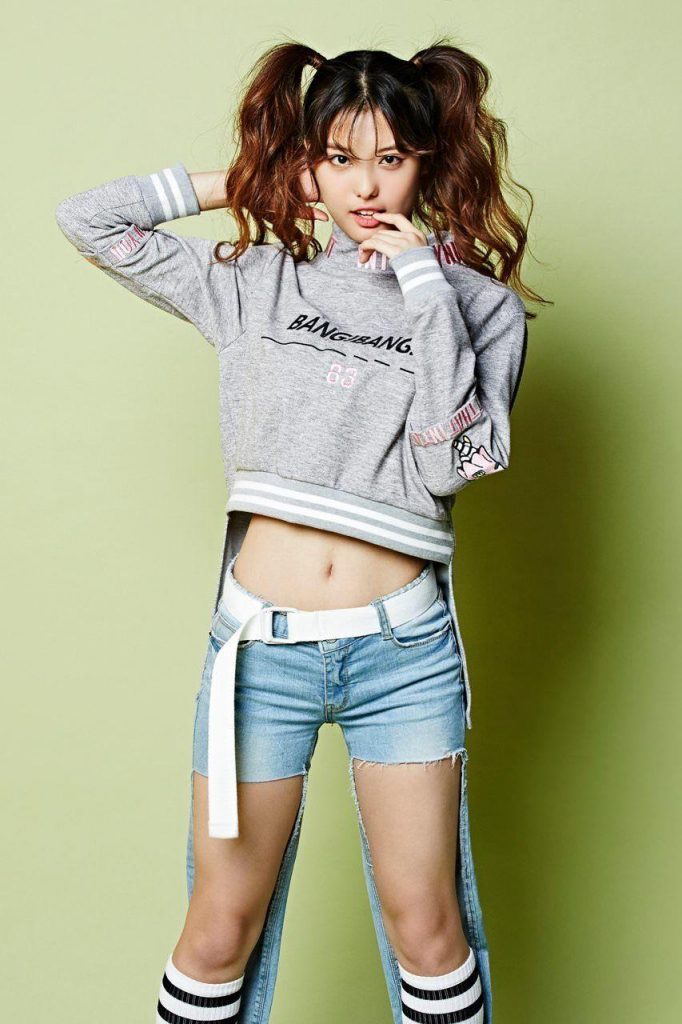 In addition to their group message, Ahin added a personal post, urging people to act and bring a stop to the proliferation of racism.
Appearance
Lee Ahin has a fit and slender figure, described as petite. Although she wore her hair at shoulder length for many years, she has now grown it out, and tends towards pale blonde variations as opposed to bursts of color. Ahin has full lips and grey eyes, but unlike many K-pop artists, very few piercings. Ahin is of smaller stature at 5ft 2ins (1.59m) and weighs 98lbs (44kgs).
Net Worth and Salary
Lee Ahin has a net worth of over $100,000, as of late-2020. Despite being in the lower spectrum of K-pop groups, Momoland still does moderately well, and is estimated to have a net worth of as much as $900,000.