Kpop Star – Kangnam (M.I.B) Wiki
Yosuo 'Kangnam' Namekawa was born in Tokyo, Japan, on 23 March 1987 – his zodiac sign is Aries and he holds both Japanese and South Korean nationality. Kangnam is a singer and a TV personality, probably best known for the time he spent as the vocalist of the hip-hop group M.I.B.
Just a simple reminder that article is created and owned only by kpopwiki.org. Article cannot be re-published in any other pages or documents. Copyright is protected by DMCA. All found copies will be reported.
Original source: https://kpopwiki.org/kpop-star-kangnam-m-i-b-wiki-age-girlfriend-net-worth/
Childhood and education
Kangnam was raised in Tokyo as an only child by his South Korean mother, and his father who was born in Japan, while the family also spent some time living in Hawaii in the US. Kangnam grew up dreaming about becoming a singer, motivated by the people he watched perform on TV together with his parents, who noticed that he was talented when he was nine, and thus enrolled him at a school of the performing arts to develop his singing skills.
After finishing elementary school in Tokyo, he enrolled at the Hawaiian Mission Academy located in Honolulu, Hawaii before moving schools, and eventually matriculating from a Japanese high school. He went on to attend Temple University located in Philadelphia, Pennsylvania and was planning to pursue a degree in communications, but quit as he wanted to focus on his career as a singer.
During those years at various schools, Kangnam learned to play the guitar as well as the piano.
Singing career
On 25 October 2011, Kangnam officially became a member of the band M.I.B, which was signed to Jungle Entertainment – their debut song "G.D.M" came out on the same day, the abbreviation standing for 'Girls, Dreams, Money'.
In October Kangnam began working on his solo career as well, as his debut single "Say My Name" came out while all of his colleagues from M.I.B also launched their solo careers, as they wanted to show that they were all worthy singers.
In 2012, Kangnam appeared in a commercial created by the electronics company Epson, and in the same year made his debut TV series performance, when he was invited to appear in the comedy series "21st Century Family" – Kangnam also hosted the Japanese remake of the popular Mnet's show "Jjang". He spent the year 2013 away from the spotlight, until in October 2014 when he was invited to appear in the South Korean TV entertainment program "I Live Alone".
Kangnam claimed that he had only $3 in his pocket, however, in the following interviews he gave to Entertainment Relay he stated that his net worth had increased with his appearances in more commercials and TV shows.
He soon became a member of the main cast of the show "I Live Alone", while he and his friend Nam Joo-hyuk also became exclusive models of ABC Mart, which sells shoes. In December 2014, Kangnam was invited to serve as a DJ at a festival which was part of the project "Lucky Boys" organized by SBS Gayo Daejun, and on 26 December, his second solo song "What Do I Do" was released, and topped the Daum Real-Time Chart – it was later reported that Kangnam also topped real-time searches on Mnet, Melon and Naver.
He became the honorary ambassador for the fourth KCON festival in February 2015, and performed at it on 22 April. On 25 May 2016, his debut Japanese single album was released entitled "Ready to Fly", which he recorded with CJ Victor Entertainment.
The band M.I.B
Shortly after the band M.I.B released their debut song "G.D.M", and performed it in the show "M! Countdown", they released their album "Most Incredible Busters" (M.I.B). They were invited in January 2012 to open the Highlight Festival, while famous artists whoh sang at it were Far East Movement and Jay Park. Shortly afterwards, M.I.B was invited to play at Will.I.Am's special club performance held in Seoul, South Korea, and announced that they were working on their new album.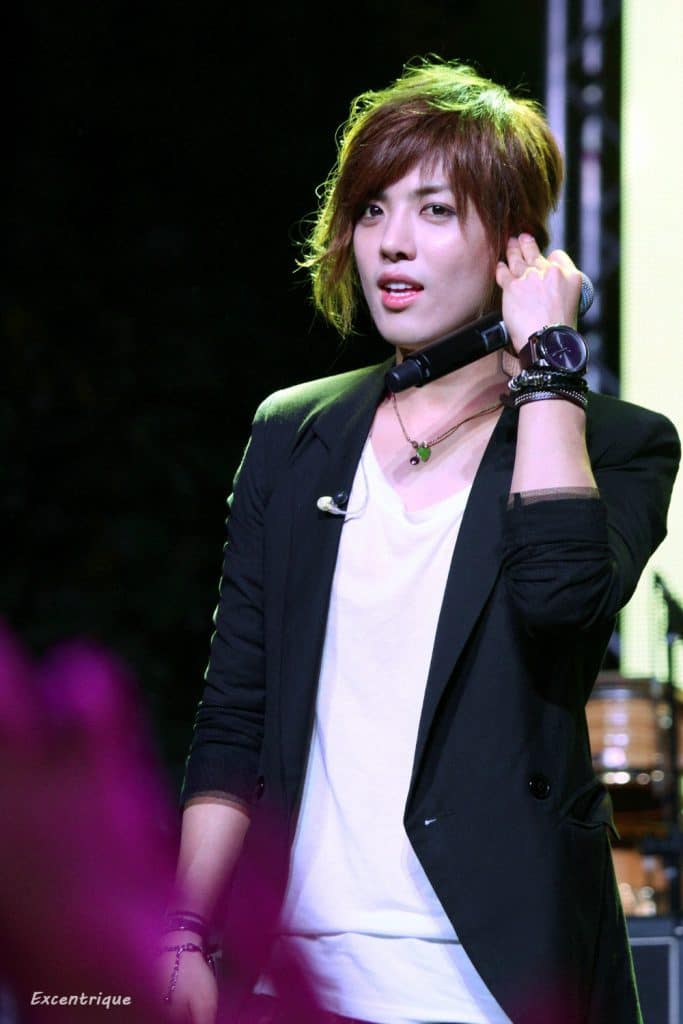 However, a fire broke out in the dorm in which the band was living on 5 April 2012, killing three of their stylists so all their activities were postponed. Their second full-length album "The Maginot Line" came out on 31 March with the song "Chisa Bounce" as its lead track, then the band's extended play "Illusion" came out on 30 May 2013, after which they went on their first tour around Japan, performing in cities such as Nagoya, Osaka and Tokyo.
Somewhat surprisingly, the band disbanded on 4 January 2017.
Girlfriend and relationships
Kangnam met Lee Sang-hwa, a retired Olympic speed skater, in 2018 when they were introduced by a mutual friend – there are rumors circulating the internet that Lee asked their mutual friend to introduce them, as she was a fan of Kangnam as well as the band M.I.B.
They began dating only days after meeting, and were together for around a year when it was announced that Kangnam and Lee were about to marry on 12 October 2019 at a hotel in Seoul. No media were allowed at the wedding, as it was somewhat private with only the two's family and a couple of closest friends attending. Kangnam later stated that he was planning on giving up his Japanese citizenship so that he could become a true South Korean.
Before Lee Sang-hwa, he was apparently in several relationships, but none of which attracted much attention, and none of which had lasted longer than a couple of months.
Interests and hobbies
Kangnam is a huge lover of animals, especially dogs, and he and his wife have a pet dog which can often be seen featured in the pictures they upload onto their Instagram accounts.
Dancing is one of his many hobbies, and he usually practices it five times a week – hip hop and contemporary are his favorites.
Although he is not a huge fan of swimming in the ocean, Kangnam's favorite season is summer as he enjoys the feeling of sun on his skin and occasionally goes surfing and snorkeling. He is a fan of the outdoors and enjoys spending his free time at attractive natural locations surrounded by trees and mountains, while he also likes to go camping and hiking.
In his spare time which is mostly late at night, Kangnam usually watches Hollywood movies, and his favorite actor and actress are Robert De Niro and Angelina Jolie, while some of his favorite movies are "Taxi Driver", the trilogy "The Godfather" and "Mr. and Mrs. Smith".
Age and net worth
Kangnam's age is 33. He has short brown hair which he often dyes blonde, and his eyes are brown, while his height is around 5ft 10ins (1.77m). As of July 2020, his net worth is estimated at more than $1 million.