Sihyeon is a South Korean singer, dancer, and TV presenter, who became known when she joined the Korean Pop (K-Pop) girl group, EVERGLOW, as the lead vocalist under the management of Yuehua Entertainment.
Just a simple reminder that article is created and owned only by kpopwiki.org. Article cannot be re-published in any other pages or documents. Copyright is protected by DMCA. All found copies will be reported.
Original source: https://kpopwiki.org/kim-sihyeon-everglow-age-height-parents-net-worth-bio/
Early Life and Family
Kim Sihyeon was born on 5 August 1999, in Bundang, Seongnam, Gyeonggi South Korea.  Little else is known about her early life except that her parents are still alive and she has an older brother.
Educational Background
There is no information available about her educational background.
Career
Prior to her debut, Sihyeon joined Mnet's reality television survival series "Produce 101" as an independent trainee in 2016.
The show gathered 101 trainees from all over South Korea, to vie for a spot in the final 11 who would debut as a temporary girl group. Unfortunately, she wasn't as skilled as the other girls from big talent agencies, and after 11 episodes she was ranked 40th and so was eliminated from the competition.
Just after the reality show finished, she was signed up by Yuehua Entertainment, a Chinese entertainment company with headquarters in Beijing, China, but with a local branch in Seoul, South Korea. The company is partnered with South Korean entertainment companies including Stone Music Entertainment, SM Entertainment, and Pledis Entertainment.
In 2018, Sihyeon along with co-trainees/label mates Yiren and Yena, participated in the third season of the reality television survival franchise series, "Produce 101."
They renamed the show "Produce 48", as trainees from Japan's girl group, AKB48 were included. The girls underwent rigorous training under successful K-Pop artists and experts, namely Soyou of Sistar (vocal coach); Bae Yoonjung, CEO of Yama & Hot Chicks (Dance Coach); May J. Lee of 1Million Dance Studio (Dance Coach); and rapper Cheetah (Rap Coach).
Out of the 96 South Korean and Japanese trainees, Sihyeon ranked in 27th place and was eliminated in the 11th episode, but improved considerably from her performance during the first season. She has always been a positive person and took it as a great learning experience for her.
First Steps – Debut
Her training lasted for almost three years before the management announced that she would be part of a six-member girl group called Everglow, along with Yiren, E:U, Aisha, Mia, and Onda.
She was the first to be revealed in a series of individual introductory videos posted on Stone Music Entertainment's YouTube channel.
On 18 March 2019, Sihyeon debuted as the main vocalist of the group with the release of their single album, "Arrival of Everglow." It has three songs including the lead track entitled "Bon Bon Chocolat," which was co-written by American singer-songwriter Melanie Fontana, "D+1," "Moon," and the group's leader E:U. They debuted in a live showcase at the Blue Square YES24 Live Hall on the same day the song was released, and famous South Korean choreographer Lia Kim of 1Million Dance Studio choreographed the dance moves for the track.
Their TV debut was on 21 March 2020 on Mnet's "M Countdown," and promoting the song for two months paid off with their hard work, as the album peaked at No.6 on the South Korean Gaon Album Chart, and even debuted at No.5 on Billboard's World Digital Songs Chart. They were surprised that over 5,000 units were sold in the US.
Encouraged by the success of the first single album, Everglow released a sophomore single album entitled "Hush" just four months later; it has three tracks including "Hush," "You Don't Know Me," and the lead track, "Adios." The album charted and peaked at No.5 on Gaon Chart, while all the three songs charted on Billboard's World Digital Song Chart – the title track debuted at No.2 and the other two were at No.8 and No.10. It also gave the girls their first music show win, courtesy of SBS' "The Show." In South Korea, a music show win is considered one of the highlights in a K-Pop artist's career.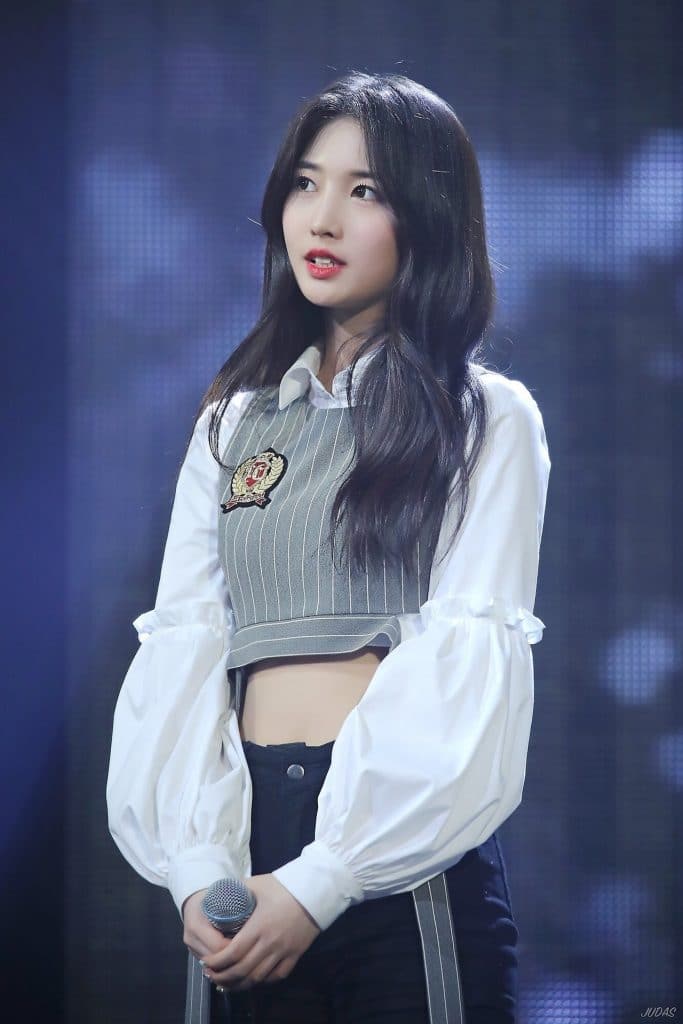 With so many artists debuting and making a comeback each month, not all of them will end up with a Top Song trophy. Both the digital and physical versions of the single album were released on 19 August 2019.
Cameo Appearance on Korean Drama Series
Sihyeon and the girls were given a taste of what being on a drama series was like, although it wasn't really acting that they did, as they were seen performing the song "Bon Bon Chocolat." They appeared as the girl group being managed by Lee El, one of the lead actors of the series entitled "When the Devil Calls Your Name" which was loosely based on Johann Wolfgang von Goethe's "Faust."
Their debut year ended with nominations from a couple of award-giving bodies including Best New Artist, Worldwide Fans' Choice, and Artist of the Year from Mnet Music Awards (MAMA); and Female New Artist, Global Popularity Award, Top Artist, and Genie Music Popularity Award from Genie Music Awards. Unfortunately, they didn't win any of them.
Further Success – First Extended Play released in 2020
Everglow released its first EP, "Reminiscence," on 3 February 2020, containing four songs including the title track entitled "Dun Dun", along with "No Lie," "Player," and "Salute." All the music of the songs was written by foreign songwriters, while the lyrics were written by South Koreans. It was more successful compared to the previous releases, peaking at No.4 on the local Gaon Album Chart, and the song "Dun Dun" charted at No.3 on Billboard's World Digital Songs chart. The music video has more than 150 million views with 2.5 million 'likes' making it Everglow's most viewed video.
The song could have attracted more fans as they were scheduled to have a live comeback showcase, but due to the Covid19 global pandemic restrictions such as social distancing, they weren't able to do that.
The showcase pushed through and was shown on national TV, but without a live audience. In South Korea, the word "comeback" is often used to indicate that a K‑Pop artist is releasing a new song or album, and doesn't necessarily mean they were absent for a long time or went on a hiatus.
A Brief Rest for the Members
Due to Everglow's busy schedule, a couple of girls from the group suffered from health problems that alarmed their fans, so Yuehua Entertainment give all the girls a break to help them rest and recharge their bodies.
SBS MTV's The Show Host for 2020
Sihyeon was chosen as one of the hosts of SBS MTV's "The Show", along with Juyeon of The Boyz and Kim Min Kyu, a former contestant in the Produce 101 reality show. She started in her new job in February, but the filming of the show was halted in April when one of the Everglow's staff tested positive for the Covid19 virus.
Fortunately, all the girls as well as the hosts and other crew of the show tested negative, but needed to be quarantined for two weeks before filming could resume.
2020 U.S. Concert Tour
Local fans were surprised and in awe that Sihyeon and the girls conducted the "Everlasting Tour in the USA" in March of 2020, considering that the group wasn't as successful compared to other K-Pop groups in South Korea. Music insiders were no longer dazzled by this phenomenon, since it was known that some K-Pop artists did have an international fan base early on in their career, before exploding onto the local music scene. The thirst for K-Pop music is real, based on the high demand for concerts and fan meetings overseas.
The girls were scheduled to perform in five cities, but only the shows in Dallas, Atlanta, Chicago, and Newark pushed through.
The last one in Los Angeles was canceled due to the rising numbers of Covid19 infections during that time. The Newark concert was almost canceled, but was allowed to go ahead as long as all the attendees wore masks, and were given hand sanitizers. Precautionary measures were applied during the meet‑and‑greet for the VVIP ticket holders – instead of a handshake, they just did an elbow touch to avoid further physical contact. The event organizer and producer, My Music Taste (MMT), announced that the moment restrictions are lifted, a new schedule for the Los Angeles show will be published for fans.
Sihyeon said during an interview with Billboard that she and the girls were quite nervous performing to an international audience, but when the fans started cheering them on, it calmed them down. She also said that American and Korean fans were mostly the same, but with a slight difference – both would film the live performance, but the Americans would get up and dance around too.
fancafe update ♡
↳ #시현 #SIHYEON #에버글로우 pic.twitter.com/BnKqMp0NMs

— sihyeon pics (@sihyeonfile) October 3, 2020
Everglow Reality TV Series
Yuehua produced a couple of reality TV series for the girls, such as "Everglow Land" and "Everglow Epic Log." The former was aired on the Mnet Cable channel with five episodes, while the second one can be found online, and has had three seasons already.
Personal Life
There is little information about Sihyeon's personal life as K-Pop artists value their privacy so much. No dating news can be found about her as she is forbidden to date anyone during the first three to five years after her debut. This no‑dating policy is common practice and an agreement between the talent and the agency. Most agencies include this in the contracts they offer to their talents, mainly to prevent anything that would distract the artists from doing their jobs.
She still lives with the other members of Everglow in an apartment provided by Yuehua Entertainment.
Hobbies, favorites, rumors, and interesting facts
She has an uncanny resemblance to two popular idols. The younger Sihyeon was said to be similar to Joy of Red Velvet, and the grown-up Sihyeon can pass off as a twin or younger sister to Suzy of the disbanded girl group, Miss A.
Her agency has given the members their own color, and her representative color is green.
Her favorites: Americano (Coffee); Jajangmyeon or Noodles in Black Bean Sauce, Corn dogs, and Cheese Sticks (Food); Tteokbokki or Traditional Korean Spicy Rice Cake (Late Night Snack); Melon (Fruit); Oreo Cheesecake (Dessert); Purple (Color); Frozen (movie). She doesn't eat red vegetables and hates anything to do with it.
While growing up, she was given the nickname, Syeon, and during her training days, she was called the Positive Queen and Flower Sihyeon.
She was inspired by senior K-Pop artists such as Jung Yun-ho of TVXQ, and former Wonder Girls member and now soloist, Sunmi.
Her hobbies are doing nail art, collecting cute objects, and cooking.
During her "Produce 48" stint, she became close with Choi Yena and Kwon Eunbi, who both made it to the final 12 members of Iz*One.
Her free time would normally consist of lying on the couch and watching programs on TV all day long.
She loves the song "Electric Shock" from the disbanded second-generation girl group, f(x).
Her best friend in Everglow is the group's leader, E:U, whom she shares matching flower rings with, and would often joke about dating each other if they can't find their own guy. They are also roommates in the dormitory that the company provides for the group.
Her known physical traits are her long neck and bunny teeth.
One of the biggest changes in her life before and after debuting was the way she ate. During her trainee days, she was so particular with what she ate that dieting became second nature to her, fearing of not being able to debut if she got too chubby, but today, she and girls would eat what they like before a live performance, to boost their energy.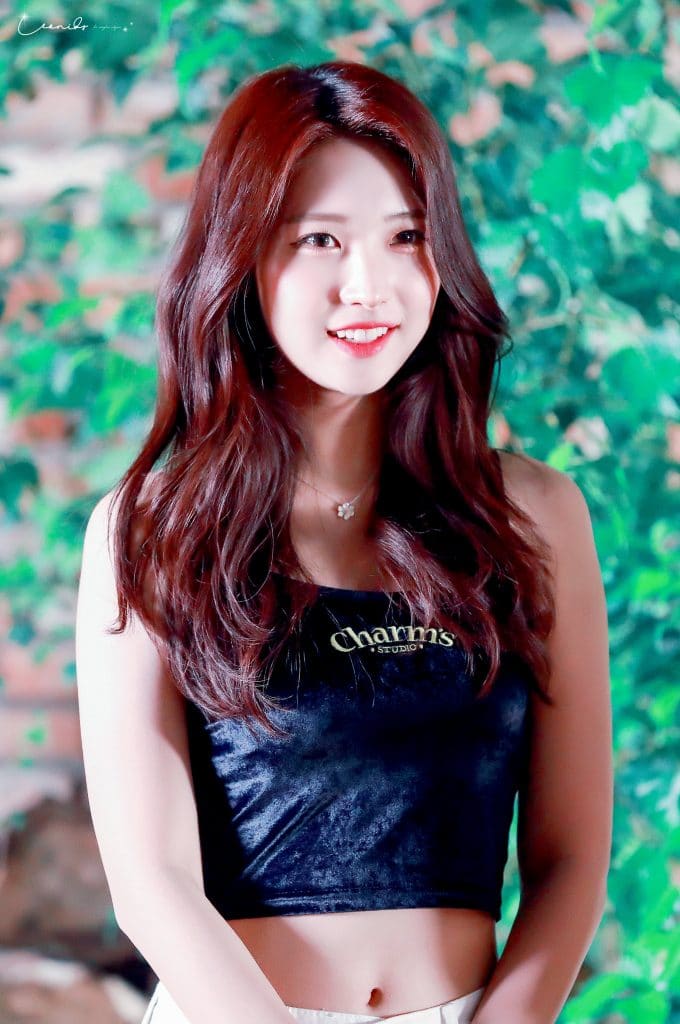 Appearance
She is 5ft 6ins (1.68m) tall and weighs about 110lbs (51kgs) with a slim body. She is of Asian descent, and her natural hair color is black. While most K-Pop artists would change concepts during promotional activities, she is not as adventurous as the other members of her group, and would only go so far as to dye her hair brown, sometimes with red highlights. Her eyes are black and rarely would you see her in colored contact lenses.
Net worth
According to sources, Sihyeon has an estimated net worth of over $1 million as of September 2020.