Kim Jinhwan – better known by his stage name Jay – is a South Korean singer and dancer, born on 7 February 1994, in Jeju-do, South Korea. He's known for being a member of the Korean pop (K-Pop) group iKON.
Just a simple reminder that article is created and owned only by kpopwiki.org. Article cannot be re-published in any other pages or documents. Copyright is protected by DMCA. All found copies will be reported.
Original source: https://kpopwiki.org/kim-jinhwan-ikon-age-height-parents-net-worth-dating/
Early Life
Jay grew up with his mother and his sister five years older than him. However, further details about his childhood are undisclosed.
Although not much is known about Jay's education, he has declared that he moved to Seoul at the end of 2010, during his second year of high school: 'I had trained for 7 months and my family did not believe I was going to make it as a singer. I went to Seoul to work part-time, and had to ask for help from home for rent. I had gone to the vocal school for six months beforehand'.
Career
Pre Debut
After spending three months in Seoul, Jay was signed as a trainee by YG Entertainment. Though his beginnings were difficult, he did his best to achieve his goals: 'There was a time I thought I could not make it as a trainee.  I started out in January 2011 and had been preparing for my debut for five years. From the beginning, I came in as a vocalist but I wasn't very good at singing and dancing.  I wasn't that great at the time and got a lot of bad reviews.  But about two years later I started to get more compliments and improved my skills.'
Jay's dreams to become a singer always included joining YG Entertainment, as he deeply admired the agency's artists: 'When I was in Junior High BIG BANG hyungs were my idols –  I used to sing all their songs including performing their choreography during karaoke. I even memorized the raps.'
In 2013 Jay appeared in the TV show "WIN: Who Is Next". Alongside other trainees B.I, Ju-ne, Bobby, Yunhyeong and Donghyuk, he formed Team B which competed against other groups by showing their dancing and singing abilities.
Although Jay's team lost in the overall vote ranking, and didn't have the opportunity to debut as idols, they did appear in famous idol Taeyang's "Ringa Linga" music video as dancers, in addition to releasing the songs "Climax" and "Just Another Boy" during their participation in the show.
Team B remained as a trainee group, and in 2014 appeared once again in a TV show, this time in "Mix & Match". The program had the goal to set the soon-to-debut group iKON's definitive line-up.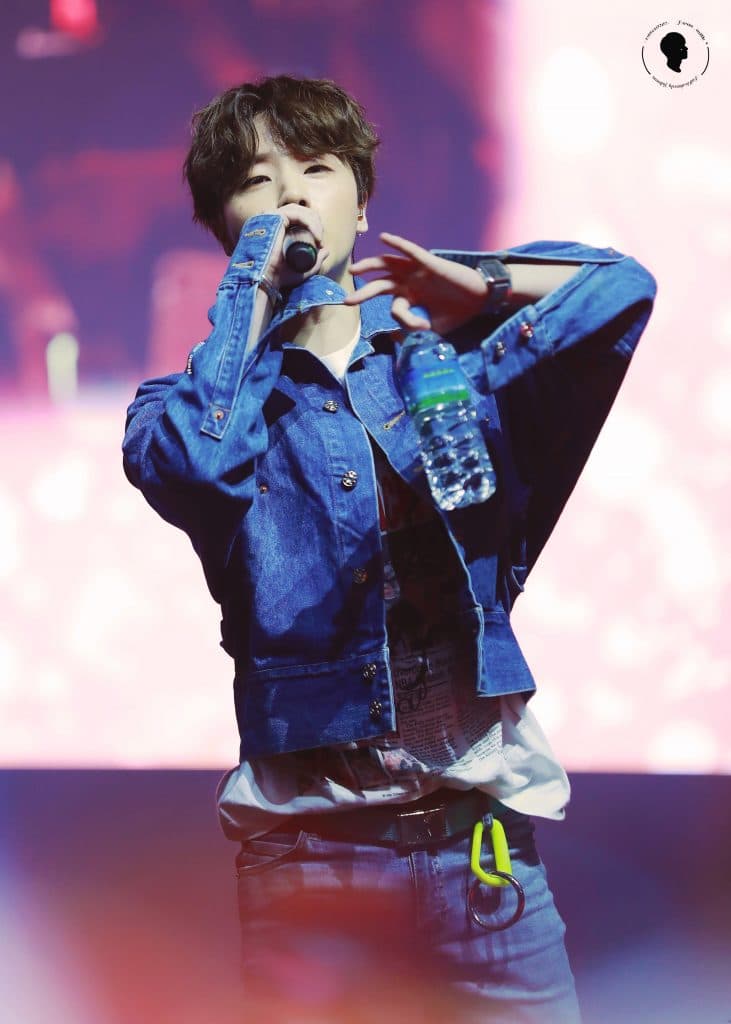 However, as they were deemed as experienced trainees, Jay and his fellow teammates, Bobby and B.I were announced as official members while the remaining contestants had to prove their skills to win a spot in the group.
Before their debut, iKON held various events including fan meetings in their home country, China and Japan, and a presentation during label mates' BIG BANG's concert in Japan.
Debut
In September 2015 Jay officially made his debut as the main vocalist and lead dancer of iKON, with the release of the group's first track "My Type" – which topped the Gaon chart – and the announcement of their album "Welcome Back", set to be released in December.
iKON received their first win at a music show on 26 September, and held their first concert on 3 October in Seoul. The group subsequently released the singles "Anthem", "Apology" and "Dumb & Dumber" as part of their album's promotions.
In January 2016, iKON officially debuted in Japan with the re-release of "Welcome Back", which peaked at number three on the Oricon lists. Following this success, the group embarked on their first Asian tour, during which they visited China, Singapore, Thailand, Taiwan and Hong Kong. Later in June, iKON held a Japanese tour, which was attended by more than 100,000 people.
The single "#WYD" was released in May in Korea, and was followed by iKON's first Japanese single "Dumb & Dumber".
In July that year, the group appeared in the Chinese TV show "Heroes of Remix", and gained favorable reviews for their performances. Due to the group's popularity in the country, they were the winners of China Music Awards' category for the Most Popular Korean Group.
Second Album & More
In early 2017, iKON started their second tour in Japan with 20 dates and audiences of more than 230,000 people. The rest of the year was busy for the group too, as they released the single series "New Kids".
Starting 2018, iKON released their second full álbum, "Return", including 12 songs and the collaboration of K-Pop industry big names such as Taeyang, Tablo and Psy. In an interview with BuzzFeed, Jay revealed his favorite song of the album was "Best Friend": 'The melody is easy to catch and the lyrics give off a fresh charm.'
The lead single of "Return" was entitled "Love Scenario", which achieved a huge commercial success as it topped the Gaon list for singles for several weeks. Regarding the song's music video, Jay revealed which was the most challenging scene to film: 'The scene where I had to run slowly. But it had to look as if I was running really quickly. Unfortunately, the scene was deleted.'
B.I's Exit & New EP
At the end of 2018, iKON won the Song Of The Year category at the Golden Disc Awards. When asked about this accomplishment by Ilgan Sports in January 2019, Jay commented his feelings when the group was announced as the winners: 'My mind went blank. I'm the type to cry a lot, but I was so surprised I didn't cry. I thought a lot about the people I was thankful for.'
In June 2019 Jay's bandmate B.I's contract with iKON's agency was terminated, as old messages of him purchasing drugs were publicly revealed by Dispatch.
Although said issue was never addressed by the members of iKON, in a 2018 interview Jay had talked about the strictness of the group's agency: 'We don't drive or date or club. We're really careful. YG Entertainment as a label is carefree with music and such, but we also have strict rules within YG.'
In the same interview, Jay – the oldest member of iKON – was asked if he felt uncomfortable about B.I's position as the group's leader: 'I've never had any complaints. The role of a leader and the role of the eldest hyung are completely different. Leaders must have leadership qualities. I think you should listen to his story.  B.I is a friend and our leader. I have never been displeased of his leadership and he's a great leader.'
In February 2020, iKON released their Korean EP "I Decide".
Personal Life
Not much is known about Jay's personal life, thus details about his friends and hobbies are undisclosed.
It has been rumored that he was dating AOA member Jimin, though it has never been confirmed, and following Jay's declarations in 2018, YG Entertainment doesn't allow its artists to maintain romantic relationships.
Net Worth
Jay has an estimated net worth of closet o $300,000, which is a result of his work as a member of iKON.
Physical Appearance
Jay is a man of handsome features, who has a slender but athletic build. He's 5ft 5ins (1.65m) tall, but his weight is unknown.
Interesting Facts
His zodiac sign is Aquarius and his blood type A.
Besides Korean, he can speak Japanese, Tagalog, English and Mandarin.
He knows how to play the guitar.
His mother used to play the violin in their hometown's orchestra.
❤️ 201012 update from Jinhwan#Jinhwan #JAY #진환 #김진환 pic.twitter.com/5zciIhMq04

— KZ (@iKONICzones) October 12, 2020
He likes to drink Japanese sake, even though he doesn't think he handles alcohol well: 'I don't know how much I can drink, because sake has various sizes of bottles, and depending on my condition, it is sometimes hard to even drink just two cups.'
He doesn't see himself as sexy, but people often describe him as cute.
He tried to write a rap, but his bandmates laughed when he showed them the lyrics.
His favorite BIG BANG's song is "Lie".
Jay, B.I and Bobby joined YG Entertainment the same day.
Recently he became interested in learning and practicing martial arts: 'I'm learning Jiu-Jitsu. I'm really busy these days but I'm working hard. In Jiu-Jitsu, they have a white belt, blue belt, purple belt, brown belt, and black belt.  It takes a long time to become a blue belt.  I'm currently a white belt.'