Seulgi, a South Korean vocalist and dancer, rose to prominence when she debuted as a member of the Korean Pop (K-Pop) girl group, Red Velvet, signed under the biggest entertainment company in South Korea, SM Entertainment. Billboard and Time Magazine acknowledged her group as one of the best K-Pop groups in the world in 2017 and 2018, respectively.
Just a simple reminder that article is created and owned only by kpopwiki.org. Article cannot be re-published in any other pages or documents. Copyright is protected by DMCA. All found copies will be reported.
Original source: https://kpopwiki.org/kang-seulgi-red-velvet-age-height-brother-measurements/
Early Life and Family
Kang Seulgi was born on 10 February 1994, in Ansan, Gyeonggi-do, South Korea. Her parents along with her grandmother raised her and her older brother in a comfortable home – she has a close relationship with her only sibling, and they were oftentimes thought to be twins as they looked quite similar to each other. They liked to quarrel a lot even with a three-year gap when they were kids, and it developed into a love-hate relationship as grown-ups.  He saved her number on his phone contacts as "Fool" and Seulgi saved his number as "Damn Bro".
While they still argue, and he teases her a lot, he supports her in everything she does.
Educational Background
She attended Ansan Byeolmang Middle School, and matriculated from School of Performing Arts Seoul.
Career
In 2007, Seulgi auditioned for SM Entertainment, and started her training at the age of 14. After six years, she was officially introduced to the public as part of the original trainees included in a pre-debut K-Pop training group called SM Rookies, along with NCT members Taeyong and Jeno – they released song and dance covers of popular K-Pop artists as part of their training. One of Seulgi's popular dance cover videos was with another trainee named Irene, which they released using the name SR14G. They danced to SM Entertainment's first girl group S.E.S' popular hit song, "Be Natural," and she was seen in the music video of Henry Lau's song, "Butterfly."
Debut Year – Red Velvet
Seulgi debuted on 01 August 2014 with three other girls, namely Irene, Joy and Wendy as members of the K-Pop girl group, Red Velvet, with the release of the group's first single, "Happiness." They performed it first on the KBS music show "Music Bank," a few days after it was released. It peaked at No. 5 on the South Korean Gaon Digital Chart and No. 4 on Billboard's World Digital Song Sales Chart. It seemed that SM Entertainment had found another goldmine in their new girl group, following Girls Generation.
However, the group had a problem with an indie duo's claim that they had been using the name, Red Velvet, since 2013. SM Entertainment immediately made a deal with the indie duo, so Seulgi and the girls could continue using the name. Another problem surfaced when the official music video was released.
It would have been a great start for the girls, since it gained a total of two million views within 24 hours, but it was taken down when complaints went around social media that there were certain images used that some people thought mocked history, including the Hiroshima atomic bombing in Japan, and the 9/11 Twin Towers terrorist attacks in New York. There was no malicious intent on the director's part, but just the same it offended some people, and SM Entertainment immediately edited them out. A new version was re-posted on YouTube, and it's been viewed over 98 million times as of November 2020. The controversies actually helped in boosting the popularity of the group, and the song itself has total physical sales of 435,000 units in South Korea, and around 15,000 units in the United States. They ended their debut year by taking home two Best New Female Artist of the Year awards, from Seoul Music Awards and Golden Disk Awards.
Commercial Breakthrough – First EP, "Ice Cream Cake" Successful Release
The following year, Yeri joined Red Velvet to make them a five-member group. They released their first extended play (EP) "Ice Cream Cake," on 18 March 2015. It consisted of six tracks including "Automatic," "Stupid Cupid," and "Something Kinda Crazy" along with the title track, with Seulgi and the girls showing their two distinct sides representing "Red" and "Velvet", "Red" highlighting the quirky, bubblegum, cute girl concept with the song "Ice Cream Cake," while "Velvet" accentuates the sultry, sexy concept with the song "Automatic."
Red Velvet promoted the two songs, and based on the sales result, the fans loved the sugary pop concept, achieving over 1.3 million copies sold in South Korea, and around 23,000 copies sold in the US, the EP topping the Gaon Album charts and peaking at No. 2 on Billboard's World Album Chart.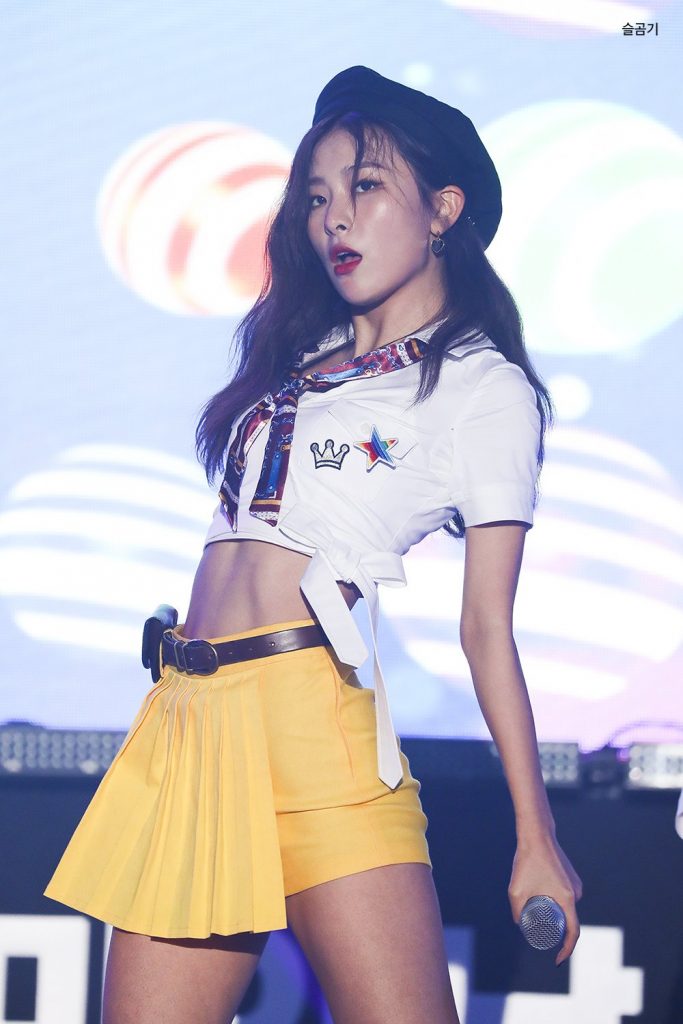 Red Velvet Continuous Success (2016 – 2019)
After the successful release of their first EP, Seulgi and the girls never looked back. On 9 September 2015, they released their first studio album, "The Red," with 10 tracks including the lead track "Dumb Dumb," along with "Red Dress," "Lady's Room," "Campfire," and "Huff n Puff." The album was a huge success, topping the Gaon Album Chart and the Billboard World Albums Chart, with total sales of 80,000 in South Korea and 3,000 in the US. It also peaked at No. 24 on the Billboard Heatseekers Album Chart, and charted at No. 47 on Japan's Oricon Album Chart even if they hadn't promoted there at that time. "Dumb Dumb" became another million-seller, even exceeding the sales record of its predecessor with 1.6 million copies sold.
From then on, all their EPs released including "Russian Roulette (2016)," "Rookie (2017)," "Summer Magic (2018)," and "The ReVe Festival Day 1 and Day 2" series in 2019, topped the Gaon Album Charts.
Except for "Russian Roulette," each sold over 100,000 units in South Korea with the ReVe series having the highest sales of 300,000. Two of these EPs even peaked at No. 1 on Billboard's World Album Chart, including their second studio album, "Perfect Velvet."
Most of the lead tracks released were million-sellers – the most popular were "Russian Roulette," "Red Flavor," "Peek-a-Boo" and "Bad Boy", with over 2.5 million copies sold each. By this time, even the sexy sultry concept was highly appreciated by fans. The last single they released in 2019, "Psycho," became a certified all-kill on Instiz Chart – it topped the major online charts in South Korea, and won a total of nine trophies from music shows for the Top Song of the Week award, even without appearing in these shows as the girls opted not to promote the song.
As A Solo Artist and Product Endorser
In between group activities, Seulgi had several solo activities that kept her busy.
#seulgi: a model can slay anywhere pic.twitter.com/klF0pCFQYe

— ً (@KSEULGIFEED) November 29, 2020
In 2015 she took the role of Dorothy in the musical, "School Oz," and participated in popular variety shows including "King of Masked Singer" for which she competed using the alias "Cinema Heaven" in 2016, and in 2018 SBS' "Law of the Jungle" as part of the surviving crew of a Pirate Ship in Yucatan Peninsula and Lacandon Jungle in Mexico.
She lent her voice as part of soundtrack albums for popular Korean dramas, including the songs "Don't Push Me" from "Uncontrollably Fond" (2016), "You're the Only One I See" from "Hwarang: The Poet Warrior Youth" (2017), and "Always" from "The Crowned Clown" (2019).
Seulgi has collaborated over the years with established K-Pop artists, the most notable being Zion T's "Hello Tutorial;" Kangta's remake of Shinwha's song, "Doll;" Taemin's "Heart Stop;" and Yesung's "Darling U," released from 2016 to 2017. She released the digital R&B song "Wow Thing," with other K-Pop idols including soloist Chungha, Soyeon (G-Idle), and SinB (GFriend). It was released under the group name Station Young by SM Entertainment.
She was part of the unique variety show, "Idol Drama Operation Team," which was first available online in May of 2017, and was later on picked up by KBS World. K-Pop idols were given the chance to be involved in an autobiographical drama series they wrote themselves, entitled "Let's Only Walk The Flower Road." She was joined by six other girls including Jeon Somi (I.O.I), Moonbyul (Mamamoo), Sujeong (Lovelyz), and YooA (Oh My Girl).
Seulgi's star continued to shine even brighter in 2019. In a survey of soldiers doing their mandatory military service, she was chosen as the fourth most popular female K-Pop artist. Her popularity has made her one of the most reliable endorsers of products such as Nike for South Korea's national football team Red Devil Collection in 2018, and later on becoming the face of Converse Korea as the brand's first female ambassador. In 2019 she was chosen as a Coca-Cola ambassador along with actor Park Bo Gum, and the newest face of the beauty brand L'Occitane this 2020.
She has been included in the list of 100 Most Beautiful Faces compiled by TC Candler for the past five years: 71st (2015), 29th (2016), 23rd (2017), 20th (2018), and 27th (2019).
As Part of the Sub-Unit, Red Velvet – Irene & Seulgi
In July 2020 amidst the Covid19 pandemic, the group's sub-unit called Red Velvet – Irene & Seulgi released an EP entitled "Monster," with six songs including "Feel Good," "Diamond," "Naughty," and the title track. It peaked at No. 2 on the Gaon Album Chart and No. 5 on Billboard's World Album Chart. It was such a huge success that it surpassed the sales record made by label mate's Girls Generation's sub-unit Twinkle, for having sold around 80,000 copies on its first day of release, and eventually more than 230,000 units sold as of September 2020. It peaked at No. 1 on iTunes in more than 50 countries, and achieved a Platinum certification from QQ Music, the biggest music platform in China.
Controversy Resulting in Temporary Hiatus
Due to the bullying scandal involving one of the members, Irene, in October 2020, all the activities for Seulgi and the girls were halted, leading to a temporary hiatus. Without naming the culprit of a bullying incident that made her cry during a photoshoot, an established stylist with 15 years' experience in the industry shared in her social media account. By using hashtags #Psycho and #Monster, fans easily deducted that it was Irene of Red Velvet.
The stylist claimed that she has a recording of the incident, and after an investigation, SM Entertainment quickly dealt with the issue by releasing a public apology. Irene fully admitted to her wrongdoing and apologized to the stylist in person. This incident had many K-Pop fans posting on social media to have her removed from the group and in the K-Pop industry.
SM Entertainment and Red Velvet chose to be quiet about it after issuing an apology, but the label is now focused on launching another girl group, and Seulgi's fans are worried about her career.
Personal Life
Seulgi is officially not dating anyone right now. While she's already passed the initial five-year dating ban that most K-Pop artists follow due to its inclusion in their management contracts, it is rare for them to admit they are in a relationship.
She currently resides in a company dormitory along with the other members of her group. She used to share a room with Wendy and Irene, but each of them has an individual room since transferring to a new dorm.
If she were to date someone, she prefers men who are comfortable in their own skin, like to laugh a lot, and still manage to look appealing even while laughing.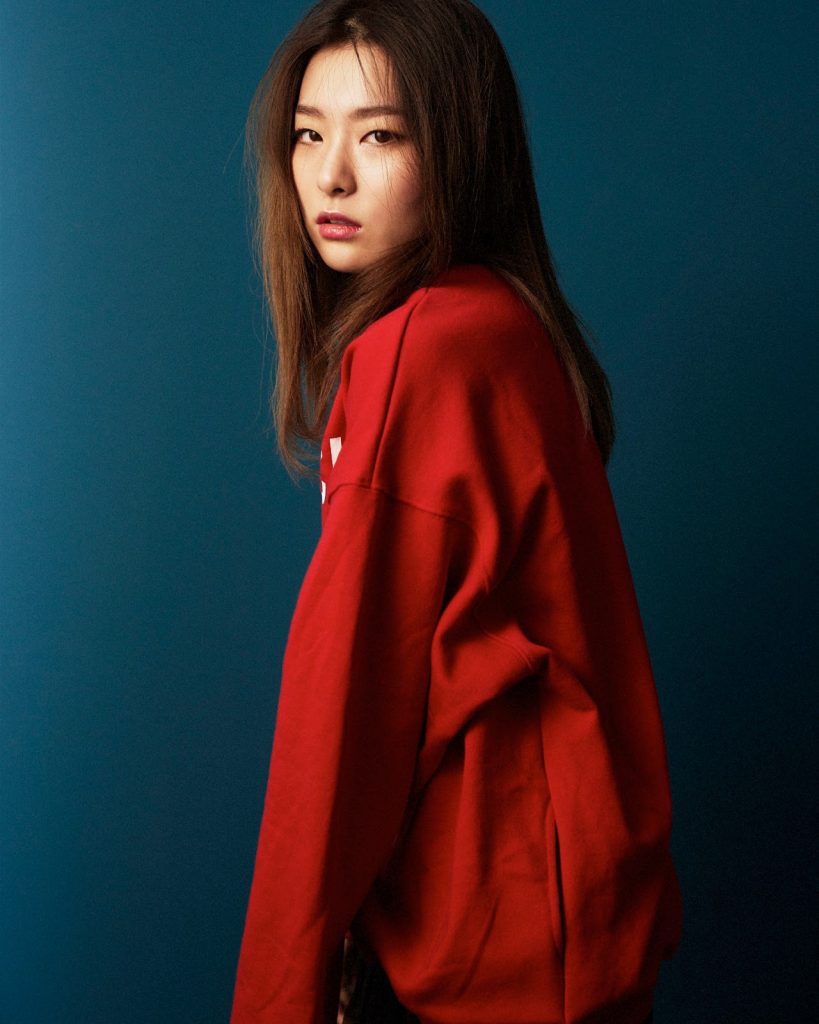 Hobbies, favorites, rumors, and interesting facts
Seulgi regularly writes in her diary.
Her nicknames include "Gomdoli" and "Kkangsel." She almost used Rowoon as her stage name. Label mate Amber of FX calls her "Bear" and fans would fondly refer to her as "Springles" due to her fondness for potato chips, Pringles.
Seulgi's favorites: 20 (number), Beyonce (singer), orange (color), "The Apple of My Eye" (movie).
Among her group, she admitted that she shops the most and would do it often.
Her close celebrity friends are Jisoo of Blackpink and Moonbyul of Mamamoo.
Seulgi favors clothing with chic classic designs and in dark colors. She likes color-coordinating her clothes at home.
During her guest appearances in various variety shows, Seulgi was often asked to mimic the ostrich sound as she does it so well.
She would rent a room in Karaoke Bars as a form of de-stressing. She would just sing her heart out alone for a couple of hours. She also plays the guitar.
Seulgi's other impressive talent is drawing, and she can draw life-like portraits as she did once with Girls Generation's leader, Taeyeon's face.
Her taste in music matches her calm personality as she likes to listen to New Age, Acoustic, and Calming Music.
Appearance
Seulgi is 5ft 5ins (1.64m) tall on paper, but when her height was taken on a variety show, the result was 5ft 3ins, and she weighed in at 100lbs (45kgs). Her shoe size is 230mm. She has black hair and dark brown eyes.
Net Worth
According to authoritative sources, Seulgi has an estimated net worth of $2 million as of November 2020.