Ju Jingyi is a Chinese singer, dancer and actress, who rose to prominence in 2014 when she was launched as a member of the Chinese Pop girl group SNH48. After leaving the group in 2017, she focused on her acting career, and became more popular when she played the title role in the popular Chinese historical drama series, "Legend of Yunxi" in 2018, "The Legend of the White Snake," in 2019, and "In a Class of Her Own," in 2020. Due to these achievements, she was included in the Forbes China Celebrity 100 list under the category of 30 Under 30 Asia 2019.
Just a simple reminder that article is created and owned only by kpopwiki.org. Article cannot be re-published in any other pages or documents. Copyright is protected by DMCA. All found copies will be reported.
Original source: https://kpopwiki.org/ju-jingyi-snh48-age-plastic-surgery-boyfriend-height/
Early Life and Family
Ju Jingyi was born on 18 June 1994, in Suining, Sichuan Province, China. In Chinese culture, Ju is referred to as the family name and Jingyi is the first name. There's not much information available about her early life and family.
200719 pic.twitter.com/S9WuHlf8xy

— ju jingyi pics (@jingyipics) July 19, 2020
Educational Background
She attended The Attached Middle School of Sichuan Conservatory of Music, but soon dropped out to pursue a singing career.
Career
The Chinese version of the popular Japanese girl group AKB48's concept was established in 2012, called SNH48.  A group of 16 girls around the age of 20 were chosen and trained to perform regularly in the group's own theater, which led to their 'tagline' of "Idols You Can Meet." Unlike other Pop idols, the group interacted with their fans through meet and greet events on a regular basis. Through the years, the number of girls blew-out from 16 to 200 members, and they would take turns in performing in the theater. General elections were held through online fan voting, to figure out who would be the center of the group, and which members would  participate in the recording of an album.
Debut as SNH48 member (2013 – 2014)
Jingyi auditioned to be part of the second-generation members of the group, and out of 48,000 applicants in 2013, she passed along with 34 other hopefuls. After her idol training, she was officially accepted as one of the members and made her first public performance on 21 September 2013, and from then on, she performed every week along with the other girls at the SNH48 Dream Stage. She became one of the most popular girls in the group, and was included in the group's first major concert entitled "SNH48 Guangzhou Concert" on 16 November 2013 at Guangzhou International Sports Arena.
During the group's General Elections in 2014, Jingxi ranked No.4, and contributed to their first album entitled "Mae Shika Mukanee" (Only Look Forward).
She was also included in the music video of the song "Football Party." Her fans then labeled her "Once in a 4,000 Years Female Idol," and when it was mistranslated by someone from the Japanese media, it went viral as "Once in a 4,000 Years Beauty." While it boosted her popularity, the incident also attracted harsh criticism; she said that label put so much pressure on her since she looked like an ordinary girl.
Sub-Unit, Solo Single, and Acting Debut (2015-2017)
As a member of SNH48, the trajectory of Jingxi's activities was dictated by the voting result of the group's yearly elections. In July 2015 she ranked No.2 on the SNH48 General Election and became part of the sub-unit called Seine River along with the girls who ranked No.1 and 3. The unit released the EP entitled "Sweet and Bitter" on 31 October with six tracks.
In her group's 2016 elections, Jingyi ranked No.1 with 230,000 votes, which was the highest number of votes in the history of the SNH48 elections. She was then given a solo song, "Everyday," released in October. She also made her acting debut that year, through the Chinese romantic fantasy drama series "Novoland: The Castle in the Sky," which accumulated 1.6 billion views on its almost three-month run. She took home the award for New Actress of the Year from the 2016 Tencent Video Star Awards, for her portrayal of Xiang Congling in the drama series.
In the third voting result of the 'Request Time' elections in January 2017, fans voted for their favorite song performed by their favorite SNH48 member on stage. Jingyi's "Don't Touch" came in first place, performed with two other members, and as part of the reward, she would be given another solo single.
She became busy as she accepted a leading role for the web drama series, "Detective Samoyeds" in February 2017 – it ran for two seasons which resulted in an astounding 10 billion views. After finishing the drama, she released another EP entitled "Yes or No" with four tracks, including the title track. Jingyi again topped SNH48's General Elections with close to 280,000 votes, and became the first member to rank No.1 for two consecutive years.
She didn't have the time to release more singles, as she was part of another fantasy drama series, "Xuan-Yuan Sword: Han Cloud", which aired from August to December 2017.
Departure from SHN48 and a Successful Solo Career (2018 – 2019)
Jingyi announced her departure from SHN48 on 15 December 2017, and continued as a solo artist, establishing her personal studio and launching her own website.
In 2018, her popularity soared even more as she played the titular role in the successful historical drama series "Legend of Yunxi," along with Zhang Zhehan and Merxat. For its entire run from June to August, it accumulated 2.3 billion views online, so the production team even added two more episodes to show their appreciation to its fans. Jingyi won the Best Actress award from the China-Canada Television Festival Award for her performance in the drama series, and the official theme songs in the series such as "The Fallen Flowers Turn Into Mud" and "Sigh of Yunxi," which she sang, became popular as well.
Jingyi also made another drama series, "Mr. Swimmer" with Mike Angelo, was aired from September to October on Mango TV. She sang the official soundtrack "Please Answer If You Heard" and "Missing You."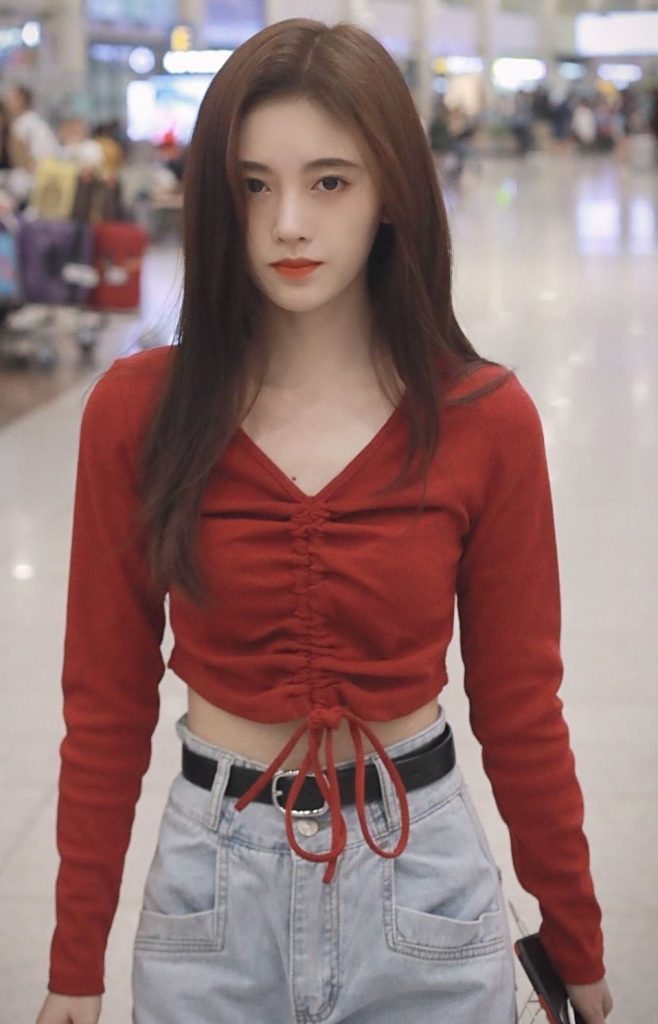 Instead of doing another drama, she opted to become a resident judge in a reality-TV survival series, "The Chinese Youth." This time, instead of promoting Chinese pop music, the show featured traditional music and dance, with amazing, colorful costumes which gained a lot of positive feedback.
Before 2018 ended, SNH48 agency finally released her solo single entitled "Don't Touch." It was supposed to be released back in 2017 when she was still with SNH48, but she couldn't find the time due to her busy schedule.
Jingyi's success continued in 2019, as she played the title role in the drama adaptation of the popular Chinese folktale, "Legend of the White Snake." She played the Snake which takes on human form, Bai Su Zhen, and competed with the male lead, Xu Xuan, played by Alan Yu. She also sang the official theme songs of the movie – "Du Qing" (Passion) and Qian Nian Deng Yi Hui" (A Millenium's Wait For A Return).  It was aired from April to May with 36 episodes.
In July 2019, Jingyi was part of the 60-episode period drama series, "Please Give Me A Pair of Wings," with Aaron Yan, Zhang Yuxi, Yalkun Merxat, and Han Dong. It was her first involvement in a suspense-action series, in which she played the daughter of a framed Police Commissioner who sought justice and revenge. The drama series was nominated for Best Web Series, and she was nominated for Best Actress from the Golden Bud- The 4th Network Film and Television Festival.
On 8 November 2019, she went back to her first love and released the single album entitled "Love In An Emergency", consisting of two songs, namely "Rainbow" and "In Love." She also released the song "Writing Poems in Loneliness."
Further Success with her Acting Career (2020 – present)
During the pandemic caused by the Covid-19 virus outbreak her activities were limited, but she took part in a skit, "Like You Like Me" on CCTV New Year's Gala in 2020. The variety show was recognized by the Guinness World of Records for having the most number of viewers in the world, over a billion back in 2018.
Some of the people who performed in the show would end up as household names in China.
Jingyi next took part in the drama series, "In a Class of Her Own," a Chinese adaptation of the popular Korean historical drama series, "Sungkyunkwan Scandal." She played the female lead, who was disguised as a male student and took her sick brother's identity to help her mother provide for the family. It also starred Song Wei Long, Bi Wen Jun, and Wang Ri Chang. The 36-episode premiered on iQiyi, an online Chinese video streaming site, with multiple-subtitles available for the global audience.
Jingyi proved to be suited to historical drama series, as she continued to be a favorite female lead in this drama genre by producers and directors. In the 40-episode series "The Blooms at Ruyi Pavillon," she played the female lead character, Fu Rong, who was given the skill of being able to look into her future.
She avoided her love interest, Xu Jin, played by Zhang Zhe Han as she thought that the tragic destiny she saw in her future involved him. It was a reunion project for these two actors, as they were paired in their blockbuster hit, "Legend of Yunxi." It originally ran from October to December on iQiyi online streaming site, then due to the popularity of the drama series, a four-episode spin-off special entitled "The Blooms at Ruyi Pavilion: Spin-off" was released, to show the producer's appreciation to the fans and give the loyal viewers another peek at the lives of the two characters after 1,000 years had passed. The spin-off was released a week after the final episode of the original drama series.
Ju again found herself on the 2020 list of the Forbes China Celebrity 100. This was not her first inclusion in the Forbes exclusive list, as she was first ranked at No.94 in 2019, and was included under the category of 30 most influential people under 30 years of age in Asia.
More drama series (2021)
Two of her drama series were scheduled to be released in 2021 including the 24-episode fantasy-romance entitled "Love Under the Full Moon" with Zheng Ye Cheng and Yalkun Merxat ,as well as the 48-episode historical series entitled "Rebirth For You" with Joseph Zeng and Marius Wang.
Jingyi accepted a supporting role in the fantasy-romance movie entitled "Catman", with Oh Sehun from the South Korean boyband Exo, Janice Wu, and Roy Liu. The premiere date hasn't been announced yet, but it's expected to be released in 2021.
Personal Life
Ju Jingyi is currently single, as there isn't any news that she is dating anyone. Dating rumors would spike up on social media each time any of her drama series became popular, and fans would love to ship her to her love interest in the series. No one takes it seriously, as the rumors will die down weeks after the drama series finishes airing.
200719 pic.twitter.com/QiLjCaFoDk

— ju jingyi pics (@jingyipics) July 20, 2020
Hobbies, favorites, rumors, and interesting facts
She earned two nicknames when she entered show business, Kiku and Xaioju.
Jingyi plays the violin and the piano.
She was also trained in dancing – but her favorite is ballet.
She isn't a picky eater, but loves eating spicy foods including her favorite hot-pot. She also chews her food longer than most people, as her mom trained her that way to avoid digestive problems.
Jingyi would read, watch TV, dance, or sleep during her free time.
She can converse in three languages -Korean, English and Chinese.
Jingyi likes to hang out at Starbucks Coffee Shops, as she likes the coffee there as well as the pastries.
She loves cats more than dogs.
Jingyi likes watching historical dramas.
Her celebrity friends are Li Yi Tong and Lin Si Yi, who were both from the girl group, SNH48.
She was trained in Taekwondo.
Appearance
Jingyi is 5ft 3ins (1.60m) tall and weighs about 85lbs (38kgs) with a slim build. Her shoe size is 6. She has black hair and dark brown eyes. Fans speculated about plastic surgery in 2019, when the drama poster was released. It seemed that her nose bridge was translucent and some fans claimed that those who had nose corrections always have translucent nose bridge when they're under the sun or light. Some netizens would argue that parts of the thinner skin will naturally appear transparent under a flashlight, and it can't be used as evidence of plastic surgery. Fans continue to argue comparing her younger photos to the current photos, pointing to the (supposed) differences but nobody can say with certainty that her face went under the knife.
Net Worth
According to authoritative sources, Jingyi has an estimated net worth of close to $1 million, as of February 2021.