JiU is a South Korean singer and dancer, who became known when she was chosen as the leader of the K-Pop girl group, Dreamcatcher (previously known as MINX), managed by Happy Face Entertainment in South Korea.
Just a simple reminder that article is created and owned only by kpopwiki.org. Article cannot be re-published in any other pages or documents. Copyright is protected by DMCA. All found copies will be reported.
Original source: https://kpopwiki.org/jiu-dreamcatcher-age-height-family-parents-net-worth/
Early life and family
JiU was born Kim Min Ji on 17 May 1994, in Daejeon, South Korea.  Little is known about her early life and family except that she has a younger brother.
Education background
There is no specific information about JiU's educational background, except that she studied in a local high school in Daejeon.
Career
First Steps – Debuted with MINX
JiU debuted six years ago as the leader of the K-Pop girl group, MINX, along with four other girls, namely Siyeon, Yoohyeon, SuA, and Dami, under Happy Face Entertainment. They released their first single, "Why Did You Come To My Home," an electro-pop sound, on 18 September 2014. Unfortunately, it was a weak debut and the song didn't even make the charts. Their record label tried boosting the excitement for the group by having them collaborate with a more established girl group, such as their label mate Dal Shabet, with a Christmas song, "Rockin'Around the Christmas Tree." In 2015, the girls tried again and released an extended play, "Love Shake," but it seemed that they couldn't find their place in the K-Pop music scene at that time, so they went on a long hiatus and then disbanded.
Rebranded and Debuted as Dreamcatcher
After not hearing anything about JiU for quite a while, Happy Face Entertainment announced in November of 2016 that they'd reorganized Minx. She along with the former members of Minx debuted on 13 January 2017, along with two additional girls, Handong and Gahyeon, under the new name of Dreamcatcher, with a single album entitled "Nightmare."
During the debut performance of the title track, "Chase Me" on Mnet's "M Countdown," fans saw a huge change in the group's concept, as the song falls under the heavy rock and nu-metal music genre. They buried the quirky, cutesy pop image with their old name and introduced a darker, badass group along with a new name to the public.
The official MV on YouTube has garnered almost 12 million views and counting, and while the EP didn't make it to the Top 10, it charted and peaked at No. 20 on the South Korean Gaon Album Chart, which was way more successful than their previous releases under the name Minx.
They released their second single album, "Nightmare – Fall Asleep in the Mirror" with its lead track "Good Night," on 5 April 2017.  The group continued with the rock gothic image, as they became more successful with it – even the haunting storyline and imagery of the MV was a continuation of the previous music video they released.
First Extended Play with Billboard and iTunes Entry Chart
Confident that they are on the right path, JiU and the girls released the group's first EP entitled "Prequel" on 27 July 2017, with six tracks including "Wake Up," "Sleep-walking," and the lead track, "Fly High."
The songs have elements of rock, EDM and metal, which made them different from most K-Pop girl group's saccharine music. It was a successful release, as the EP debuted at No. 5 on Billboard's World Album Chart, and hit the No.1 position on the US iTunes K-Pop Top 100 Chart.
MixNine Reality TV Series
In October, Happy Face Entertainment allowed the group to participate in the "MixNine" reality TV survival series produced by YG Entertainment, home to Bigbang and Blackpink. Talents from several entertainment agencies all over South Korea will compete for a spot in the final nine girls to promote as a temporary girl group. Dreamcatcher wanted the exposure the show would give to the girls, however, after two months, JiU and the girls left the show due to a conflict of schedule with the group's Brazil concert tour.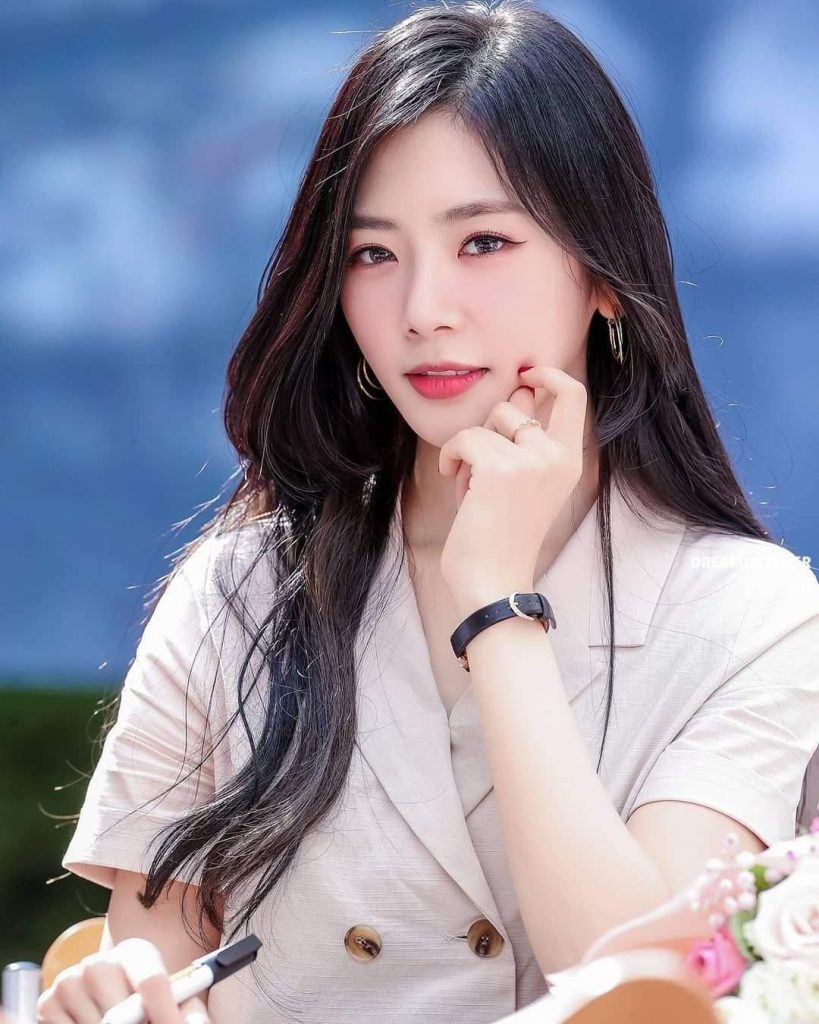 They performed in four cities in Brazil before the year ended.
Dreamcatcher also received praise as the song "Catch Me" was included on the list of Critics' Picks for Best K-Pop Songs released by Billboard. As artists, they were listed at No.3 on the Best 10 New K-Pop Acts to watch out for the year.
Further Success
To celebrate their first anniversary in the entertainment industry, the group released a special digital single entitled "Full Moon" in March of 2018, a continuation of the narrative of the story that they had for the Nightmare concept trilogy of their previous releases. The song peaked at No.16 on Billboard's World Digital Song Sales Chart, and was high on iTunes 100 K-Pop Charts worldwide upon release.
Dreamcatcher is one of the K-Pop groups that are more successful internationally than in South Korea.
They benefitted from the Korean Entertainment global explosion, and developed a loyal international fan base early in their career. In February, they embarked on their first concert tour entitled "Fly High" performing in major cities including London, Paris, Madrid and Berlin.
Release of the Second EP – Yinyuetai, Billboard, and Gaon Charts
JiU and the girls continued to enjoy success when they released their second EP entitled "Escape the Era" in May of 2018. It consists of six tracks including "Mayday," "Scar," and the lead track, "You and I", and debuted at No.7 on Billboard's World Album Chart, peaked at No.3 on Gaon Album Chart, and topped China's Yinyuetai Music Chart.
KCON LA 2018
Aside from their international concerts, the girls were chosen to perform in the annual Korean Conference in Los Angeles, dubbed as "KCONLA 2018", for two nights in August.
It was their first time joining the more established K-Pop artists in an international show, however, they already had an international fan base, and were able to meet many during a fan event before the concert.
Latin America Concert Tour
The group's rock sound has attracted many K-Pop fans in South America, and they completed a series of shows billed as "Welcome to the Dreamworld in Latin America" for the whole month of August 2018. The girls performed in key cities such as Buenos Aires, Santiago, Bogota and Panama City. In Panama, the South Korean ambassador and his Panamanian counterpart were seen watching the concert.
Successful Japanese Debut
After the third EP, "Alone in the City" was released, JiU and her group signed up with Pony Canyon, a Japanese entertainment company.
They released their first full-length Japanese album entitled "The Beginning of the End" on 11 September 2019, with all-Japanese versions of their major hits from the Korean EPs they'd previously released, including "Chase Me," "What," "You and I," and the lead track, "Breaking Out." It entered the Japanese Oricon Album Chart and peaked at No.7.  The Japanese fans were treated with three versions of the album with a mini photo book, and following its success, Dreamcatcher performed in a series of concerts in Tokyo and Kobe.
1st Asian Tour, 2nd European Tour, and 1st U.S. Tour 2019
Happy Face Entertainment established a sub-label, Dreamcatcher Company, to solely manage Dreamcatcher's activities, and it coincided with the release of their 4th EP, aptly named "End of Nightmare," on 13 February 2019, as they finally ended the Nightmare concept they started in their very first single.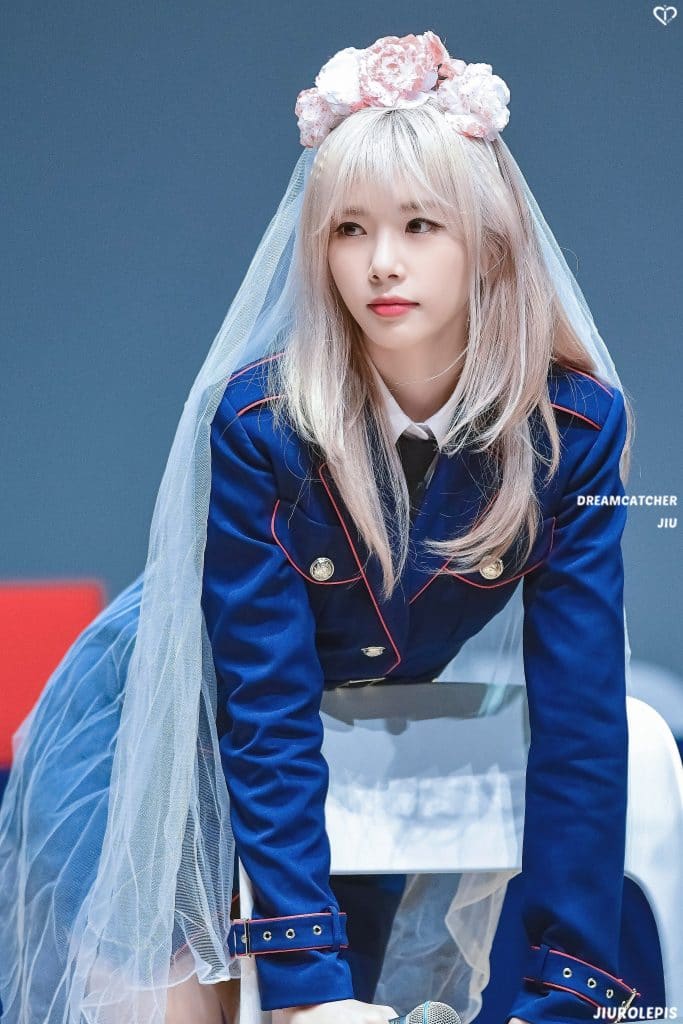 The lead track, "PIRI," is another rock acoustic song that is heavily influenced by the sound of the traditional Korean instrument called Piri. The MV has amassed over 15 million views as of this writing, and the EP peaked at No.3 on Gaon Album Chart, and No.6 on Billboard's World Album Chart.
After wrapping up the promotions for their fourth EP, JiU and the girls started their world tour. The first stop was the Asian Tour billed as "Invitation from Nightmare City" from March up to May of 2019, with performances in Seoul, Manila, Singapore, and with a fan meeting in Jakarta. From August to September, they held a series of concerts in Australian cities including Melbourne and Sydney, then the group made a brief stop in Kuala Lumpur, Malaysia for a one night concert.
Before they embarked on another European Tour, they released their fifth EP entitled "Raid of Dream" on 18 September 2019.
It ranked 3rd in the local charts, and 10th on Billboard's World Album Chart. After the promotions, Jiu led the group in performing in several cities in Europe from October to November 2019, revisiting many cities such as Paris, London and Berlin, and also made stops in Helsinki and Amsterdam.
JiU said in one interview that they were on such a high, that experience made all the frustrations she felt during her Minx days fade away. Their group was on a roll that year as they also completed their first tour of the US – they had a blast performing in major cities including Los Angeles, Orlando, Chicago, and Newark in December. The only downside to the whole journey she said was that Handong missed the tour as she was filming a show overseas.
2020 Activities
Jiu and her group started the year with the release of their first Korean full-length studio album entitled "Dystopia: The Tree of Language", on 18 February 2020.
It consists of 14 tracks with eight original songs including "Tension," "Black or White," "Red Sun," and the lead track, "Scream," which was heavily influenced by EDM sound. The album has two previously released digital singles, "Full Moon" and "Over the Sky." Around 60,000 copies were sold, and it peaked at No.3 on the Gaon Album Chart. They promoted the album in popular music shows in South Korea but without Handong as she was still in China participating in the reality survival series, "Youth with You," previously known as "Idol Producer."
Dreamcatcher was chosen to feature in a song along with the K-Pop boyband IN2IT, and solo artist Alexa, entitled "Be the Future" on 6 May 2020. This was produced for the United Nations Educational, Scientific, and Cultural Organization's (UNESCO) Global Education Coalition project in disseminating awareness for the importance of proper hygiene practices to fight the Covid19 virus.
#JIU: PRETTY SAVAGE pic.twitter.com/7btbbL8Gws

— ً (@fromisiaki) October 4, 2020
With travel restrictions and following social distancing practice, online concerts became the new norm for artists. The girls with the help of event organizer, MyMusicTaste, held their first online concert billed as "Global Streaming into the Night & Dystopia" last 4 July 2020.  They also released their fifth EP, "Dystopia: Lose Myself," on 17 August with the lead track "BOCA." The official MV was released on the 18th, and already had about six million views in a day. It now has 21 million views, making it the most viewed music video of Dreamcatcher. Their fifth EP also sold almost 90,000 units, and charted at No.3 on the Gaon Album Chart.
Personal life
JiU is currently single, but it would be unlikely to hear news about her dating as most K-Pop artists are forbidden by their contracts to date anyone for about three to five years after debut. She lives with the other Dreamcatcher girls in a shared apartment provided by their talent agency.
Hobbies, favorites, interesting facts, and rumors
She loves to eat, but would work out a lot afterwards to burn the calories that she consumed.
Lily is her chosen English name; the Pink Princess is the nickname she bestowed upon herself as her favorite color is Pink.
She has been known to be the most positive person in her group and would offer a bright smile even during hard times.
JiU was the last person in her group to succumb to dyeing her hair, and when she did for the Fly High promotions, she loved her red hair back then.
To relieve stress and shake off negativity, she would do aerobics.
She was known to have a carefree spirit, and would go around naked in her shared apartment.
From one of her interviews, she said she had a hard time telling people that she wanted to be a singer back in high school. Back then, she always felt embarrassed when she told people that she knew how to sing and dance.
Her other dream career was to become a police officer, and if that didn't push through, she would be an owner of a Macron store.
Appearance
JiU is 5ft 6ins (1.67m) tall, weighs 115lbs (49kgs), and is of slim petite build. Her natural hair color is black and her eyes are dark brown. During her promotional activities with Dreamcatcher, expect to see her sporting a different hair color, including red, purple, pink, brown, and blonde.
Net worth
According to sources, JiU has an estimated net worth of about $200,000 as of September 2020.