Jungkook is a South Korean singer-songwriter, dancer, and director, who rose to prominence when in 2013 he became a member of the Korean popular (K-Pop) boyband BTS, short for Bangtan Boys or Bulletproof Boy Scouts. After five years in the business, his group is regarded as the best-selling K-Pop artist in history, with more than 10 million albums sold. They became the fastest boyband since The Beatles to achieve five No.1 albums in the US. BTS topped three Billboard charts at the same time in 2020 – Billboard 200, Artist 100, and Hot 100. Due to their Love Myself Anti-Violence Campaign, a joint project with UNICEF, they were the youngest awardees of the Order of Cultural Merit given by the President of South Korea in 2018. Jungkook was declared to have the Most Handsome Face in 2019 by TC Candler.
Just a simple reminder that article is created and owned only by kpopwiki.org. Article cannot be re-published in any other pages or documents. Copyright is protected by DMCA. All found copies will be reported.
Original source: https://kpopwiki.org/jeon-jungkook-bts-age-tattoo-hair-height-girlfriend-wiki/
Early Life and Family
Jeon Jungkook was born on 1 September 1997, in Busan, South Korea, where his parents raised him and his older brother in a middle-class household. Growing up, dreamt of becoming a professional gamer after his parents bought him a computer in fourth grade, so that he could earn money to give to his parents. For him, it was like killing two birds with one stone, earning from doing something he loves. He also dreamed of becoming a professional badminton player, as he was told that he was good at the sport. He was inspired by Olympic gold medalist Lee Yongdae, and he wanted to wink cheekily at the camera, just like the Olympian. His other ultimate dream was to become a singer. During his seventh grade, he searched out club activities and chanced upon b-boying, which he found so cool.
He became interested in dancing, and when he browsed videos online, he discovered Bigbang, one of the biggest boybands in South Korea, finding them amazing, and wondered if he could be that as well.
Educational Background
Jungkook went to Baekyang Elementary School and Middle School in Busan. When he was accepted as a trainee of Big Hit Entertainment, he transferred to Singu Middle School in Seoul, eventually graduating from Seoul School of Performing Arts (SOPA) in 2017; he's currently enrolled in Global Cyber University. Being the youngest in the group, the other members accompanied him during the orientation, as well as graduation ceremonies at SOPA.
Career
In 2011, he participated in the third season of Mnet's reality television talent show, "Superstar K," but failed the audition – his audition clip was completely edited out from the show, but seven entertainment agencies still saw it, and offered him a chance to be included in their training program.
He decided to go with Big Hit Entertainment, which was relatively new and small at that time as compared to other agencies. When asked why he rejected the other offers, Jungkook said his decision was because he found RM quite cool, who at that time was already a senior trainee at Big Hit. He started his K-Pop training at 14 years old, which included vocal, dance, rap, acting, and hosting, along with foreign language classes.
First Steps – Debut Year (2013)
Jungkook finally debuted with six other trainees, namely Jin, Suga, V, J-Hope, Jimin, and RM on 12 June 2013, as the boyband BTS, which means Bangtan Boys or Bulletproof Boys; their debut single album was "2 Cool 4 Skool," with the lead track "No More Dream." The boys performed the song on popular music shows, but it didn't enter the Top 100 on the South Korean Gaon Album Chart, and only peaked at No.124 with 24,000 units sold. A follow-up single was released entitled "We Are Bulletproof Pt.2", but sales were even worse than its predecessor, and it didn't enter the charts at all.
In September, Jungkook and the boys released their first extended play (EP) entitled "O!RUL8,2?", which charted at No.92 with around 34,000 units sold. They promoted it on major music shows, but it soon dropped out of the charts. The boys knew they needed to boost their popularitym and Big Hit produced the reality TV show, "Rookie King: Channel Bangtan" for them, which was aired over on SBS MTV cable channel.
BTS' debut year might not have been successful and some even considered it weak, but some music insiders saw the great potential of the group. They took home the New Male Artist of the Year awards from Seoul Music, Melon Music and Golden Disc Awards.
Commercial Success, Daesang Awards (2014-17)
Jungkook and his group released their second EP, "Skool Luv Affair" in February 2014, with the lead track "Boy in Luv." This time around, 86,000 units were sold, and in the year-end sales tally of Gaon Album Chart, it ranked at No.20. It was also the first time they entered the Billboard World Albums Chart, at No.3.
Brightest star ✨#JUNGKOOK #정국 @BTS_twt pic.twitter.com/AtdH6NqNii

— jungkook pics ✨ (@kookpiics) February 21, 2021
Things even got better for Jungkook's group when they released their first full-length studio album, "Dark & Wild" in August 2014. It charted at No.2 on Gaon Album Chart with close to 110,000 units sold at that time. The lead track, "Danger" charted at No.7 on Billboard's World Digital Song Sales Chart, while the album peaked at No.3 on World Albums Chart.
In March 2015, BTS albums released "The Most Beautiful Moment in Life, Part 1" and "The Most Beautiful Moment in Life, Part 2" in November – each went past the 200,000 units sold mark. These commercially successful releases led Big Hit to release the group's first compilation album, "The Most Beautiful Moment in Life: Young Forever," on 2 May 2016. It topped the Gaon Album Chart, with over 370,000 units sold, and the lead track, "Fire" topped the Billboard World Digital Song Sales Chart, and peaked at No.7 on the Gaon Singles Chart.
It was downloaded almost 740,000 times in 2016 in South Korea, and had a certified all-kill status from Instiz Chart, which comprised of major online music charts. Subsequently Jungkook and the boys got their first Daesang (Korea's Grand Award) for Album of the Year from the Melon Music Awards.
Jungkook has performed in many countries, as his group embarked on concert tours including the "Red Bullet Tour" (2014-15), "Wake Up: Open Your Eyes Japan Tour" (2015), and "The Most Beautiful Moment in Life on Stage Tour" (2015-16), with a total of 300,000 attendees, which were mostly members of ARMY, the group's official fandom name, from Asia, Australia, North and South America.
Jungkook wasn't shy of taking challenges, as he participated in the talent competition show "King of Masked Singer" in August 2016. He sang Bigbang's hit song, "If You," but was eliminated in the second round.
In the last quarter of 2016, the group's second studio album, "Wings" was released, and broke the record for the highest-charting album on Billboard 200 in K-Pop history, peaking at No.26. In South Korea, it was the best-selling album of 2016, with more than 750,000 units sold, and when it was repackaged in 2017 with a new name, "You'll Never Walk Alone," it totaled 1.8 million copies sold. The lead single, "Blood, Sweat & Tears" dominated the charts as well.
US TV Debut, Billboard Chart Entries (2017-18)
The release of BTS' fifth EP, "Love Yourself: Her" in September 2017 changed the life of Jungkook and his co-members. They all experienced many historic feats, including a US TV debut at the 2017 American Music Awards with a performance of the lead track, "DNA." The single entered Billboard Hot 100 chart at No.85, making them the first K-Pop boyband to do so, and it later peaked at No. 67, surpassing the record of the K-Pop girl group, Wonder Girls.
The second single, "Mic Drop," the remixed version by Steve Aoki, peaked at No.28 on the same chart. The Recording Industry Association of America (RIAA) rewarded the boys with a Gold certification for "DNA", and Platinum certification for "Mic Drop."
The album entered the US Billboard 200 at No.7, making them the first all-Korean act and the second Asian artist to enter the chart's top ten, after Charice, a Filipino artist, charted at No.8 in 2010. It also debuted at No.14 on the UK charts, and they received over a million pre-orders for the album. Most importantly, it sold more than 1.2 million copies in 2017 in South Korea, which had not been done since 2001.
Two more EPs were released in 2018, "Love Yourself: Tear," and "Love Yourself: Answer" – the former was certified Gold and the latter Platinum by RIAA. Both became million-selling albums certified by the Korea Music Content Association (KMCA) for over two million units sold in South Korea.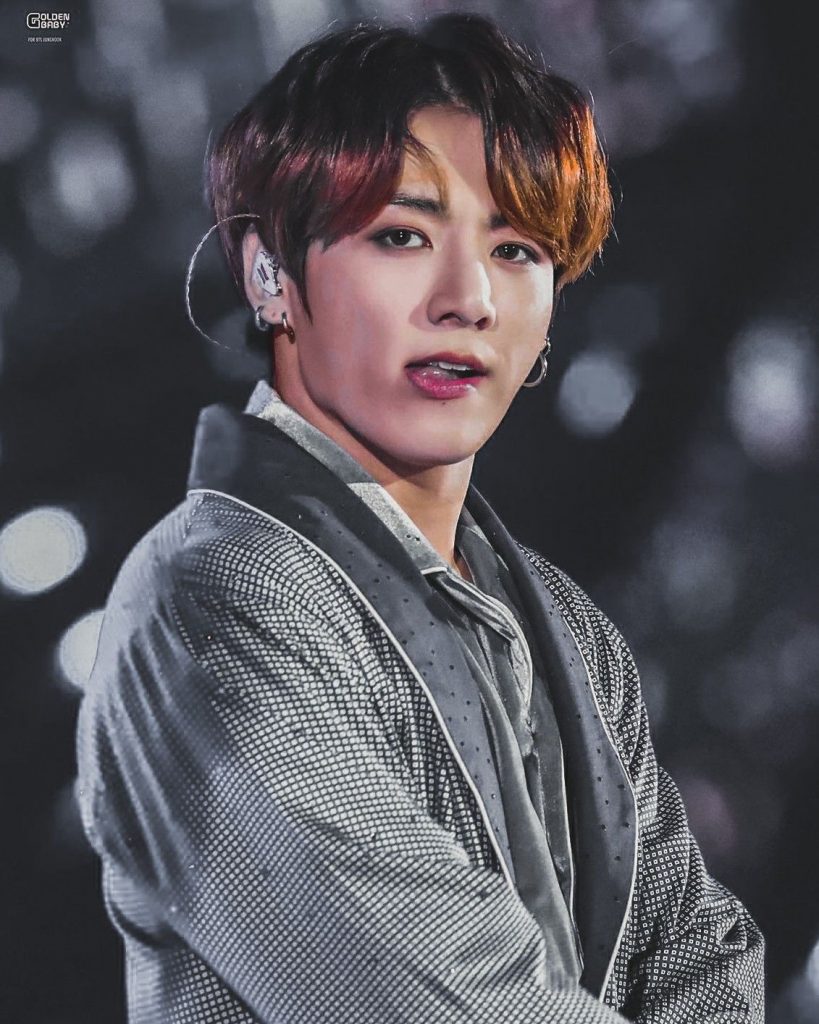 Jungkook collaborated with the American singer-songwriter Charlie Puth, as they performed the latter's hit song, "We Don't Talk Anymore" in MBC Plus X Genie Music Awards in November 2018.
World Tour, Million-Selling and Chart-Topping Albums (2019-2020)
Jungkook once again traveled in Asia, Europe, North and South America, as his group embarked on the "Love Yourself World Tour" from August 2018 to October 2019. They performed 62 shows, with more than two million attendees.
He was also declared as the Most Handsome Face of 2019, topping the annual list of TC Candlers' 100 nominated celebrities in the world.
Three albums were released in 2020, and they were all commercially successful – all became million-selling albums in South Korea, and they kept on breaking their own records. Most notable was their fourth studio album, "Map of the Soul: 7" released in February, which swept the Album of the Year awards in South Korea.
It topped the music charts in 25 countries, including the Billboard 200, Independent Albums and World Albums in the US. As of February 2021, it's the best-selling album of the group with more than four million units sold in South Korea, Platinum certification in the US and Japan, Gold Certification from New Zealand, and Silver Certification in the UK.
On 21 August 2020, Jungkook and the boys released their first English single, "Dynamite." It debuted at No.1 on Billboard Hot 100 chart, making them the first all-Korean act to do so, and even surpassed Taylor Swift's hold on the biggest pure sales record in a week, with 265,000 downloads. It had over 7.7 million streams on Spotify, which made them the record-holder of the biggest debut day in 2020. In South Korea, it peaked at No.1 on the Gaon Digital Chart and stayed on top for seven consecutive weeks.
Due to the travel restrictions and social distancing regulations brought about by the Covid19 pandemic, they performed it virtually for the 2020 Billboard Music Awards and 2020 American Music Awards. BTS also received a Grammy Awards nomination for Best Pop Duo/Group Performance for the song.
It was a pre-released song for their fifth studio album, "Be," which was released in November 2020. The lead single, "Life Goes On" topped the Billboard Hot 100 and the album made its way to the top after debuting in third place. No other artists had reached No.1 on both Billboard charts simultaneously since Taylor Swift. The music video for the lead track was directed by Jungkook, which he said would be the first of many projects he has in store for the fans.
Personal Life
Jungkook is officially single as there is no news that he is currently dating anyone. Dating rumors about him would be talked about on social media as th,e fans would love to ship him with their favorite K-Pop artists.
Jungkook is so beautiful ✨☁️#JUNGKOOK #정국 @BTS_twt pic.twitter.com/sWEpjDYuca

— jungkook pics ✨ (@kookpiics) February 20, 2021
The South Korean fans are notoriously possessive of their idols, and because of that, most K-Pop artists would never date openly.
Jungkook would occasionally go out, but only with his friends. His name was dragged into the headlines in May 2020 due to his partying with his celebrity friends in a bar, breaking Covid19 strict protocols regarding social distancing. However, his agency responded by saying that he was deeply regretful for not being careful, but they stressed that they only went to the restaurant to eat and not into the club as was reported in the media.
Hobbies, favorites, rumors, and interesting facts
He can draw but not as well as his father and brother.
Jungkook's favorites: black (color), pizza and bread (food), soccer (sport)
Hobbies: video editing and photography
His role model is G-Dragon of Bigbang whose song, "Heartbreaker," inspired him to be a singer.
He's earned numerous nicknames, but the notable ones were Jungkookie, Kookie, Nochu, and Golden Maknae.
In the future, he wants to be a restaurateur and a tattooist.
Appearance
Jungkook is 5ft 10ins (1.78m) tall and weighs 145lbs (66kg) with a lean body. His shoe size is 10 (270mm). He has black hair and dark brown eyes. As of January 2021, he has around 20 known tattoos all over his body, but fans are conflicted on how many of them are permanent and how many are just temporarily inked. His most notable ones were:
ARMY and J on his hand with the A marked as an inverted V. They are the initials of the BTS members.
Purple Heart and the numbers 0613, which was his debut date.
Shield (ARMY's logo) and Tiger Lily (birth flower)
"Rather Be Dead Than Cool" – a quote from the Nirvana song, "Stay Away."
Skeleton's hand on his right arm, the word "Truth" on his inner biceps.
Three black bold stripes on his right arm, which represents the Korean flag.
Net Worth
According to authoritative sources, Jungkook has an impressive estimated net worth of $8 million as of February 2021.