Cai Xukun, known as Kun, is a Chinese rapper, singer-songwriter and actor, who was first noticed when he became a member of the Chinese group SWIN in 2016. Two years after he left the group, his popularity skyrocketed when he won first place in the reality television survival series "Idol Producer," and debuted as the leader of the temporary Chinese Pop boyband, Nine Percent. His group disbanded after 18 months, and he went on to become a successful solo artist.  He was included in the 2020 list of the Forbes China Celebrity at No.31.
Just a simple reminder that article is created and owned only by kpopwiki.org. Article cannot be re-published in any other pages or documents. Copyright is protected by DMCA. All found copies will be reported.
Original source: https://kpopwiki.org/cai-xukuns-biography-net-worth-lawsuit-plastic-surgery/
Early Life and Family
Cai Xukun was born on 2 August 1998, in Wenzhou, Zhejiang Province, China. His father's family was from Huaihua, Hunan, and he would spend some of his childhood there with his paternal grandparents. He mostly grew up in Shenzhen, a Chinese global first-tier city in Guangdong, which has the fifth-highest number of billionaires in the world.
His potential in singing and dancing was already evident even as a young elementary student, and he was supposed to undergo training to be part of the C-Pop group called TFBoys or The Fighting Boys. However, at that time his parents thought he was too young for it, and wanted him to focus on his studies first, which he did. After finishing middle school, he was sent to the US to continue his education in California, but eventually, his love for performing brought him back home.
Educational Background
Kun attended a local elementary and middle school in China. He went to Grace Brethren High School in California, but didn't graduate, leaving to pursue a singing career.
Career
During his teenage years from 2012 to 2014, Kun dabbled in acting, and was seen portraying minor roles in Chinese TV dramas, including "Half A Fairytale" and "Police Woman Li Chunhun."
He was also in the Chinese movie, "Lock Me Up, Tie Him Down," playing the role of the younger version of the male lead, Huo Ke.
First Steps – "Super Idol" and SWIN debut (2015-2017)
After passing a global audition in 2015 for the reality TV survival show "Super Idol," a joint project of South Korean and Chinese producers, he left the US and flew to Seoul to participate in the show as one of the trainees. He underwent rigid training for two years, and eventually made it to the Top 3 in the show. As part of the reward, Kun went back to China to debut as one of the members of the Chinese boy group, SWIN, which was later divided into two sub-units. Kun belonged to SWIN-S with six members promoting as an idol group, while the other unit, SWIN-E focused on acting and variety shows; the group was being managed by Yihai Entertainment Company, which is now known as Pelias Entertainment. Due to alleged mismanagement of the group, Kun left the company in early 2017, and asked for a termination of the contract, which resulted in a lawsuit.
Finished Top 1 in "Idol Producer" and Debuted with Nine Percent (2018)
After a year of temporary hiatus, Kun decided to participate in another reality TV survival series, "Idol Producer." Just like the South Korean counterpart, the Chinese show would choose the Top 9 trainees out of the 100 hopefuls via an online voting system. It was presented by Chinese singers who were members of successful K-Pop groups, including EXO's Lay, Got7's Jackson, IOI's Zhou Jieqiong, and Cosmic Girls' Cheng Xiao.
Eventually, after 10 episodes of group and individual competitions, Kun emerged the winner with close to 48 million votes, quite an overwhelming result, given that the last time a Chinese TV talent show had online voting, the winner achieved only had about six million votes. Kun was so relieved that he made the right decision to join another survival series. Chinese music insiders were shocked at the popularity of the boys and the show. The  boys trended in various Chinese social media apps each time an episode was aired.
Along with Linong, Chengcheng, Ziyi, Gui, Zhangjing, Justin, Yanjun, and Zhengtin, Kun officially debuted on 6 April 2018 during the finale of "Idol Producer", introduced as the C-Pop boyband, Nine Percent – as stated in their contracts, they promoted as a group for 18 months. As part of the reward, Kun and his group were sent to the US and underwent more training with Emmy-nominated choreographer Christopher Scott, along with |music producer Rodney Jerkins, who is also known as Darkchild, for about two weeks in Los Angeles. It was documented and shown via another reality TV series called "Nine Percent: Flower Road Journey", the three-part documentary being aired in June 2018 on iQiyi.
On 20 November 2018, Kun and the boys released their debut album, "To The Nines." It consisted of seven tracks including "Extraordinary 9%," "Let's Dance Together," "I Need A Doctor," and the lead track, "Rule Breaker," which he helped pen the lyrics.
It was an album created to thank their millions of fans whom they called Nines, hence the album title. They made official music videos for three of the songs from the album.
A grand showcase was held at M Space music hall in Beijing, which was live-streamed by major Chinese entertainment agencies such as Tencent Music Entertainment Group, QQ Music, Kuwo, and Kuguo. A whopping 15 million clicks were made during the live stream, and it shook the Chinese music industry considering they were still a rookie boyband. The album peaked at No.2 on the Billboard China V Chart with more than $1.2 million online sales for the physical version within three days of release. It also generated more than a million downloads for the digital version.
Kun and his group took home the New Artist Award, Digital Album of the Year, and Group of the Year from major Chinese award-giving bodies.
210218 KUN Studio Weibo Update

Good day to work back, Studio wishes everyone a good start and good luck!#CaiXukun #蔡徐坤 pic.twitter.com/73yAr0gHpN

— Always CAI XUKUN (@AlwaysCaiXukun) February 18, 2021
Nine Percent's Goodbye Album and Final Concert, Disbandment (2019)
After the successful release of the debut album of Kun's group, fans started to complain that the agency that handled Nine Percent was promoting the members individually, instead of as one group. They were rarely seen in group activities, but making guest appearances in various shows and events separately. Kun and the boys never recorded any new songs together again.
On the 26th of September 2019, Kun and his group released their last album, "More Than Forever." Their fans who were excited about the new album were quite disappointed to find out that the nine tracks included were all individual tracks. Nine Percent was supposed to promote as one group for 18 months, but contract disputes among their original entertainment labels hindered any possibility of music collaborations. Music insiders were shocked that the group's potential to do more was wasted because of petty disagreements. As a result, the final album didn't surpass their previous album sales record.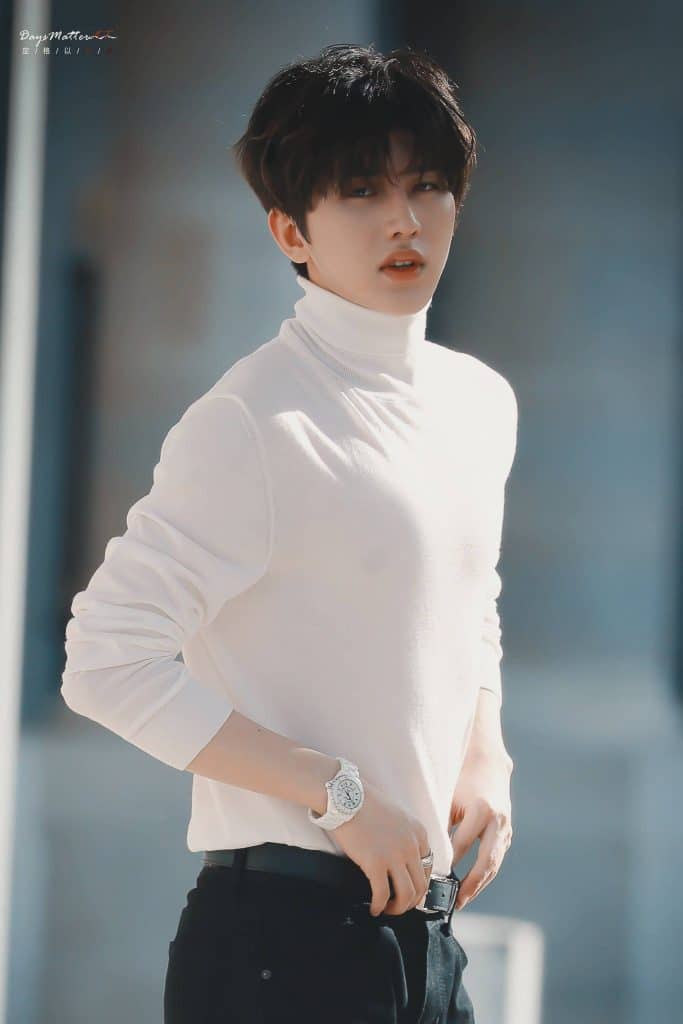 As agreed upon in their contracts, Nine Percent officially disbanded on 6 October 2019, and they held their final concert, "Limited Memories," in Guangzhou on 12 October 2019. Some fans even nominated them as "The Group That Hardly Met," and "The Most Difficult Band to Come Together," on Guinness World Record Chinese social media account.
The concert was live-streamed to which only VIP members of iQiyi were given. It reached 1.2 million views with around 400 million likes. Nine Percent also dominated the trending topics in China's biggest social media app called, Weibo and had over a billion readership hits during concert night.
Dominated the Charts as a Solo Artist (2018 –2019)
Kun, on the other hand, took advantage of every opportunity that came his way after the group's debut. Since the agencies couldn't work together, he immediately established his personal studio and released his own music. He's been credited for writing the lyrics of most of the songs he released as a solo artist.
He released his first EP entitled "1" for free on 2 August 2018. It consisted of three tracks including "You Can Be My Girlfriend," "It's You," and the lead track, "Pull Up," which dominated the charts and broke about 10 records of QQ Music.
In 2018 he also released the digital single "Wait Wait Wait" on 23 August 2018, which charted highly on music charts. It was chosen as one of the Top Ten Pop Songs of the Year by the 12th Migu Music Awards. He was ranked No.27 on TC Candler's list of the Most Handsome Men.
In 2019, Kun became even busier with the release of digital singles "No Exceptions" on 18 February, and "Hard To Get" on 19 April; the former peaked at No.1 and the latter at No.20 on Billboard's China Top 100. He also embarked on his sold-out first solo concert tour, "KUN ONE North America/UK Tour 2019." He flew to Canada first on 4 April for his Vancouver show, then to the US for his shows in California and New York, ending the tour with a show in London on 12 April.
After his tour, he prepared his single album, "Young," which he released on 26 July 2019.
It had two tracks with "Blindfolded" and the title track, and peaked at No.1 on Billboard China Top 100 and multiple other music charts – as of March 2020, it had sold over 12.6 million copies and become the best-selling Chinese digital album of 2019; the title track had more than 63 million units sold.
Further Success (2020 – present)
Kun's popularity soared higher in 2020, and it wasn't a surprise anymore that TV ratings would rise whenever he made guest appearances in a TV show. He was chosen as one of the mentors in the reality-TV survival series, "Youth With You Season 2," along with Lisa of Blackpink, Jony J, and Ella Chen, which aired from March to May 2020. He released the song "Lover," which featured the contestants of the show, and it became the most downloaded among all the songs used in the series.
Due to the Covid-19 virus outbreak, Kun collaborated with Chinese actress Tong Liya and released the song, "The Mountains and Rivers Are on My Chest," in March 2020, to give hope to those afflicted with the virus.
After a month he released another song, "Home," to inspire people who were quarantined or under lockdown due to the pandemic. It became a trending topic on Weibo in just 20 minutes after it's release.
His product endorsements came in after he won Idol Producer in 2018, and more companies continued to use him as their brand ambassador – some of the most notable were L'Oreal Paris, Vivo, Givenchy, and Prada.
Due to his overwhelming success, he was included in the list of Forbes China Celebrity 100, and was ranked at No.31.
Result of his lawsuit with former agency
After two years of court hearings, on 19 February 2019 Kun won the legal battle with his former agency, Yihai Entertainment. Apparently, during the time he was under their management, he and his former group SWIN were the ones who paid for all the expenses they incurred doing their promotional activities, including but not limited to album releases.
They weren't reimbursed and the agency even had them immediately sign an amended contract lowering their pay and extending their contracts. He also won in the breach of contract that Yihai Entertainment filed after his stint in "Idol Producer" asking for 70% of all his earnings.
Personal Life
Kun is officially single as there's no news that he's dating anyone right now. In 2019, he was rumored to be dating Zhou Jieqiong, also known as Kyulkyung, from the defunct group I.O.I. Fans speculated about their connection due to some posts on their social media accounts, but Kun's agency denied the reports saying that 'He does not even have enough time to work on music every day.' In 2020 he was again rumored to be in a relationship, with Lisa of Blackpink because they worked together in "Idol Producer." Some fans were delighted about the news as they looked great together, but it was later revealed that Kun wasn't even close to her, as he didn't know how to contact her when another Chinese actor asked him for help in meeting Lisa.
Hobbies, favorites, and interesting facts
Kun's Korean name is Chae Seo Gon, and his English name was originally August but he officially changed it to Kun.
He loves playing basketball, and to swim during his free time.
Kun's daily mantra: "Dreams accompany me when I sleep. If I don't fulfill them I lose sleep.
He is not a picky eater and would eat whatever is served to him, but his favorite is beef.
Kun's role models are South Korean boybands Bigbang and BTS.
His Western music influences are Stevie Wonder and Lana del Ray.
Appearance
Kun is 6ft (1.84m) tall and weighs about 145lbs (62kgs) with a lean body. He has black hair and dark brown eyes. There were rumors of him going under the knife, as fans would compare his childhood photos to his present photos. Some fans believed that he'd plastic surgery on his chin, and others argued that all he'd had was a teeth alignment correction. His loyal fans believed that the changes in his appearance were due to maturity, good health, and make-up.
Net Worth
According to authoritative sources, Kun has an estimated net worth of almost $1 million as of February 2021.