Yeo Hwan Woong – better known by his stage name as simply Hwanwoong – is a South Korean singer and dancer, born in South Korea on 26 August 1998 under the zodiac sign of Virgo – his Chinese sign is the Tiger.
Just a simple reminder that article is created and owned only by kpopwiki.org. Article cannot be re-published in any other pages or documents. Copyright is protected by DMCA. All found copies will be reported.
Original source: https://kpopwiki.org/hwanwoong-oneus-age-height-girlfriend-net-worth-bio/
Early Life
There's not much information about Hwanwoong's family – it's only known that he doesn't have any siblings, and that he practiced taekwondo in his childhood.
He developed an interest in music and singing in his childhood, as he told Teenasia: 'I watched Rain (Jung Ji Hoon) sunbaenim and thought 'he looks cool'.'Inspired by this, Hwanwoong entered the dance class of his school, and became admired for his dancing skills.
Thinking of becoming a singer as well, he entered the School of Performing Arts Seoul; Although his grades weren't good during his first year, he worked very hard to improve and develop his artistic skills. His year of matriculation was 2016.
Career
Trainee
Hwanwoong started his career as a trainee under the management of Pledis Entertainment, which allowed him to participate in the TV survival show "Pledis Hot Debut" in 2013. However, he wasn't able to pass to the final round, from which the integrants of the group Seventeen were selected.
Then in 2017 he participated in the TV survival show "Produce 101" as part of the agency Rainbow Bridge World (RBW).
He couldn't pass the elimination round during chapter eight, thus he was placed number 42 in the rankings and was eliminated. His exit from the show caused controversy as it was deemed as unfair by many viewers, who were able to see Hwanwoong's talent not only when it came to singing but also as a dancer.
In an interview with Teenasia in 2017, Hwanwoong talked about his feelings regarding one of his performances in the program, which was edited out and not shown on air: 'It was like I didn't do anything that was worthy of being broadcast'.
However, even if he didn't achieve the results he expected, he was grateful for the time he spent in "Produce 101": 'Even though my ranking wasn't high there were still people who loved me. This was also my first time receiving fan letters, so I think 'So there are many people who likes and loves me'.'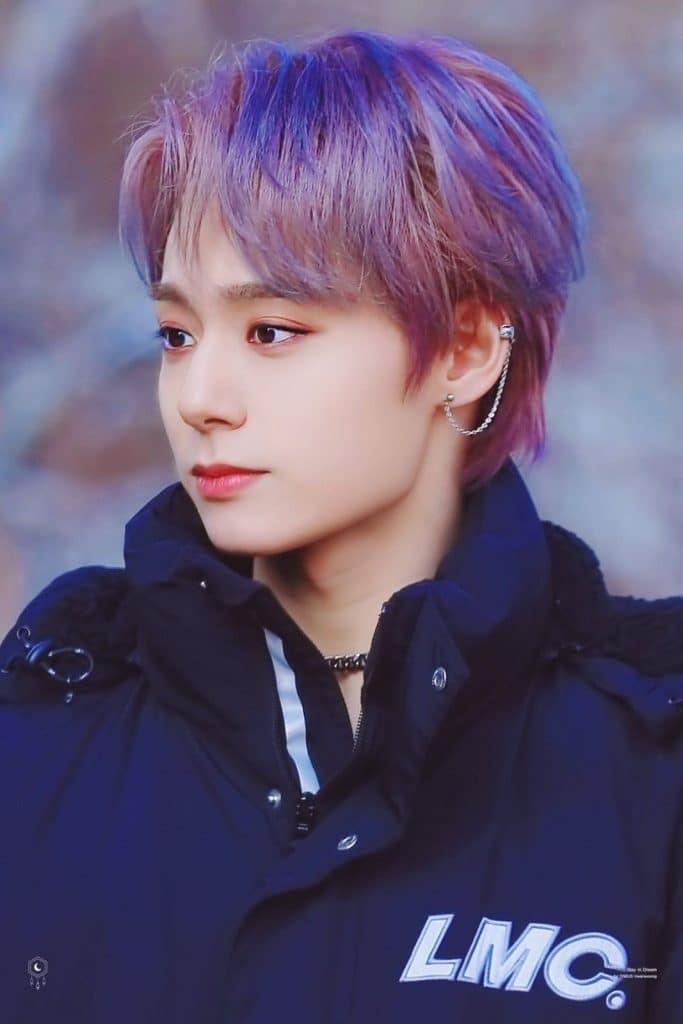 After leaving "Produce 101", Hwanwoong participated in his agency's TV project "RBW Trainee Real Life – We Will Debut" alongside other trainees. He then appeared in another episode of the series entitled "Special Party". Then the agency set Hwanwoong and other five young men to debut as RBW Boyz, although the group was later reintroduced as ONEUS, with the release of the track "Last Song" with ONEWE, their label mates who were previously known as MAS.
ONEUS – Debut
As part of ONEUS, Hwanwoong made his official debut in January 2019, with the release of the group's first extended play (EP) "Light Us" and its single "Valkyrie".
The album peaked as number six on Gaon's chart, and sold over 30,000 copies.
After their successful debut, ONEUS made their comeback in May that year with the release of "Raise Us", their second EP, which peaked at number four on Gaon and included the dark themed single "Twilight".
In June that year, ONEUS did a performance in Japan's KCON. When asked about his experience, Hwanwoong said: 'It was our first time to perform on such a grand stage, and we felt very nervous and overwhelmed at that time'.
During their stay in Japan, the group announced a mini concert tour in August in which they would visit Tokyo and Osaka. As a celebration of their success in said country, they re-released the single "Twilight" in Japanese.
Third EP and Overseas Tour
In September 2019, ONEUS released Fly with Us, which not only peaked on Gaon's album list but also entered the US' Billboard. The main single "Lit" also entered the international chart, and was the introduction for their first overseas tour in the US, in which they made stops in various cities such as Los Angeles, Chicago and Dallas.
During the group's first concert in New York, Hwanwoong talked about how especial it was the event for him and his bandmates: 'It hasn't even been a year since we debuted, and as we celebrate the 300th day since our debut, it feels like a really meaningful day because we were able to meet our TO MOON (their fanbase) the other side of the globe.'
He also talked about the excitement he felt during the show: 'As soon as we entered, even before the first song started, I could hear so many cheers. You gave me so much strength and energy even before we began performing.'
Back in Asia the group released the single "808" for their Japanese fans which was highly successful, reaching the top spot on the Japanese chart Oricon.
2020: Road To Kingdom and More
In January 2020, ONEUS celebrated their first anniversary with a fan meeting in Seoul, and the next month they held various concerts in Japan as a continuation of their overseas tour from the previous year.
After this event, another single entitled "A Song Written Easily" was released, as part of the group's first album "In Its Time".
In March ONEUS' agency announced the members of the group would appear in the idol survival show "Road to Kingdom" produced by Mnet. Their hard work and effort led ONEUS to participate in the show's final episode, during which they released the song "Come Back Home", about which Hwanwoong said: 'It may be hard for our fans to sing along with the song this time, as it requires some techniques and details. It also captures our most sophisticated emotions'. Unfortunately, ONEUS were defeated by the group The Boyz, who obtained the first place.
Lived
In August 2020 ONEUS released "Lived", which included the single "To Be or Not To Be". To date, the album has sold more than 60,000 copies.
Personal Life
Hwanwoong doesn't publicly share information about his private life, thus details about any romantic partners and hobbies are unknown.
Net Worth
Hwanwoong has an estimated net worth of over $100,000 as of late 2020, which is a result of his work as a member of ONEUS.
Physical Appearance
Hwanwoong is a handsome young man, who weighs 125lbs (57kgs) and is 5ft 6ins (1.68m) tall.
Interesting Facts
In an interview with Billboard in November 2019, he admitted that he and his fellow bandmates were intimidated while performing on their debut: 'We're a little embarrassed and shy to say it ourselves, but it was a bit of a struggle seeing what cameras were where, how to interact with the audience, what way we should do gestures, and create our own stage, production-wise. But as we've come along, we felt like, oh, 'This is better than last time. This is our way of doing it'.'
His blood type is A.
One of his nicknames is Woong.
He loves bubble tea.
He knows how to play the guitar, though it's unknown when exactly he acquired said ability.
He is a specialist in street dancing.