Aisha is a South Korean singer and dancer, who rose to prominence when she joined the Korean Pop (K-Pop) girl group, EVERGLOW, under the management of Yuehua Entertainment.
Just a simple reminder that article is created and owned only by kpopwiki.org. Article cannot be re-published in any other pages or documents. Copyright is protected by DMCA. All found copies will be reported.
Original source: https://kpopwiki.org/aisha-everglow-age-height-ethnicity-boyfriend-wealth/
Early Life and Family
Aisha was born Heo Yoorim on 21 July 2000, in Suwon, Gyeonggi-do, South Korea. Her parents raised her and her older sister in Suwon, but moved to Seoul when she started idol training at one of the talent entertainment agencies. Aisha's passion for dancing started at a young age, and she convinced her parents to enroll her in dance classes while growing up.
Educational Background
She matriculated from Hanlim Multi Art School in Seoul.
Career
To prepare for her dream of becoming a K-Pop artist, she took advanced dance lessons in the Night Dance Institute. She was a trainee for two years at JYP Entertainment, one of the three biggest talent entertainment agencies in South Korea. For an undisclosed reason, she decided to transfer to Yuehua Entertainment, a Chinese-owned talent agency with headquarters in Beijing, and with a regional branch in South Korea. Many believed that it was because she wanted to debut as early as possible, and JYP Entertainment had no concrete plans for her at that time. However, she ended up training for one more year before making a professional debut.
First Steps – Debut, Single Album release
In February of 2019, Yuehua Entertainment announced that they have a 6-member girl group called Everglow that would debut that year.
The group consisted of five South Korean girls, namely Aisha, E:U (leader), Mia, Onda, and Sihyeon, and one Chinese girl – Yiren.
A month after the announcement, they started introducing the girls one by one by releasing pre-debut photos to the public. It was followed by the girls' individual videos generally entitled "Crank in Film (#member)" uploaded onto YouTube to boost the promotions. Aisha's black and white video highlighted her model-like figure and stunning legs, creating a sophisticated aura. She was the last girl to be introduced to the public.
Yuehua Entertainment digitally released the group's album entitled "Arrival of Everglow," which has three songs, on 18 March 2019. The lead track, "Bon Bon Chocolat," was composed by American EDM artist Melanie Fontana, which reached No. 5 on Billboard's World Digital Song Sales chart.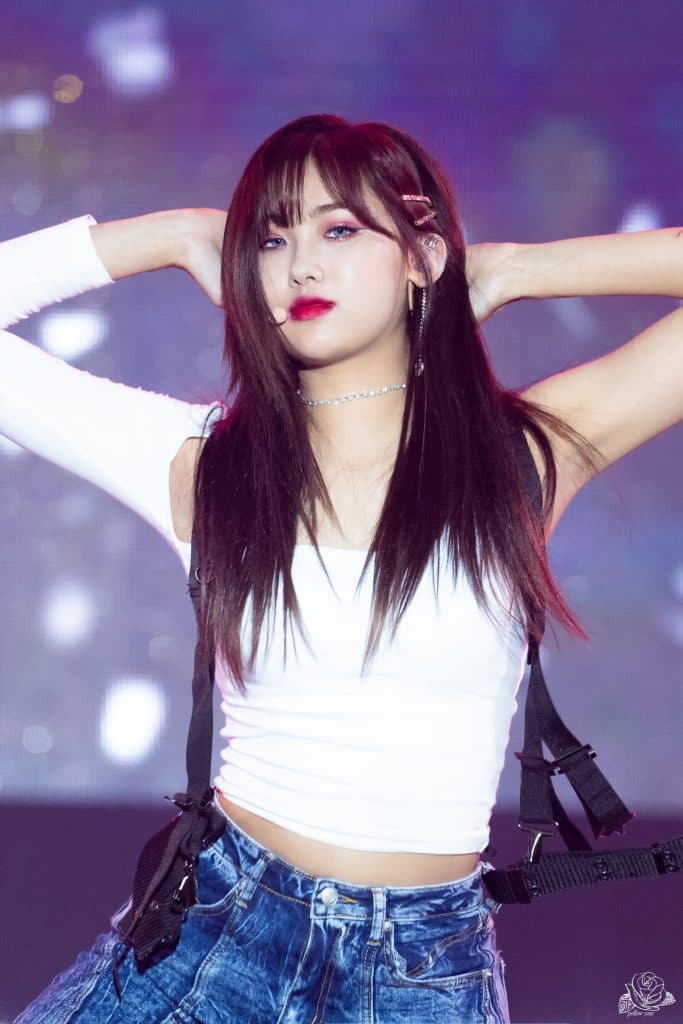 The music video that was uploaded onto YouTube garnered over 72 million views, and counting. The other two songs were "D+1" and "Moon," which were co-written by the group's leader, E:U, and included in MTV's list of the Best K-Pop B-sides of 2019.
The album reached the No.6 position on Gaon Album Chart. It is interesting to note that in South Korea, they use the term, "single album," to refer to two distinct types. One is an album release with more than one song included and the other type is an album release with only one song but as a physical version. Basically, any physical copy of a song is considered a single album in South Korea.
Aisha and the girls had their debut performance on Mnet's "M Countdown," a popular weekly music cable show on 21 March 2019.
Further success
With the successful result of the first single album, Yuehua Entertainment decided to release a follow‑up single album entitled "Hush" on 19 August 2019 – both the physical and digital versions were made available on the same day. It has three tracks, namely "Hush," "Adios," and "You Don't Know Me", peaked at No. 5 on Gaon Album Chart, with the group going to all popular music shows in South Korea to promote their album. The title track, "Adios," gave them their first 'Top Song' win from SBS MTV's "The Show." A weekly music show win is an important milestone for every Korean act, as it has been an accepted indicator of the artist's popularity. The official music video of the song gained over 115 million views on YouTube, and the three songs charted well on Billboard's World Digital Song Sales chart, with "Adios" at No. 2, "Hush" at No. 8, and "You Don't Know Me" at No. 10.
The group made a cameo appearance playing themselves in the South Korean drama series, "When the Devil Calls Your Name," inspired by Johann Wolfgang von Goethe's "Faust." They appeared during the eighth episode, performing the group's debut song, "Bon Bon Chocolat", introduced as the girl group managed by one of the lead's talent agency.
2019 ended with Everglow receiving several nominations, including Artist of the Year, Worldwide Fans' Choice, and Best New Female Artist from Mnet Music Awards (MAMA) and The Top Artist, The Female New Artist, Global Popularity Award, Genie Music Popularity Award from Genie Music Awards. However, the girls didn't win an award, so promised to work harder to get them in the future.
2020 – First Extended Play (EP)
Everglow released its first EP entitled "Reminiscence" on 3 February 2020, which contains four tracks – "Salute," "Player," "No Lie," and the lead track, "Dun Dun."
The EP chartered at No. 4 on the Gaon Album Chart, while the lead track chartered at No. 3 on the Billboard World Digital Songs chart. The official music video of the song "Dun Dun" gained over 140 million on YouTube, and is the group's most viewed and the most liked video in their discography.
Aisha and the girls were scheduled to perform their new songs with a live audience, but it was canceled due to the pandemic crisis brought on by the Covid19 virus. Later, they had their comeback showcase but without a live audience. Incidentally, South Koreans use the term "comeback" each time they release new songs, and make a comeback performance on music shows.
2020 U.S. Concert Tour
Due to the group's positive sales of their songs, Everglow had a concert tour entitled "Everlasting Tour in the USA."
EVERGLOW AISHA#everglow_aisha pic.twitter.com/mPc4f1Fe5A

— 케지비 (@pavilion219) October 15, 2019
The group performed in some of the key cities in the US, including Atlanta, Chicago, Dallas, and Jersey City. Unfortunately, the sold-out concert in Los Angeles was canceled due to travel restrictions and social distancing limitations as a result of the Covid19 crisis. The talent agency have said that they will resume the schedule the moment restrictions are lifted.
Aisha was amazed at each city they visited, meeting diverse fans, and said, 'My goal is to be able to perform more so that we can meet them again.' She was ecstatic that they can now perform their own songs, unlike before when they regularly just did covers of songs originally performed by other established K-Pop artists.
Everglow is one of the K-Pop groups who is reportedly more popular internationally – specifically in the US – than in South Korea.
Personal Life
Little is known about Aisha's personal life, as talent agencies in South Korea are extremely strict when it comes to releasing information about their artists. A 'no dating' clause is included in most contracts signed by Korean artists; they are forbidden to date three to five years after their debut to ensure complete focus on their work and Aisha is expected to abide by this agreement.
For having worked too hard, Aisha was ordered to stop working along with another member, Mia, as their health had suffered. They ceased their public appearances sometime in September 2019; most notable was their absence in the group's guest appearance in "Idol Room", and fans were alarmed. Yuehua Entertainment announced via its official Instagram account that the girls just needed to take a rest.
Currently, she lives with all the Everglow girls in a dormitory in Seoul provided by the talent agency.
Hobbies, favorites, rumors, and interesting facts
The stage name Aisha was chosen as the agency believed she would conquer the whole of Asia, and would also represent Asia when she conquers the world.
Her roommate in the dorm is Yiren, and she refers to her as her best friend.
She is quite fluent in the Japanese language.
Her favorite colors are black, mint, and purple.
She loves the beach and would like to spend one summer vacation there with the girls.
She is a self-confessed meat lover, who dislikes eating vegetables and fish.
Aisha is considered one of the tallest K-Pop female idols in the industry.
She has strong hands, as she can break fruits including watermelon and apple with her bare hands.
She admires artists such as Day6, Sunmi and Blackpink.
Her nicknames are Judy from Zootopia, and Yoom.
Everglow's official fandom name is Forever, as announced on the group's comeback showcase for "Hush" promotions.
Appearance
She is 5ft 8ins (1.74m) tall and weighs 121lbs (55kg) with a slim body. She has black hair and black eyes, but expect to see changes in hair color and eye color during TV promotions and photo shoots; she has been seen with purple, blond, gray and brown hair coloring.
Net worth
According to sources, Aisha already has an estimated net worth of over $1 million, as of August 2020.