HaSeul is a South Korean singer and rapper, who became famous for being the leader of the 12‑member girl group, Loona, under BlockBerry Creative.
Just a simple reminder that article is created and owned only by kpopwiki.org. Article cannot be re-published in any other pages or documents. Copyright is protected by DMCA. All found copies will be reported.
Original source: https://kpopwiki.org/haseul-loona-age-height-boyfriend-family-net-worth/
Early life and family
Jo HaSeul was born on 18 August 1997, in Ansa, South Jeolla Province, South Korea; her last name, Jo, is sometimes spelled as Cho. Not much is known about her family, except that she has a brother who is five years younger than her, and a grandmother who took care of her when she was young, and who passed away in 2019.
Education
She was a member of the school choir in elementary. It is said that she went to study for a month in Sydney, Australia, although it's not clear when this happened. She spent one year of high school in Colorado, USA, then returned to South Korea and matriculated from high school. She planned to study opera in college, but didn't push through when she seized the opportunity to become an idol singer.
Career
First steps
It was her music teacher who encouraged her to participate in a music festival for teens when she was in high school. She didn't win any award, but was instead cast by her current agency, BlockBerry Creative, which is a subsidiary of Polaris Entertainment. She passed her audition by singing her role model, singer-songwriter IU's hit song, "Friday," and became a trainee for a year.
She cried upon learning that she would become a member of Loona, as she thought the mistakes she made in her choreography during the trainee exam in the selection process ruined her chance. It felt surreal to her that she kept asking the staff until the day before she shot her music video if she was really going to debut.
The agency's concept of launching their first Korean idol group was quite unusual, as it took them 18 months from October 2016 to March 2018 to introduce all 12 members of the group.
They promoted each one as a solo artist first, then as a sub-unit with four members until such time when all 12 had completed the process.
Their pre-debut project, "Idarui Sonyeo" or "Girl of the Month," involved choosing the best girl out of about fifty. Every girl had to go through a grueling process set by BlockBerry Creative to earn a spot in the group, being judged based not just on their singing and dancing skills, but also on their character or attitude. After the sole winner debuts, the rest would go through another selection process for the chance to debut next. HaSeul won on her third try, and was introduced on 8 December 2016 as the third member of Loona.
The name of the group was derived from "Idarui Sonyeo" when it is written in the Korean language – the first letters of each syllabic block are rearranged to look like the word, LOONA.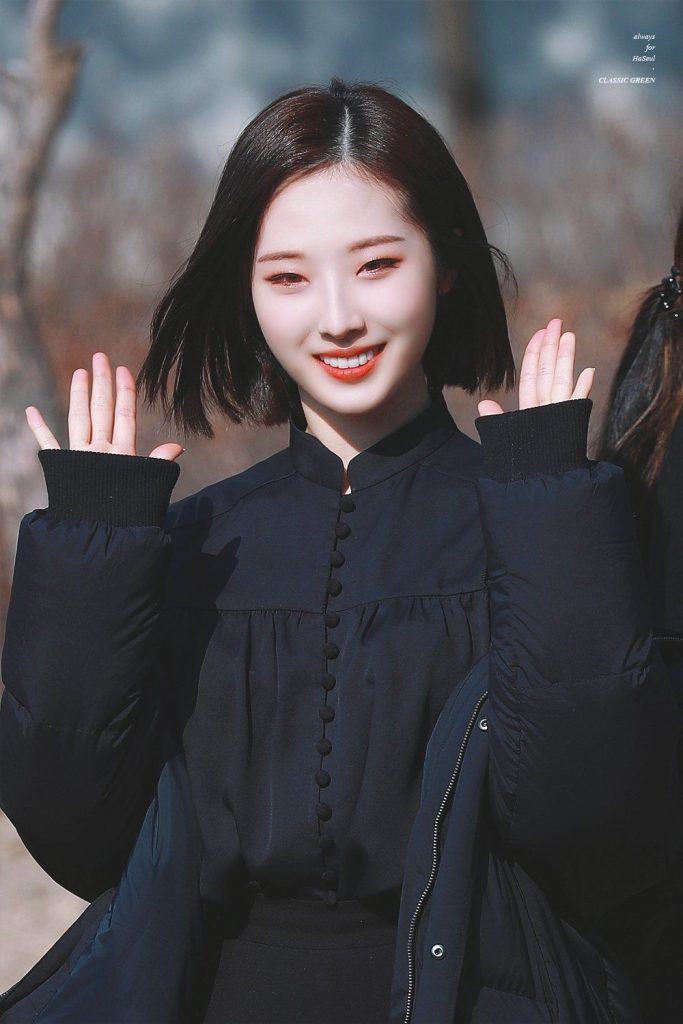 Debut as a solo artist and a member of the first subunit,  Loona 1/3
Two singles were released by HaSeul on 15 December 2016 for her debut: "Let Me In," which she recorded solo, and "The Carol," which she sang with HeeJin and HyuJin, the two members who debuted before her. Her solo music video has more than 3 million views. Not long after that, she along with those two and Vivi formed Loona's first subunit called "Loona 1/3." They made their debut on the popular music show, SBS' "Inkigayo" (English title: The Music Trend) in March 2017, performing the title track from their first extended play (EP) entitled "Love and Live." The theme for this mini-album revolves around the excitement of having a first crush or first love, and the repackaged version, "Love & Evil," which was released a month later and is about heartbreak.
Two more sub-units were formed – "Loona Odd Eye Circle" and "Loona yyxy" (pronounced as wai-wai-bai-wai).
According to the CEO of Polaris Entertainment, the pre-debut project cost them around $10 million for launching 12 solo artists and three subunits, which involved filming over a dozen music videos overseas such as in Paris, Iceland, and London, in a span of 18 months before the group debuted.
"Mix Nine"
Three Loona members auditioned for JTBC's "Mix Nine," a survival reality show by YG Entertainment, one of the biggest entertainment companies in South Korea. HaSeul performed poorly and knew it, as she gave herself 20 points – 18 for effort and two for skill – when asked to rate her dance performance. They were also asked how they are going to win against the other participants who sang and danced better than they did – HaSeul said that they were told by their company that each of them is skilled enough to release a solo album.
YG founder, Yang Hyun-Suk, couldn't help but laugh and said that it was not something she could confidently say, considering she gave herself a poor rating. In the end she didn't make the cut, while Heejin and Hyunjin did; it was aired on 5 November 2017, the second episode of the show. Although disheartened by not being able to show her best, she continued to work hard as she believed that there's nothing she can't do if she works hard enough.
Further steps
Debut of LOONA
The 12-member South Korean girl group, Loona, released their pre-debut digital single, "Favorite," along with its music video on 7 August 2018, and it peaked at No.4 on Billboard's World Digital Song Sales chart, then held their debut concert, "Loonabirth," on 19 August at the Seoul Olympic Hall with tickets for the 2,600 seats sold out in a matter of minutes after they became available for purchase. The agency said it was quite a feat for a rookie group to have a complete repertoire, but this was made possible by releasing 17 albums prior to this concert.
The next day, the group officially debuted with HaSeul as their leader, and one of their vocalists and rappers. They released their six-track EP, "++" (plus plus), with "Hi High" as the lead single – even if HaSeul is one of the lead vocalists, she didn't get to sing many lines in the song. After six months, a repackaged version was released entitled "xx" (multiply multiply) with six new tracks added and "Butterfly" as the lead single. Both EPs made it to South Korea's Gaon Album chart, as well as Billboard's World Albums, Heatseekers Albums, and Independent Albums charts. "Plus Plus" ranked at No.17 on Billboard's "20 Best K-Pop Albums of 2018" and "Multiply Multiply" at No.5 on Billboard's "The 25 Best K-Pop Albums of 2019."
HaSeul on a temporary hiatus
HaSeul's maternal grandmother passed away on 25 February 2019, and she took leave to attend the funeral and mourn her passing.
Her hiatus was extended after the "xx" promotions, and she only returned to work in the second week of July.
It was announced on 8 January 2020 by BlockBerry Creative that HaSeul would not be participating in any of the group's scheduled activities, as she sought treatment for her anxiety disorder. With the group's second EP entitled "#" (Hash) released on 5 February 2020, she was only able to contribute on three out of seven tracks. Unfortunately, she didn't record the lead single, "So What," which gave Loona their first win on Mnet's "M Countdown" on 12 March 2020.
HaSeul took to Instagram to convey her feelings on Loona winning their first trophy. She said, 'I wish I could have been there but you guys know that I'm there for you guys in your heart.' She didn't forget their fandom called "Orbit", as she dedicated the award to them as well as to the BlockBerry Creative staff.
She ended her caption with, 'Congrats to you all, and I love you guys so much.' There is no news yet of her return to group promotions.
Awards
Loona received several nominations from various award-giving bodies, and won a few of them including the MTV Europe Music Award for Best Korean Act (2018), the Best Performance Award at the Soribada Best K-Music Awards (2019), and the Focus Artist Award and Popularity Award at the Asia Artist Awards (2019).
Personal life
HaSeul is 22 years old and single; there is no information about her dating life, if she has any, which is not surprising as it would be considered a scandal if it was ever discovered she has a boyfriend. K‑Pop idol members have a dating ban imposed on them by the company for a certain number of years, from the time they became a trainee up to the first few years after debut, or until a certain level of success or popularity is achieved. Her ideal type is someone who is like her father.
Hobbies, favorites, rumors, and interesting facts
On 8 October 2019, the Seoul Central District Court ruled in favor of the Japanese IT company, Donuts, which filed a lawsuit against Polaris Entertainment for failing to return the space lease deposit of over $300,000 for their girl group project. Donuts also said that they invested close to $3 million with the promise that Loona would appear on their "My Live" broadcast but Polaris allegedly didn't honor their agreement when only one member came to the show. Polaris said that the lease deposit wasn't returned to them as well and they would give it back the moment they received it. With regard to the Loona guesting and return of investment, the agency would wait on the outcome of the ongoing lawsuit.
The "Stan Loona" campaign was brought about by fans who wanted to support Loona as they fear for the group's possible disbandment because of unpaid debts and lawsuits that their agency faces. The phrase spawned memes that found their way on various social networking sites particularly on Twitter timelines of even non-KPop fans as overzealous Orbits tagged celebrities and posted on the comment section of unrelated tweets.
On their Loonaverse concept, each member was given an animal to represent them; HaSeul's animal is a white bird, which is ironic because she is said to be petrified of these warm-blooded vertebrates particularly pigeons that can be traced back to her experience in childhood.
The meaning of her name, HaSeul, is said to be "the wise child who came down from the sky" as the name is short for Haneul, which means sky, and Seulgi, which means wisdom.
Her English name is Jane; her nicknames include Cho Leader, Cho PD, and Harvard.
Favorites: the color mustard yellow and the flower rose.
Her hobbies include watching movies as well as playing the piano and guitar.
She filmed her music video in Iceland, and had a hard time because of the extreme cold weather – fans said that this was when "HaSeul's curse" started. It was night by the time they finished, and on their way back to the hotel, the car had a flat tire so she had to wait for over 20 minutes before it was fixed. Then it was raining on the second day of filming, and they're doing a scene outdoors.
190801• cr; lost_inloona pic.twitter.com/Px30lhlrz4

— Haseul pics ♡ (@haseulpic) August 8, 2020
Appearance
She is 5ft 2ins (1.6m) tall, weighs 95lbs (43kg), and her vital statistics are 34-27-38. Her shoe size is 5.5 inches. She is Asian with black hair and black eyes, but her look and style would vary depending on the concept of their album or song. The shape of her left ear is said to be different from the right one.
Net worth
According to sources, the K-Pop girl group Loona has a net worth of about $20 million, and its leader, HaSeul, has an estimated net worth of over $60,000 as of August 2020.