Christian Yu is a Korean-Australian singer-songwriter, produce and director, who became known in 2012when he was launched as the leader and rapper of the Korean Pop (K-Pop) boyband C-CLOWN, with his stage name Rome. After three years his group disbanded, and he debuted as a solo artist in 2020 with a new moniker, DPR IAN. He became the chief editor, co-founder and visual director of DPR – short for Dream Perfect Regime – an independent multi-genre music label and video production company. He has since directed music videos of popular K-Pop artists, with millions of views and commercials.
Just a simple reminder that article is created and owned only by kpopwiki.org. Article cannot be re-published in any other pages or documents. Copyright is protected by DMCA. All found copies will be reported.
Original source: https://kpopwiki.org/christian-yu-aka-dpr-ian-biography-age-height-profile/
Early Life and Family
Christian Yu was born on 6 September 1990, in Sydney, New South Wales Australia, and was raised there. Both of his parents were originally from South Korea; his Korean name is Yu Barom.
As a child, he thought movies were real and was obsessed with mystical fairies and supernatural beings such as leprechauns.
Growing up, he was interested in dancing, swimming and surfing. When he legally became an adult, he flew to Seoul to pursue his dreams of becoming a K-Pop artist.
Educational Background
He attended  local schools in Sydney, and then took-up a bachelor's degree in arts at the University of Sydney, but soon dropped out to pursue a different career path in South Korea.
Career
Christian flew to South Korea when he was 18 years old to explore any dancing opportunities in the entertainment industry. He started a YouTube account under the name of Barom Yu in 2008, posting videos of different styles of dancing, particularly b-boying.
His most viewed video with 2.2 million views was him giving tutorials in a major element of b-boying, which was Toprock. His account had only 18 videos posted from 2008 to 2012, but he had already drummed up interest as his account has accumulated close to 5 million views, which at that time was already a huge thing, considering that he hadn't debuted yet. He stopped uploading videos to prepare for his debut.
C-Clown's Debut as Rome (2012)
He signed-up with Yedam Entertainment, which later changed its name to Banana Culture Music, former home to South Korean music icons such as Seo Taiji and the Boys. Christian was then using the stage name Rome, which was taken from his Korean name Yu Barom. He trained under the label's resident mentors on vocal, dance and rap for a few years, and appeared in the KBS' sports variety show entitled "Let's Go! Dream Team Season 2" for a couple of special episodes featuring rookies like him.
MITO – 3/12/21 https://t.co/Ge0ca7bwJO it's coming pic.twitter.com/xG17cN6WlL

— Christian Yu (@DPRIAN_) February 12, 2021
It was great exposure for him, as his team competed against the popular boyband, Super Junior, and he was able to showcase his b-boy dancing skills, as well as his athletic prowess on the show.
On 18 July 2012, he officially debuted as the leader of the boyband, C-CLOWN, with five other trainees, namely Kang Jun, Maru, Ray, Siwoo, and T.K. They released their extended play (EP) entitled "Not Alone", consisting of six tracks including "Cha Aneseo" ("In The Car"), "I'm Not Alone," and the lead track, "Solo" – the rest of the tracks were instrumental versions of the three songs. The album peaked at No.14 on the South Korean Gaon Album Chart but soon fell off the charts, and ended up with only 2,600 units sold.
They had their television debut performance on Mnet's "M Countdown" the day after the EP was released, and went on to perform the lead track in other popular music shows.
However, the song only peaked at No.82 on the Gaon Digital Chart.
Three months after their debut, Christian and the boys released their second EP entitled "Young Love" on 11 November 2012. It had seven tracks including "Good Night," "Cold," and the lead song, "Meol Eojikkabwa," which in English translates to "Far Away, Young Love." Just like the debut album, the remaining tracks in the EP consisted of instrumental versions of the three songs, and an acoustic version of the lead track.
The EP charted at No.15 on the Gaon Album Chart, and the sales figures almost doubled as compared to their first album, with close to 4,500 units sold. This time, the album's lead track was well received, and entered the Top 10 peaking at No.7 on the Gaon Digital Chart. It also marked the group's first entry to the Billboard K-Pop Hot 100, peaking at No.75.
Christian felt that having released two music videos (MV) of the song helped with the promotions as those two MVs garnered a total of six million views, which was quite a good number at that time.
More Releases, Hiatus, and Disbandment (2013-15)
Encouraged by the positive numbers, Christian and his group released their third EP, "Shaking Heart" on 18 April 2013. This album was quite different from their previous releases, incorporating various music genres in their song choices. They also didn't include any instrumental versions in the tracklist, which consisted of five tracks including "So Pretty," "Far Far," "It Was Like That Then" featuring Ali, and the title track.
The album claimed the No.1 spot on the Gaon Album Chart, and Christian was happy with this achievement, especially since they were still in their first year in the industry.
The title track didn't chart as highly as they hoped it would, but still peaked at No.37 on the Gaon Digital Chart, and No.45 on Billboard's K-Pop Hot 100 with almost 100,000 downloads in South Korea.
Everything seemed to be picking up for the group, and on 8 July 2014, C-CLOWN released another EP, their fourth and final EP entitled "Let's Love." This time it had a longer tracklist with 10 songs, including "Yeah," "Justice," "Tell Me," and the title track. The album peaked at No.9 on the Gaon Album Chart, but the lead track didn't chart at all. However, two tracks from the EP made it onto the Gaon Digital Chart – "Justice" at No.163, and "Tell Me" at No.76.
After two months of promoting the album, Christian and his group seemed to have entered into a temporary hiatus from the business, as nothing was heard from them again.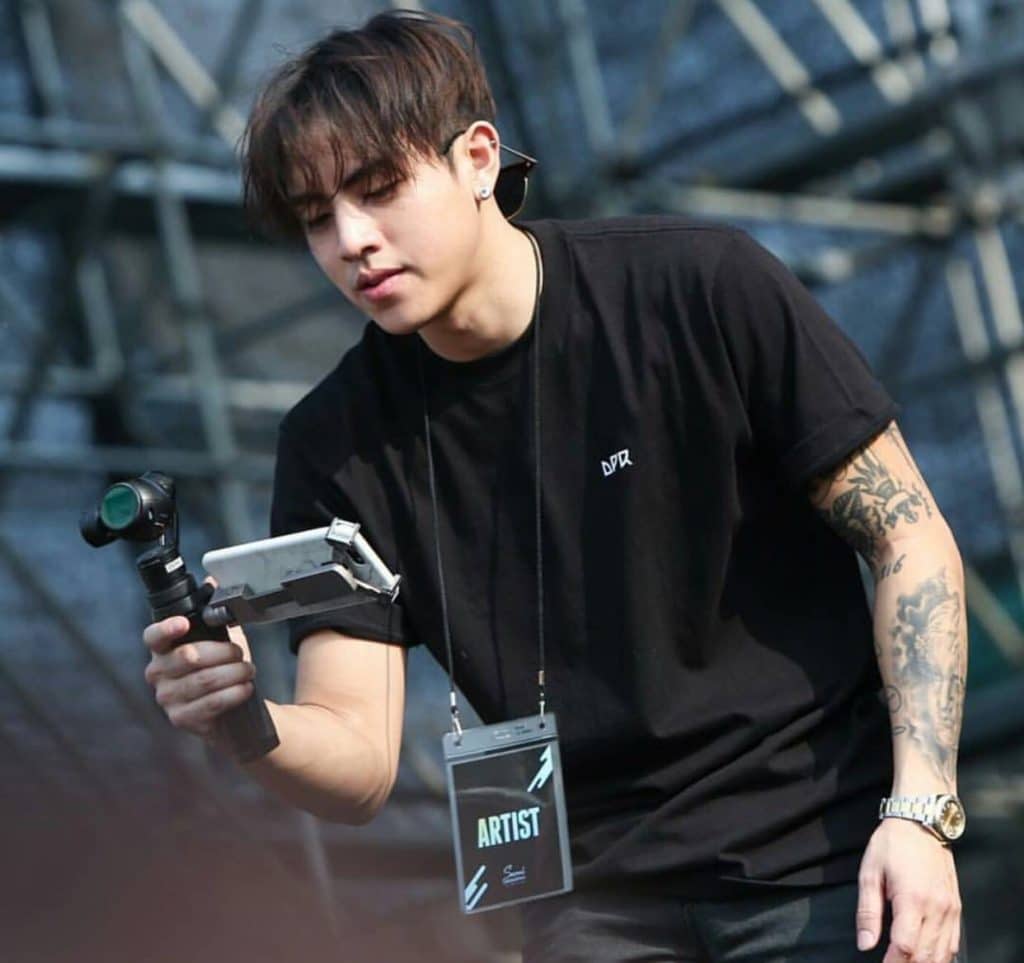 Even Christian, who would often update the fans, was quiet on social media until 21 April 2015. Their fandom, which was named Crown, was confused and a bit worried when he changed his Instagram username to his real name, and wiped out all his previous posts. He also removed C-Clown from this Twitter profile, which led to the conclusion that the band may have already disbanded.
He posted an apology via Twitter to their fans, and his exact words were: 'I apologize to the fans, I really do! But I tried..I really did! It's just too hard now! Dw y'all.' In another statement, he said that he wanted to explain things so that fans would understand, but he can't as he wasn't allowed to do so. He thanked all their fans for supporting them until the end.
Finally, on 5 October 2015, Yedang Entertainment announced that C-CLOWN had officially disbanded, saying that some of the members would continue as producers, and the others would form a new group.
So many theories were offered in fan community threads online as to why it happened. One of the most popular stories that came out was that when the former CEO of their label passed away, the new management just gave the boyband the short end of the stick, since they'd just signed up the girl group, EXID. Some insiders said that the label decided to focus its resources on the girl group due to their rising popularity, instead of working hard to promote C-Clown. It didn't help that the parent company of their label was under embezzlement and fraud investigation, due to alleged fund mismanagement.
Co-Founder of Dream Perfect Regime (2015)
Christian with his four friends, DPR Live (Hong Da Bin), DPR Rem (Scott Kim), DPR Cream (Kim Kyung Mo), and DPR Cline (Lee Sung Joo) founded the music and video production company Dream Perfect Regime.
Christian acted as the Visual Director of the company, and was responsible for filming music videos, along with DPR Rem, who was the Creative Director and Executive Producer, workin hard to find the resources needed to fund projects of the company.
The duo directed and produced music videos in the K-Pop industry, and the most notable were "Wake Me Up" by BIGBANG's Taeyang, "Body" by WINNER's Mino, "Holdup!" by IKON's Bobby, and "Borders" by FX's Amber. They also came out with an ad for sports giant NIKE, with their "Just Dream It" campaign in 2017.
In 2020, Christian was hired to be the Adidas brand ambassador, and he also directed their "AdidasZX" ad campaign.
Solo Artist Debut as DPR IAN (2020-present)
After five years of filming music videos and ads, he debuted as a solo artist using another moniker, DPR IAN. This time he was free to express his kind of music with his songwriting, and present visual concepts for his music video. On 26 October 2020, he released his first digital single entitled "So Beautiful" – fans talked about it and created much hype, especially since CL from 2NE1 made a brief cameo on the music video. Three months after it was posted on YouTube, it already had 3.3 million views. For someone who had not been active in front of the camera for quite some time, those numbers were great.
When CL dropped her official music video for the digital track "5 Star" on YouTube, fans were excited to see Christian appearing in it. It created so much buzz online that it had close to six million views within two months of release.
On 18 December 2020, Christian released his second digital single entitled "No Blueberries." Instead of just having CL for a cameo on his music video, he had her featuring on the song along with DPR Live. He again composed the song just like the first single, but this time DPR Live and DPR Cream were credited for the lyrics and the music as well. The MV accumulated around two million views within a month of being posted on YouTube.
Due to the success of his digital singles, Christian plans to release his first solo extended play entitled "Moodswings In This Order" in 2021.
Personal Life
During his time with C-CLOWN, Christian was never rumored to be dating anyone. It was expected, as most K-Pop new boyband members are forbidden to date since it may distract them from work, and at the same gain the ire of the possessive K-Pop fans.
— Christian Yu (@DPRIAN_) December 5, 2020
However, it was quite different when he debuted as a solo artist. When he and CL appeared in both of their individual music videos, dating rumors went around social media. It didn't help that their chemistry was way off the charts in CL's music video for the song "5 Star." Both of them weren't shy about posting photos of themselves together on their respective Instagram accounts. It could have been just for work, but since they don't address the issue, fans continued to speculate.
There was a time when fans would question his sexual preference, since some of them thought he was either bisexual or homosexual. He's told the fans that he is straight and prefers women. If Christian would start dating, it would be someone passionate about what they do and who can understand his crazy antics.
Hobbies, favorites, rumors, and interesting facts
Christian's favorites: chocolate (ice cream flavor), steak (dish), green (color), heavy metal, jazz, and rock (music genre).
He loves to be on the beach, swimming and surfing.
During his free time, he would play football and do some boxing. He said these activities helped him keep his body healthy and strong.
Christian loves to take care of his pet dog he calls Lori. His first pet was named Snoopy.
One of his expensive hobbies is collecting professional cameras.
He hates watching scary or horror movies that he decided to never direct a movie in that genre. He doesn't even like to talk about the subject as he believes that it might trigger a paranormal reaction around him.
Christian might be scared of anything paranormal but he isn't afraid of bugs and snakes.
If reincarnation is real, being reborn as a tortoise wouldn't be so bad for him but it would be perfect if he becomes human once again.
He likes watching anime and cooking for people.
Appearance
Christian is 5ft 9ins (1.74m) tall and weighs 130lbs (60kgs) with a lean well-toned body. He has black hair and dark brown eyes. His upper body and arms are inked with tattoo markings including his motto, "Be There. Be Down. Be You," on his right upper chest and shoulders; a camera on his left biceps with his name; a rose with a spider's web on his left arm; and a torch with a black rectangle that will be filled later on with his first child's name on the outer arm. He also had the words, "The Pink Reel," on his left arm, but it was artistically changed to "Dream Perfect Regime."
Net Worth
According to authoritative sources, Christian has an estimated net worth of over $1 million as of February 2021.