Choi Ye-rim – better known by her stage name Choerry – is a South Korean singer and dancer, born on 4 June 2001 in Bucheon, South Korea. She's known for being a member of the Korean pop (K-Pop) group LOONA.
Just a simple reminder that article is created and owned only by kpopwiki.org. Article cannot be re-published in any other pages or documents. Copyright is protected by DMCA. All found copies will be reported.
Original source: https://kpopwiki.org/choerry-loona-age-height-hair-boyfriend-parents-wiki/
Early Life
Originally from the Gyeonggi Province, Choerry has two younger sisters, but the identity of her parents is unknown, although it's been disclosed that her father has a repair shop.
Choerry studied in Yeo-weol Elementary School, and had an overall good school life: 'I really worked hard for my school life. I was a class president for all three years at middle school. Because I was sincere and bright, the teachers looked on me well too!'
Choerry matriculated from Sungshin Girl's High School in February 2020. When asked about her feelings during that important event of her life by STARK News, she said: 'Since there's the graduation ceremony coming up, my heart is fluttering. Now I can really feel that I've become an adult.'
Career
Early Steps
Choerry started her career at a very early age, when she appeared in the TV show "Happy Time, Fantastic Mates" in 2009. However, there's no information about her artistic activities until early 2016, when it's known that she was selected to audition for BlockBerry Creative: 'I participated in a vocal contest and got cast for an audition and became a trainee.
My parents didn't like the idea of me becoming a singer at the beginning, but they support me a lot now and give me the strength to go on.'
After being signed by the agency, Choerry supposedly moved from her hometown to Seoul.
In April 2016 Choerry participated in a festival performing the song "The Blue Night of Jeju Island" by Girls' Generation member Taeyeon.
It was during Choerry's time as a trainee that she chose her stage name, as she revealed to Dazed Korea: 'I went up to the staff and with my real name, said, 'Hello, I'm Choi Yerim!' But if you say that in a rush, it can sound like 'Hello, I'm Choeri!' So that's how "Choerry" came to be (laugh), Now, I really like my name. I've gotten the cute nickname of "Cherry" too, and it's still a name that I love a lot.'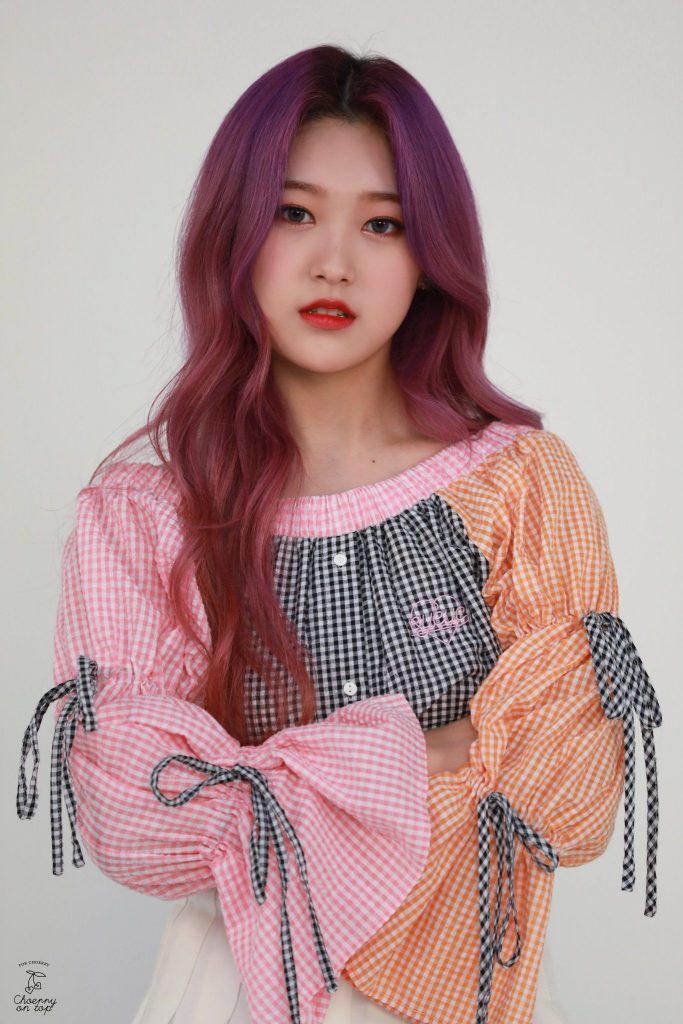 Debut with LOONA
Choerry was eventually introduced as a member of the K-Pop group LOONA on 12 July 2017, initially with the release of the album "Choerry", which included the songs "Love Cherry Motion" and "Puzzle". This release fitted the concept of LOONA, consisting of presenting the individual members each month. A month after her debut, it was announced Choerry would form part of LOONA / ODD EYE CIRCLE, a sub-unit which also included members Kim Lip and JinSoul.
In February 2018 Choerry made her acting debut in the series "Woomanna" as Yerim, before in August that year LOONA's members finally debuting together with the release of "[+ +]" (read as 'plus plus'), the group's first extended play (EP) which included six tracks.
In February 2019, LOONA re-released "[+ +]" with the name "[X X]" (read as 'multiple multiple') during the LOONAVERSE Concert.
The repackaged EP contained 12 tracks in total, as six additional tracks were added to the original album. Choerry was credited as an assistant manager, and was partially responsible for the single "Butterfly's" choreography.
In an interview with 10Asia, LOONA talked about their album's concept, revealing that the fairy tale visuals were aimed to show the group's unique and femenine charms. Each member also talked about their personal charms, including Choerry who spoke about her artistic skills: 'I'm probably the only member of Loona who can handle every single concept. I can span all of innocent and sexy. Fresh like a vitamin, but girl crush charms popping out too. That odd charm is the reason to fall for me.'"[X X]" was a commercial success, and its physical copies were sold out. However, despite being announced previously, the group's following album entitled "LOONA the Ballad" didn't see the light of day, as it was cancelled for undisclosed reasons.
Comeback
At the end of 2019, LOONA announced that they would be holding a fan meeting in Seoul on December 14. What fans didn't expect though, was the sudden announcement of the group's next single – "365" – which topped the local and global music charts after its release on 13 December.
In January 2020, LOONA's EPs were reissued by CJ E&M, though the process was stopped when the rights of the group's music changed its owning company. However, soon LOONA's music was put back on the shelves as re-releases, subsequently selling out and resulting in huge commercial success for the group.
In February 2020, the group's second EP –  "[#]" 'hashtag'- was released. This time Choerry also participated in the choreography of the music video for the lead single "So What".
During the promotions of the EP, Billboard interviewed LOONA's members, and Choerry talked about the group's expectations: 'Since it's our first release since last year, we were very nervous but at same time we're really feeling like we're in a perfect vibe with each other. We're practicing really hard and just want to tell people to keep watching out.'
Characterized by her sincerity, Choerry also revealed LOONA's ambitious charting goals for the future: 'Take over every chart! [Members yell] Sorry, sorry, sorry…I'm just kidding, but we want to always be better as LOONA. We want to achieve goals in different ways. It may not be hitting No. 1 on every chart, but just achieving success in different ways is part of our dream. And the dream is big.'
— choerry pics (@choerryspic) October 10, 2020
After the release of "[#]", LOONA announced the creation of their Japanese fan club Orbit Japan, as part of their group's plans to expand their activities overseas.
Personal Life
Boyfriend
There's no information about Choerry's personal life, thus details regarding any romantic partners are undisclosed, as management keeps such activities under tight control.
Despite this, Choerry has always been slightly popular with guys since her teens, as she confessed in an interview with Xsportsnews in 2017: 'Not super popular. But on white day or pepero days, there were sweets and chocolate in my locker, so I was really surprised'.
Net Worth
As a result of her career as a singer and member of K-Pop group LOONA, Choerry has an estimated net worth of over $100,000, as of late 2020.
Physical Appearance
Choerry is a young woman of gorgeous features and slender figure. She's 5ft 3ins (1.60m) tall and weighs approximately 100lbs (46kgs).
Hair
Choerry likes to experiment with her hair, dying it often with fantasy colors. Her most iconic and daring look so far has been her purple-dyed hair in 2019, which surprised her fans not only for its tone but also for its healthiness.
Interesting Facts
Her blood type is O.
She sings loudly to lower her stress.
She's happiest when she watches movies and dramas.
Choerry is deeply interested in art: 'On days off, when I need to do something to heal, I often go to exhibitions.' (…) 'Recently I went with my mom to an exhibition filled with works made of lights. Later, after I gain experience, and develop something of my own, I want to open my own exhibition and show it to people.'
She chose teletransportation as the superpower she wants to have.
She went to school with her bandmate Olivia Hye.
The happiest moments of Choerry's days is when she's heading back home after a busy work day.