Young K is a South Korean singer-songwriter, rapper and bassist of the band called Day6 under JYP Entertainment. All of their Korean studio albums and extended plays (EP) made it onto the top 10 of Billboard's World Albums Chart including their debut EP "The Day" which peaked at No.2.
Just a simple reminder that article is created and owned only by kpopwiki.org. Article cannot be re-published in any other pages or documents. Copyright is protected by DMCA. All found copies will be reported.
Original source: https://kpopwiki.org/young-k-day6-real-name-parents-net-worth-profile-2021/
Early life and family
Young K was born Kang Younghyun on 19 December 1993, in the Ilsan district of Goyang in Gyeonggi Province, South Korea. He is an only child. His father retired the day after Young K signed with JYP Entertainment, then moved to Canada with his mom saying they could do that since he believed his son would be in safe hands and would do well in life. His parents continued to be supportive of Young K, and have attended his band's concerts whenever possible.
Educational background
After he graduated from an elementary school in Korea, he decided he wanted to study abroad so he went to Toronto. He stayed at a boarding school during his seventh grade, then transferred to the public York Mills Collegiate Institute the following school year until ninth grade, as he stayed with a Korean-Canadian family. He used the English name Brian while he was there.
Young K enrolled at Dongguk University in 2012, and finally graduated with a Bachelor's degree in Business Administration in 2018.
Career
First steps
He loved Canada, and would have stayed there longer except that he became interested in Korean Pop and YouTube. He and a couple of his friends formed the trio 3rd Degree, and did K-Pop covers and music videos.
Two more friends joined them, and they named their band Kiss Me Ever So Softly, or KMESS, and started doing live sessions and posting them on YouTube.
When he was in ninth grade surfing Korean sites online, a user-generated content (UGC) banner popped up for an open audition application. He posted some of his videos onto it and gave his dad's number, who was in Korea. It was a month later when he received a call from his dad saying that JYP Entertainment, one of the biggest entertainment companies in Korea, sent him a message saying they liked what they saw and asked him to post more videos. He was also invited for a final round of auditions in Korea but couldn't go, so they said they could see him during the global audition held in Canada; he went and passed his audition.
His parents initially wanted him to go to university and just do music as a hobby, or finish his studies first then do whatever he wanted after that, but since the agency was JYPE, they allowed him to go. He moved back to Korea and officially became a trainee, receiving dance lessons including acrobatics, which he was terrible at. He was warned that if he didn't improve his acrobatic skills then the company might let him go, so every night he practiced doing backflips. The funny thing was that after he nailed it, the company told him he would be part of a band – he never thought he'd be in one because JYPE was known for launching dance groups such as 2PM, so he was expecting to be in a boyband like that.
Young K said he's good at starting things but not seeing them through.
He confessed that twice a year during his training, he called his dad to say that he wanted to quit, but his dad convinced him to see it through until his debut, which he did.
He appeared in an episode of Mnet's reality television survival series, "WIN: Who is Next?" in 2013, which would launch YG Entertainment's next boyband. It gave him the opportunity to showcase his talent, as he participated in the rap battle and vocal battle between trainees of JYPE and YGE.
Debut as Day6
In 2014, Young K was chosen as the bassist and main rapper of the band called 5Live, but they didn't debut as expected. Dowoon (drummer) joined the band in 2015, so it was renamed Day6. The rest of the members were Sungjin (leader and rhythm guitarist), Jae (lead guitarist and face of the band), Junhyeok (keyboardist), and Wonpil (keyboardist and visual of the band) – all of them could sing as well.
After six years of training, Young K officially debuted on 7 September 2015, with the release of the band's first EP, "The Day," which peaked at No.6 on the Gaon Album Chart with 10,500 copies sold, and No.2 on Billboard's World Albums Chart. The members took part in the songwriting process of all six tracks, including the lead single,"Congratulations." It only reached No.58 on the Gaon Digital Chart with almost 49,000 downloads, but managed to peak at No.6 on Billboard's World Digital Song Sales chart.
JYPE decided that the band wouldn't promote on TV music shows, instead focusing on live performances in concerts, fan meetings, and radio shows. They went to Taipei in October to meet 1,000 fans for a showcase, then held a two-day concert called "D-Day" at the Yes24 MUV Hall in Seoul in November.
This angle of Young K… 🥰#Day6 #Even_of_Day #YoungK pic.twitter.com/gInDfMGlBo

— mama mo🌸 (@wompolsungjin) March 15, 2021
Further success
Day6 became a five-member band when Junhyeok left the company for personal reasons in February 2016. "Daydream" was their second EP, and this time they promoted the lead track, "Letting Go," on the music show "M Countdown," on the 31st of March.
Every Day6 Project
In 2017, Young K and his band launched their Every Day6 project, in which two songs were released per month with music videos, and held concerts and V Live broadcasts. Although they had many songs that they could use, it was hard for them to get their title songs confirmed. He then had to write more songs, so by the third month, he felt burned out; fortunately, things worked out in the end.
"Sunrise" was their first studio album released on 7 June 2017, which peaked at No.6 on Billboard's World Albums Chart, and No.4 on the Gaon Album Chart with almost 50,000 copies sold – Billboard ranked it at No.14 on their list of "The 25 Greatest K-Pop Albums of the 2010s."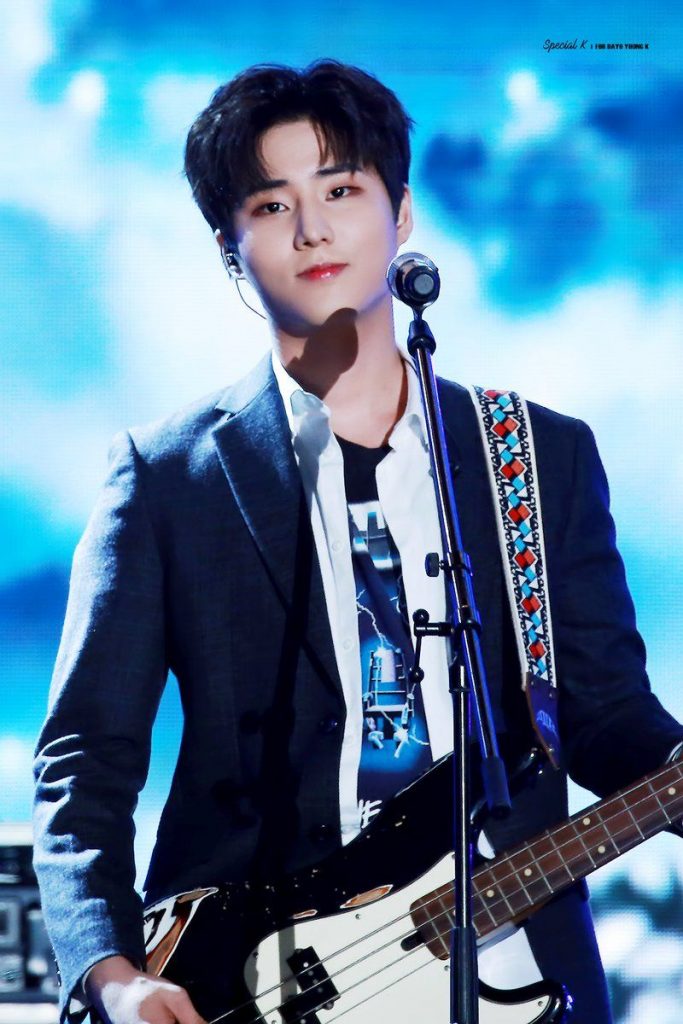 It comprised 14 tracks including Every Day6 songs released from January to May of that year, as well as "Congratulations" (final version) and "Letting Go" (rebooted version). Two new tracks were added – "Lean on Me" and the lead single, "I Smile" which was No.9 on Billboard's World Digital Song Sales chart, and No.98 on Gaon Digital Chart with 22,500 downloads.
"Moonrise" was their second studio album released on 6 December 2017, comprised of 18 tracks including Every Day6 songs released from July to November 2017, and the final versions of five songs from their debut album. Three new songs were added, such as the side tracks "I'll Try" and "Better Better," and the lead track, "I Like You." The album reached No.8 on Billboard's World Albums Chart, and No.2 on the Gaon Album Chart with 53,000 cumulative downloads.
A series of concerts were held from February to December 2017 for the Every Day6 Project, starting with a two-day concert in Seoul.
After that, they went on a nationwide tour that began in Busan in January 2018, followed by Daegu and Daejeon. It culminated in March 2018 with another two-day concert in Seoul called "Every Day6 Finale Concert – The Best Moments."
"Youth" and "The Book of Us" series
They released two Korean EPs in 2018, which showed improveed sales. "Shoot Me: Youth Part 1" was released in June and sold 65,500 copies, as it peaked at No.3 on the Gaon Album Chart. The six-track EP entered three Billboard charts – World Albums at No.6, Heatseekers Albums at No.16, and Independent Albums at No.46. "Remember Us: Youth Part 2" was released in December, and had cumulative sales of 58,000 copies and reached No.3 on the Gaon Album Chart, and No.10 on Billboard's World Albums Chart.
Young K and his band embarked on their first world tour called "Youth," which kicked off in Seoul with a three-day concert in June at the Olympic Hall, attended by 9,000 fans.
It had stops in North America, Asia, Australia and Europe from August 2018 to January 2019, and culminated in March with a two-day concert in Seoul.
"The Book of Us: Gravity" released in July 2019 topped the Gaon Album Chart and sold 60,000 copies. It charted at No.9 on Billboard's World Albums, and No.20 on Heatseekers Albums. The band won a music show for the first time with the lead single, "Time of Our Life," and "Wanna Go Back" ranked No.4 on MTV's The Best K-Pop B-Sides of 2019.
From August 2019 to January 2020, the boys held their second world tour called "Gravity," starting with a three-day concert at the Jamshil Indoor Stadium in Seoul with 15,000 fans in attendance. They had nine concert dates in the US, five in Asia, two in Australia, and 10 in Europe.
"The Book of Us: Entropy" released in October 2019 had sold 64,000 copies, and it charted at No.4 on Gaon and No.10 on Billboard's World Albums. Its lead track, "Sweet Chaos," was No.2 on Refinery29's list of The Best K-Pop Songs of 2019.
"The Book of Us: The Demon" released in May 2020 was their best-selling album with over 81,000 copies sold; Time rated it as one of the "Albums That Defined K-Pop's Monumental Year in 2020." Young K and the boys won the Best Band Performance Award at the Mnet Asia Music Awards for their lead track, "Zombie" – it was also their highest-charting song on the Gaon Digital Chart at No.18.
Being in a band in Korea was not easy, as most people like idol groups more, so they became popular first internationally, then slowly gained a loyal following domestically.
Even of Day sub-unit
Young K, Dowoon, and Wonpil formed the sub-unit Even of Day, and debuted on the last day of August 2020 as they released their first EP, "The Book of Us: Gluon – Nothing Can Tear Us Apart." The seven-track EP charted at No.3 on Gaon, with almost 43,000 copies sold.
Solo activities
Before he debuted, he briefly appeared as a back-up dancer in KBS2's teen romantic comedy series "Dream High" (2011) and "Dream High 2" (2012). He also had cameo roles in the web series "Touching You" (2016) and "Let Me Off The Earth" (2020).
As a songwriter, he had a hand in writing the lyrics and sometimes the music in most of the songs of his band. He also wrote for other artists, including Park Jimin's "Answer," GOT7's "Begging on My Knees," Youngjae's "Hope," and Eric Nam's "Love Die Young." He felt most creative in a place with lots of people, such as coffee shops, so he can get a sense of 'everyday life' and tried to look at them from a different point of view.
In an interview in 2019, he said that when he looked back at what he'd written, and realized that he tended to 'exaggerate the feeling that he didn't actually feel,' so began using the simplest expressions for his true feelings.
Young K was the featured artist in Baek A-Yeon's "Shouldn't Have" (2015), which topped the Gaon Digital Chart and had over 2.5 million downloads.
As a host in 2020, he worked in MBC's "Idol Radio" and KBS' "Kiss The Radio". Two rappers, BewhY and Khundi Panda, who appeared as guests on his radio show at KBS in January 2021, were seen as disrespectful and rude as they made Young K and the listeners feel uncomfortable by using inappropriate language, and not replying properly to the questions making it seem like they didn't want to be there. Some defended the two by saying that it was hip-hop humor, but others especially fans of Day6 asked if the two would behave the same way if it was the nation's MC Yoo Jaesuk who was interviewing them.
After receiving much hate from netizens (online users), Dejavu Group apologized to Young K, Day6 fans, and listeners on behalf of the rappers.
Young K doesn't have his own YouTube channel, so his vlogs called "Young K Broadcast" (YBC) were uploaded onto his band's account. His covers of songs by international and local artists were also found there, under "Young One."
Personal life
He is 27 and single. Young K used to be insecure about his face when he was young, as he was told that he looked intimidating and angry. He then practiced smiling in front of the mirror, but later realized it was a good thing because people wouldn't think of him as easy, and during photo shoots he could project a strong image without difficulty.
When overcoming his struggles, he said that although he couldn't shake those worries easily, he doesn't stay stuck in his emotions, but does whatever's needed to overcome them.
[PICS] 2103115 #DAY6 #Jae #YoungK #Dowoon from undertones.official's instagram – https://t.co/qvWfy16oe5 (1) pic.twitter.com/mliFd0DJZQ

— DAY6 Updates (@DAY6Updates) March 15, 2021
Hobbies, favorites, rumors, and interesting facts
The first Korean artist he stanned was G-Dragon of Bigbang.
He has to go on a diet all the time, because he eats a lot.
His motto in life is "Seize the day."
He once wanted to become a Korean Basketball League (KBL) player, but knew it wouldn't work, then later he wanted to work in the stock management because he thought it was a cool job.
Appearance
He is 5ft 9ins (1.8m) tall and weighs around 150lbs (68kgs) with a lean build. He has black hair and black eyes.
Net worth
Young K has an estimated net worth of $2.5 million as of March 2021, according to sources.