Blue.D is a South Korean R & B singer, who became known when she was featured in K-Pop group Sechs Kies leader Eun Ji Won's 2019 song, "I'm On Fire," and later debuted with her own song "Nobody" under YG Entertainment's sub-label YGX.
Just a simple reminder that article is created and owned only by kpopwiki.org. Article cannot be re-published in any other pages or documents. Copyright is protected by DMCA. All found copies will be reported.
Original source: https://kpopwiki.org/who-is-k-pop-singer-blue-d-age-height-family-boyfriend-bio/
Early life, family, Educational background
Blue.D was born Jeon HoYeon on 1 July 2000, in Seoul, South Korea. Nothing is known about her early life and family, nor is there any information about her educational background.
Career
As a Cover Artist in YouTube
Before she was even featured in songs of established K-Pop singers, Blue D. was able to develop a loyal fanbase due to the videos she posted on YouTube, in which she produced cover versions of popular K-Pop and Western songs.
While her official YouTube channel has only around 300,000 subscribers, the total number of views of her videos is more than 11 million. Her online video-sharing account has been open since 2014, but she only started uploading videos in 2018, and the major bulk of her videos came in 2019 to 2020.
Blue.D did covers of many songs in various music genres, and her most viewed cover song video on YouTube was "Bad Guy" originally sang by American singer-songwriter, Billie Eilish, with over 2.4 million views, followed by American pop-rock band Maroon 5's "Memories," with 1.3 million views, and K-Pop's biggest girl group Blackpink's "As If It's Your Last", with 1.2 million views.
As A Featured Artist in other K-Pop Songs
Prior to her debut as a solo artist, Blue.D was heard as the featured artist in four songs released by popular K-Pop artists. Her unique voice complemented the main artists, and each time she collaborated with an established singer, it helped to raise her presence in the mainstream music scene.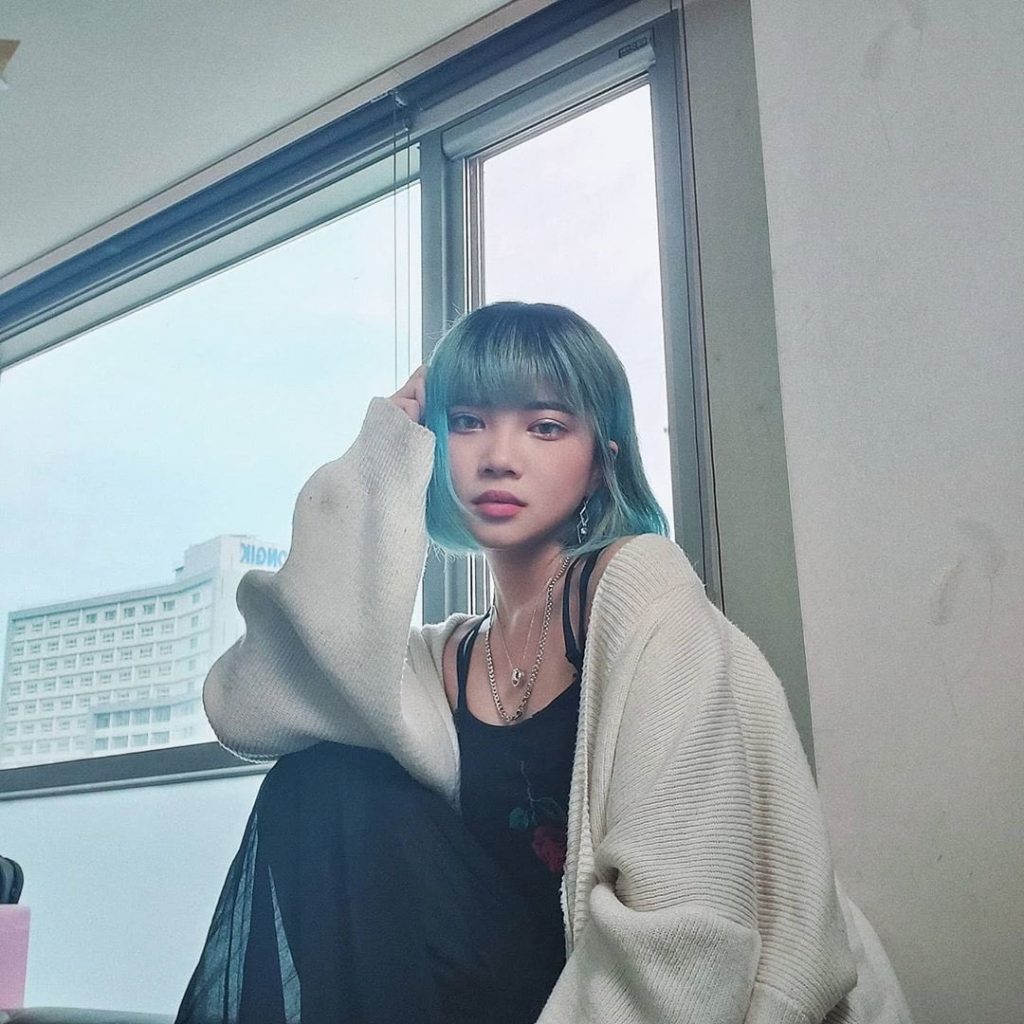 "Love is You" by former Bigbang member Seungri
When former Bigbang member, Seungri, released his first solo studio album entitled "The Great Seungri," he chose to collaborate with Blue.D for the song "Love is You," which was included in his nine-track album.  The song was written by Seungri himself, and it wasn't clear if she was already being managed by him by the time it was recorded. During that time, Seungri was appointed as co-CEO of YGX, a sub-label entertainment company under YG Entertainment.
"Um" by Mino (Winner)
Blue.D was featured in the 12-track debut solo album of Mino, a member of a popular K-Pop boyband Winner.
It was released on 16 November 2018, and the album peaked at No. 5 on the Gaon Album Chart. Mino's fans were introduced to her distinctive voice, and they expressed on a popular social media app that they'd welcome a full album from her.
"This Night" by GroovyRoom
In January of 2019, her voice was heard again after being featured in one of the songs of the music-producing duo, Lee Hwi-min and Park Gyu-jeong, professionally known as GroovyRoom – she sang the song "This Night" with indie artist Jhnovr.
"I'm on Fire" by Eun Ji Won (Sechs Kies)
This featuring was one of the most popular among all her past collaborations, as the song "I'm on Fire," was one of the most awaited since it was Eun Ji Won's solo comeback; he's also the leader of a popular first generation K-Pop boyband, Sechs Kies.
The group was one of the original million-seller groups in the South Korean music industry. The song was the lead track of his 6th album entitled "G1," which peaked at No. 2 on the Gaon Album Chart after it was released on 27 July 2019, and the music video (MV) has a total of over 12 million views. While the song itself was a bit dated, Blue.D's ethereal vocals added texture to it, making it more relevant. Critics also quickly pointed out how under-used her talent was, and they were hoping to hear more of her.
Debut
When promo teasers were released about a new artist from YGX debuting in 2019, it was found that Blue.D was being managed by Seungri, as he was the Co-CEO of the label.
There was an immediate interest in her, as Seungri was a member of one of the most popular K-Pop boybands, Bigbang. Seungri himself was also quite popular as a solo artist.
She debuted with the digital release of the song, "Nobody," on 2 December 2019, with Mino of Winner as the featured artist on her single, providing the rap verses in the song. They collaborated once again, but Mino didn't appear in the official music video, which gained more than 3.7 million views. However, YGX came up with another version of the MV, calling it "Special Film with Mino of Winner," released a couple of days after the original MV was posted. The lyrics and music were co-written by Mino.
Blue.D didn't go into the same promotional routine that most K-Pop artists usually do during their debut year. Instead of performing in popular television music shows in South Korea, she just went to perform her debut single in several radio stations, including MBCs "Idol Radio," KBS' "Volume Up" radio show hosted by AKMU's Suhyun, and MBC's "Radio FM4U." Fans were quite worried that her agency, YGX, wasn't supportive of her debut, as she wasn't seen on TV shows such as SBS' "Inkigayo" or KBS' "Music Bank." However, she personally requested not to perform in TV music shows with huge audiences, as she was still quite shy and found it nerve-wracking, saying that she would do it when used to it, and has gained more confidence,.
Busking Around Seoul
To improve her confidence and conquer stage fright, she would go busking around hip places in Seoul. Several videos of her were posted on YouTube singing cover songs, and her own song "Nobody," with a small number of people around, listening to her. People were in awe of her diligence of trying to gain more experience performing live by busking, even if she already made her professional debut.
Cover Songs
There were no new releases after the debut single, and it wasn't clear if it was because of the scandal that Seungri was involved in during 2019, or due to the Covid19 virus restrictions.
BENEE – 'Supalonely (Feat. Gus Dapperton)' (Cover by. Blue.D)
⠀
🎥 Youtube : https://t.co/UuHkkglGvN
⠀#BlueD #BENEE #Superlonely #cover #BLUE_RING #블루디 #베니 #슈퍼론리 #커버 #블루링 #YG pic.twitter.com/9D8ITA8gqt

— Blue.D Official (@BlueD_Official) September 16, 2020
With so many allegations against Seungri and due to his military enlistment, he resigned from his position as co-CEO of YGX as required by South Korean law. She is still being managed by YGX, but there are no new promotions as of yet. Her official YouTube account is currently active, and she would continue to post her version of popular songs including Beyonce's "Halo," and Tones and I's "Dance Monkey."  Just recently, she uploaded another cover song, "Supalonely," originally sung by New Zealander singer-songwriter BENEE featuring Gus Dapperton.
Personal life
Blue.D is 20 years old and most fans believe that she is currently single. A no-dating policy is usually added as a clause in most K-Pop artists' contracts, and is effective for the first three to five years after debut. Since most entertainment agencies don't want distractions for their artists, there is no information about their dating history or personal life provided to media outlets. YG Entertainment, which is YGX's parent company, has been known for releasing statements such as 'We do not particularly get involved with our artists' personal life' or 'We can ask them but we do not pry into their personal lives.'
Hobbies, favorites, rumors, and interesting facts
D created her stage name – it stands for Blue Dream.
One of the main reasons she was scouted was her version of Charlie Puth's major hit song, "We Don't Talk Anymore," with another Korean YouTuber, Big Marvel.
D's favorite singer is Billie Eilish, and she went to watch many of her live performances.
"Howl's Moving Castle" is her favorite movie of all time.
She can play the piano and guitar, as she became interested in playing music while growing up.
Her close friends in the entertainment industry are singer-songwriter Helen Chu, and model Herim Park.
She has an Instagram account on which you can see most of her career activities, but nothing about her personal life.
D is known for her unique voice, but she can dance as well. In one of her Instagram stories, she posted a small clip of her dance practice, and said that she hopes to post her dance videos soon.
When she was asked to rate herself on her sense of humor on a scale of one to ten, she said that she's one in front of many people, but 10 when she's with her friends.
One of her hobbies is watching YouTube videos when she's alone at home.
She loves spicy and salty food, but when she's on a diet, she would eat something light such as avocado salad.
Appearance
She is 5ft 4ins (1.63m) tall, weighs 110lbs (50kgs), and has a slim build. Her natural hair color is black and she has dark brown eyes. Prior to her debut, she would be seen with long black hair with curls on its end, and a nose piercing. However, to reinvent herself when she debuted as a professional singer, she had her hair dyed in a sky blue color to match her stage name. She no longer wears a nose piercing, but would often be seen using blue-colored contact lenses to complete her look.
Net worth
As per authoritative sources, Blue.D's net worth is close to $100,000 as of September 2020.