Jae Park is a Korean-American singer-songwriter, who first became known to the viewing public when he joined in and reached the finals of the SBS survival audition series, "KPop Star," in 2012. He rose to fame when he debuted as the main vocalist, lead guitarist, and face of the rock band called Day6 under JYP Entertainment. Their debut album peaked at No.2 on Billboard's World Albums Chart. He released solo tracks in 2020 under the name eaJ. After being diagnosed with having a panic disorder, he became a mental health advocate and launched a clothing line, From Friends, to raise awareness.
Just a simple reminder that article is created and owned only by kpopwiki.org. Article cannot be re-published in any other pages or documents. Copyright is protected by DMCA. All found copies will be reported.
Original source: https://kpopwiki.org/who-is-jae-park-from-day6-age-height-girlfriend-net-worth/
Early life and family
Park Jaehyung was born Brian Dennis Park on 15 September 1992, in Buenos Aires, Argentina.
His parents were working in the kids' clothing industry in Argentina at that time; he was called Brian while living there. His family moved to Canada and stayed there for a while, and that's when he began using the name Jae. His mother, Park Kyungnam, changed his name when he was young, before his family then moved to Cerritos in Los Angeles Country, California, where he spent his growing up years. He became Jaehyung when he moved to Korea to pursue a singing career.
He has a sister who is ten years older than him, and it felt like he had another mom rather than a sister due to the huge age gap.
Although his parents currently live in Korea, he only sees them once in a while.
Educational background
He matriculated from Cerritos High School, then went to California State University, Long Beach and took up Political Science.
Jae said he was a 'super reject' as he didn't have friends in middle school and throughout high school, so he didn't know how to socialize. He was often sick during that time as he had several allergies. He said he was the kid who was relegated to the back of the classroom as no one wanted to talk to him, however, his year-and-a-half in college was amazing as he met and became friends with great people.
His parents were strict and nagged him about his studies. They would randomly drive by his apartment in college just to check on him, then leave, and he took it that his parents wanted so much control over his life. They spent a lot of money trying to mould him into becoming a lawyer, accountant, or businessman, so when he becomes a parent, he will let his child decide what to do with in life as long, but be responsible for their actions.
Career
First steps
He opened his YouTube channel, yellowpostitman in October 2008 while in high school, and uploaded videos of himself playing the guitar and doing covers. He had around 75,000 subscribers, and his videos garnered over three million views. His last upload was in May 2012.
Jae took an interest in K-Pop when it was starting to gain ground in the US. He fell in love with the music of g.o.d, and recalled an incident in which he wanted to watch the idol group's concert when his family visited Korea, but he was too young then and wasn't allowed to attend. He cried buckets as his uncle only took his older sister, who was also a K-Pop fan, to the concert. He also enjoyed the songs of Shinee, and even uploaded his cover of the boyband's debut single, "Replay," from YouTube. He once attended an SM Town's concert event, and placed second after singing that song.
Although he loved singing, he never thought of pursuing it seriously as a career. He was a dreamer back in college, and wanted to be a politician, work for the United Nations, or to 'lobby for somebody because he liked to argue with people.' His dream and studies took a back seat when he decided to compete in the first season of "K-Pop Star" in which the "Big 3" entertainment agencies in South Korea held worldwide auditions to scout for new talent. Yang Hyunsuk (YG Entertainment founder), Park Jinyoung (JYP Entertainment founder), and singer-songwriter BoA (SM Entertainment) were the judges of the reality TV survival series that premiered on SBS in December 2011.
Jae passed the preliminary audition, and went to Korea to participate in the competition proper. He reached the finals which were broadcasted live, but he only went as far as the fifth mission, which was the Judges' Designated Song, and his was "Can't Take My Eyes Off Of You."
He had the lowest score among six contestants, and so was eliminated. Fortunately, Park Jinyoung saw his potential, and signed him up in 2012 after the audition program was over.
His parents were fine with him going to Korea at first, because they thought it was just going to be a month or two, like a vacation. However, when he told his mom he was going to sign up with JYPE, she disapproved as she felt he was ruining his life, and wanted him to finish school and get a stable job.
Debut
He underwent a systematic training program under JYPE, although the cultural differences and language barrier made it difficult for him to adjust to living in Korea.
Jae and other trainees of JYPE were first seen in an episode of Mnet's survival series, "Win: Who is Next" (2013), for YG Entertainment's upcoming boyband. As per the two companies' tradition before launching an idol group, their trainees would have a showdown in singing, dancing and rapping, to see who's the best, although JYPE at that time had not yet finalized the new group.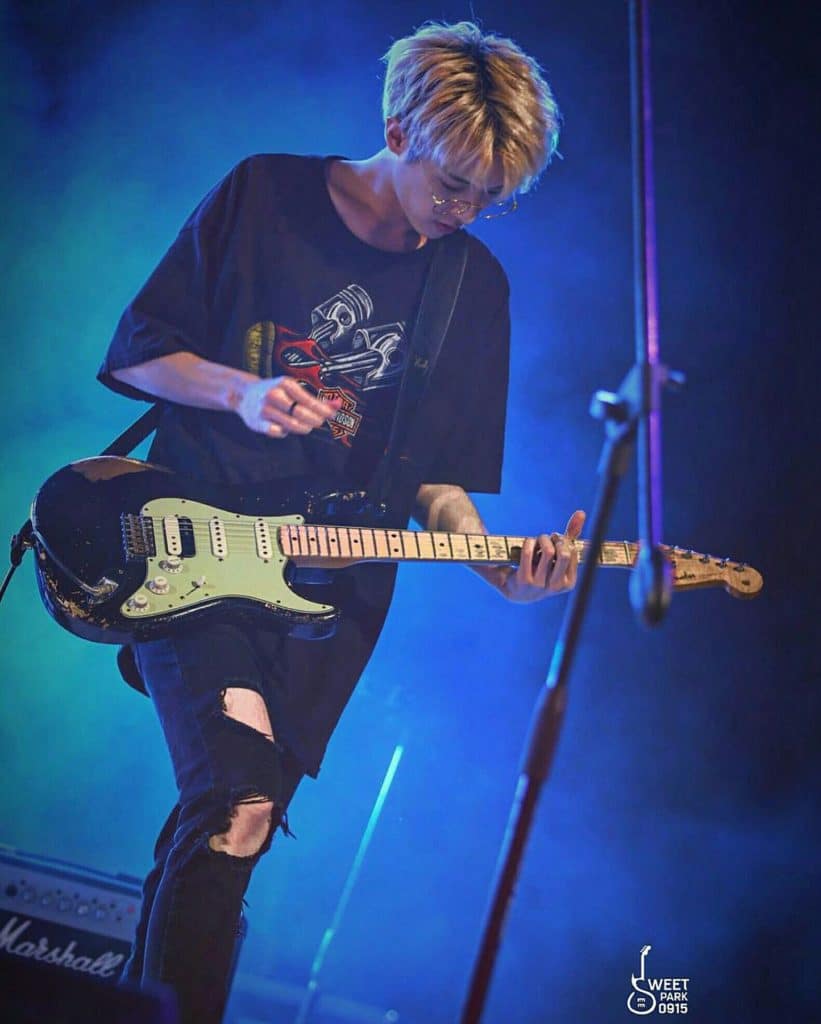 JYPE later announced that they would debut the band called 5Live with Jae as the main vocalist, electric guitarist, and face of the rock band. All members could sing, with each one playing a musical instrument, namely Sungjin (leader and rhythm guitarist), Young K (bassist and main rapper), Wonpil (keyboardist and visual of the group), and Junhyeok (keyboardist). The group was introduced as they sang "Lovely Girl," which was part of the soundtrack for the romantic comedy series "Beautiful Man" (2013). Dowoon (drummer) joined them in 2015, and so the band's name was changed to Day6.
After three years of training, Jae,officially debuted with his band – "The Day" was their first extended play (EP) released on 7 September 2015, and it reached No.6 on South Korea's Gaon Album Chart with over 10,000 copies sold, and made it on Billboard's World Albums Chart at No.2.
Jae and the boys took part in writing the lyrics and music of all six tracks, including the lead single, "Congratulations." The song peaked at No.58 on the Gaon Digital Chart with almost 50,000 download sales, and reaching No.6 on Billboard's World Digital Song Sales Chart. Its official music video attracted 37 million views.
Jae and the boys flew to Taipei for a showcase in October, then held a two-day live concert, "D-Day," in November at the Yes24 MUV Hall in Seoul. It was a treat for their fans as they performed not just the tracks from the EP, but also several unreleased songs and covers, after which they went to Singapore for a fan-meeting in December.
The band didn't go the usual route of K-Pop artists in promoting their debut EP, such as performing in music shows; according to their leader, they wanted to communicate with their fans through radio shows or live performances.
JYPE released a statement in February 2016 that Junhyeok had left the band for personal reasons, and his exclusive contract with them was terminated.
Further success
"Daydream" was their second EP and first release as a five-member band. It hit No.4 on the Gaon Weekly Album Chart with close to 16,000 copies sold, and No.6 on Billboard's World Albums Chart. Out of the six tracks, Jae took part in the songwriting process of three – "First Time," "Blood," and "Sing Me." The lead single, "Letting Go" was No.127 on the digital chart of Gaon, with over 20,000 download sales, No.16 on the World Digital Song Sales Chart of Billboard, and its music video (MV) garnered 20 million views. They made their debut stage appearance on the music show "M Countdown," on 31 March 2016. The decision to promote through broadcasts was made so that the band could 'approach the public in a more familiar way.'
Jae and the boys held their second two-day live concert, "Dream," in May 2016 at the Yes24 Live Hall in Seoul, then met their Thai fans at the Thunder Dome in Bangkok in August.
"Every Day6" was a year-long project of the band in 2017, that entailed releasing two songs and MVs every month, holding concerts, and doing VLive broadcasts. All tracks they released during the first half of the year were included in their first studio album, "Sunrise," released on 7 June 2017. It charted at No.4 on Gaon with almost 50,000 units sold, No.6 on Billboard's World Albums Chart, and was included in Billboard's list of "The 25 Greatest K-Pop Albums of 2010: Staff Picks" at No.14.
"Moonrise" was their second studio album, released on 6 December 2017, consisting of tracks released during the second half of the year.
It placed second on Gaon with over 50,000 copies sold, and at No.8 on Billboard's World Albums Chart. Jae contributed to the music of most of the tracks for the Every Day6 project, and concerts ran from February 2017 to March 2018.
The rock band began their Japanese promotions in 2018; they also released the Youth Series, "Shoot Me: Youth Part1" (June) and "Remember Us: Youth Part 2" (December) as well as holding their first world tour, "Youth," that year, starting in Seoul with stops in North America, South America, Europe, and the rest of Asia.
"The Book of Us: Gravity" released in July 2019, was their first Gaon chart-topper with 60,000 copies sold. "The Book of Us: The Demon" released in May 2020 was their best-selling album at over 81,000 copies sold, and it peaked at No.2 on Gaon. A day before it's release, the agency announced that the band would go on temporary hiatus due to health concerns of some members.
Back in April, Jae was on his way home when he suddenly felt that he was about to die, and was starting to hyperventilate. He asked the cab driver to take him to the hospital where the doctor told him he was having a panic attack. He was diagnosed with panic disorder, and was advised to rest while he received treatment for it.
Jae went public with his panic disorder, and became an advocate for mental health. On his birthday, he launched his clothing line called From Friends in collaboration with Represent, and the proceeds were donated to the Jed Foundation, which supports the mental and emotional health of teens and young adults to help prevent suicidal tendencies.
The group subsequently went on a second world tour, "Gravity," from August 2019 to January 2020.
Solo activities
Jae was one of the hosts of the "After School Club" from June 2016 to July 2018 on Arirang Channel.
His YouTube channel, eaJ which started in January 2016, had over one million subscribers and around 40 million views. He released solo tracks under the name eaJ in 2020.
Jae is currently doing the podcast "How Did I Get Here?", which started in February 2020 and was later joined by AleXa. Produced by Dive Studios, fans can stream the episodes on Google, Spotify, and Apple podcasts. The podcast won People's Choice at the Podcast Awards and the Best Podcast 2020 from Apple Podcasts.
Jae had several complaints against his agency, which included a lack of promotion for his solo activities. He was even told to quit his YouTube channel as he was ruining their image, but other members get support for their content.
The misunderstanding was resolved as JYPE said they wouldn't let anything like this happen again.
Personal life
Jae is 28 and single, and it was nothing to be surprised about as he said he doesn't date because he's in K-Pop. There are toxic and possessive fans who would be disillusioned should they find out that their bias in the group is dating. They would either leave the fandom or bash the partner, hoping that the couple would break up.
His ideal girl is someone short and cute.
He considers himself as a negative person, someone who thinks of the worst things that can happen in situations, but his group has been a good influence and he's learned to live life at the moment. When he's down, he doesn't like to be comforted as he just wants some time alone to think about what happened, and how to fix things. He considers himself as a problem-solver.
Hobbies, favorites, rumors, and interesting facts
Nicknames: Chicken Little (for his resemblance to the cartoon character), Hashtag King (for using long and many hashtags with his posts on social media), King of Twitter (for not filtering his tweets)
His hobbies include playing badminton.
He said he would edit Day6 information on the Wikipedia site, and played with the members' nicknames.
Jae had read a fanfiction about him, and said he was scarred for his life. He also continued a story on Twitter that a writer left hanging, and his fans went crazy over it.
He's said he's not a rapper but a hip hop enthusiast.
Appearance
He is 6ft (1.82m) tall and weighs around 145lbs (65kgs) with a lean build. He has black hair and black eyes.
Net worth
Jae has an estimated net worth of over $1 million as of February 2021, according to sources.