Bibi is a South Korean hip hop and R&B singer-songwriter, whose claim to fame was her participation in the SBS reality TV competition series called "The Fan" in which she finished in second place in 2018. She officially debuted with the release of the single "Binu" in 2019, under the tutelage of one of South Korea's hip hop pioneers and record producers, Tiger JK, and Yoon Mirae of Feel Ghood Music.
Just a simple reminder that article is created and owned only by kpopwiki.org. Article cannot be re-published in any other pages or documents. Copyright is protected by DMCA. All found copies will be reported.
Original source: https://kpopwiki.org/the-untold-truth-about-kpop-singer-bibi-profile-wiki-2021/
Early Life and Family
Bibi was born Kim Hyung Seo on 27 September 1998, in Ulsan, South Korea. There's no information about her early life, as she keeps her family out of her public life, except for one post on her Instagram account showing her parents dancing happily during a holiday celebration at home.
Educational Background
There is no detailed information about her educational background, except that she graduated from the Busan University of Foreign Studies.
Career
Bibi has always been fascinated with creating music, and composed many songs while growing up. She met Yoon Mirae, a popular American-Korean rapper, singer, and producer through Soundcloud, an online music sharing and distribution site. Mirae discovered Bibi's music while browsing songs in the online app, and contacted her asking if she was interested in signing up with Feel Ghood Music. It's a music label founded by her husband, Tiger JK, a famous American-Korean rapper and music producer, who is one of the hip hop music legends in South Korea. Tiger JK thought Bibi was trained under another entertainment agency due to the kind of music Bibi was able to produce on Soundcloud. However, at that time, Bibi was just a high school student tinkering with beats, and recording music just for fun.
First Steps – Reality TV Survival Series "The Fan" (2017 – 2018)
In 2017, Bibi signed up with Feel Ghood Music, and was professionally trained by Bizzy, Yoon Mirae, and Tiger JK. Due to the creative and healthy environment in the agency, Bibi's talents flourished even more. During her first year under the label, she was featured in a couple of tracks released by other artists such as Black Nine's "Payback" from his "American Assassin" album, and Tiger JK and Yoon Mirae's "Ghood Family," which also featured label mates Bizzy, Black Nine, and Mrshll.  It was followed by another featuring with Bizzy's "Ooh Ah," released in January 2018.
With so many talented and professionally trained artists debuting each year in the K-Pop industry, it's a struggle to stand out from the rest.
Most trainees depend on reality television survival series for a platform in trying to get noticed, and Bibi took that route. Her agency encouraged her to participate in the competition series "The Fan," as it was the best way for her to introduce her talent to Korean Pop (K-Pop) fans. It premiered on 24 November 2018, and was shown every Saturday until 9 February 2019.
The contestants performed in each round, and the mentors/masters would choose who to support for their next round of the competition, with the final winner judged through an app and mobile voting. Aside from her remarkable skills, Bibi was easily noticed due to the red mole-liked dots she placed under her right eye. It wasn't only a great fashion statement, but it was an effective marketing ploy in making her recognizable from the rest of the competitors. Bibi reached the final round, and performed Bruno Mars' "Runaway Baby" and her self-penned song, "Han River." It was a tight race, and she finished as the runner-up to another soloist, Car the Garden, who garnered more votes than her.
#BIBI pic.twitter.com/sEdt93008z

— daily bibi (@daiIybibi) February 2, 2021
Months after the show, Bibi said that she felt so much pressure and stress during the competition. but in the long run felt that the experience gave her confidence, and it opened a lot of doors for her.
Digital Singles and Official Debut (2019)
Bibi released some of the songs that she performed in the competition in digital form, including "Letter" (Round 3), "Fly With Me" (Round 4), "Three W's and One H" (Top 3), and "Han River," also known as "Hanggang," (Top 2) in 2019.
With the exposure and experience she gained from the show, her label decided that she was ready to be launched. On 15 May 2019, she officially debuted with the release of her single, "Binu" – which means soap in Korean – and the B-side single "Clean." She was solely credited for the lyrics, and as one of the composers of the music. The official music video was released on the same day, and it has over 4.3 million views.
Bibi had thought that the music industry would be filled with unscrupulous people, but it turned out to be better than she expected, saying that she met many trustworthy and caring people who kept it real for her.
The following month, she released her first extended play (EP) entitled "The Manual for People Who Want to Love", consisting of four tracks including "Fedexx Girl" featuring rapper-producer Changmo, "Pretty Thing" featuring Kim Seungmin, "Give More Care Less," and the lead track, "Nabi." Bibi's inspiration for the music that she created in this album came from personal experiences, the times she felt that the misery she was feeling during disappointments and heartbreak were exclusively for her, only to realize later on that every person in the world goes through tough times.
She performed the lead track in popular music shows such as SBS' "Inkigayo," Mnet's "M Countdown," MBC's "Music Core," and KBS' "Music Bank."
To widen her reach in the South Korean market, she was seen appearing as a guest in several variety TV shows, including "Boss in the Mirror," "Workman," "Knowing Brothers," and "Studio Music Hall Season 2." She continued to be featured in other hip hop songs released that year, including Crucial Star's "Hammock," Twlv's "Eleven," and Yoon Mi Rae's "Cute Lil Thug."
One of the indications that an artist made a mark for a certain year is when music festivals send invitations to perform in their events. Bibi was included in the 2019 Seoul Music International Music Fair, also known as MU:CON. She said the experience was exhilarating, since it was the first time she'd performed live with a band. It was held from 30 September to 3 October 2019 at Coex Square and SMTown Theatre.
Before the year ended, Bibi was featured in Park Jin Young's "Fever," which gained a lot of media mileage since it had been a while since the iconic singer/founder of JYP Entertainment, one of the biggest entertainment agencies in South Korea, had released any music. She was credited as one of the lyricists of the song.
More Collaborations, Variety Shows, and Soundtrack Participation (2020 – present)
In 2020 she was quite busy, releasing digital singles and collaborating with many artists. Her fourth digital single, "Kazino," was released on 29 April 2020, and its official music video uploaded on the same day has close to six million views to date. She was featured in Crush's "She Said" from his album "With HER", and with Pengsoo, Tiger JK, and Bizzy for "This is Pengsoo," from the album, "Billboard Project Vol.1." She was also in the third track of Zico's album, "Random Box," entitled "Wensu."
Aside from being one of the favorite singers to be featured in the albums of other artists, her voice was also heard in the soundtrack of the Korean drama series "Big Picture House." The 12-episode drama series stars Yuna and Lee Seung Hyub, and aired from March to April 2020 on Naver TV Cast. She sang two songs from the soundtrack album – "Tonight" with Jinho of Pentagon, and her solo track, "A Little Happy Ending."
In July 2020, she released the digital single entitled "I'm Good at Goodbyes," and was credited for both lyrics and music composition. It was chosen by Billboard music critics for its year-end list of the Best K-Pop Songs of 2020, ranked at No.19. The critics described it as 'particularly emblematic of 2020's general mood; the soft vocals mirrored the loneliness we were all feeling as a lost spring transitioned into a lonely summer.'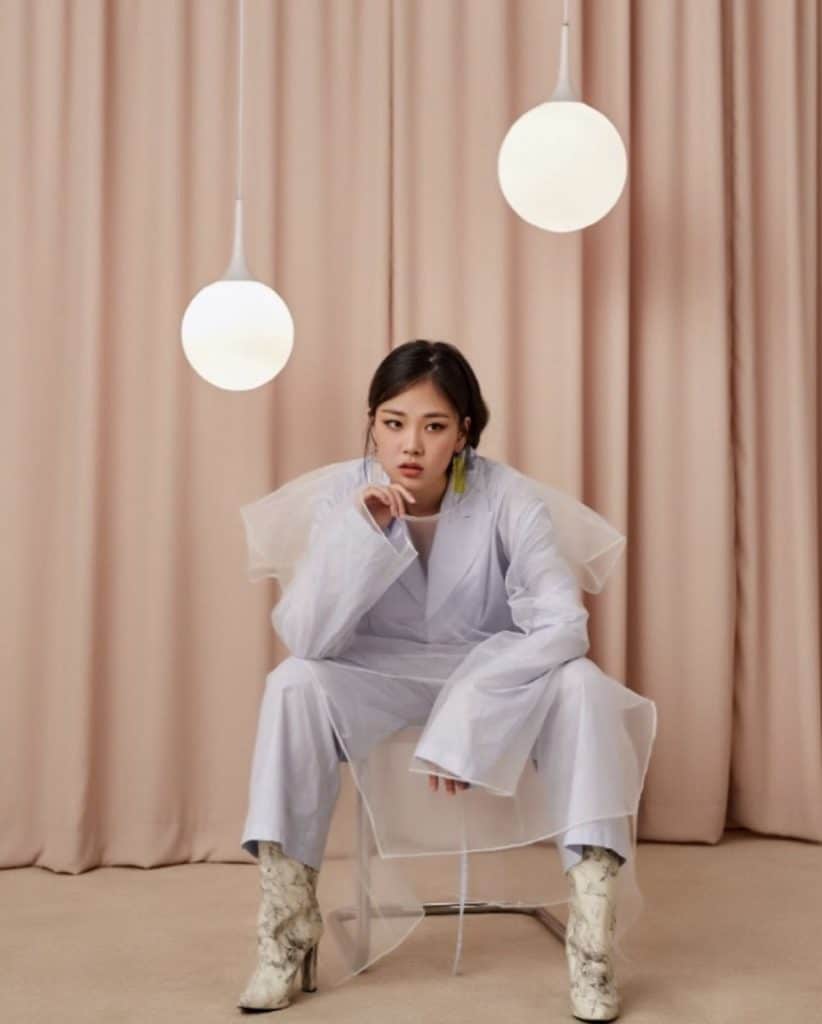 Park Jin Young, who collaborated with her in the past year, asked Bibi to contribute to the lyrics of the son, "More and More", the title track of TWICE's ninth extended play, released on the first day of June 2020. The song peaked at No.4 on the Gaon Digital Chart, and No.2 on both the Japanese Oricon Chart and Billboard's World Digital Song Sales chart.
Bibi's rising popularity opened new doors for her, including an unlikely collaboration with the duo Universe Cowards' Kim Hee Chul of Super Junior and Min Kyung Hoon for the duo's hip hop single "Hanryang," which means libertine in the old Joseon times, but more like playboy in modern times. It was produced by rapper Dindin, and Bibi was credited for co-writing the lyrics and music. The official music video of the song was directed by Shindong of Super Junior, and has close to seven million views.
In September 2020, she was again included in the line-up of performers for the annual MU:CO music festival; due to the social distancing regulations and avoidance of huge public gatherings, the show was streamed online. She performed on the second day of the event for almost 23 minutes, starting her set with her debut song "Binu," followed by "I'm Too Good at Goodbyes," "Nabi," and ending it with "Kazino."
She lent her voice with her self-penned song "Naan," for the official soundtrack of the Korean drama series entitled "Live On",  which stars Hwang Min Hyun and Jung Da Bin, and aired from November 2020 to January 2021.
In January 2021, she was seen participating in the music video of the song "Code Clear," which featured 62 South Korean hip-hop artists including Tiger JK, Simon Dominic, Dynamic Duo, and YDG.
The music video lasted for 21 minutes, covering all the artists delivering their rap verses using the same beats and melody.
Bibi became a regular cast member of the variety TV show "Girls' High School Mystery Class", starting filming the show in 2019 with Jang Do Yeon, Park Ji Yoon, Choi Ye Na, and Jae Jae. It's a show in which the cast needs to uncover suspicious events that happened in an exclusive girls' high school; the eight-episode mystery series will air from 29 January until 19 March 2021.
With her unique voice, songwriting skills, and continuing path to become a successful artist, Bibi has been compared to the top-charting soloists, Hwasa and Heize. With 40 more unreleased tracks in her computer database revealed in the interview she had with Esquire Magazine on the January 2021 issue, the K-Pop industry will certainly see more of her artistry.
Personal Life
Bibi is officially single right now, as there is no news or rumors of her dating anyone. She's quite private, and most of her posts on her social media accounts are about work and music releases. Growing up, she had a hard time expressing herself to other people, so she used music to overcome her shyness. She wasn't a very social person, so dating someone would only happen if the guy would be persistent enough to breakdown her walls. Most K-Pop artists are known for protecting their private life, as fans can be very possessive, and don't like their favorite idols having relationships. While Bibi is not a member of any K-Pop group, which has dating restrictions on their contracts, she said that dating is far from her mind, and work is her priority.
EAT MY LOVE by #BIBI is out NOW 🔗 https://t.co/mO9NhBzVdA pic.twitter.com/6cYwLCRzvd

— daily bibi (@daiIybibi) February 1, 2021
Hobbies, favorites, rumors, and interesting facts
Bibi can speak three languages – English, Spanish and Korean.
She admires two K-Pop idols, namely Joy of Red Velvet and Lisa of Blackpink, but enjoys watching TWICE and ITZY. She also loves listening to Lee Hi.
Bibi's favorite is the 2001 Japanese animated movie entitled "Spirited Away."
After taking the Myers-Briggs Type Indication personality test, her result was ENFP – Extraversion, Intuition, Feeling and Perception, which means a person who embraces big ideas and is an assertive campaigner.
Fans of Bibi were surprised at her choice of Instagram profile name, @nakedbibi, and thought that she might be posting naked photos, but her usual choice of clothes are jeans and hoodies.
If Bibi had not pursued a singing career, her dream was to work at Disney so she could create stories and draw. She said she wouldn't mind if singing and acting are also included in the job description, and calls it a complete dream package.
One of her biggest musical influences is film director Park Chan Wook.
Bibi has a cat named ChiChi.
She is a huge fan of the Harry Potter movie series, and chose Ravenclaw as her Hogwarts House.
Appearance
She is 5ft 6ins (1.68m) tall and weighs 105lbs (48kg) with a slim yet curvaceous body. She has black hair and dark brown eyes.
Net Worth
According to authoritative sources, Bibi has an estimated net worth of close to $300,000 as of January 2021.