SuA is a dancer, rapper, and vocalist, who became first known to Korean pop (K-Pop) fans when she debuted as a member of the Korean girl group called Minx, which was later reinvented as Dreamcatcher under Happy Face Entertainment.
Just a simple reminder that article is created and owned only by kpopwiki.org. Article cannot be re-published in any other pages or documents. Copyright is protected by DMCA. All found copies will be reported.
Original source: https://kpopwiki.org/sua-dreamcatcher-age-height-nose-job-net-worth-dating/
Early life and family
SuA was born Kim Bo Ra on 10 August 1994, in Changwon, South Korea. Not much is known about her family, except that she has an older brother. In an interview, she said that she is grateful for having parents who are considerate of others, and know how to persevere in life; she respects them a lot.
Her English name is Alice.
Education background
She attended Sacred Girls High School in her hometown.
Career
First steps
SuA was still young when she developed a passion for dancing, and once participated in a b-girl (breakdancing for girls) competition. Although she didn't win, just the fact that she competed made her incredibly proud. She remembers watching Lee Hyori of Fin.K.L and Rain, who are both known to be exceptionally good at dancing and singing, and was inspired by them to pursue a career as an idol.
Debut as Minx
After training for five years, she finally debuted in September 2014 as the main dancer, lead rapper, and vocalist of the five-member South Korean girl group, Minx, under Happy Face Entertainment, with the release of the digital single entitled "Why Did You Come To My Home"; it's said to be their version of a children's rhyme.
She along with JiU (leader), Siyeon (main vocalist), Dami (main rapper), and Yoohyeon (lead vocalist) performed the song live for the first time at the Oak Valley Summer Festival a month before their official debut, which was subsequently on Mnet's "M Countdown.
It took them more than a year before they released their six-track extended play (EP) entitled "Love Shake," which sold a little over 1,800 units by end of the year. The title track is actually a remake of their label mate Dal Shabet's song, and with the same name from their studio album, "Bang Bang."
Debut as Dreamcatcher
According to Lee Joo Won, CEO of Happy Face Entertainment, with Minx failing to make an impact in the South Korean music scene, they decided to rebrand the group by changing its concept from the cute, innocent, and lively to something dark and fierce.
Their music would have a 'rock base with a pop-metal style,' which is completely different from the usual cutesy/girly music that most K-Pop girl groups are known for. The company retained the original members because they said the girls received praise when they debuted, and that they are talented enough to adapt to the new concept; they just added two new girls, namely Gahyeon (lead rapper) and Handong (vocalist).
Dreamcatcher made their debut on 13 January 2017, with the single album entitled "Nightmare" that has four tracks including the lead single, "Chase Me." It was included in the list of Billboard's "Best K-Pop Songs of 2017: Critics' Picks", and the official music video has around 12 million views. They released another single album in April, entitled "Fall Asleep in the Mirror", with the lead single "Goodnight."
The company saw an improvement in album sales with each release, and the next one didn't disappoint. The six-track EP "Prequel," with the lead single "Fly High" was released in July, and peaked on the Gaon Album Chart at No.4 and Billboard World Album Chart at No.5. The EP also made it onto Japan's Oricon Chart at No. 33, and the US iTunes K-Pop Chart at No.1.
Billboard ranked them as No.3 in the "10 Best New K-Pop Acts of 2017."
Further success
With the commercial success of their latest release not just in South Korea but also overseas, SuA and the girls held their first world tour called "Fly High" to meet their international fans. The tour kicked off in Japan in 2017 after their album promotions, followed by the rest of Asia, with further stops in South America and Europe.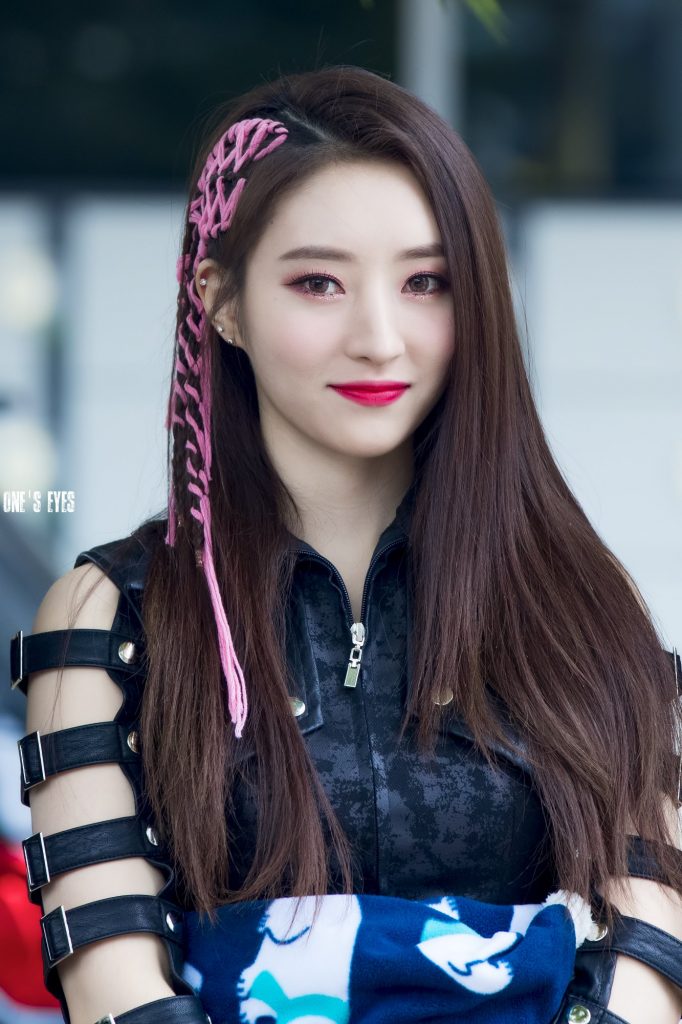 It culminated in a concert in Seoul entitled "Welcome to the Dream World" in March 2018. Aside from performing their own songs, they also did a cover of various other artists' songs.
For their anniversary offering, the group dropped a digital single on 12 January 2018 entitled "Full Moon," which made it onto Billboard's World Digital Song Sales Chart at No.16, and performed well on the iTunes K-Pop Chart in several countries. They performed it first in their fan meeting at Sogang University in Seoul.
"Escape The Era" is the second EP that Sua and the girls released, on 10 May 2018, and it topped the Hanteo Album Chart and ranked No.3 on Gaon.
In K-Pop, the Hanteo Chart records the individual physical album sales from approved websites and stores, whereas the Gaon Chart records the physical albums that were shipped to stores. The EP made it onto the Billboard World Albums Chart at No.7, and topped China's Yinyuetai Chart.
The group then went on another tour this time to Latin America, starting in July in Argentina, and ending in August in Panama. They released their third EP in September entitled "Alone in the City" with the lead single, "What." Its official MV has garnered more than seven million views.
Dreamcatcher signed with Pony Canyon for their Japanese promotions, and released their digital single album in November entitled "What," which has three tracks, including the Japanese versions of previously released "What" and "Chase Me."
Happy Face Entertainment changed their name to Dreamcatcher Company in 2019, to show their utmost support for the group. It was a busy year for the girls, as they released the six-track EP entitled "The End of Nightmare" with the lead single "Piri;" the five-track mini-album entitled "Raid of Dream" with the lead single, "Deja Vu;" and a full-length album in Japanese entitled "The Beginning of The End," which placed 7th on the Oricon Chart. They also released a Japanese version of "Déjà vu", to become the theme song for the mobile RPG's (role-playing game), "King's Raid."
Aside from their album promotions in South Korea and Japan, they embarked on another concert tour called "Invitation From Nightmare City", theough Asia, Australia, Europe and the US throughout the year.
On 18 February 2020, Sua and the girls released the studio album entitled "Dystopia: The Tree of Language," which charted at No.3 on the Gaon Album Chart. It has 14 tracks including the lead singles "Scream" and "Red Sun," and the follow-up single "Black or White." They also dropped another Japanese single in March, entitled "Endless Night."
UNESCO's (United Nations Educational, Scientific and Cultural Organization) Global Education Coalition supported a project called Millenasia, in which Dreamcatcher along with the soloist AleXa and the boyband IN2IT released an English song called "Be The Future", as part of the awareness campaign on the need for good hygiene practices to limit the spread of the COVID-19 virus.
SuA's group released the song entitled "R.o.S.E Blue," which is the soundtrack for another mobile game called "Girl Café Gun."
They held their first online concert on 4 July 2020 called "Global Streaming Into The Night & Dystopia," in collaboration with MyMusicTaste. In August, they released "Dystopia: Lose Myself," which is their fifth EP. It contains six tracks including "Break The Wall," "Can't Get You Out Of My Mind," and the lead single, "BOCA." The EP peaked at No.3 on the Gaon Album Chart with over 95,000 units sold, which is said to be their biggest album sales to date. The official MV has attracted over 24 million views.
Personal life
SuA is 26 years old and currently single. There is no news of her dating anyone or being in a relationship. It isn't revealed if she is past the no-dating policy of the company of three to five years after debut, given that she debuted in 2014 as a Minx member and it was only rebranded as Dreamcatcher in 2017. Her ideal man is someone who is sexy and who likes her more than she does him.
She still lives with the other girls in the group in the dormitory provided by her agency.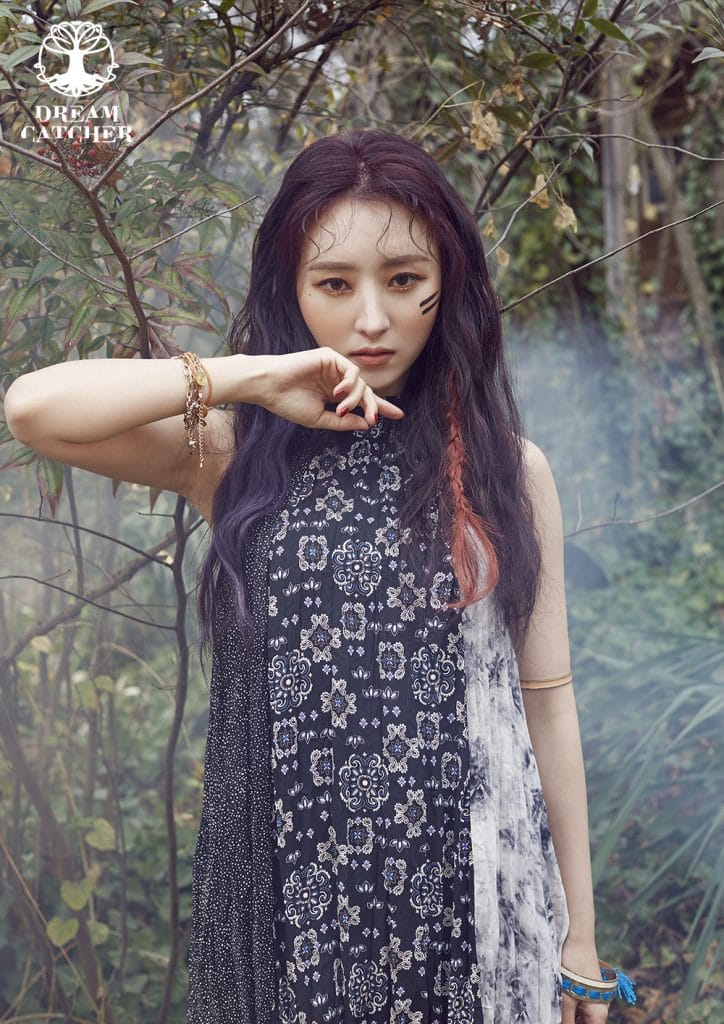 Hobbies, Favorites, rumors, and interesting facts about SuA
Her hobbies include watching television dramas, shopping, visiting nice restaurants, and meeting up with friends to binge on great food.
She is said to have "Midas' Golden Hands" as she can make crafts, cook, and draw well.
Favorites: red (color); any food with meat (food); elephant (animal); shoes, perfume, and lipstick (things)
Dislikes: orange (color); porridge, carrots, cheese, and spinach (food); cat (animal); winter (season); ghosts
Watching the South Korean TV series, "Kill Me Heal Me" (2015) and the "Guardian: The Lonely and Great God" aka "Goblin" (2016), made her cry so much.
SuA has this habit of hitting people playfully, which is generally not a problem except when she does it hard, and that's when she realizes she needs to fix it.
She enjoys cleaning.
She can mimic the sound of a goat.
Among the members, she learns the dance choreography the quickest, and helps the others with it.
SuA is good at fixing things, as well as creating dance choreographies.
She is a huge fan of TVXQ, but her role model is Bigbang.
Her group's official fandom is called InSomnia, with the word "Somnia," being the Latin word for "dreams." The name means that SuA and the girls can meet their fans in the dream world anytime.
SuA is known to be loud and funny – she screams a lot and bites her co-members on the head, shoulder, and wrist.
It is said that the Princess of Thailand, Mom Luang Rajadarasri Jayankura, has been a big fan of Dreamcatcher since their debut, and she met them when she visited South Korea in 2017. She also posted a small clip of the girls' performance on her Instagram account.
SuA and the girls attended the first concert of ATEEZ, and she even talked about how impressed she was by the music and performances of the idol group in her Naver V Live broadcast.
The time she auditioned for Happy Face Entertainment is one of the most nerve-wracking moments of her life, because she is afraid to be judged.
Her hands and feet are said to be the smallest among the members'.
In the official YouTube channel of Dreamcatcher, SuA also posted her own vlogs called "Sua-ly Life of Sua."
She went to Jeju Island with her parents, and treated them to one of the island's specialty food, Black Pork. They also had fun at the Maze Park, making a bet with them on who's going to ring the bell first. Her dad cleared the maze first, and she placed second although it took her a while to finish, as she said that she has no sense of direction even if she had the map to guide her. Her mom bought them drinks, as she was last.
After debut, SuA was the first to get noticed due to her good looks and dancing skills.
Appearance
SuA is 5ft 4ins (1.62m) tall, weighs around 95lbs (43kgs), and is slimly built. She has dark brown hair and dark brown eyes.
Net worth
SuA has an estimated net worth of close to $500,000 as of October 2020, according to sources.