Joy is a South Korean rapper, singer, dancer and actress, who achieved fame after she debuted as a member of the Korean Pop (K-Pop) girl group, Red Velvet, managed by SM Entertainment. She was also cast as the main lead of the drama series, "The Liar and His Lover" and "Tempted."
Just a simple reminder that article is created and owned only by kpopwiki.org. Article cannot be re-published in any other pages or documents. Copyright is protected by DMCA. All found copies will be reported.
Original source: https://kpopwiki.org/the-untold-truth-about-red-velvet-member-joy/
Early life and family
Joy was born Park Soo Young on 3 September 1996, in Jeju Island, South Korea. Her parents raised her and her two younger sisters, Ji Yeong and Min Ji, in Dobong, Seoul.
The grown-ups around her complimented her as being pretty, and encouraged her to join the Miss Korea pageant, so she briefly considered it when she was young and even practiced for it.
Educational background
She matriculated from the School of Performing Arts Seoul in 2015.
Career
First steps
Her love for modern trot music and singing started when she was very young, but being the eldest in the family, her goal was to study hard to become a kindergarten teacher. It all changed when she was in middle school, and sang "Flying Duck" of the Korean rock group, Cherry Filter during a school field trip. Performing on stage and hearing the cheers of the audience made her realize that this was what she wanted to do.
When she was a freshman in high school, she passed the 2012 Global SM Audition in Seoul after singing Cho Yong Pil's "I Wish It Could Be That Way Now", and became a trainee of the biggest entertainment company in South Korea, SM Entertainment. Training was difficult as the coaches were very strict – she had to take photos of what she ate and the weighing scale so the company could monitor her weight.
She couldn't go anywhere without asking permission, and her curfew was 11 pm.
Many trainees were waiting to debut, so Joy couldn't afford to be complacent, and spent much of her time practicing. When her vocal and dance practice didn't go well, doubts would sometimes creep in, if she made the right decision in pursuing a career as a K-Pop artist.
After two years of training, Joy joined three others, namely Seulgi, Irene, and Wendy from SM Rookies, a pre-debut training team of SM Entertainment, to debut as members of Red Velvet. Prior to the debut, there was a controversy regarding their name, as there was already an indie band by that name which had started promoting in 2013, however, the band had not trademarked their name, so they had no legal claim to it. A band member met with SM Entertainment to resolve the issue, and both decided to keep using the name.
Joy and the girls officially debuted on 1 August 2014 as they performed on KBS' "Music Bank." Their digital single, "Happiness" was released on 4 August, and it peaked at No.5 on the Gaon Digital Chart of South Korea, with over 265,000 downloads that month. It also entered the Billboard World Digital Song Sales Chart at No.4, making them the first K-Pop girl group to have their debut single on the chart.
The official music video also released on 1 August had gained over two million views in the first 24 hours before it was pulled out due to the images used referencing the 9/11 terrorist attacks in the US, as well as the bombing of Hiroshima. SM Entertainment explained that the director had used 'a collage source for the images, and there was no intention behind it.' After removing the controversial scenes, they released an edited version, which currently has over 101 million views.
On 13 October 2014, Red Velvet released a remake of the single "Be Natural," by the girl group, S.E.S, which debuted in 1997. It only peaked at No.33 on the Gaon Digital Chart with over 65,000 downloads that month, and No.6 on Billboard World Digital Song Chart.
The group bagged the Rookie of the Year Award from the Seoul Music Awards and Golden Disk Awards.
Further success
Yeri, another member of SM Rookies, joined the group in March 2015 just in time for the digital release of Red Velvet's first extended play, "Ice Cream Cake," on 17 March, and its physical release the next day. The EP not only received praise from music critics, but it was also a commercial success as it topped both the Gaon Album and Hanteo Charts, and marked their first entry on Billboard's World Albums Chart at No.2 and Japan's Oricon Albums Chart at No.76.
All six tracks made it to the Gaon Singles Chart on the same week, with the title track peaking at No.4 on the Gaon Digital Chart with about 265,000 downloads by the end of the month, and No.3 on the Billboard World Digital Song Sales Chart. It also earned them their first music show win, through "Music Bank."
Joy and the girls have released numerous EPs and studio albums since their debut that topped the Gaon Albums Chart, such as "Rookie," "Perfect Velvet," and "The ReVe Festival: Day 1." The singles that achieved over 2.5 million downloads include "Russian Roulette," "Red Flavor," and Peek-a-Boo", with "Bad Boy" the only one to receive Platinum certification from the Korea Music Content Association (KMCA), despite the outstanding sales of previous releases – the music recording certification was only introduced in 2018.
คีเวิ่ดเสิ้ดทวิตสำหรับวันนี้นะคะ "จอยสวยมาก" ไม่มีอีกแล้วเสิ้ดจอยเจอจอยลดา เจอแต่จอยสวยมากเท่านั้น!!!!!!!!! pic.twitter.com/n58z6mntOH

— เปี่ยนชื่อแอคแร้วนะค้า (@keejubabe) January 1, 2021
"Power Up" from the EP "Summer Magic," released in July 2017 was their first single to have achieved a certified perfect all-kill (PAK) status on the Instiz Chart, which indicates that the song topped the real-time, daily, and weekly South Korean major digital charts. "Psycho" from the compilation album "The ReVe Festival: Finale," released in December 2019, peaked at No.2 on the Gaon Digital Chart, and was certified platinum by the KMCA for surpassing 100 million streams. It debuted at No.1 on the Billboard World Digital Song Sales Chart with 2,000 downloads, their second chart-topper following "RBB" (Really Bad Boy) in 2018. This was their 16th entry into the top 10, which tied them with 2NE1 for having the most number of top 10 entries on the chart.
Red Velvet went on hiatus in 2020, after Wendy sustained an injury during the stage rehearsal for the "2019 SBS Gayo Dajeon Festival" and COVID-19 pandemic restrictions in 2020.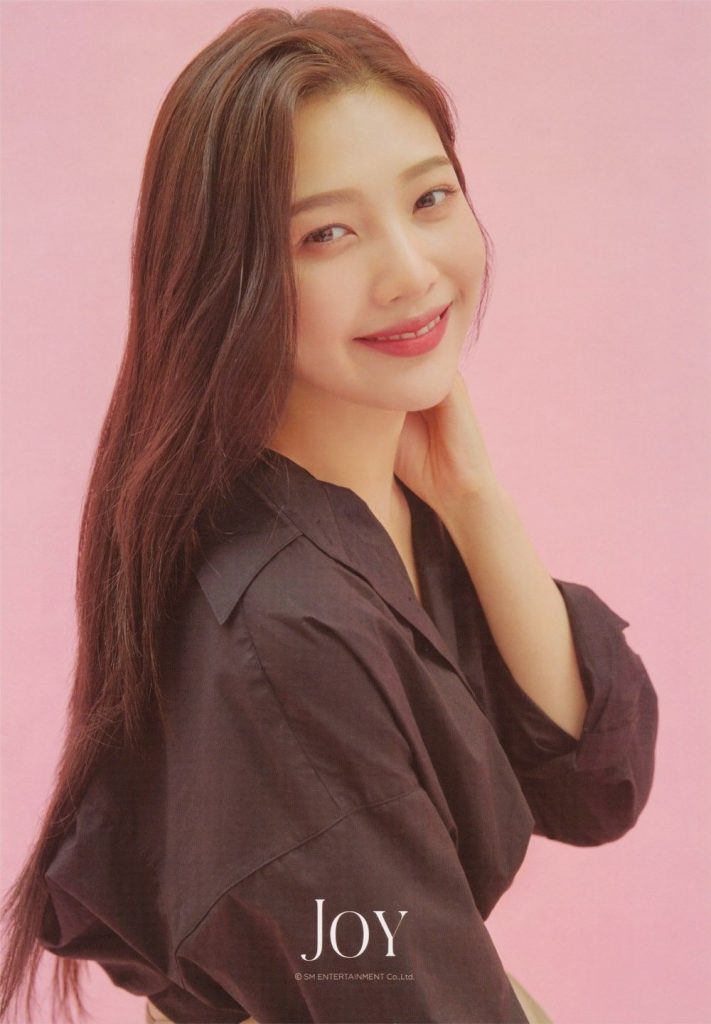 The group's hiatus was extended following the bullying scandal involving Irene, although the artist has since apologized for her rudeness toward an editor. SM Entertainment released a statement in November 2020 that Red Velvet will release new music soon for their comeback.
Solo activities
Joy was paired with Sung-jae of BtoB in the fourth season of MBC's reality television show, "We Got Married." The show's concept is about pairing celebrities who would then pretend to be married, which entailed living together and going on dates; they were also given various missions to accomplish as a couple. Their inclusion in the show started in June 2015, through May 2016. They released the single "Young Love" with Joy co-writing its lyrics, and received the Best Couple Award at the MBC Entertainment Awards in 2015. She also took home the Best New Artist Award that night.
Her collaboration with Lim Seulong in the song, "Always In My Heart," released in November 2016 peaked at No.10 on the Gaon Digital Chart, with over 415,000 digital sales.
Joy's debut on the small screen was a cameo appearance with her group, as they performed as Red Velvet in the final episode of the hit series, "Descendants of the Sun." Her first venture into acting was as the main lead in the 16-episode drama series "The Liar and His Lover," based on a Japanese manga of Kotomi Aoki. It was aired on tvN in 2017, and later released on Netflix in October 2019, and Joy won the Newcomer Award at the OSEN Cable TV Awards. She sang several original soundtracks for the drama including "A Fox," which peaked at No.43 on the Gaon Digital Chart with close to 82,000 digital sales, and "I'm Okay," which reached the No.83 position on Gaon with over 22,000 digital sales.
The year 2018 was a busy time for her, as she was a regular co-host in the second season of JTBC's variety show, "Sugar Man," with popular veteran hosts Yoo Jaesuk, Park Narae and Yoo Heeyeol. She also co-hosted the Lifetime Channel's "Pajama Friends" with the model, Jang Yoonju, and actress, Song Jihyo.
Joy starred in MBC's 32-episode drama series, "Tempted," which was also released on Netflix, in February 2020. She received nominations for the Popularity Award from The Seoul Awards, and Best New Actress Award from the MBC Drama Awards. She also recorded the drama's official sound track (OST) entitled "OMG." It was during the filming for this drama that her group performed at the "Spring is Coming – Pyongyang, North Korea Harmony Concert" on 1 April 2018, and with North Korean Artists on 3 April.
She was unable to join them due to a conflict of schedules, and was criticized for it – some fans felt this was too important an event to miss. SM entertainment explained that they initially planned to adjust the schedules of the members so that they could all perform; however, Joy was one of the main characters in the drama, and if she failed to make it back in time to film, the drama won't be aired as scheduled, according to the production staff.
Joy's hosting gigs continued in 2019, with OnStyle's "Get It Beauty" and SBS' "Handsome Tigers." On the red carpet for The Fact Music Awards in April 2019, Joy was seen wearing a black mini dress that she keeps pulling down whenever it rolls up, clearly looking uncomfortable as she had to take extra care when she goes up or down the stairs. Some fans bashed her for it, while others blamed the stylist for making her wear it in the first place.
In March 2020, she sang the OST "Introduce Me A Good Person," for the ninth highest-rated South Korean drama in the history of cable TV, "Hospital Playlist." It peaked at No.6 on the Gaon Digital Chart, and No.5 on Billboard Korea's Hot 100 Chart, and was nominated for the Best OST Award and Song of the Year Award at the Mnet Asian Music Awards in 2020.
Joy was the featured artist in "Mayday" by Crush, released in May 2020, which reached at No.1 on various digital charts, including Melon, Bugs, Soribada, and Genie. As a solo artist, she received nominations in 2020 for the Top 10 Artist of The Year (Main Prize) at the Melon Music Awards, and Artist of the Year Award at the Genie Music Awards.
Personal life
Joy is 24 years old and single. She claims to have never dated (not counting her virtual marriage), since her training started early when she was still in high school. Her ideal type is someone who lives by the rules, and works hard.
Her room in the house provided by their agency in 2019 was the most luxurious due to luck, as the members drew lots in choosing which rooms, and she got the best one. She said she was glad to have her own room, as she didn't want to have a roommate who might be fast asleep by the time she went back from her solo activities, and would be disturbed as she prepared for bed.
One of the most sacred rules in the house is that only Red Velvet members are allowed inside, to protect their privacy; one had to ask permission before bringing someone to their place. She once brought her sister with her without prior notice, and the others complained so she apologized.
She is obsessed with healthy foods. Although she is very much interested in beauty and fashion, she said it would lose meaning if she's unhealthy. Aside from doing flying yoga to keep fit, she drinks fermented root vegetables, which was originally developed for cancer patients, and noni juice, which has antioxidant and anti-inflammatory benefits.
Her interest in consuming healthy foods and beverages stemmed from having a sensitive body. She has been diagnosed with somatization disorder in which a person experiences symptoms such as fatigue or pain, and believes that he or she is sick, resulting in difficulty functioning. She once went to an oriental medicine clinic as she felt pressure on her chest, and discovered that it was due to the disorder or pent up anger. She has to take deep breaths as advised, and look at photos of her dog named Haetnim to relieve her anger.
Wow already over 26k retweets! That's Our Joy Park Sooyoung. 💚#JOY #조이 #레드벨벳 #RedVelvet @RVsmtown https://t.co/kMnZmDkBr8

— JOY 조이 Updates 💚 #VoteJoyOSTonSMA (@joysooyoungpics) January 1, 2021
Hobbies, favorites, rumors, and interesting facts
Nicknames: cute joy, doongdoongie, and malgeumi (bright)
Hobbies include watching movies, singing, and collecting lip balms.
Favorites: 31 for 31 flavors of Baskin Robbins ice cream (number), Ariana Grande (singer), red (color), white aster (flower), mint choco ice cream (flavor), sushi and grilled eel (food)
Joy loves animals, and often volunteers at an animal shelter. She also enjoys watching dog training videos.
Appearance
She is 5ft 6ins (1.68m) tall, weighs 108lbs (49 kg) and has a slim build. She has black hair and dark brown eyes.
Net worth
Joy has an estimated net worth of over $500,000 as of December 2020, according to sources.