Jin Ju-hyung is a South Korean actor, who gained early notice in 2013 for his work in "Scandal: That Very Shocking and Immoral Incident", and "Hwarang: The Poet Warrior Youth" in 2016. In 2018 he became more popular when he took the lead role of Lee Han Kyul, opposite actress Seol In-ah, in the drama series "Sunny Again Tomorrow".
Just a simple reminder that article is created and owned only by kpopwiki.org. Article cannot be re-published in any other pages or documents. Copyright is protected by DMCA. All found copies will be reported.
Original source: https://kpopwiki.org/who-is-south-korean-actor-jin-ju-hyung-wife-net-worth-bio/
Early Life and Family
Jin Ju-hyung was born Kim Jin Tae on 24 November 1994, in Seoul, South Korea. He was raised by his parents in a comfortable home, and would spend vacations in several countries as his family loves to travel. Due to his father's occupation as an architect, he also lived in in Singapore for about six years, and spent two years in Toronto, Ontario, Canada, where he used Justin as his English name. He found it hard adjusting to new culture and language, but welcomed the opportunity to learn something new, including learning to speak English.
Ju-hyung played basketball from middle to high school and planned to be a professional basketball player, but was hurt in one of his games, an injury which meant that he could no longer play basketball, so he switched his interest to acting.
Educational Background
He matriculated from Gyeonggi Arts High School, and graduated from Konkuk University in Seoul in 2016.
Career
Ju-hyung's interest in acting became serious after watching the movie, "American Psycho." He studied acting and had a difficult time in the beginning, but his acting teacher helped him to focus and explore different techniques. Growing up, he always believed that if you dream sincerely, it will come true, and it did for him.
First Steps – Early Movie Work (2012)
In 2012, Ju-hyung was given an opportunity to become part of the movie called "Almost Che" with Kim In Kwon and You Da In. It was not credited as his acting debut, since he and his friends were cast as students in the movie without even a character's name, but it was an unforgettable experience for him, and the reason why he pursued his acting dream more strongly.
It was followed up by two more movies – "Codename Jackal" with Kim Jae Joong and Song Ji Hyo, and "Natural Burial" with Lee Young Ah and Ohn Joo Wan – although insignificant minor roles. Nevertheless, Ju-hyung continued to be fascinated with the film-making process, and it inspired him to work harder to achieve his goals.
Acting Debut – First Big Break (2013)
Ju-hyung's big break came in 2013, and was credited as his acting debut. He took on the supporting role of Byung Taek in the KBS's "Drama Special Series Season 3: Sirius", with Seo Joon Young and Park Hyung Shik.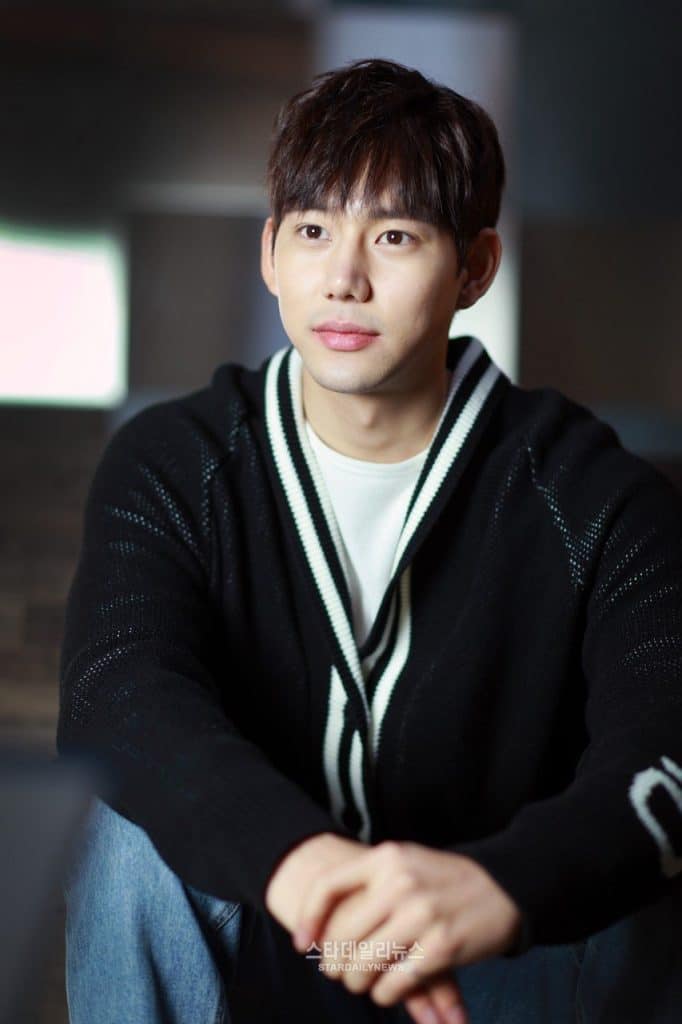 However, he felt that he botched his performance in the drama series, because he said he was too greedy and too eager to prove his talent that he wasn't able to give justice to the role.
He was given another chance to do better with the minor yet significant role of Detective Goo in the popular drama series "Scandal: That Very Shocking and Immoral Incident," aired on the MBC network, and starring established actors Jo Jae Hyun, Kim Jae Won, and Jo Yoon Hee. This time, he had important scenes with the main cast, and a few of them even asked to practice reading lines with him. It was quite a nerve-wracking experience for him, but those veteran actors helped him in tackling his first TV drama role with important tips and encouragement during difficult times, such producers and directors noticed his potential.
In that same year, he played another supporting role in the controversial suspense-thriller movie entitled "Doctor", with Bae So Eun and Kim Chang Wan. It would have been a great vehicle for Ju-hyung to be noticed as the story gained favorable reviews from the critics. However, the movie as a whole gained notoriety due to vulgarity, and was criticized for being too gory, obscene, and for showing too much graphic nudity, particularly the female lead.
More Supporting Roles (2014 – 16)
For the next three years, Ju-hyung took more supporting roles and steadily improved his acting skills, adopting the "no small parts, only small actors" mentality. In 2014, he was in the action-fantasy drama series "Blade Man," aired at KBS2 cable network, consisting of 18 episodes, and starred Lee Dong Wook and Shin Se Kyung. His next role was courtesy of the O'live cable romantic drama series, called "Yoo Mi's Room," airing 12 episodes from 30 June to 15 September 2015, and starring Lee Yi Kyung and former K-Pop artist, Son Dam Bi.
In 2016, Ju-hyung was kept busy by filming two trendy drama series, firstly in the contemporary romantic-comedy series entitled "Cinderella with Four Knights." It had 16 episodes with Jung Il Woo and Park So Dam. The second was the historical epic drama entitled "Hwarang: The Poet Warrior Youth", with Park Seo Joon, Go-Ara, and Park Hyun Sik, consisting of 20 episodes with an additional four special episodes.
Asian Collaborations (2017-18)
Ju-hyung was part of the main cast of the Filipino-Korean movie, "You with Me," a collaboration between Gitana Film Productions and Korea's Film Line Pictures Production Ltd. He spent a short time in the Philippines along with another South Korean actor, Kim Hyun Woo, to film some scenes in the movie opposite Filipino actress, Devon Seron. The movie was released in September of 2017.
A year after that, he took on another supporting role that would take him to Vietnam, for the Korean-Vietnamese movie "Live Again-Love Again," with San E, Jung Chae Yeon and Vietnamese actress, Chi Pu. It was released on 22 February 2018.
He also collaborated with a Malaysian movie production outfit for the movie "Shun Pong O," in 2017. It was shot primarily in Kuala Kurau, a popular fishing village in Perak, Malaysia, with additional scenes in Seoul, South Korea, playing a supporting role to South Korean actor Park Ji Hoon, and Malaysian actress Shinny Tan. The movie was released in both countries in May 2018.
These movie collaborations with Asian movie productions gave him the nickname, "Prince of Southeast Asia" by the media and his loyal fans.
Jin Ju Hyung —-> White shirt & Jeans👍👍👍#jinjuhyung #juhyung pic.twitter.com/sNjHjkPxrx

— golden_pearl_juhyungjin_NZ (@BlueSky0215) December 14, 2017
Rise to Prominence: 2017-2018
He continued taking on supporting yet significant roles in popular drama series. In 2017 he played Go Chan Ho, a missing forensic investigator who was falsely incriminated in a high profile case, in the popular drama series entitled "Suspicious Partner." The drama might not have the highest TV rating, but it trounced its timeslot rivals, and ranked high on the brand reputation charts for the weeks it was aired in South Korea. It had 40 episodes, and starred Nam Ji Hyun along with Ji Chang Wook.
Ju-hyung made cameo appearances for two episodes of the time-travel period drama series, "Live Up To Your Name." It starred popular actors Kim Nam Gil and Kim Ah Joong, and aired on tvN cable network from August to October of 2017.
After five years of portraying supporting roles in television dramas, Ju-hyung finally took front and center in the daily drama series entitled "Sunny Again Tomorrow." For 121 episodes that aired from 7 May to 2 November 2018, he played the lead role of Lee Han Kyul, a TV Home shopping executive who becomes the romantic interest and business pawn of the two female leads, Seoul In Ah and Ha Seung Ri. This drama earned Ju-hyung widespread recognition both in South Korea and around Asia.
As a Vlogger – Justin TV
Due to the requests of his fans, in 2019 he started vlogging about important moments in his life. He also felt that it was his way of showing the fans differing facets of his life. He posted workout routine, cooking, fashion/beauty tips, and self-care videos on his official YouTube channel.
As a DJ
In 2019, he also started playing music as a club DJ in selected hip places in Seoul. He said he would explore all career possibilities by going into his various interests, and one of them is music.
Personal Life
As with most actors, Ju-hyung likes to separate his private and personal life. While South Korean fans aren't that possessive with actors as compared to their favorite K-Pop artists, most actors would still rather not disclose their dating status. However, he has been involved in a couple of dating rumors, with the Vietnamese actress Chi Pu, and with the K‑Pop artist Seolhyun, of AOA.
He flatly denied the rumor with Seolhyun, claiming that he has been friends with her since middle school, and she was his classmate in acting school.
Ju-hyung would frequently go out with her, but only on group dates. When it comes to him dating Chi Pu, who was regarded as the Vietnamese version of Kim Tae Hee, one of South Korea's most beautiful actresses, he admitted that he had a mutual understanding with her, and dated for a while. However, the long-distance relationship didn't work out. The dating rumor started when fans caught them dating several times wearing couple clothing including hoodies, shirts, and baseball caps. They dismissed the rumors and claimed that it was promotional work for their drama series and Chi Pu's music video. It was only when he made a guest appearance in MBC's "Video Star," a South Korean talk show, that he finally admitted it. They still communicate and remain friends up to this day.
Ju-hyung is currently single, as there is no news of him dating anyone at the moment.
Hobbies, favorites, rumors, and interesting facts
Ju-hyung's friends claim that he is obsessed with working out, and would spend hours in the gym every day.
During his spare time, Ju hyung plays online games such as Battleground by himself, and sometimes with his friends.
He's become a huge fan of Christian Bale ever since he watched him in "American Psycho", one of the reasons he was inspired to become an actor.
Ju Hyung is also an admirer of actor-director, Tom McCarthy.
His short stay in the Philippines during the filming of the movie, "You with Me," made him curious about Filipino dishes such as Sinigang (Tamarind-based stew), Adobo, Pastillas, and Balut (boiled fertilized duck embryo).
He and long-time friend Seolhyun of AOA would lie to his parents about his acting class schedule, so that he could hang out with her and their friends in the mall.
Ju-hyung loves dogs, and would spend time playing with them every single day.
He loves challenging himself, and in 2019 he participated in the 14th Triathlon Competition held in Gyeonggi-do, after undergoing Ironman training for a couple of months. He finished the race in 1 hour and 40 minutes; he documented his Ironman journey, and posted it on his YouTube channel.
Ju-hyung started learning how to cook, and has sometimes helped in the kitchen of restaurants owned by his friends.
Appearance
Ju-hyung is 6ft 1ins (1.85m) tall and weighs 165lbs (75kgs) with a lean muscular build. He has black hair and dark brown eyes.
Net Worth
According to authoritative sources, Ju-hyung has an estimated net worth of close to $500,000 as of November 2020.