Soobin (TXT) Wiki: Age, Height, Net Worth, Family, Profile
Soobin is a South Korean singer-rapper, who rose to prominence after he debuted as the leader of the Korean Pop boyband, Tomorrow X Together, managed by Big Hit Entertainment, the same people behind the phenomenal success of BTS. After being launched in 2019, his group has three platinum-certified albums given by the Korea Music Content Association (KMCA).
Just a simple reminder that article is created and owned only by kpopwiki.org. Article cannot be re-published in any other pages or documents. Copyright is protected by DMCA. All found copies will be reported.
Original source: https://kpopwiki.org/soobin-txt-wiki-age-height-net-worth-family-profile/
Early Life and Family
Choi Soobin was born on 5 December 2000, in Ansan, Gyeonggi, South Korea. Growing up, he wanted to become a foreign language teacher or a psychologist, but when he took part in a talent show in his middle school, his interest shifted to performing, as he enjoyed his time on the stage, and he started to dream of becoming a K-Pop artist.
His parents and older siblings were all supportive of his dreams – he is the baby in the family, as his sister is ten years older than him and his brother is six years older.
Educational Background
He went to Kyongsu Middle School and then Ansan High School, but due to his training, he dropped out of school. Soobin then took and passed a Graduate Equivalency Degree, and is currently enrolled at Global Cyber University.
Career
While other K-Pop hopefuls would go from one open audition to another, Soobin took a different route. He recorded his performance on his mobile phone, and sent it to Big Hit Entertainment, home to the biggest boyband in the world, BTS, accompanied by a letter stating his intention of wanting to be trained under them in 2016.
He probably impressed whoever watched the video, as he was invited to attend the company for a second look. Soobin practiced for the second round of auditions, but was so nervous that he forgot some of the lyrics of the song when the agency asked him to perform.
However, the casting department of the agency probably saw potential in Soobin, so they called him back to officially offer him a chance to join the agency's training program. At that time, Big Hit Entertainment wanted to launch another group, as there were people who doubted that the small company had the ability to produce another successful K-Pop act. Back then, Big Hit was quite minuscule compared to the Big Three of the South Korean entertainment industry, namely SM Entertainment, JYP Entertainment, and YG Entertainment. They wanted to prove the naysayers wrong.
First Steps – Debut Year with First EP, Studio Album, and US Tour (2019)
On 4 March 2019, Soobin along with four other trainees, namely HueningKai Yeonjun, Taehyun, and Beomgyu, debuted with the release of the group's first extended play (EP) "The Dream Chapter: Star." It has five songs including "Cat & Dog," "Our Summer," "Nap of a Star," and the lead track, "Crown." The K-Pop industry at that time continued to enjoy global popularity, as their label mate, BTS had been breaking music records left and right. Soobin and the boys benefited from having such clout, because the interest in them was quite huge. As of December 2020, the official music video of the EP's lead track has a total of 127 million views.
The EP didn't only debut at No.1 on both the South Korean Gaon Album Chart and the Billboard's World Album Chart, but also entered the Billboard 200 Chart at No. 140.
Even the lead track debuted at No. 1 on Billboard World Digital Songs. As a group, they ranked on top of Billboard Emerging Artists. The EP peaked at No. 3 on the Japanese Oricon Album Chart, a big deal as no other rookie artist in the South Korean music industry had ever charted like that. They were also able to get music show trophies for winning the No.1 Song of the Week just seven days after their debut. Soobin and the boys' style and genre were quite different from BTS, who debuted in the K-Pop scene with a hip hop vibe, whereas TXT debuted with a lighter and brighter flair, which the fans appreciated, as they didn't want another boyband mimicking BTS.
A couple of months after debut, Soobin and the boys embarked on a two-week US Tour entitled "Star in US", including Atlanta, California, New York, and Florida; tickets were reportedly sold out in less than a day.
They were overwhelmed, nervous but also excited. The boys knew that it was quite rare for a rookie group to be performing overseas, particularly in the US.
International Stages: Korean Convention Concerts and Fashion Shows (2019)
One of the dreams of newbie K-Pop artists was to be given a chance to perform on a global stage such as KCON, or Korean Convention Concert, an annual music festival promoting South Korean culture in different parts of the world. This is one dream that Soobin was able to fulfill early in his career, as his group was invited to perform in KCON NY, held at the Madison Square Garden in New York City. They were also asked to perform at the radio music festival called iHeart Wango Tango, held at the Dignity Health Sports Park in Carson, California.
The boys kept a busy schedule throughout 2019, as they flew to Japan to perform in two major fashion shows – the Kansai Autumn/Winter 2019 collection, and the Tokyo Girls Autumn/Winter 2019 collection.
First Studio Album and Major Award Sweep for Rookie of the Year (2019)
TXT's first studio album was scheduled to be released in August 2019 but it was delayed for a month as Soobin contracted infectious eye conjunctivitis. However, after a few weeks other members became infected as well, and Big Hit Entertainment decided to let the boys rest for another month to give them enough time to recover.
After being delayed twice, the boys eventually released their first studio album entitled "The Dream Chapter: Magic." This time they included different music genres such as hip hop, R&B, acoustic, and house music. It consists of eight tracks including "Poppin' Star," "Can't We Just Leave the Monster Alive," "Roller Coaster," and the lead track "9 and Three Quarters (Run Away)." It was a commercial success with over 124,000 units sold just after a week of its release, topping the Gaon Album Chart.
soobin going nyaa~ #SOOBIN #수빈 @TXT_members pic.twitter.com/RyfcMDDyg8

— hourly soobin (@hourlycsb) January 3, 2021
It also debuted at No. 3 on Billboard's World Album Chart while the title track debuted at No. 2 on Billboard's World Digital Songs Chart. Three other songs also charted high on the chart. Soobin was quite relieved as he and the boys were under constant pressure to do well, as they are regarded as the heir apparent to BTS.
With this kind of success in their debut year, music insiders and fans were not surprised at all by the year-end accolades the group received. TXT swept the awards for the Rookie of the Year or Best New Artist of the Year in 2019 from all major award-giving bodies in South Korea, including the Golden Disk, Melon Music, Gaon Chart and Mnet Asian Music Awards. One of their songs was also recognized as one of the best in 2019 – the track "9 and Three Quarters (Run Away)" was included on Billboard's list of the best 25 K-Pop Songs ranked at No.4, while Dazed Magazine placed them at No.2 on their list of the best 20 K-Pop Songs.
2020 Activities and Platinum Certification by Korea Music Content Association
TXT started 2020 with the release of the group's first Japanese single album, "Magic Hour," on 15 January. It has three tracks, which were all Japanese versions of their Korean songs such as "Angel or Devil," "Crown," and "9 and Three Quarters (Run Away)." It was a successful Japanese debut as the single album peaked at No. 1 on the Oricon Daily Chart. They performed it live at the Music Station on the TV Asahi network, and it also gave the boys their first Gold Certification from the Recording Industry Association of Japan (RIAJ).
Due to its success, Big Hit Entertainment released another Japanese single album, "Drama," in August 2020, and the song "Everlasting Shine," was used as one of the theme songs for a new anime entitled "Black Clover."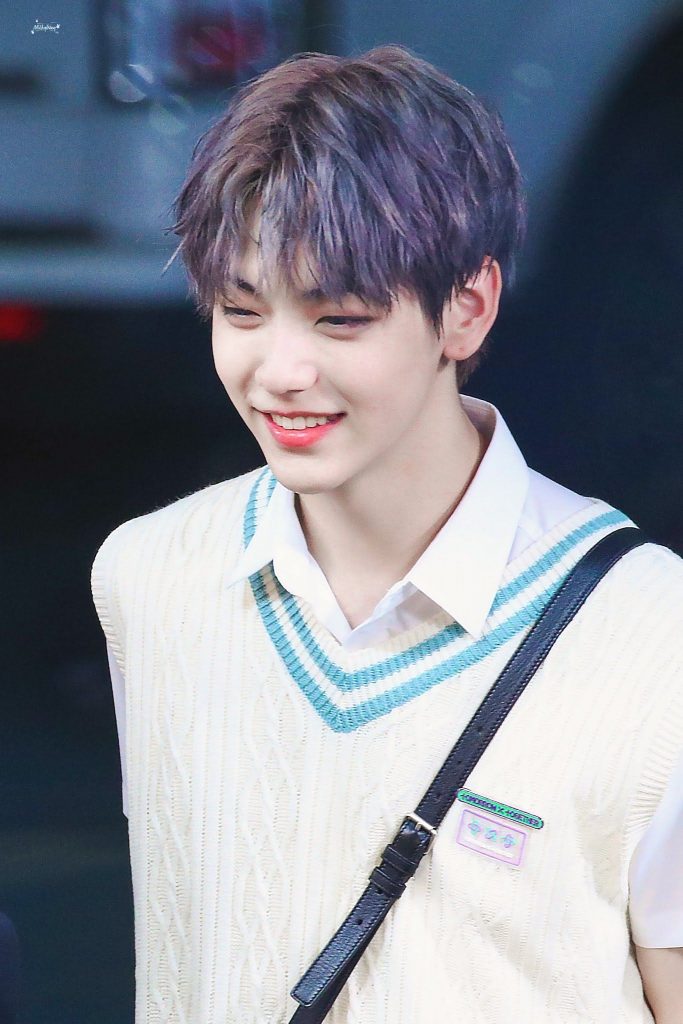 The boys couldn't perform live on TV shows at that time due to the Covid19 restrictions, however, it didn't matter as the group already has a solid fan base in Japan, and they received another gold certification from RIAJ for the song "Drama."
K-Pop artists had two choices to stay relevant and connected during the pandemic: one is to conduct online concerts, and the other is to release new music. TXT did the latter with the release of two more EPs for the year. The group released the final part of the Dream Chapter trilogy, "The Dream Chapter: Eternity," in May 2020. It ranked at No. 2 on the local chart and No. 4 on the Billboard World Album Chart. The lead track, "Can't You See Me" won two Song of the Week trophies from SBS MTV's "The Show" and MBC's "Show Champion." From the six tracks included on the EP, Soobin was credited as one of the songwriters of "Maze in the Mirror."
Soobin and the boys also released their third EP, "Minisode1: Blue Hour," on 26 October 2020, consisting of five tracks including "We Lost the Summer," "Way Home," "Ghosting," and the lead track, "Blue Hour." This EP turned out to be the group's best-selling to date, with over 400,000 pre-orders after a release date was announced, breaking the group's previous record of 300,000. They made a huge jump on the Billboard 200 chart from 140 with their debut album to No. 25, making it the highest-charting album of the group. It also topped the Billboard World Album Chart, the Billboard Emerging Artists Chart, and the Oricon Album Chart. The official MV of "Blue Hour" has a total of 42 million views to date and counting.
Soobin as the leader was no longer stressed as compared to his debut year, because as of October 2020, his group achieved platinum certification for each EP or studio album they've released since debut. All in all, they have been awarded four by the Korea Music Content Association (KMCA) for at least having over 250,000 units sold for every album, along with two gold certifications from the RIAJ.
The group has always been accused of getting a free ride from the immense popularity of BTS, however, those gold and platinum certifications are clear indications that the group can stand on its own without having to ride on the coat-tails of BTS.
A full-length studio album is scheduled to be released in January 2021, entitled "Still Dreaming."
Personal Life
Soobin is officially single and isn't allowed to date yet, as the dating ban included in his management contract is still in effect.
baseball soobin ⚾ #SOOBIN #수빈 @TXT_members pic.twitter.com/aMMAWPaqzy

— hourly soobin (@hourlycsb) January 3, 2021
Most agencies would only let their artists date three years after their debut to avoid any distractions and focus mainly on work. It doesn't help that South Korean fans are notoriously possessive of their favorite artists.
In November 2020, fans were complaining on social media about Arin of Oh My Girl. She has been Soobin's partner in hosting KBS' "Music Bank" since July 2020, and apparently they find her too touchy with Soobin. It was quite natural for them to get closer and be friends but some fans didn't like her holding on to his arm or touching any part of his body, and demanded that she change her habits. This is one of the reasons why it is quite rare for K-Pop artists to reveal if they are dating anyone. Some fans show their disappointment by cyberbullying their idol's partner.
Scoobin currently lives in a dormitory provided by his agency located in Seoul, along with the other TXT members.
Hobbies, favorites, rumors, and interesting facts
Due to his height, his friends would call him "cucumber" when he was growing up, but the South Korean media now fondly calls him Flower Boy or Flower Prince. His family calls him Turtle. His bandmate Yeonjun fondly calls him Soobiniebinie.
Soobin's skin on his face and neck is quite elastic so that he would stretch it out to mimic an animal.
His favorites: tteokbokki (Korean rice cake), almond-flavored milk (drink), mint chocolate chip (ice cream), mangosteen (fruit), snowing (weather), yellow and sky blue (colors).
Soobin has a pet dog named Sean, but his favorite animal is a raccoon.
He is a huge fan of BTS, particularly Jin.
Soobin doesn't eat spicy food as he sweats so much when eating it.
He is continuously learning how to speak English, as he fears that his international fans might not understand him.
Appearance
Soobin is 6ft 1in (1.85m) tall and weighs around 150lbs (68kgs), with a lean body. He has black hair and dark brown eyes, and has dimples on his cheeks. K-Pop artists are known to dye their hair in a different color each time they promote a new song on TV. He has dyed his hair in blue, pink, lavender, and gray, but would often revert to natural color during breaks.
Net Worth
According to authoritative sources, Soobin has an estimated net worth of over $100,000 as of December 2020.